University of San Diego women's soccer signs eight incoming recruits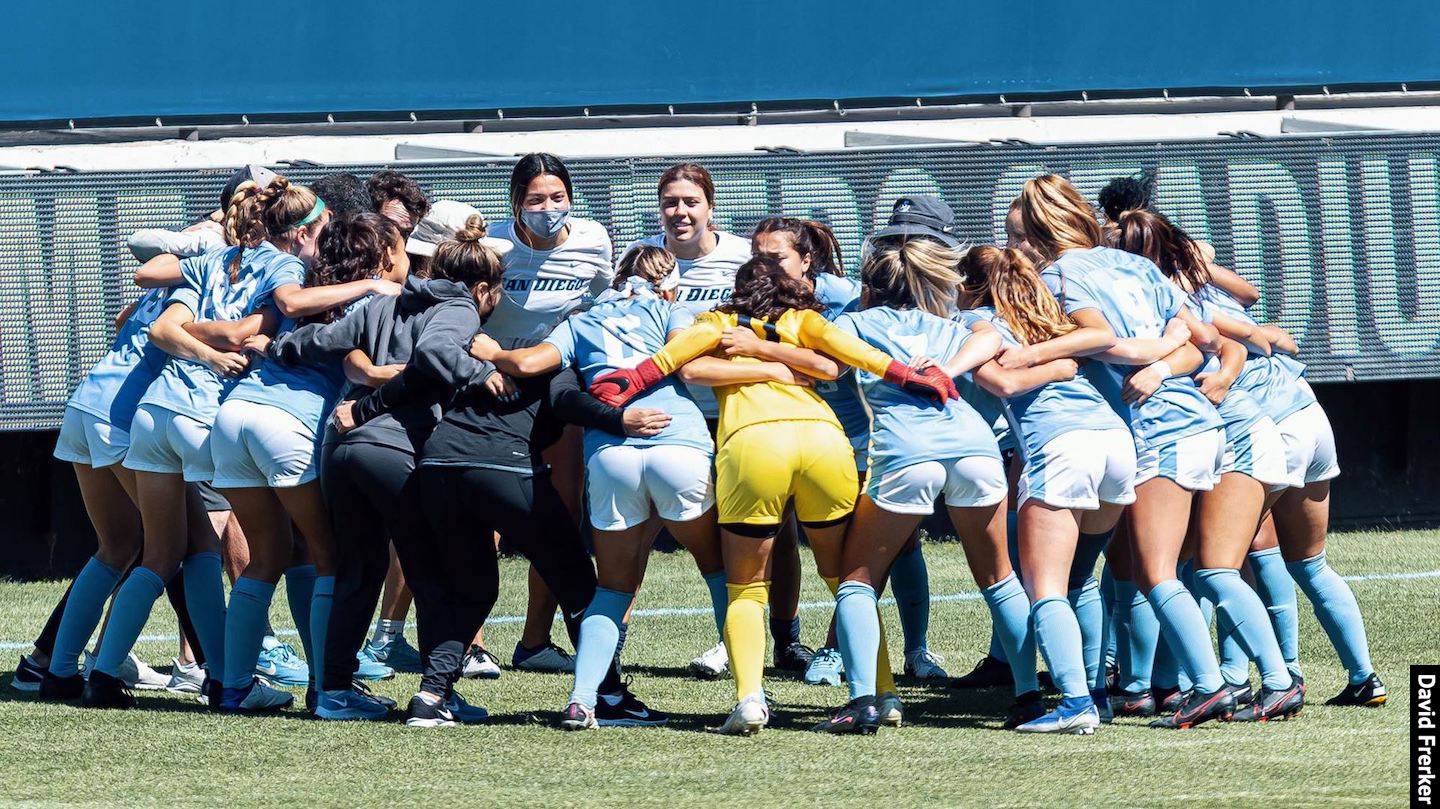 SAN DIEGO – The University of San Diego women's soccer program announced its incoming class for the 2021 season on Tuesday, featuring eight players from three different states and one international scholar-athlete from Canada.
"We are looking forward to welcoming this great group of Toreros into our soccer program and the USD community," said head coach Louise Lieberman. "This incoming class will greatly complement our playing identity on the field, and will no doubt have a major positive influence within our chemistry and culture in all that we are striving for as a program."
"When building our 2021 class, we consistently looked for a balanced blend of characteristics, qualities, and personalities that would seamlessly integrate into our playing environment, and we couldn't be more excited for these 8 scholar-athletes to arrive on our beautiful campus here in San Diego."
The group is highlighted by three midfielders, two forwards and defenders and one midfield/defender combo. The class includes five California natives, one player from Georgia and Wisconsin, and one from New Vancouver, British Columbia.
Mia Castillo | 5'5″ | Midfielder/Defender
Moraga, Calif. native Mia Castillo joins San Diego as a midfielder/defender combo. She will be the second member of her family to become a collegiate athlete after her mom, Andrienne, was a swimmer at Cal.
Castillo competed with Lamorinda Soccer Club and has served as the team captain for three seasons. Castillo's leadership extended beyond team captain as a DA Leadership Seminar invitee and a GA team representative. She helped led her team to a No. 1 ranking in the DA Northwest Conference and in the DA top 10 in 2019-20.
In the classroom, Castillo has been recognized as an AP Scholar and a four-year Honor Roll student. She has served her community in multiple ways and earned the Volunteer Service Award at Campolindo High School four times.
Tiana Egland | 5'8″ | Defender
Fellow California native Tiana Egland joins San Diego after prepping at Upland High School in Upland, Calif. A multi-sport athlete, Egland played softball, basketball, gymnastics and soccer. Egland comes from a long line of elite athletes as her dad, Pati, played for the U.S. National Rugby team for 10 years and has three cousins who played collegiate football.
She was a four-year starter on the pitch for Upland and a three-time All-League selection. Egland helped lead her team to three Baseline League Championships and a 30-0 overall league record. The defender most recently played club soccer with the SoCal Blues.
Off the field, Egland has been recognized in the classroom as a six-time Honor Roll recipient and has been a member of her school's Associated Student Body (ASB).
Sara Evans | 5'5″ | Forward
Sara Evans joins the Toreros from Fayetteville, Ga. after prepping at Starr's Mill High School. The attacking forward brings scoring power to San Diego as her team's leading goal scorer in 2019 and 2020.
Evans is a three-time All-Region selection and a two-time MVP. She was also named to the 2020 All-State team after recording 14 goals and six assists in 10 games. Evans played club soccer with Concorde Fire and United Fútbol Academy.
Off the field, Evans has been a standout in the classroom ranking in the top 10 percent of her graduating class and lettering in academics all four years of high school. She enjoys painting and designing clothes.
Jenn Hashimoto | 5'5″ | Defender
Jenn Hashimoto hails from North Vancouver, British Columbia and is the first Canadian player for the Toreros since the mid-2000s. She prepped at Burnaby Central Secondary School and graduated this past spring.
A talented defender, Hashimoto brings championship-level experience to San Diego after winning the National Championship in 2018 with the BC Provincial Team. She also was a member of the 2017 and 2018 Provincial Championship teams. In 2017, Hashimoto earned the Player of Distinction Award and was recruited to a top team in Japan (KOBE INAC).
Hashimoto graduated with academic honors and served her community as a volunteer assistant coach with her club team. She enjoys snowboarding, going on hikes and hanging out with friends.
Lexi Nobels | 5'9″ | Midfielder
Lexi Nobels joins the Toreros from North Tustin, Calif. after prepping at Foothill High School. Nobels will become the second member of her family to play college sports after her mom Julie played softball and volleyball at SUNY Brockport.
Nobels served as a two-time captain of the varsity soccer team at Foothill and is a two-time All-Conference selection. A four-year starter, she was named the Team MVP and Most Valuable Offensive Player her junior and senior years after leading the team in goals. The midfielder played club with LAFC Slammers and helped lead her team to a league championship in 2021.
She has been recognized for her work in the classroom as a four-time Scholar-Athlete Award winner and has held a 4.50 GPA or above throughout her preparatory career. Nobels enjoys drawing and painting, skateboarding and traveling.
Bella Piete | 5'1″ | Midfielder
A creative midfielder, Bella Piete joins San Diego from Alpine, Calif. She prepped at West Hills High School in Santee and graduated this past spring.
Piete brings international playing experience to the Toreros after participating in U.S. National Team training camps in Portland (2017), Carson (2017) and Florida (2018). She was also selected to compete in an international friendly against Germany in 2017. Piete played club with the San Diego Surf Soccer Club and helped lead her team to a third-place finish at the 2018 DA National Playoffs.
She has been a member of the Honor Roll every year of high school and enjoys going to the beach.
Ariana Scholten | 5'9″ | Forward
Ariana Scholten rounds out the group of California natives in San Diego's incoming class. Scholten prepped at Ripon High School in Ripon, Calif. as a multi-sport athlete in soccer and track.
She served as a three-time captain of the varsity soccer program and helped lead her team to two section championships. Scholten is a four-time All-League selection and was nominated for the Best of the Preps women's soccer for two seasons. The forward played club soccer with Ajax United and Placer United.
Scholten has served her community by participating in beach clean ups with her dad.
Annika Seem | 5'8″ | Midfielder
Annika Seem joins the Toreros from Glendale, Wis. After prepping at Nicolet High School. A member of the varsity soccer program, Seem was named to the 2020 Wisconsin Soccer Coaches All-Star roster.
A midfielder who brings versatility to the pitch, Seem played club soccer with ECNL FC Wisconsin, DPL Palm Beach Gardens Predators and the WPSL Bavarian SC. She brings championship experience to the Toreros as a 2021 DPL National Playoff participant and a 2021 DPL South East Conference Champion.
Seem has been recognized for her work in the classroom as a Nicolet Dean's List/ High Honor Roll recipient all eight semesters of high school. She also graduated as an AP Scholar with Honors. Seem has served her community through mission trips with her church youth group for four years.