Colgate men's soccer announces 9-player recruiting class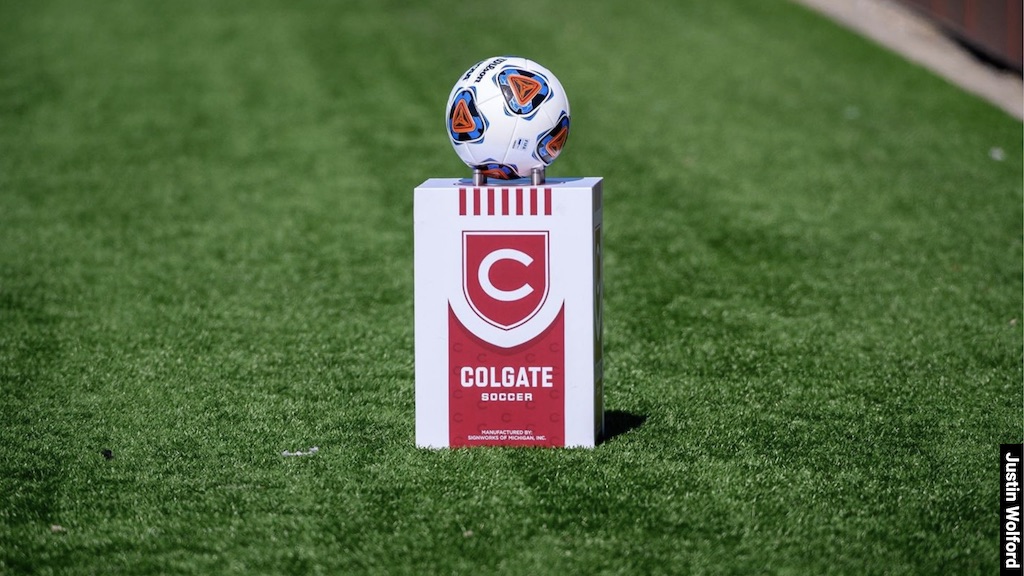 HAMILTON – Colgate University's John W. Beyer Head Men's Soccer Coach Erik Ronning has announced the incoming Class of 2025, featuring nine student-athletes who look to make immediate contributions to the program in 2021.
Colgate welcomes the nine-player class featuring four midfielders, three defenders, one forward, and one goalkeeper. The incoming Raiders, hailing from seven different states and three countries, are set to bolster a strong core of returners for the upcoming season.
Among the top soccer players in their respective countries, three incoming freshmen competed for youth national teams during their scholastic careers.
"I am thrilled to welcome this group to the Colgate Soccer family," Ronning said.
"This is an incredibly talented and well-balanced class of scholar-athletes who will be expected to make an immediate impact upon the program. We addressed our current and future needs, and know we have improved the quality of our roster."
The nine incoming first-years are listed below in alphabetical order.
Jacob Blackwin
Defender
Rollinsford, N.H./Berkshire School
Black Rock FC
Before Colgate
Blackwin netted three goals and added five assists in two varsity seasons as a key defender at Berkshire School of the New England Preparatory School Athletic Council (NEPSAC)…senior captain…named to the 2019 Junior All-Star Team and garnered 2018 Most Improved Player honors after leading Berkshire to the Class A NEPSAC Soccer Championship…competed in club showcases for Black Rock FC and recorded two assists…also competed in track and field and squash…named Most Improved Track Athlete in 2019…named to Academic High Honors during his time at Berkshire.
Personal
Born: Jacob Mathew Blackwin in Ottawa, Ontario.
Family: Son of Everton and Cynthia Blackwin…has one brother Max and a sister Cassidy.
Blackwin on Choosing Colgate: "Colgate is a school that excels both in the classroom and on the soccer field. I value academics just as much as soccer, and Colgate demonstrates the importance of being successful in the classroom. This small community is something that I want to be a part of while I continue to grow into an adult and begin the next stage of my life."
Daniel Brennecke
Midfielder
Oconomowoc, Wis./Oconomowoc
FC Wisconsin Nationals
Before Colgate
Brennecke compiled 21 goals and 15 assists as a four-year standout for Oconomowoc High School…scored 11 goals and dished five assists during senior campaign on his way to earning Classic 8 Conference Player of the Year, First Team All-Midwest Region, and First Team All-State accolades…helped lead his team to the Classic 8 Conference championship in 2020…garnered runner-up Player of the Year honors during junior season as an All-State and All-Conference selection…tabbed Second Team All-Conference distinction as a sophomore…named the team's Most Valuable Player and two-time captain…racked up five goals and four assists while playing club soccer for FC Wisconsin Nationals in the Elite Clubs National League (ECNL).
Personal
Born: Daniel Jay Brennecke in Oconomowoc, Wis.
Family: Son of Rob and Shannon Brennecke…has one brother Ryan.
Brennecke on Choosing Colgate: "What led me to my decision to choose Colgate was the beautiful campus and amazing academics. I love this University not only for its soccer program but also for the culture and atmosphere. I wanted to attend a University that would push me in both soccer and academics so I can become the best version of myself."
Alejandro Coury
Midfielder
Yarmouth, Maine/Worcester Academy
Seacoast United
Before Colgate
Coury garnered All-American honors as a member of Worcester Academy in 2019…racked up 17 goals and five assists during his high school career…also earned All-New England and Maine All-State laurels…helped lead his high school to a 2019 Maine Class B State Championship on his way to earning team MVP and Offensive Player of the Year recognition…competed in club soccer for Seacoast United and was invited to the United States Futures National Team Camp as a member of the New England Revolution in 2017…five-time Honor Roll selection and named to the Maine Soccer All-Academic Team…also competed in Nordic Skiing and Tennis in high school.
Personal
Born: Alejandro Villegas Coury in Lewiston, Maine.
Family: Son of Tim and Karla Coury…has two brothers Max and Mateo.
Coury on Choosing Colgate: "I chose Colgate because I really like the idea of a small school with strong academics that also has competitive Division I sports. I really liked the campus and had great conversations with the coaching staff. It was a no-brainer for me."
Timmy Donovan
Forward
Litchfield, Conn./Litchfield
FSA FC United
Before Colgate
Donovan was a two-time United Soccer Coaches All-American and All-New England honoree for Litchfield High School in the Berkshire League…amassed 206 career points behind 92 goals and 22 assists…compiled 14 goals and two assists in five games during his senior campaign…garnered United Soccer Coaches All-American and All-New England honors in 2019 and 2020…three-year All-Berkshire League First Team and All-State selection…set the Litchfield single-season scoring record with 36 goals…most goals as a freshman with 12…helped lead his team to back-to-back Class S State championships in 2018 and 2019…Berkshire League Co-Champions in 2018 and 2020…two-time Elite Clubs National League (ECNL) All-Conference pick on the club circuit…posted 71 goals while playing for FSA FC United from 2017-21…member of National Honor Society.
Personal
Born: Timothy Garlan Donovan in Danbury, Conn.
Family: Son of John Donovan and Elizabeth Keilty…has one brother John and a sister Caroline…aunt Andrea Frankl graduated from Colgate in 1990.
Donovan on Choosing Colgate: "I chose Colgate because I wanted to attend a university that would provide both academic and athletic excellence. The beauty of the campus, the world class academic and athletic facilities, and the reputation of Colgate University made it my top choice."
Toby Goldner
Defender
Rexford, N.Y./Niskayuna
Black Watch Premier
Before Colgate
A strong defender, Goldner played three years of varsity soccer at Niskayuna High School, helping lead the squad to 22 shutouts as a member of the back line…scored nine goals…garnered First Team Suburban Council honors in 2020 and was a Third Team selection in 2019….helped guide the team to the sectional finals in 2018…also a member of the Scholar-Athlete Varsity Team…played club soccer for Black Watch Premier of the EDP North Atlantic League from 2014-21…helped the team capture a USCS Mid-Atlantic Regional championship in 2018.
Personal
Born: Toby Alex Goldner in Albany, N.Y.
Family: Son of Jeff Feldman and Melinda Goldner.
Goldner on Choosing Colgate: "I love the mixture between high level athletics and academics. The campus is also beautiful and the people are amazing."
Dale Lepper
Midfielder
Poland, N.Y./East Syracuse Minoa
Empire United
Before Colgate
Lepper played two seasons on the club circuit for Empire United of the MLS Next Academy and was a two-time selection to the Olympic Development Region I International Team…tallied three goals and one assist during his time with Empire United…two-time State Cup winner…attended nearby Poland Central School, where he netted 18 goals and contributed 26 assists as a sophomore…three-year All-Conference First Team selection…also garnered Mohawk Valley All-Star and All-CNY honors in 2018…named Section III Most Valuable Player…earned High Honor Roll every year in high school…also competed in basketball and tennis.
Personal
Born: Dale Bernard Lepper in Utica, N.Y.
Family: Son of David and Beth Lepper…has two sisters Alyssa and Claire.
Lepper on Choosing Colgate: "I chose Colgate because it has had a place in my heart since I went to youth soccer camps and stayed on campus when I was younger. I always liked the small town feel. Mostly I just felt like I belonged there because I've always liked the school."
Mason Pahule
Midfielder
Sacramento, Calif./Jesuit
Sacramento Republic FC
Before Colgate
Pahule attended Jesuit High School and competed in club soccer for Sacramento Republic FC of the Development Academy West Conference…appeared in 118 total matches and recorded 83 starting assignments, where he was called up on several occasions to compete for United States Soccer Federation Training Center camps…during his senior campaign he appeared in all 20 matches with 15 starts …has appeared for the Sacramento Republic USL first team on multiple occasions…helped lead his squad to a 21-7-6 overall record in 2018, appearing in every postseason game as the team ranked 11th nationally…invited to play for a team in Donosti Cup, an international tournament in Spain, and competed against teams from France, Spain, Italy, and Jordan…named to First Honor Roll (4.0 GPA or higher) or Second Honor Roll (3.7 GPA or higher) during each semester at Jesuit High School.
Personal
Born: Mason Chiu Pahule in Sacramento, Calif.
Family: Son of Chris and Bonnie Pahule…has one brother Nolan.
Pahule on Choosing Colgate: "I originally committed to play Division I soccer at Colgate based on the soccer program's reputation and also because I enjoyed getting to know the coaching staff. After visiting Hamilton and the campus, and learning everything I could about Colgate, including its history and traditions, I know it will be a great fit for me."
Lucas Rodriguez
Midfielder
Mexico City, Mexico/Northwood School
Black Rock FC
Before Colgate
Rodriguez played two years of varsity soccer at Northwood School, compiling 12 points behind one goal and 10 assists…scored one goal and added six assists during his senior season…competed in club soccer for Black Rock FC, tallying a goal and eight assists in 1,980 minutes played…contributed five assists during his senior year…spent the 2020 season playing for Loyalty Soccer Club in the Mexican Liga TDP…helped lead his club team to an IMG Cup Championship in 2019…academically, earned the University of Albany Multicultural Award and was twice named to the High Honor Roll as a junior and senior.
Personal
Born: Lucas Rodriguez in Mexico City, Mexico.
Family: Son of Alvaro Rodriguez and Marcela Cortina.
Rodriguez on Choosing Colgate: "I chose Colgate because of its excellent combination of high-level academics and high-level athletics."
Oliver Townend
Goalkeeper
Nassau, The Bahamas/Darlington School
Darlington Soccer Academy
Before Colgate
Townend attended Darlington School in Rome, Georgia, where he posted 17 wins with 12 shutouts as a senior…selected to the USYS ODP Region III Team and invited to the Men's National Squad of The Bahamas in 2020….helped guide his high school to The Bahamas National High School Championship in 2019, garnering MVP honors…named the Best Goalkeeper of the Tournament in 2018 and earned the Premier Skillz Academy MVP award…competed on the club circuit for Darlington Soccer Academy of the Piedmont Conference and USYS National League…also competed in track and field and set the Lyford Cay International School U20 5,000m track record in 2019.
Personal
Born: Oliver Scott Townend in Nassau, The Bahamas.
Family: Son of Jacqueline and Simon Townend…has one sister Sasha.
Townend on Choosing Colgate: "I chose Colgate because of its prestigious soccer program where I believe I can make a difference, improve, and help an already successful team achieve greater things. I also wanted to go to a University where I would challenge myself academically and receive a great degree."