Brown University men's soccer program welcomes eight incoming recruits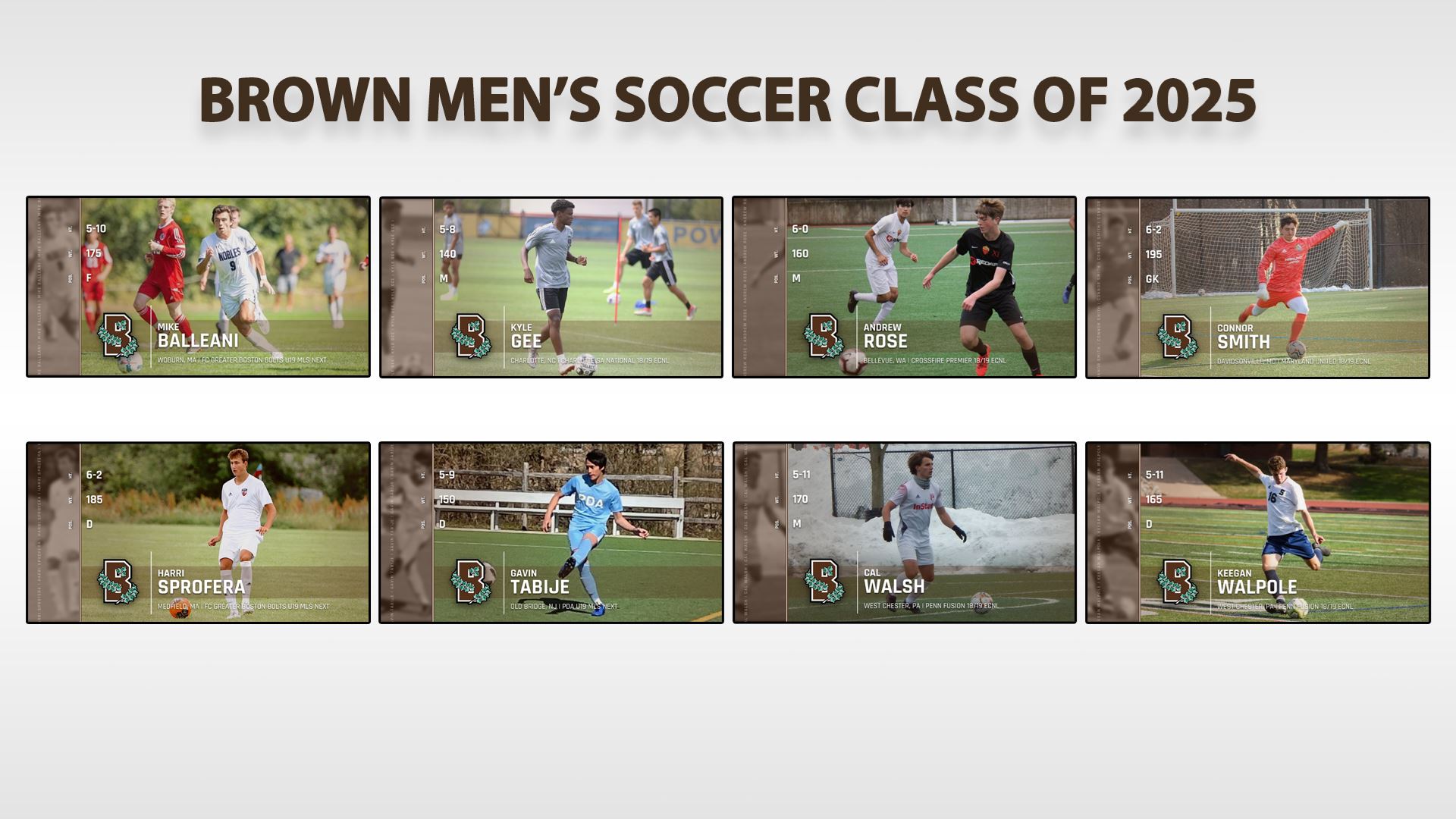 PROVIDENCE, R.I. – Friends of Brown University Men's Soccer Head Coaching Chair Patrick Laughlin announced the addition of eight new student-athletes, set to join the roster in the fall of 2021.
Brown's incoming class is composed of three midfielders, three defenders, one forward, and one goalkeeper from six different states.
"We are looking forward to getting this recruiting class on campus," said Laughlin. "We were able to address key positional needs while also increasing our overall team depth. This class is a resilient group who have shown a great commitment to their development in a difficult time. Their enthusiasm for being a part of Brown Men's Soccer is exceptional and I expect them to bring that to the field this Fall."
Mike Balleani
Position: Forward
Hometown: Woburn, Mass.
High School: Noble and Greenough School
Club: FC Greater Boston Bolts u19 MLS Next
Two-time MLS Generation Adidas Cup player with New England Revolution
All-State and NEPSAC All-Star selection in 2019
Three-time U.S. Soccer Training Center invitee
Three-time IMG Top 150 player
Coach Laughlin on Balleani: Mike is an important part of this class. He was one of our first commitments and helped set the tone for this group. He is a dynamic and aggressive forward that has scored goals for the Revs, the Bolts and his High School. His acceleration and movement around the box are very good and will be a big part of his success in college. 
Kyle Gee
Position: Midfielder
Hometown: Charlotte, N.C.
High School: YSC Academy
Club: Charlotte SA National 18/19 ECNL
Invited to the US Boys' National Team Futures Camp
U.S. Soccer Training Center invitee
Competed for Charlotte SA and Philadelphia Union in the USSDA
Team won Super Cup NI in Northern Ireland beating Celtic in the final
Coach Laughlin on Gee: Kyle is an exciting attacking player that has competed at a very high level. Kyle is good at finding pockets of space and playing between the lines. He has very good feet and is an excellent passer. Kyle is a player we are going to want on the ball. He has demonstrated a great desire to be a part of this program and I expect him to make an impact during his time at Brown. 
Andrew Rose
Position: Midfielder
Hometown: Bellevue, Wash.
High School: Bellevue
Club: Crossfire Premier 18/19 ECNL
Recorded eight goals in 18 games in USSDA (2019-20)
Crossfire ranked in the top-10 nationally for 2019-20
Top-10 goal scorer in Western Conference of USSDA (2019-20)
Helped lead Crossfire to the finals of the Rotterdam Football Cup against Ajax FC
Coach Laughlin on Rose: Andrew is a midfield player who has a habit of getting into the box late to score goals. He is a willing runner and finishes well when he gets opportunities. Andrew gives us another attacking option out of midfield. He joins two other players from Crossfire Premier on the team. We feel that his mentality fits really well with BMS.
Connor Smith 
Position: Goalkeeper
Hometown: Davidsonville, Md.
High School: McDonogh School
Club: Maryland United 18/19 ECNL
Three-time MIAA A Conference Champion (2017-19)
U17 ECNL Northeast Conference Champion (2019)
Competed in the Boys ECNL Florida Showcase in 2018
Coach Laughlin on Smith: Connor came into the recruiting process late for us and he has really shown a great desire to be at Brown and a part of this program. Connor is a good communicator and manages the game well. He is very competitive and will work extremely hard to push himself and the other goalkeepers. I'm looking forward to Connor joining our GK group this Fall.
Harri Sprofera
Position: Defender
Hometown: Medfield, Mass.
High School: Noble and Greenough School
Club: FC Greater Boston Bolts u19 MLS Next
Four-year varsity team member
Two-time All-ISL honoree (2018-19)
Selected All-State and All-New England in 2019
US Club National Champion with Global Premier Soccer in 2018
Coach Laughlin on Sprofera: Harri played on the same team as Taha Kina and Jack Cloherty from the 2024 recruiting class and we have been watching him for several years. He was an early commit for us as we had a really good read on his abilities. Harri is a left footed center back who has good size and is an excellent passer. We are excited to finally have Harri on College Hill.
Gavin Tabije
Position: Defender
Hometown: Old Bridge, N.J.
High School: Seton Hall Preparatory School
Club: PDA U19 MLS Next
Soccer College News' Top 50 player
Top Drawer Soccer IMG's Top 150 player
Attended US National Team Camp (2017)
U.S. Soccer Training Center invitee
Starter at the MLS Generation Adidas tournament with NY Red Bulls
Coach Laughlin on Tabije: Gavin is a quality left footed midfielder or defender. He passes well, defends well in isolation and can add to the attack. Gavin has been a part of several great soccer environments and that should ease his transition to college soccer. He is driven both on and off the field and will fit in well with BMS.
Keegan Walpole 
Position: Defender
Hometown: West Chester, Pa.
High School: Salesianum School
Club: Penn Fusion 18/19 ECNL
Ranked the sixth best player in Delaware
First Team All-State DIAA
Two-time DIAA State Champion
ENPL National Finalist in 2018
Coach Laughlin on Walpole: We were able to see Keegan at one of our camps and I knew then that I wanted him to come to Brown. He is an athletic and tough left back that competes really well. His ability to defend in isolation will give him the opportunity to compete early in his time at BMS.
Cal Walsh 
Position: Midfielder
Hometown: West Chester, Pa.
High School: Salesianum School
Club: Penn Fusion 18/19 ECNL
Four-year varsity team member and three-time state champion
U. S. Soccer Training Center invitee
United Soccer Coaches Regional All-American and First Team All-State as a senior
Gatorade Player of the Year runner up in 2020
ECNL Northeast Conference Player of the Year and ECNL All-American in 2019
Coach Laughlin on Walsh: Cal can play as a defensive center midfielder or as a center back. He is a leader on both his High School and Club team. He has a wide range of passes and is comfortable playing under pressure. Cal always seems to be around the ball and first to the ball in defensive situations. We are thrilled to have him joining us this fall