Iowa State soccer program hires Maddie Dobyns as assistant coach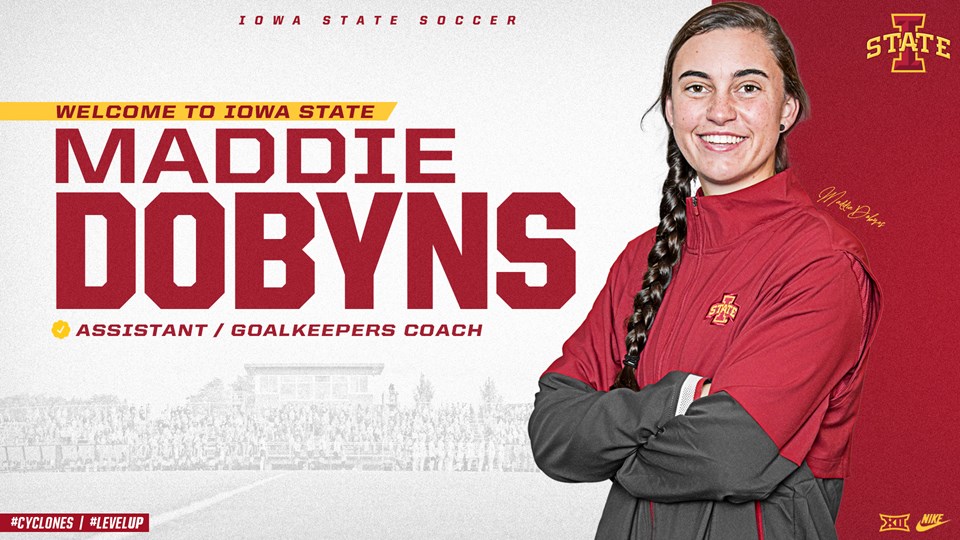 AMES, Iowa – Iowa State soccer head coach Matt Fannon announced the addition of assistant coach Maddie Dobyns to his ISU staff. Dobyns will specialize in mentoring the Cyclone goalkeepers while assisting with all other aspects of the program.
"Dobby comes highly recommended as one of the best young goalkeeper coaches around," Fannon said. "She has a great temperament to work with our excellent goalkeepers; a temperament that comes from being one of the top goalkeepers in the Big 12 during her playing career. We are really happy to add her to our staff."
Dobyns comes to Iowa State from Cincinnati, where she had served as the goalkeepers coach since 2019. The native of Kansas City, Mo., also brings with her a wealth of experience in the Big 12 Conference. Dobyns was a standout goalkeeper at Kansas from 2013-17, and was on the KU staff for the 2018 campaign.
"I am so excited to join the coaching staff at Iowa State," Dobyns said. "Matt has an incredible reputation, and I know he has big things in the works for the program. The campus, facilities and staff all make this place even more incredible. I can't wait to get out on the field and get started with the team."
Dobyns' ability to develop outstanding goalkeepers was evident in her time at Cincinnati. Under Dobyns' leadership, Bearcat goalie Madison Less made tremendous strides during the 2019 campaign. The junior's Goals Against Average (GAA) dropped from 1.83 in 2018 prior to Dobyns' arrival to just 1.12 in 2019. As a team, the Bearcats also allowed 10 fewer goals during Dobyns' first season with the program than the previous year. Less recorded eight shutouts in 2019 en route to being named the AAC Goalkeeper of the Week twice.
Dobyns was a member of the Kansas program from 2013-17 and appeared in 60 matches for the Jayhawks between 2014-17, after utilizing a redshirt in 2013. The team's primary starter over her final three seasons, Dobyns anchored KU to the second round of the NCAA Tournament in 2016 and was in goal to help the Jayhawks take runner-up honors at the 2015 Big 12 Tournament as the #6 seed in the event. For her career, she left KU ranked #2 in goals against average at 1.06, third in shutouts with 14 and fourth in wins with 29. She also earned her place in the KU record books ranking No. 4 in single-season GAA (0.81 in 2016) and No. 5 in single-season shutouts (6 in 2015).
Following the completion of her playing career, Dobyns remained in Lawrence for the 2018 season and served as the team's Director of Operations where she gained experience both on and off the pitch. She was tasked with the day-to-day operations of the women's soccer program, while assisting in various duties as they related to recruiting, communications, travel and fan engagement. During that time, she also began her coaching career working alongside Nicole Barnhart at KC Athletics. Barnhart is a former member of the U.S. Women's National Team that earned 54 caps for the Americans and currently plays in the NWSL for the Utah Royals.
A native of Kansas City, Mo., Dobyns earned two degrees from KU, graduating with her Bachelor's in Communications before earning a Master's in Digital Content Strategy. While working toward her degrees, she was named to the Academic All-Big 12 First Team twice (2015 & 2017) and its Second Team once (2016).