United Soccer Coaches Hall of Famer Schellas Hyndman to retire after spring season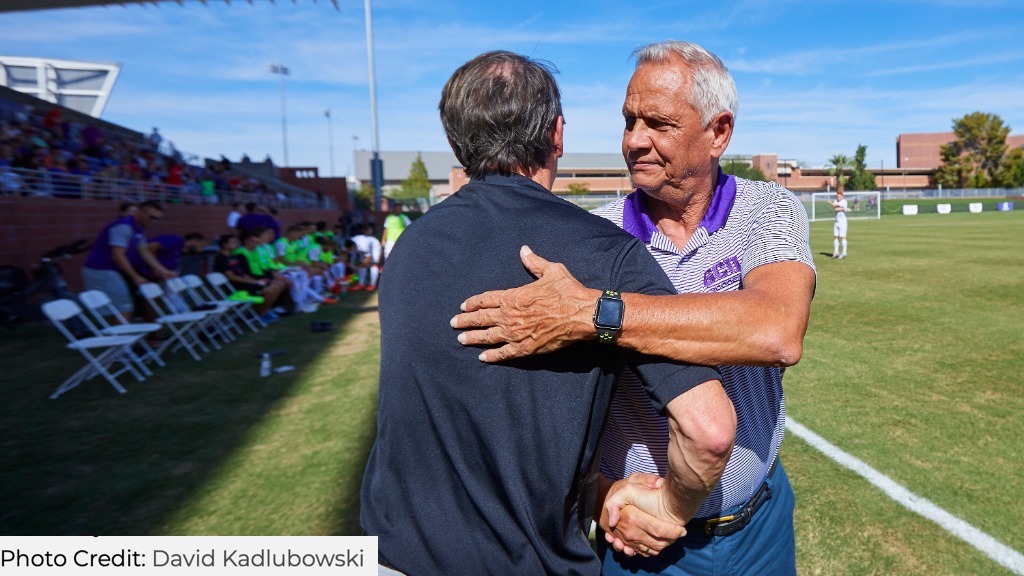 After one of the most successful careers in college soccer history, Grand Canyon men's soccer head coach Schellas Hyndman announced he will retire at the conclusion of this spring's season. A 2020 United Soccer Coaches Hall of Fame inductee, Hyndman ranks second in wins among active Division I coaches.
"I've been blessed to have been involved in the sport of soccer my entire life," Hyndman said. "I will always cherish and remember the wonderful young men that I was fortunate to have coached as well as the fantastic friendships that I have made with my colleagues through the sport of soccer. I look forward to spending more valuable time with my family after this upcoming season."
The delayed season, starting Jan. 27 and ending in April, will mark the end of a 37-year college coaching career that has seen Hyndman win 503 games to date. With a sixth season upcoming, his five seasons at GCU have been highlighted by leading the Lopes to a 2018 WAC Tournament championship and the program's first trip to the NCAA tournament at the Division I level.
"It has been an honor to work with one of the most recognizable names in college soccer history," GCU interim vice president of athletics Jamie Boggs said. "What Schellas has done over the course of his more than 40 years in soccer has been remarkable. We are thankful for his contributions and service to GCU."
GCU played host to a special milestone on Aug. 30, 2019, when the Lopes shut out Northern Kentucky 3-0 in front of 3,328 fans at GCU Stadium. The season-opening victory granted Hyndman his 500th career victory, a feat accomplished by only four other D-I coaches.
Hyndman's GCU career began in 2015 at GCU Soccer Field, one year before the school introduced one of the game's premier venues in GCU Stadium. Since the opening of the new stadium, the Lopes have hosted crowds as large as 6,648 fans and averaged over 2,000 per match for a top-10 national ranking.
The 2018 season saw GCU roll out one of the nation's stingiest defenses, leading the Lopes to five wins over top-25 opponents. Hyndman's Lopes put together three consecutive victories to wrap the regular season and three more to march through the WAC tournament without allowing a goal. GCU's D-I NCAA tournament debut ended in a 1-1 draw at UC Irvine with the Anteaters advancing 6-5 on penalty kicks.
Hyndman's coaching career started at Eastern Illinois for seven seasons which saw the Panthers make three visits to the College Cup in 1978, 1979 and 1981. He moved on from his alma mater to spend the bulk of his years at SMU. He took over the SMU men's soccer program in 1984 and produced winning seasons in each of his 24 years there, finishing with a 368-96-40 record. Under Hyndman, SMU made 22 NCAA tournament appearances, advancing to the quarterfinals 11 times and the College Cup twice.
A six-year stint in Major League Soccer leading FC Dallas produced a 62-59-58 mark, a 2010 MLS Coach of the Year distinction and a trip to MLS Cup.
GCU's unique 2020-21 season is slated to begin with an exhibition match on Jan. 27 before WAC play opens on Feb. 6 against Utah Valley at GCU Stadium.