Iowa State Soccer announces Dan Ball as new assistant coach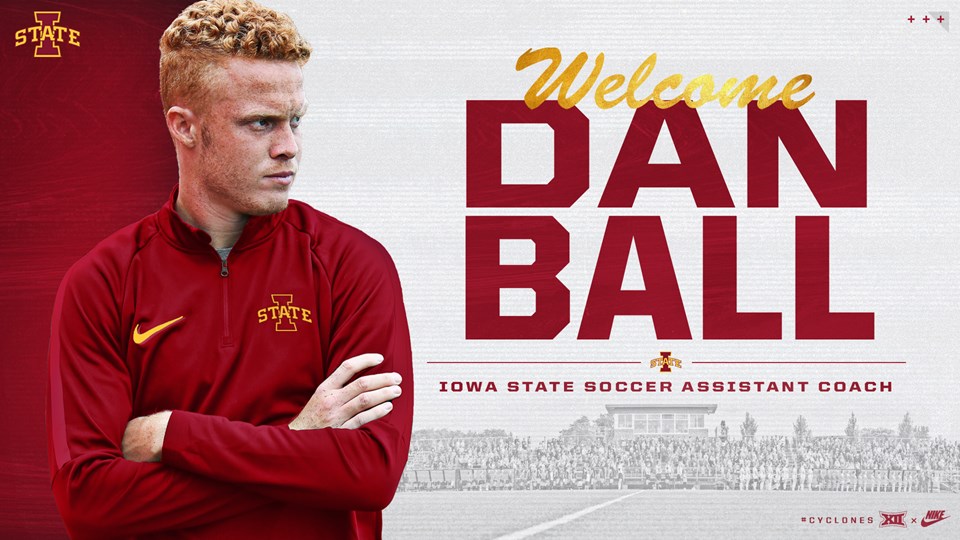 AMES, Iowa – Iowa State head coach Matt Fannon announced today that Dan Ball has joined the Iowa State soccer program as an assistant coach. Ball comes to Iowa State from Bowling Green, where he assisted Fannon in guiding one of the most impressive rebuilding jobs in collegiate soccer while at BGSU.
Ball, a critical piece to Fannon's staff during BGSU's back-to-back Mid-American Conference championship seasons in 2018 and 2019, will be in charge of coaching Iowa State's goalkeepers.
"We are really happy to be able to add Dan to the staff," Fannon said. "He has proven to be one of the best young goalkeeper coaches around, and is excellent in all aspects of what we do. Along with (Player Development Coordinator) Erin Kielmeyer, the three of us have worked well together for the past two seasons, so having that familiarity in our operating procedures will be key to feeling at home quickly in the new surroundings."
Ball, who has coached seven combined seasons of men's and women's collegiate soccer, has had his goalkeeper earn all-conference honors at the end of all seven campaigns. A native of Chatham, England, Ball joined Fannon's staff at BGSU in June of 2018 and helped guide the Falcons to the best two-year run in program history. Over Ball's two-year stretch of mentoring BGSU's goalkeepers, the program went 28-11-6, including a 20-2 mark in MAC regular season play, en route to a pair of MAC titles.
BGSU had the most dominant two-year run in MAC history during Ball's tenure, as the Falcons became the first program to record 10 league wins in back-to-back seasons in the conference's history.
The impact of Ball's coaching is best exemplified by his outstanding work with Falcon goalkeeper Kathleen Duwve, who put together one of the best seasons in BGSU history in 2018. The native of Sylvania, Ohio, tallied an incredible GAA of 0.49 in MAC play in her first season under Ball's tutelage. She allowed only five goals in 927 minutes of conference regular-season action, and had a saves percentage of .878. She was the MAC's overall leader in GAA and save percentage, en route to All-MAC First Team and United Soccer Coaches All-Midwest Region honors. Duwve ended the season with a GAA of just 0.79.
The 2018 Falcon campaign culminated with a 14-5-3 overall record and 10-1-0 mark in MAC regular-season play, tying the school record for overall wins and shattering the program mark for conference victories. BGSU captured the league regular-season crown for the second time in history, and won the league tournament title for the third time ever.
The 2019 Falcons had yet another stellar season, anchored by Duwve in goal. The senior helped lead BGSU through a treacherous non-conference slate and to yet another 10-1 mark in MAC play. Duwve had a GAA of 0.72 in conference play, and an overall GAA of 1.11. She was once again an All-MAC selection and ranked No. 18 on the Top Drawer Soccer postseason list of the MAC's top players.
Ball joined the staff at BGSU after spending two seasons at Concordia University in Seward, Neb., where he was a graduate assistant goalkeeper coach for both the men's and women's soccer teams. Those two teams went a combined 57-18-8 over the last two seasons, as the men's team was 27-10-3 overall and 13-5 in Great Plains Athletic Conference (GPAC) play under head coach Jason Weides, while Greg Henson's women's program went 30-8-5 overall and 16-3-1 in the league in that span.
Ball molded Concordia sophomore goalkeeper Lindsey Carley into the GPAC Defensive Player of the Year, along with first-team all-league and all-region honors as the Bulldogs won the league title with a 9-0-1 record. During Ball's two years at the school, a total of four different goalkeepers in the two programs earned all-conference honors.
The women's program captured the 2017 league regular-season title after winning the conference tournament the previous year. The '17 women's team set program records for fewest goals conceded and most clean sheets. The coaching staff was named United Soccer Plains Region College Staff of the Year last fall.
The men's team set a school single-season record for wins in '17, going 16-3-1. Goalkeeper Jack Bennett, one of those four 'keepers to earn All-GPAC honors during Ball's tenure, ranked in the top 20 among all NAIA goalkeepers in goals-against average a year ago.
A graduate of Milligan College in Johnson City, Tenn., Ball served as an assistant women's soccer coach at his alma mater from July of 2015 to May of 2016. He worked closely with the team's goalkeepers with the Buffaloes, and under his tutelage, junior 'keeper Charlotte Stephens earned all-conference honors.
Off the pitch, Ball served as International Student Liaison at Milligan, a position he proposed and created which was focused on improving the international student experience. He oversaw 43 international students and was the principle point of contact in the assimilation of international students.
Ball was a four-year starter during his undergraduate career at Milligan, helping the Buffaloes to two Appalachian Athletic Conference titles while earning all-conference recognition in each of his last three seasons. Ball was a two-time team captain for the program.
Ball earned a Bachelor of Arts degree in political science with a minor in English at Milligan. He received a Master's in Business Administration from Concordia in May of 2018.