Iowa State Soccer hires Erin Kielmeyer as Player Development Coordinator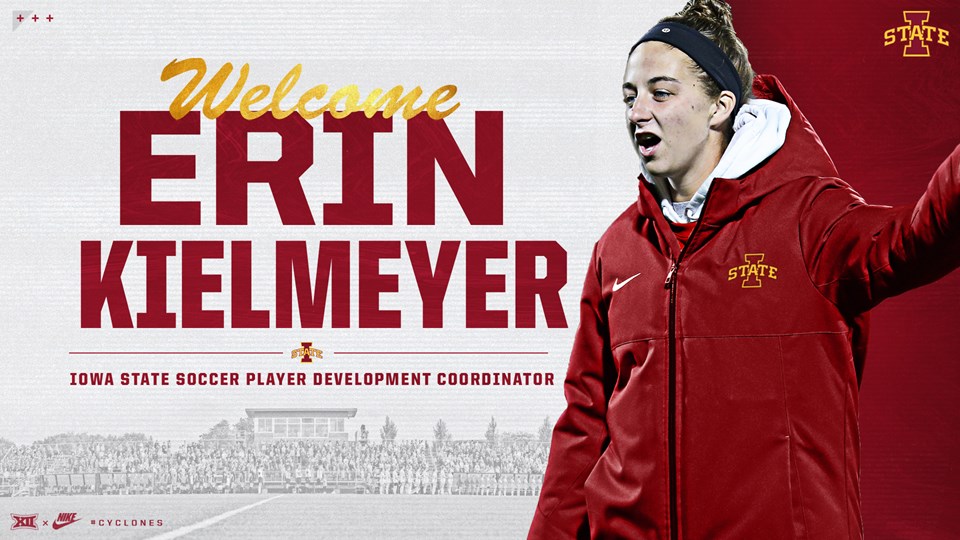 AMES, Iowa – Iowa State soccer head coach Matt Fannon announced the addition of Erin Kielmeyer to his staff as the program's Player Development Coordinator.
Kielmeyer joins the Cyclone program from Bowling Green, where she worked under Fannon and helped lead BGSU to two of the greatest seasons in school history.
"I am thrilled to be able to bring Erin along to Ames," Fannon said. "She is a great addition and brings good knowledge to help us with the science side of player performance, as well as the overall care of our women."
Kielmeyer will be tasked with collecting and analyzing sport science data to assist with injury prevention; interpret data to help the coaching staff to determine appropriate training loads for each player; and collaborate with the athletic training and strength & conditioning staffs to help provide the best possible care for the Cyclone student-athletes.
Kielmeyer, who joined Fannon's BGSU staff prior to the 2018 season, was a critical piece to the Falcons' consecutive MAC Championship runs. During Kielmeyer's tenure at Bowling Green, the program compiled a 28-11-6 record, including 20-2 in MAC regular season play.
Kielmeyer's initial season at BGSU was historic for the program, culminating in Mid-American Conference regular season and tournament crowns. The Falcons also tied the school record for overall wins and shattered the program mark for conference victories. The 2018 Falcons went 14-5-3 overall and 10-1-0 in MAC regular-season play. BGSU captured the league regular-season crown for the second time in history, and won the league tournament title for the third time ever.
In 2019, the Falcons soared once again to 14 total wins including, repeating their feat of 10 conference regular-season victories, becoming the first program in MAC history to win 10 conference matches in back-to-back seasons.
In 2018, BGSU broke the school records for most home wins in a season and most consecutive victories at home. The Falcons went 10-1-2 at Cochrane Stadium, breaking the previous single-season record of eight home victories (8-1-1 in 2008).
In 2018, BG scored 43 goals, tying the school record set the previous season. Four Falcons each had at least five goals and 19 points. Goalkeeper Kathleen Duwve was on a school-record pace for lowest GAA in a season prior to the NCAA Tournament match at Penn State, and ended the year with a GAA of just 0.79, including a miniscule GAA of 0.49 in MAC play, as she allowed only five goals in 927-plus minutes in league regular-season action.
Then, in 2019, the Falcons shattered the one-year-old record for goals in a season, finding the net 46 times. Five players had double-figure scoring totals, and three Falcons had eight or more goals and 22 or more points.
Kielmeyer joined Fannon's BGSU with a wealth of coaching experience already under her belt. She has been a coach with the Pacesetter Soccer Club since 2017, working with teams ages 13-15 as well as with the academy youth programs.
She was the head girls soccer coach at Maumee High School in 2017, helping the Panthers to a three-win improvement over the prior season. After MHS had gone 4-10-1 in the 2016 campaign, Kielmeyer guided the team to a 7-10-0 record, with the team showing better results in 10 games over the previous season.
Kielmeyer also spent four years with the Metro Futbol Club of Toledo, coaching a variety of teams with that program.
Kielmeyer graduated from BGSU in May of 2017, earning a Bachelor of Science degree in biochemistry.