Temple University hires Nick Bochette as women's soccer head coach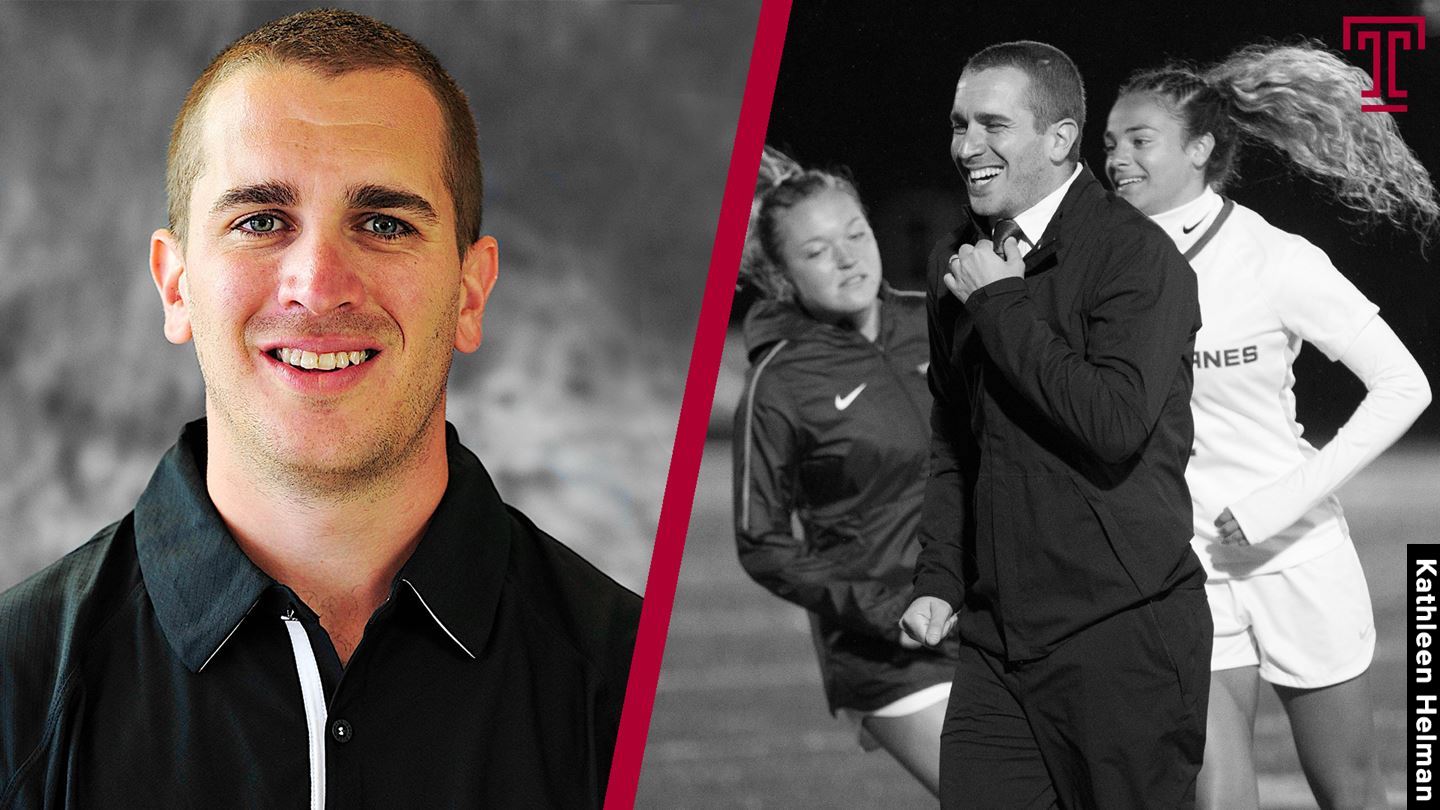 PHILADELPHIA – Nick Bochette (BO-ket), who led Albany to an America East regular season and tournament championship in his three seasons as the helm, has been named Temple University's women's soccer head coach, announced Director of Athletics Dr. Patrick Kraft.
"We are excited to introduce Nick Bochette as the next head coach of our Temple women's soccer program," said Kraft. "Nick brings with him not only a track record for success, having guided Albany to its best season ever, but also an abundance and energy and passion that should energize our program. He also has demonstrated a commitment to his student-athletes, not only on the field, but in the classroom and beyond. The search committee was very impressed with his short and long-term plans for the program, and I believe he is the perfect person to take Temple women's soccer to the next level."
"My family and I are absolutely ecstatic to be joining the Temple family," said Bochette. "I'm humbled and honored to assume this role; and want to thank Pat Kraft, Jessica Reo (Executive Associate AD), and Larry Dougherty (Senior Associate AD) for trusting in my vision to bring the Women's Soccer program into the new decade. The culture of the entire athletic department aligns perfectly with the values and priorities I have always believed in, and I was thoroughly impressed with everyone I had the privilege of meeting through the interview process.
We, as a program, will set-off with great enthusiasm and even greater ambition. Temple University is a tremendously attractive destination academically, athletically, and socially. It has all the requisite ingredients to develop a top program, and we will work tirelessly to compete at the top end of the American Athletic Conference. In doing so, we will have an outstanding opportunity to establish ourselves some of the very best teams in the country. There are many exciting goals, challenges, and achievements ahead, and I have no doubt that it will be a fantastic journey for everyone involved in our program."
Bochette, who played professionally with the USL's Wilmington Hammerheads, has been at UAlbany for a total of seven seasons, helping build the program to one of premier programs in the America East.
This past season, Bochette guided Albany to a 9-6-3 overall record and a share of the 2019 America East regular season title with a 6-1-1 league mark. The Great Danes had eight players earn all-conference accolades and for the second straight year, and fourth time overall, the program produced the Conference's Rookie of the Year.
In his second year, Bochette spearheaded the most successful season in program history. The 2018 team, which finished with a record of 14-7-2 and 5-2-1 in the America East, set records for program wins (14), National RPI Ranking (96), winning percentage, and goals scored in a single year (49). Additionally, the 2018 squad recorded the program's first-ever win against a PAC-12 opponent when they defeated No. 25 Arizona, a loss that stood as Arizona's only home defeat of the 2018 season.
The 2018 Great Danes captured three out of the five America East major awards as Jada Colbert was named America East Rookie of the Year; Kopp won her second consecutive Defender of the Year award; and Mariah Williams became the first UAlbany student-athlete to be named Striker of the Year. Three student-athletes were also recognized as United Soccer Coaches All-Region performers.
In 2016, his first season at the helm, Bochette, who has compiled a 29-24-6 head coaching record, guided the Great Danes to a 4-3-1 conference record (6-11-1 overall), and the third seed in the America East tournament. The team finished strong down the stretch, winning their final three regular season games and three of his student-athletes earned all-league honors with Caroline Kopp becoming the first UAlbany player to be named America East Defender of the Year.
Bochette started as the team's associate head coach in 2013 where he was instrumental in leading the Great Danes to their first-ever NCAA Tournament appearance in 2015. That season he started the year as the team's acting head coach, guiding the squad to a program record number of non-conference wins and setting the foundation for what would be the program's first conference championship.
Following the 2015 campaign, Bochette served one more season as associate head coach, helping the team to a second straight conference title and NCAA appearance before taking over the following season as the program's head coach.
Academically, UAlbany has earned the National Soccer Coaches Association (NSCAA) Team Academic Award all seven seasons Bochette has been at the school, earning at least a 3.0 cumulative GPA during the academic season.
Prior to arriving at UAlbany, Bochette was a men's soccer assistant coach at his alma mater, Rensselaer Polytechnic Institute. The Engineers made three NCAA Division III appearances in 2008, 2009 and 2012 under Bochette's guidance. He was also a member of the Liberty League Coaching Staff of the Year in 2008, 2009 and 2012. Bochette coached a goalkeeper to All-Liberty League honors in 2008, 2009, 2010 and 2012.
Bochette, who also served as a men's soccer assistant coach at Hartwick College in 2008, and his wife, Megan, have two daughters, Scarlett and Tessa.
Bochette's Albany Coaching Resume
Head Coach (2016-19)
Interim Head Coach (2015)
Associate Head Coach (2013-15)
> American East Champions (2015, 2016, 2018)
> America East Regular Season Champions (2016, 2019)
> NCAA Tournament Appearances (2015, 2016, 2018)
> Program Record for Wins in a Season (14 – 2018)
> Program Record for Winning Percentage in a Season (2018)
> Highest RPI in Program History (2018)
> America East Rookies of the Year – Vivian Vega (2014), Meghan Cavanaugh (2016 –co), Jada Colbert (2018), Leah Pais (2019)
> America East Defender of the Year – Caroline Kopp (2017, 2018)
> America East Striker of the Year – Mariah Williams (2018)
> CoSIDA Academic All-American – Krista Fitzpatrick (2015)