Iowa State soccer adds Henry Zapata to coaching staff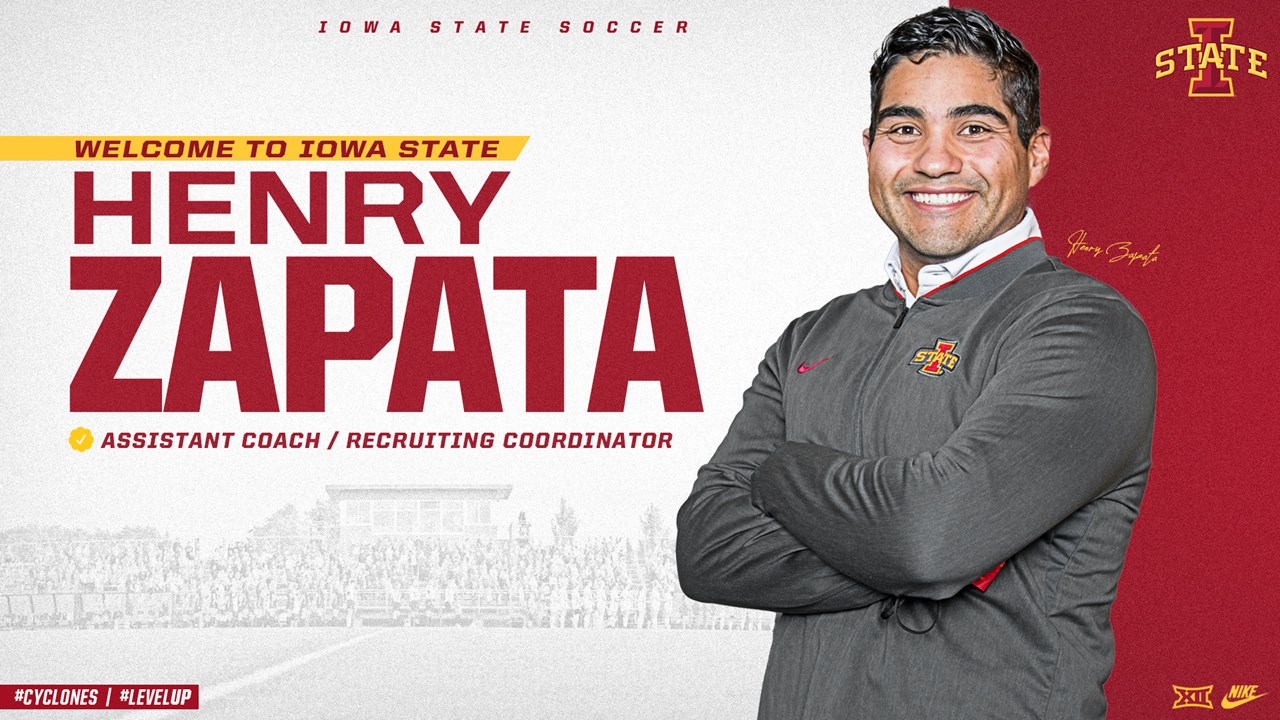 AMES, Iowa – Iowa State soccer head coach Matt Fannon announced that Henry Zapata has joined the program as an assistant coach.
Zapata comes to Iowa State from Lamar University, where he previously served as the Associate Head Women's Soccer Coach.
"We are really excited to bring Henry into our staff," Fannon said. "He has the positive personality and presence to fit in really well with our team. He is well-known for his ability to recruit and the connections he has in the right regions for us, which will be massive for our program. After a lot of research and speaking with references, it was clear that he was the perfect fit for what our program needs from this position."
Zapata, who will also be Iowa State's recruiting coordinator, brings with him a wealth of experience and success at the collegiate level. He helped guide Lamar to a pair of NCAA Tournament appearances during his four seasons in Beaumont, elevating the program to new heights.
"I am super excited about joining the coaching staff at Iowa State," Zapata said. "I love the vision that Matt has for the program. When this opportunity became available, I knew I wanted to be a part of it. I'm looking forward to meeting the team and seeing how I can help them succeed."
Zapata's impact on winning has been profound. While at Lamar, he helped guide the Cardinals to the three winningest seasons (2017, 2018, 2019) in program history, including a historic 18-win campaign in 2017. Lamar claimed its only two Southland Conference regular season titles in program history, as well as a pair of NCAA Tournament appearances, during Zapata's tenure.
While working with the Cardinals, Zapata was tasked with implementing the tactical and technical training for his defenders. The results of his work speak for themselves. Under his watch, Zapata's defense had the best Goal Against Average in program history at 0.90 during the 2017 campaign. His work with defenders Marie Lund and Amelia Fullmer, as well as goalkeeper Lauren Lovejoy, helped the trio to earn All-Southland Conference honors.
During the 2017 season, the Cardinals went 18-4-1 overall and 10-1-0 in Southland Conference play, setting school records for wins and conference wins. LU improved upon its 2016 win total by 16 victories, tying the NCAA record for the biggest improvement for wins in a single season. Zapata and the Cardinals won the SLC Tournament and clinched the program's first-ever NCAA Tournament appearance to cap the season.
In 2019, the Cardinals claimed the Southland Conference regular season title, going 16-7 overall with a 10-1 conference record. LU avenged its only league loss of the season to Northwestern State in the SLC Tournament title game, 3-1, to claim the 2019 tournament title. Lamar would go on to face UCLA the 2019 NCAA Tournament.
Zapata also has prior experience in the role of recruiting coordinator, having served in the same position at Lamar while working as the primary international recruiter to Europe and South America.
Zapata came to LU from Elon University, where he served as an assistant coach in 2015. While at Elon, Zapata was responsible for the training for all goalkeepers, which led to 421 continuous scoreless minutes, four consecutive shutouts for the first time in the program's Division I era. During the 2015 season, Elon recorded eight shutouts.
Prior to that, Zapata spent two years as an assistant coach at Georgia, helping the Bulldogs post a 22-15-3 record in those two campaigns, advancing to the NCAA Tournament in 2014, a season that saw Georgia ranked as high as No. 14 in the nation.
With the Bulldogs, Zapata worked with forwards and midfielders in 2014 on technical and tactical concepts that led to three attacking players receiving All-SEC accolades. During the 2013 season, Zapata trained the goalkeepers. During 2013, Georgia recorded eight consecutive shutouts and had 11 on the season.
Zapata has also served on the staffs at the College of Charleston and the University of Illinois. He has also coached club soccer in South Carolina and Illinois.
Zapata, who earned a bachelor's degree in broadcast journalism from Illinois in 2008 and a master's degree in sport management from Illinois in 2011, holds a USSF National "B" coaching license.