Matt Fannon hired as Iowa State Soccer head coach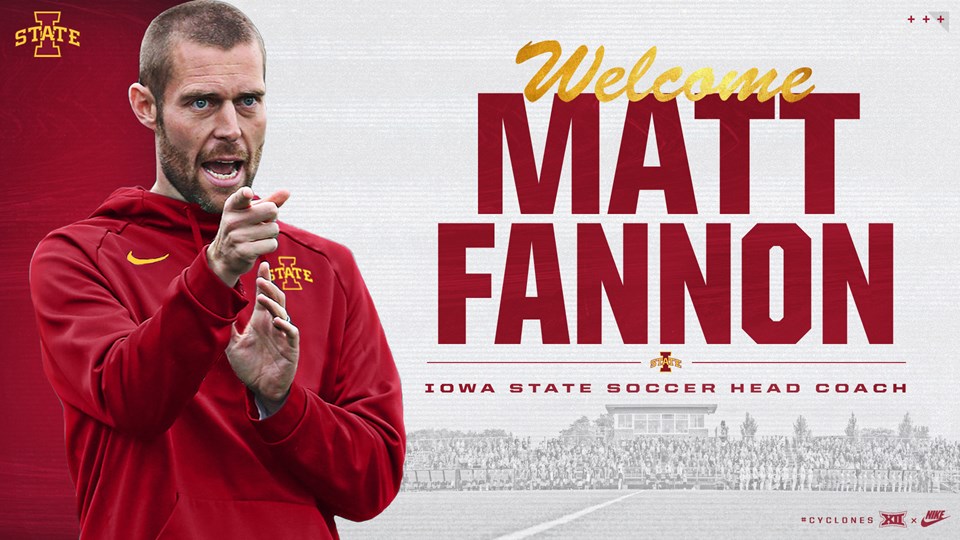 AMES, Iowa – Matt Fannon, the three-time reigning Mid-American Conference Coach of the Year, has been named Head Women's Soccer Coach at Iowa State according to Senior Associate Athletics Director Dr. Calli Sanders.
"We are thrilled to announce that Matt will be joining the Cyclone family to lead our soccer program," Sanders said. "He is a proven program builder at the Division 1 level and has a passion for coaching soccer and developing student-athletes. Matt's vision for bringing competitive and academic excellence along with cultivating leadership and service in his program aligns perfectly with our goals. His knowledge of soccer is elite and his charisma, leadership and desire positions us for future excellence."
Fannon guided Bowling Green State to a 41-18-7 mark (26-6-1 in the MAC) in his three seasons there, winning league Coach-of-the-Year honors each season. He won more games at BGSU than the school won in the eight prior years combined. In his rookie season, the Falcons won 13 games, the second-most in school history. He tied the university's season win mark (14) his final two years.
"Julie and I are thrilled to be bringing our family to Ames," Fannon said. "In the short time we have had to get to know our new home, it's clear that the championship culture is founded on a wonderfully welcoming family environment. Being trusted with the chance to build the Iowa State soccer team into a strong and competitive program is an opportunity I am excited to accept. We know the potential of the team and with the support of the clearly passionate and loyal fans, we believe we can turn it into a power within the Big 12. I am excited to work in an incredible athletics environment, and work for Calli and Jamie, who I cannot thank enough for the belief they are showing in me and the opportunity to become a Cyclone."
Bowling Green won both the MAC regular-season and tournament championships in 2018 and 2019. The Falcons advanced to the NCAA Championship in both of those campaigns.
Fannon's teams have adopted an aggressive, attacking style throughout his career which leads to many scoring opportunities as well as limiting scoring chances for the opponent.
The 2017 team scored 43 goals, and the 2019 team scored 46 to rank as the two highest-scoring seasons in school history. The 2018 squad had the second-best defensive scoring average in Bowling Green annals.
In 2018, BGSU dropped an early season match to 15th-ranked Northwestern and then went on to play the next 1,008 minutes (nearly 17 hours of match time) without trailing. Fannon's 2018 team led the MAC in goals scored as well as fewest goals allowed.
The 2019 Falcons again led the conference in scoring offense and defense. BGSU was the only school to average more than two goals per league game (2.545) and was one of two schools to allow fewer than a goal per game (0.73). Falcon student-athletes took home MAC Offensive Player of the Year honors in 2017, 2018 and 2019, as well as MAC Defensive Player of the Year recognition in 2018 and 2019.
Off the pitch, BGSU had record numbers of MAC academic honorees and had four MAC Distinguished Scholar-Athletes in his first two seasons at the helm. BGSU also had one CoSIDA Academic All-American, a Senior CLASS All-American and maintained a team GPA above 3.5 during his tenure.
Fannon, a native of York, England, has made a rapid climb on the college coaching ladder. He was an assistant at Regis University and the University of Wyoming before assuming the head coaching responsibilities at Wittenberg (2013-16) and Bowling Green State (2017-19).
In his four seasons as head coach, the Tigers were 40-26-10. Wittenberg made the NCAA Division III Tournament his final year. He was named NCAC Coach of the Year that season.
Fannon has his NSCAA Premier diploma and earned his Football Association Coaching Certificate in England. He also has a United States Soccer Federation Goalkeeping License.
Fannon earned his B.S. degree in physical education from Davis and Elkins College (2008) and added a Master's degree in Soccer Coaching Education from Ohio University (2015).
He was a two-time first-team all-region and first-team all-conference player for the Senators. Fannon also played a year at Dutchess Community College before attending Davis and Elkins.
Fannon and his wife, Julie, have two daughters: Rowen and Mason.
Employment is pending a background check.
Matt Fannon Year-by-year
At Wittenberg
YEAR       OVERALL           NCAC      Finish             NCAC Tournament         NCAA Championship
2013             9-7-5                5-1-2         T1st                  Advanced to finals                         —
2014             8-8-1                4-4-0          4th                  Advanced to semis                         —
2015            10-6-2               5-2-1          3rd                  Advanced to semis                         —
2016            13-5-2               7-1-0          2nd                  Advanced to finals                  First Round
Totals        40-26-10            21-8-3
At Bowling Green State
YEAR       OVERALL            MAC   Finish             MAC Tournament.         NCAA CHAMP.
|2017            13-7-1               6-4-1      2nd                 Advanced to finals                 —
2018            14-5-3              10-1-0     1st                        Champions                 First Round
2019            14-6-3              10-1-0     1st                        Champions                 First Round
Totals         41-18-7             26-6-1