Indiana University women's soccer names Sergio Gonzalez associate head coach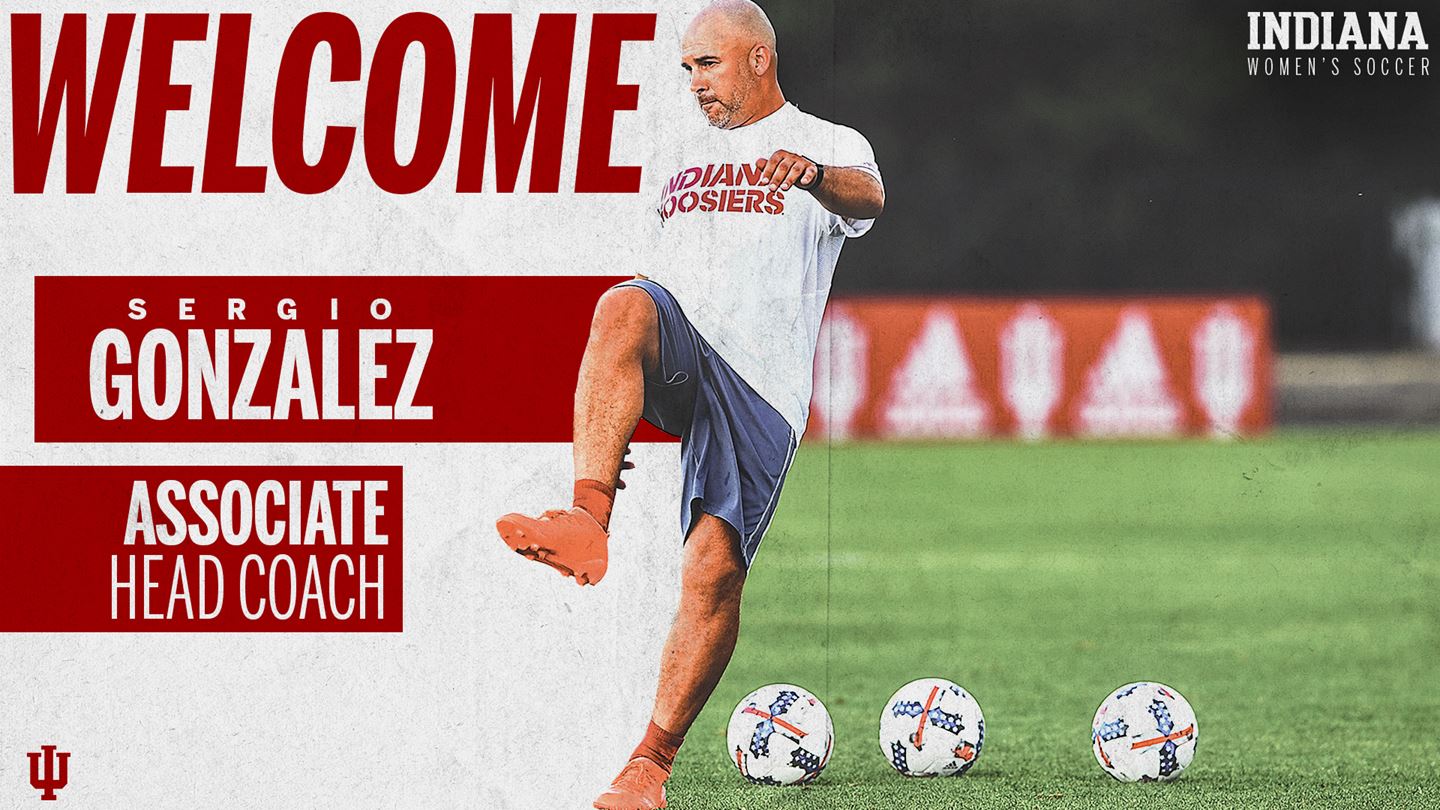 BLOOMINGTON, Ind.— Indiana University women's soccer head coach Erwin van Bennekom has announced Sergio Gonzalez as associate head coach.
Gonzalez, who spent five seasons on the IU Women's Soccer staff from 2013-17, returns to Indiana after spending the last two seasons at the Ohio State University as the associate men's soccer coach.
"Sergio is one of the top goalkeeping coaches in the nation and I am thrilled to have him join our staff as an Associate Head Coach," said head coach Erwin van Bennekom. "He will be heavily involved in all aspects of our program with an emphasis on coaching, training and recruitment of goalkeepers. His experience in the game at the highest level, expertise in developing goalkeepers and his familiarity with Indiana makes him a fantastic hire for our program."
During his first tenure at Indiana, Gonzalez helped lead the Hoosiers to a second-round appearance in the 2013 NCAA Tournament as goalkeeper Shannon Flower set the single-season program record with nine shutouts and 15 victories. Other highlights of his time at IU include setting the second-longest defensive scoreless streak (463 minutes) in IU history in 2015, a return to the Big Ten Tournament in 2016 and leading a pair of freshman goalkeepers to four different Big Ten weekly honors.
"I am beyond excited to return to Indiana as a member of Erwin's staff and once again work alongside him," said Gonzalez. "I know firsthand of his passion to elevate the program and continue to move Indiana Women's Soccer in an exciting direction. He has a clear vision for this program and I am grateful for the opportunity to be a part of it. IU is truly a special place and I am looking forward to being a Hoosier once again."
Gonzalez spent the 2018 and 2019 seasons with Ohio State Men's Soccer, coaching the Buckeyes to back-to-back Big Ten Tournaments in 2018 and 2019. He guided the Ohio State defensive third to five shutouts which ranked fourth in the Big Ten Conference this past season.
"I want to thank Brian Maisonneuve for the opportunity to grow as a coach over the last two seasons, as well as Matt Foldesy, Chad Barson and the entire Ohio State administration," said Gonzalez. "I wish them nothing but the best of luck in the future."
Gonzalez's previous experience also reaches the national level, where he was worked within the U.S. Olympic Development Program since 2006. He has served as the goalkeeper coach for various U.S. Soccer development camps, including in Spring 2018 when he was the goalkeeper coach for the U16 and U17 Women's National Teams.
Gonzalez served as the head coach of the women's soccer team at the New Jersey Institute of Technology in 2012, where he worked on staff with van Bennekom. During his time there, the program had 20 players named to Great West Conference All-Academic team and three named all-conference by College Sports Madness. In addition, the Highlanders set a school record for most shutouts in a season and highest RPI.
Before arriving at NJIT, he was the assistant coach at the University of Dayton working with their women's soccer program from 2006-2011. During that time, the Flyers recorded a record of 71-25-15 and won two Atlantic-10 regular season and conference championships. They also made an appearance in the second round of the NCAA Tournament. He saw multiple players   receive Player of the Year and All-American honors.
Gonzalez spent six seasons as the Slippery Rock University Women's Soccer assistant coach, starting in 2000. The team won two conference tournament championships and made two NCAA Division II National Tournament appearances.
Before his coaching career, Gonzalez played soccer at Salve Regina University. He earned a four-year starting position and was a three-time captain. He still holds the record for most career saves (425), wins (32), shutouts (22), and goal against average (1.04). He also holds a season record .918 save percentage. He earned three all-conference honors and was Salve Regina's Male Athlete of the Year in 1999-2000.
Gonzalez graduated in 2000 with a degree in criminal justice and went on to earn a master's degree in student personnel while at Slippery Rock. He also holds multiple NSCAA diplomas.
Gonzalez and his wife, Megan, have three children, Aiden, Liliana, and Nora.