Yale University names Sarah Martinez as women's soccer head coach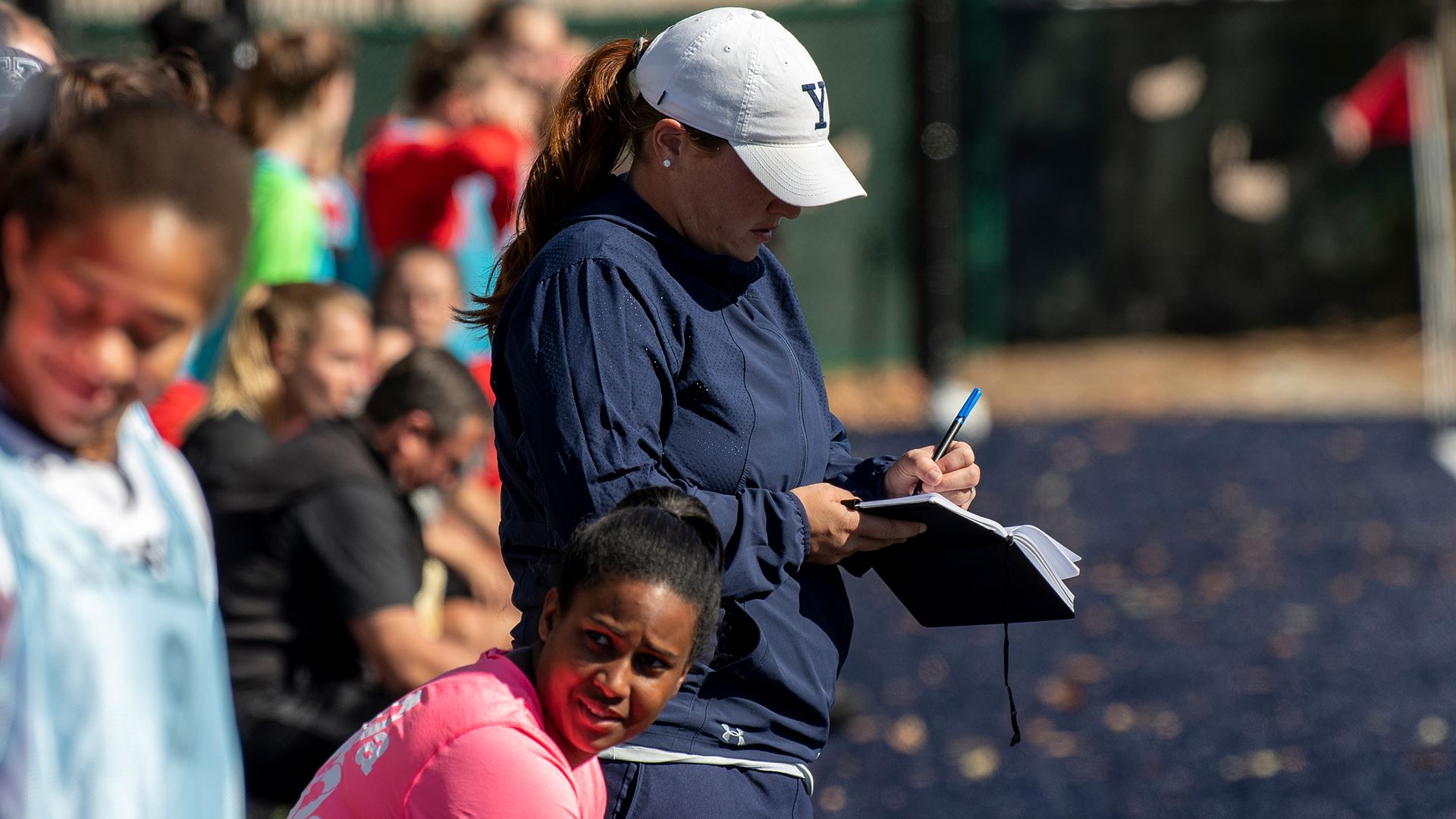 NEW HAVEN, Conn. – Yale University's Thomas A. Beckett Director of Athletics Vicky Chun has announced that Sarah Martinez has been named the Loring Family Head Coach of Women's Soccer, effective immediately. She becomes the seventh head coach in Yale women's soccer history.
Martinez served last season as an assistant coach for the Bulldogs as Yale enjoyed its best season on the pitch in 14 years. Yale posted its most victories since 2005 with an 11-4-1 record and a 4-2-1 mark in Ivy League play. The Elis also boasted a 6-1-1 record at home at Reese Stadium.
"Coach Martinez's leadership has helped drive the Yale women's soccer team to new heights, on and off the field," said Yale Athletics Director Vicky Chun. "Sarah's remarkable success as a student athlete – including as captain and MVP – has helped fuel her even more successful coaching career. The leadership, determination and resilience she learned on the playing field shine through in her work today with our student athletes. As the Loring Family Head Coach of Women's Soccer at Yale University, we are confident Sarah will continue to grow and build our program, and our players, for years to come."
The Bulldogs had six shutouts this past season and allowed only 14 goals in 16 games. In addition to a successful record, the Bulldogs boasted the Ivy League Defensive Player of the Year in midfielder Aerial Chavarin who was one of six All-Ivy League performers in 2019.
"I'd like to thank Director of Athletics Vicky Chun and Deputy Directors of Athletics Mary Berdo and Ann-Marie Guglieri for their complete belief and confidence in me to serve as the Loring Family Head Coach of Women's Soccer at Yale University," said Martinez. "I am fortunate to continue my coaching career here at Yale and am grateful for the many coaches, teammates, administrators and mentors who have championed my growth. Yale is a special place that has demonstrated a commitment to this talented group of student-athletes and I look forward to guiding their growth in the future."
Martinez joined the Yale staff as an assistant coach in January of 2019 after three seasons in the same position at Stony Brook where she was recognized as part of the America East Coaching Staff of the Year in both 2016 and 2018.
During her tenure, she helped lead the Seawolves to three straight winning seasons and conference tournament appearances, a regular season championship, a conference tournament championship and a berth in the 2017 NCAA Tournament, the school's first NCAA appearance since 2012.
Martinez played soccer at the University of Washington, where she led the Huskies to three NCAA Tournament appearances and was named team captain and Offensive Team MVP in her junior and senior seasons. She was named to the All-Pac 12 second team as a senior and twice won the University of Washington Athletic Department's Most Inspirational Female Athlete Award.
"Sarah has invested in her coaching career since her days as a student-athlete at Washington. She is a natural leader and understands the importance of building trust within a team.  She has the ability to recruit the best and the brightest and is extremely capable of getting them to perform at an elite level," said University of Washington head coach Lesle Gallimore. "Her humility is what will keep her sharp as a coach because she always strives to learn and improve which is the same expectation she has of her student-athletes."
After her playing career, Martinez spent four seasons on the Huskies' coaching staff, serving as the Director of Soccer Operations for the men's and women's programs.
Martinez graduated from the University of Washington in 2012 with a Bachelor of Arts degree, then earned a Master of Education in Intercollegiate Athletic Leadership from the University of Washington in 2013.