Iowa State Soccer adds Alex Greco as volunteer assistant coach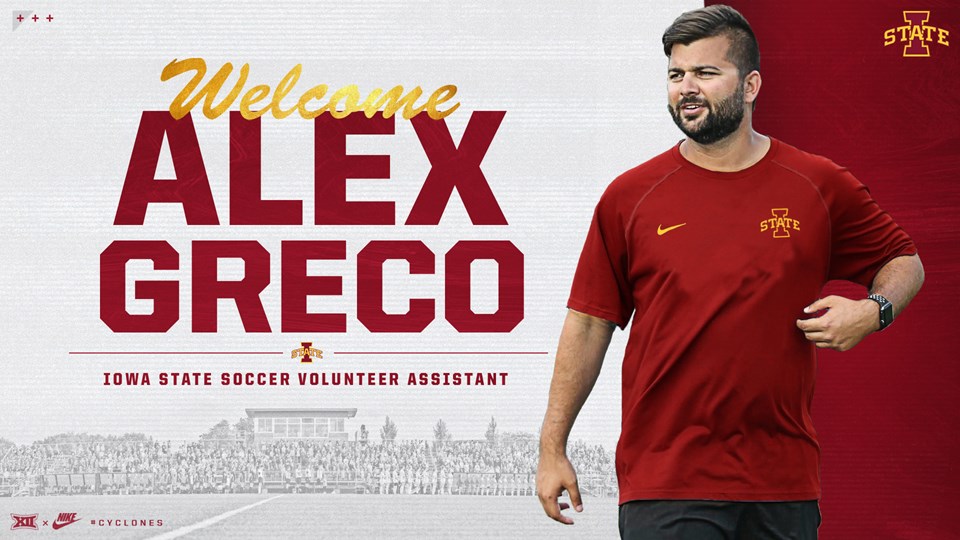 AMES, Iowa – Iowa State head coach Matt Fannon announced the addition of volunteer assistant Alex Greco to his staff. Greco joins the Iowa State staff from Lynn University, where he served as the Fighting Knights' interim head coach for the 2019 season.
"We are really excited to find someone with the experience Alex has in so many positions across different levels," Fannon said. "Philosophically, Alex fits in ideally with who we are as a staff, but he will bring so many differences from how he has approached the game in his career. This will challenge us all to continue growing and serve our women at the highest possible level."
Greco, who brings with him a wealth of experience coaching collegiate soccer across the country, is excited at the prospect of being part of the Cyclone program.
"I am honored to have the opportunity to join Coach Fannon's staff and become part of the Cyclone family," Greco said. "I look forward to being part of the positive change within the Iowa State soccer program."
Greco coached Lynn to a 7-8-3 season in 2019, and helped establish school records for offensive output, including a school-record 18-0 victory over Florida Memorial. Greco, who was named Lynn University's interim coach on August 19, 2019, had previously served as the school's assistant coach since May 2017.  Greco arrived at Lynn following a one-year stint as the assistant women's soccer coach at Spring Hill College.
Greco also comes to Ames with prior experience working at the highest levels of collegiate soccer. Before joining the Spring Hill College staff, Greco served as a volunteer assistant at Indiana University.  While at IU, Greco was a part of a coaching staff that saw a defensive scoreless streak of 463 minute that ranks second in school history. While working with the Hoosiers, Greco coached all positions and held the responsibility of developing practice plans and game tactics. He was also responsible for integrated video analysis and formulating scouting reports of opposing teams.
Greco joined the IU coaching staff as a volunteer assistant for the 2015 season after spending the previous two years as a volunteer assistant at UNC-Greensboro.
In his second season with UNCG, Greco served as the goalkeepers coach, helping freshman Chloe Buehler earn Southern Conference (SoCon) All-Freshman accolades. He also worked individually with all-conference players Georgia Brown, Rebecca Burrows and First Team All-Conference honoree Chesney White. In the spring of 2014, Greco served as an interim assistant coach, helping the Spartans sign their recruiting class for the year.
Before his time at UNCG, Greco was an assistant coach for Cardinal Gibbons High School in Fort Lauderdale, Fla., during the 2012-13 athletic season and served as the under-10 head soccer coach for the Team Boca club program. Greco was a camp counselor for Cardinal Gibbons High School from 2004-12 where he helped with training, equipment and motivating players for practice.
Greco completed his bachelor's degree in Business Administration as a dual-major in Entertainment Sports Promotional Management and Business Management at Northwood University (now Keiser University) in West Palm Beach, Fla., where he also competed as a student-athlete on the men's soccer team.