Robert Morris University men's soccer program hires assistant coach Matty Evans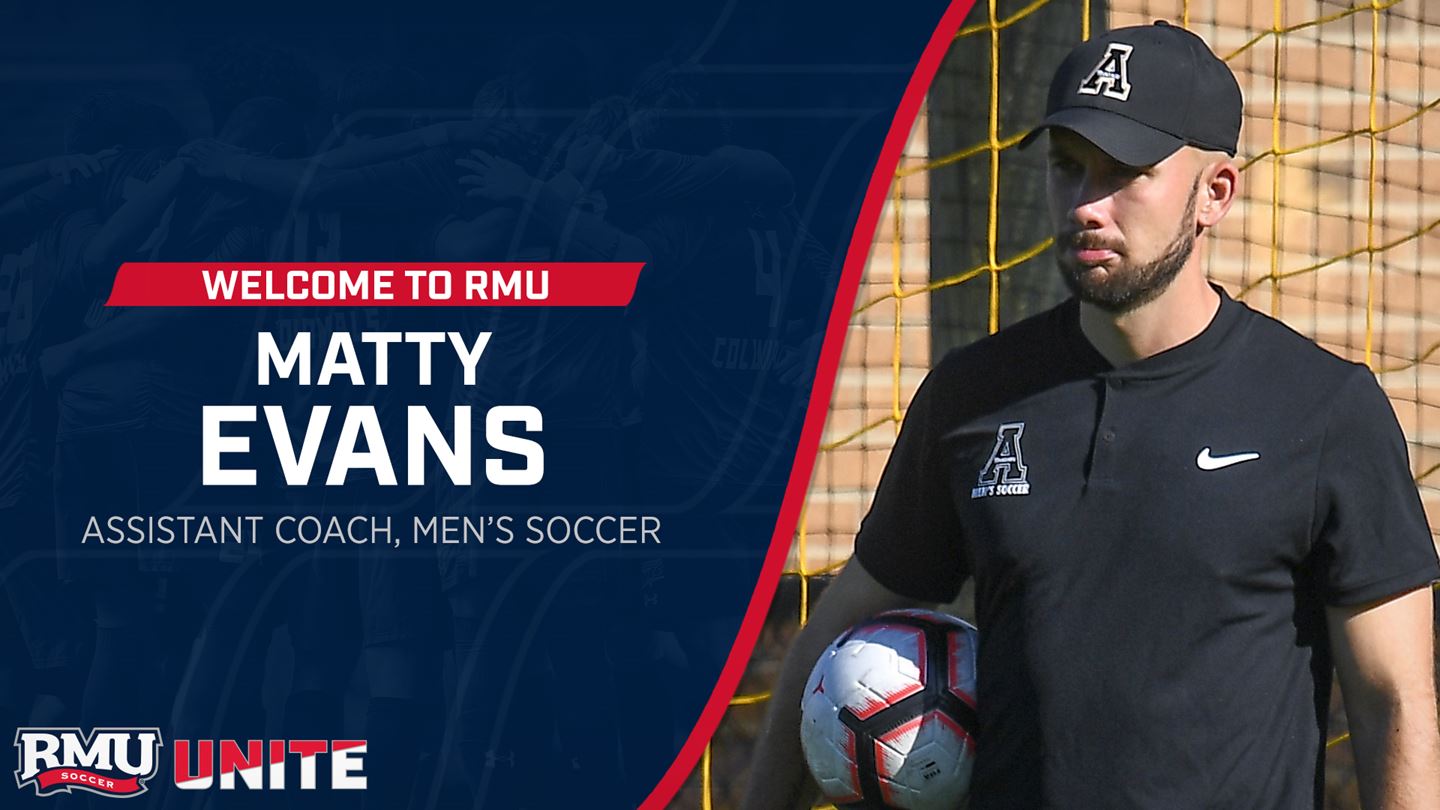 Moon Township, Pa. – Robert Morris University head men's soccer coach Jason O'Keefe announced Thursday that Matty Evans has joined the staff as assistant coach.
"I'm very excited to have Matty join the RMU Athletic Department and soccer family," O'Keefe said. "I've worked with him prior and know he will provide great leadership for our student-athletes while being a great role model. He is top-notch when it comes to goalkeeper training and has developed players at all his previous positions. Matty will be instrumental in all areas of the program with his desire and tremendous work ethic. He has a great eye for talent and will help us recruit the very best student-athletes at RMU."
Evans spent the 2020 fall season as an assistant coach at Georgia Southern. While an assistant with the Eagles, he assisted in all facets of the program, helping GSU establish a program record with a 3.46 team grade point average (GPA) in the fall.
Prior to joining the staff at Georgia Southern, Evans, a native of Bedford, England, served as an assistant coach under O'Keefe at Appalachian State in 2019. The Mountaineers posted an overall record of 11-7-1 (.605), their most wins since 2002. ASU finished third in the Sun Belt standings, its highest finish in school history, as the Mountaineers were ranked in the regional top 10 by the United Soccer Coaches 11 of a possible 12 weeks.
"I'm grateful to Jason for giving me the opportunity to work with him again," Evans said. "It's an exciting time to be a part of RMU and the athletic department, and I'm delighted to be able to assist Jason with building on the legacy of RMU men's soccer as well as being a part of this great community."
Also during his season in Boone, N.C., with Appalachian State, Evans helped tutor Zeiko Harris, who was named the 2019 Sun Belt Defensive Player of the Year, and goalkeeper Jacob Madden, who established an ASU single-season record with eight shutouts. Off the field, the Mountaineers finished fourth in the nation in community service hours while posting a cumulative GPA of 3.29 during the 2019-20 academic year.
Evans is a 2017 graduate of Seton Hill University, where he earned a Bachelor of Science degree in sport management. While a student-athlete for the Griffins, he started 36 games, accumulating 131 saves in two seasons while posting a .744 save percentage. A two-time Pennsylvania State Athletic Conference (PSAC) Scholar-Athlete (2014, 2015), Evans also earned the 2015 NCAA Division II Athletics Directors Association Academic Achievement Award. He graduated from Seton Hill with a cumulative GPA of 3.76.
Starting his coaching career as a student assistant at Seton Hill in 2016, Evans also served as an assistant coach at West Chester University (2017) and Lander University (2018).
While an assistant at West Chester, the Golden Rams finished 14-3-2 (.789), including 11-0 in the PSAC, and advanced to the Sweet 16 of the 2017 NCAA Division II Tournament. At Lander, the Bearcats advanced to the Elite 8 of the 2018 NCAA Division II Tournament and recorded an overall record of 16-2-3 (.833), including a mark of 6-1 (.857) in the Peach Belt Conference. Evans also served as an assistant coach with Greenville Football Club of the National Premier Soccer League (NPSL) in 2018.