UNC Asheville men's soccer program signs four 2021 transfers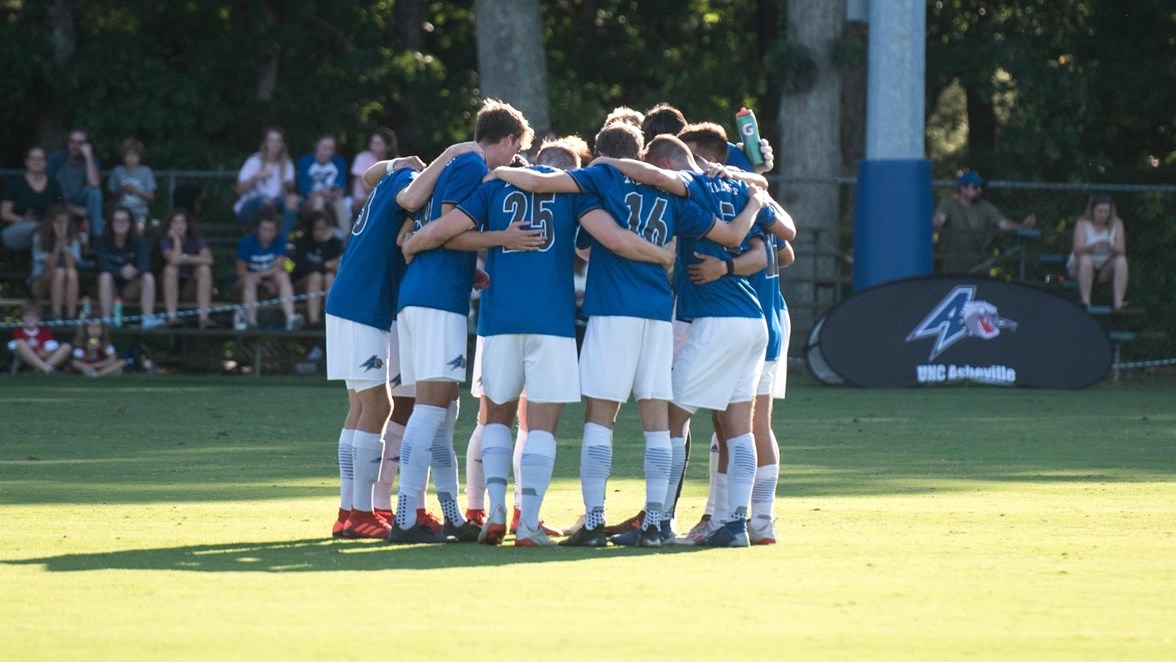 ASHEVILLE, N.C. – The UNC Asheville men's soccer team announced four transfers to their 2021 squad. The group includes Mason Cookus, Jake Kemhadjian, Gavin Long and Sean McGinty.
"Our staff is excited for this group of young men to join our program," Interim Head Coach Mick Giordano said. "Huge credit goes out to our top assistant, Ross Fitzpatrick, for all of the work he did to bring in players of such high character. We know each one of them will continue to help move our process forward while being a fantastic addition to our team and Bulldog community. Now it's time to get them on campus with the rest of our team and get to work!"
Cookus, who hails from Mooresville, North Carolina, is a wing back who is transferring from Johnson & Wales. Cookus played for the Charlotte Independence Development Academy, which he helped lead to a number one ranking in the southeast in 2019-20.
"Mason is coming from just down the mountain in Mooresville. He has a cultured left-foot and provides wonderful service from wide areas. We are excited about the new dimensions he will be able to add right away to our group."
A center forward transferring from Portland University, Kemhadjian led the Development Academy in scoring in 2016-17. A native of Encino, California, Kemhadjian is known for his ability to create changes up top, appearing in 16 games in his two seasons at Portland.
"The staff is extremely excited to be able to add Jake to our group," Giordano said. "We spoke to him last spring as the pandemic was hitting and are delighted to finally have him joining us. He is coming from top programs between his youth and college career thus far. He is an exciting attacking player that will create goals for our team. His experiences will be helpful for our process."
Long is another offensive-minded player who joins the Bulldogs after competing for Marietta College in Ohio. A native of the United Kingdom (Couldson, Surrey), Long was named to the First Team All-OAC, Second Team All-Ohio, and to the All-Region team in 2019. While at Marietta, Long scored nine goals and had three assists.
"Gavin is another player we have spoken to for several months now," Giordano said. "He is a proven goal scorer in the collegiate game. His desire to score and create goals is top level. He has the ability to do it from the Midfield and as a Center Forward; this versatility excites the staff a lot. Gavin will add a ton of positives to our culture both on and off the field."
McGinty comes to Asheville after competing for St. Louis University. A dual-citizen (American-German), McGinty's hometown is Cary, North Carolina, but he grew up in St. Louis where he was a standout for Lou Fusz SC as a youth player, and later the STL Club Atletico in the NPSL.
"Sean is a wonderful addition to our team. He comes from one of the most historic programs in the entire country at St. Louis," Giordano said. "The experience at St. Louis as well as coming from a wonderful football family will be extremely impactful for our program. We have high expectations for his future with the goals he has set, and could not be more excited to see him in the Bulldog Blue."