High profile matchups rule the weekend as 2023 Jefferson Cup Girls Showcase concludes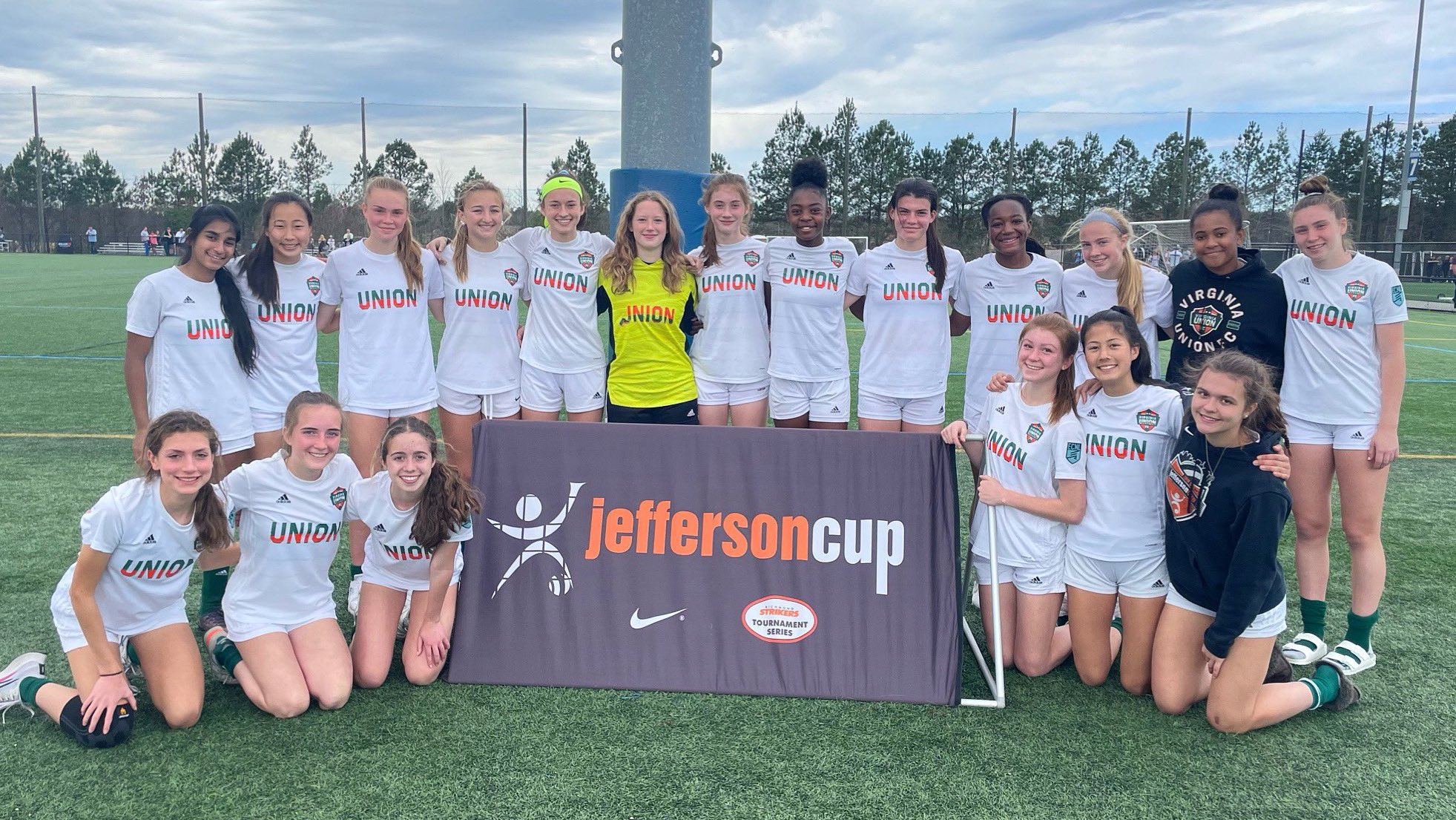 By Sean Maslin
SoccerWire Staff Writer
Follow the Jefferson Cup:
Twitter | Facebook | Instagram
RICHMOND, Va. – In one of the largest and highest level college recruiting events of the year, top teams from across the country competed in the 2023 Jefferson Cup Girls Showcase from March 24-26.
The event featured the top sides from across the girls youth soccer landscape including Elite Clubs National League (ECNL), Girls Academy League, US Youth Soccer National League, and US Club Soccer's National Premier Leagues (NPL). Thirty-four different states were represented in this year's competition, which featured a standard tournament format for the U15 age group and a college showcase format for ages U16 and above.
The event also played host to over 300 college coaches from across NCAA Divisions I, II and III, and other levels of the college game including NAIA. The ability for teams to get both college exposure for their players and the chance to play new competition at a high level makes it a must-attend for all teams who have the opportunity.
[+READ: Jefferson Cup U9-U14 Girls Weekend sees teams from 40 clubs win division titles]
"Jefferson Cup is always a great event for us to come to," said SUSA FC G07 ECNL head coach Moussa Sy. SUSA finished the weekend undefeated (2-0-1, 22 points) in the U16 Championship, ending the week with a 5-1 win over CSA Dynamite 2007. "We have been coming to this competition for many years now and it has become a staple for us. It is great for our girls to get different competition from high-level teams from across the country. So it is a great competition for us."
To view full results from the Jefferson Cup Girls Showcase, click here. To view the full list of registered college coaches, click here.
U15
In the Championship Division Final, NC Courage ECNL Academy 08 defeated Bethesda SC ECNL 1 2008 3-0 to claim top honors. The scoring side from the ECNL Mid-Atlantic Conference showed their goal scoring prowess all weekend, outsourcing their opponents 12-3 in four matches. Despite falling short in the final, Bethesda also had a strong weekend winning all three of their group matches by a combined score of 10-2.
U16
The U16 Championship was spearheaded by multiple sides with strong performances, spearheaded by Virginia Union 2007 Girls ECNL, who won all three of their matches and outscored their opponents 11-0. They capped their weekend with a strong 2-0 win over STA 07 GA.
Facing an opponent that plays a very compact style, the Union used their speed on the outside and some quick 1-2 passes between attackers Rachel Chung, Loretta Talbott, Sophia Henry, and Carrie Helfrich to open up their defense and create some attacking chances. It paid off in the 14th minute when Helen Bonner finished off a cross in the box to give her side the advantage. Grace Shank added a second just before the half in a very similar fashion, connecting a cross into the box from the left flank and burying her chance into the back of the net. Their 2-0 win on Sunday followed successive wins over SDA 07 Orange (4-0) and FC DELCO 07 (6-0).
–––
SUSA FC also had a strong weekend, capping off their undefeated campaign with a 5-1 win over CSA Dynamite. Forward Avrie Nelson and Kailyn Mallon each netted a brace while Chloe Benik led the scoring charge with her goal in the 38th minute.
After two close games (they drew 0-0 with TSJ FC Virginia on Friday and defeated Penn Fusion ECNL 2007 2-0 ON Saturday), SUSA was poised and ready to break out into the attack. From the start of the first whistle, Nelson and Mallon both placed high pressure on the CSA backline. Midfielder Leana Ruiz and forward Alexa Baek each making strong diagonal runs towards goal early on that forced the CSA defense out of position and susceptible to passes into the box. Nelson's first goal in the 38th minute opened up their defense and led to a quick second from Benik just before halftime. Although CSA got one back in the second half thanks to Jeimy Gonzalez, the SUSA attack was just too much to handle.
"This was a great result," said Sy. "The third day of a showcase is always a challenge. But they were up for it. We just started our spring season two games under our belt and so to have these games under our belt really helps our team prepare for the season."
–––
World Class FC 2007 ECNL (2-0-1, 22 points) and Match Fit Academy 2007 (2-0-1, 21 points) round out the top four in the Championship Division with each side going undefeated on the weekend. World Class finished off their time in Richmond with a 5-0 win over SJEB 07 GA. It was their second clean sheet after drawing 0-0 with Loudoun Soccer on Friday. Their first win came on Saturday, where they defeated Maryland United 2007 2-1.
Match Fit Academy also put in a strong defensive effort, allowing just two goals over the weekend. On Saturday against Cleveland Force, they held the high-flying ECNL side to a 0-0 draw with defender Madison Guiry making several key defensive stops throughout the match. They also pulled out tight victories over Philadelphia Ukrainian Nationals 07 (2-1) and NC Courage ECNL Academy (3-1).
U17
Virginia Development Academy topped the table in the U17 Championship Division with three major victories over Real Jersey FC 2006 GA (3-2), FC Revolution Reds (1-0), and Bethesda ECNL 1 2006 (2-1). In their third match, they faced another strong opponent in Bethesda ECNL 1 2006. The two sides battled throughout the match, with VDA coming out on top 2-1.
Facing a side that was using a high defensive line, VDA opted to use their speed on the outside to create their attacking chances. Future Arkansas Razorbacks midfielder Peyton McGovern linked up with forwards Lauren Carpenter and Anna Chau on the outside to force BSC to start playing wide, which in turn gave midfielder Y-Lan Nguyen space to operate. She made the most of it in the 13th minute, hammering home a right-footed effort to give her side the advantage. Nguyen was also instrumental in VDA's goal against FC Revolution, curling in a high corner kick for Chau to score the game's lone goal.
The two would connect once again late in the first half for VDA with Nguyen lacing in a pass for Chau, who coolly slid it in for VDA's second. Bethesda did cut their lead to one, with Emily Akpebu hammering home their first of the match late in the second half. But the VDA defense held firm with UCLA 2024 commit Kamryn Winger working with McGovern to retain possession for extended periods and forcing Bethesda to chase.
"This was the best that they have played all weekend," said VDA head coach Mikey Welsh. "Both teams were really good on the ball and when we had possession we were really effective at creating attacking chances. We were also very well-organized defensively. It was a great performance."
–––
NC Courage ECNL 06 also had a strong weekend, going undefeated in three matches and earning two clean sheets. On Saturday, their backline was particularly on point as they downed World Class FC 2006 ECNL 1-0. Goalkeeper Mary Katherine Daly faced significant pressure throughout the match, including diving effort in the tenth minute that keep things level. Outside back Karson Yon and Ohio State 2024 commit Maliyah Morrison were integral in transitioning the Courage in the match from a defensive posture to an attacking one, relieving pressure from their backline. Their weekend was also highlighted with major wins against Penn Fusion ECNL 2006 (2-1) and TSJ FC Virginia 06 Academy (1-0).
U19
The Pittsburgh Riverhounds ECNL 04/05 Girls (3-0-0, 28 points) finished at the top of the table, winning all three of their matches and having a Division-high plus nine goal differential. They started the weekend off in fine form, down STA 04/05G 4-0. They followed that strong effort with two 4-1 victories over Richmond United 05/04 ECNL and Connecticut FC 04/05 ECNL.
Penn FC Youth F 2004 Lightning (3-0-0, 28 points) also had a strong weekend, going undefeated to kickstart their spring season. They narrowly defeated Bethesda SC ECNL 1 2004/2005 3-2 before holding off TSJ FC Virginia 04/05 3-0 and SUSA FC 04/05 ECNL 3-1. Their nine goals scored was tied for the second highest in the Championship Division.
Rounding out the top three was Maryland United FC 04/05G ECNL (2-0-1, 23 points). United were the top defensive in the Championship division, allowing just one goal over the weekend. The side posted clean sheets against Patriot FC Girls 05/06 (4-0) and Virginia Union 05/04 Girls (2-0) while holding a tough Philadelphia SC Coppa 05 Rage 1-1.