Fairfield University women's soccer program welcomes 9 recruits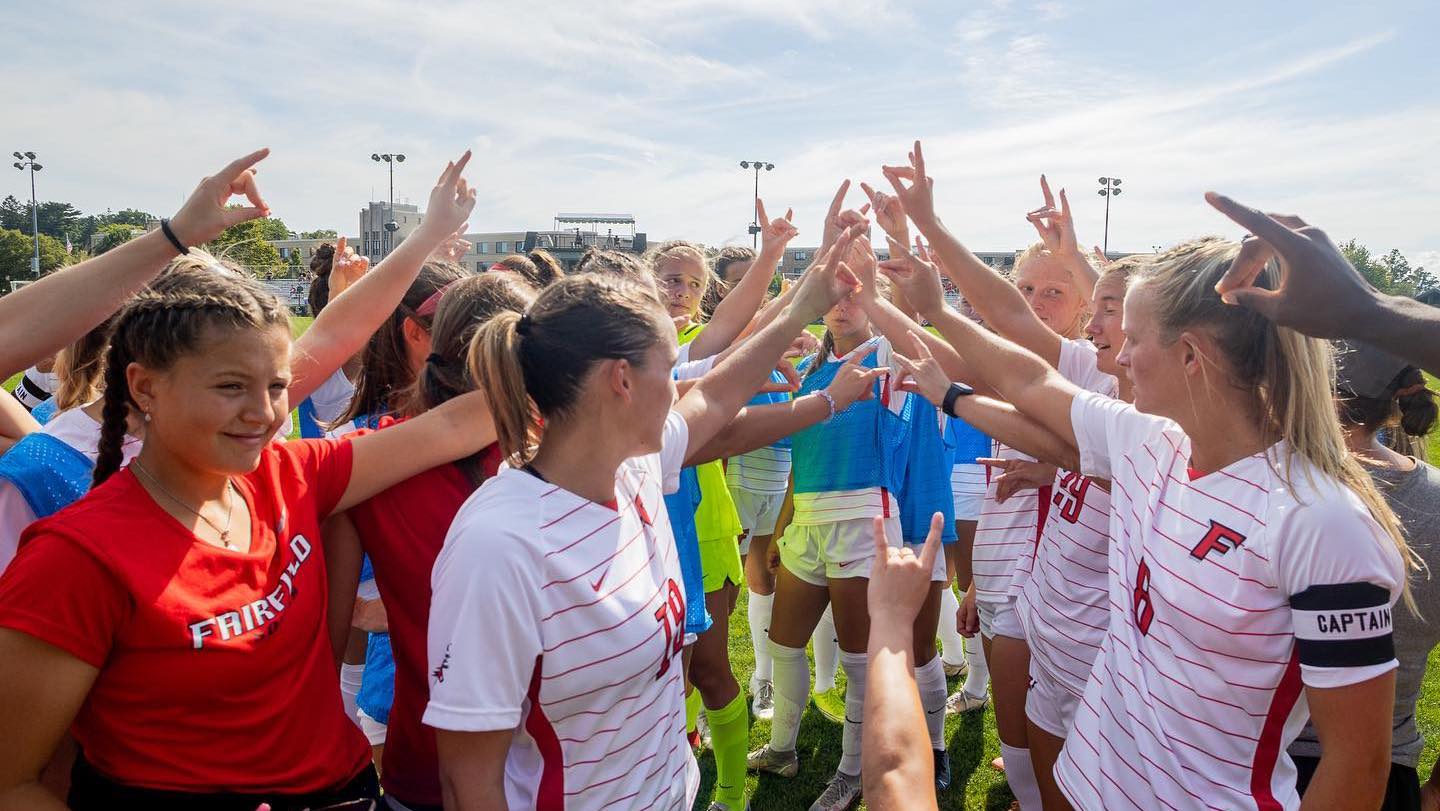 FAIRFIELD, Conn. – Fairfield University women's soccer head coach David Barrett announced the nine-member recruiting class of 2027.
The nine freshmen bring a wealth of knowledge from high schools and club teams across the country and internationally. Kacie Benn, Cassidy Clinton, Sydney Cox, Riley Houck, Anya Moser, Dana Nadda, Ella Pisani, Skyler Ring and Hanah Silva are the nine student-athletes comprising the group.
"We are really happy with our incoming class," Barrett said. "They are all consistent with what we have been seeking in players: athletic,  versatile, and hard working, and technically sound. And, they are great people who we expect to help continue grow our culture."
Kacie Benn | Midfielder | Acton Boxborough HS | Club: FC Stars
The team captain of Acton Boxborough High School, Benn led the squads with 12 goals and eight assists, en-route to helping the Revolution to a 13-0-3 record and the top-seed in the conference. On the defensive side, she was part of an Acton Boxborough defense that surrendered just six goals in 16 contests. For her success, she was named to the All-Eastern Mass First Team and was an All-State selection. She also had success in the club scene, helping 2005 FC Stars ECNL White Team to the Showcase A Finals.
Barrett on Benn: "Kacie is a hard-working, quick and skillful midfielder. She has played both centrally and wide for her teams, and I think we see her becoming an effective wide player for us. She has a great mindset and is a tireless worker. She is going to fit in with us very well."
Cassidy Clinton | Defender | West Milford HS | Club: STA Soccer
Clinton was named the MVP of her West Milford squad after helping the Highlanders to a five-win improvement in 2022. The team captain was also named to the All-Big North Conference First Team and All-Passaic County First Team. Her accolades were also recognized in the state as she earned a spot on the All-State Second Team.
Barrett on Clinton:  "Cassidy is a very smart and skillful defender. She won't overwhelm you with her size, but is very athletic and she puts herself in good positions, is strong in 1 v 1 challenges, is a very hard worker, and is an excellent distributor of the ball."
Sydney Cox | Defender | Bedford HS | Club: FC Stars of Massachusetts
Cox was the Dual-County MVP after tallying six goals and four assists from the center back position. She was a three-time Dual County All-Star and was also named to the First Team All-Eastern Mass., and earned a spot on the All-State squad.
Barrett on Cox: "We are excited to get Sydney because she really fell under the radar due to an injury that set her back in high school. Had it not been for that setback, I'm certain she would have had a lot of college suitors. She is an excellent athlete and demonstrates great leadership. She is strong and will be tough to beat once she gets used to the college game."
Riley Houck | Goalkeeper | Conestoga Valley HS | Club: Penn Fusion Soccer Academy
Houck was the goalkeeper for Conestoga Valley High School for her sophomore and junior seasons, tallying a 0.60 goals against average in 10 games in 2020. She also led her club team Penn Fusion to the ECNL Sweet 16 in Seattle during the 2021 campaign.
Barrett on Houck:"I think Riley is going to be an excellent college goalkeeper. She has good physical tools and is confident in her game. It shouldn't take her long to become acclimated to the expectations for college keepers, and I'm eager to see her develop."
Anya Moser | Midfield | Holy Family HS | Club: Broomfield SC
Moser led Holy Family High School with six goals and five assists in seven games during the 2022 season. The team captain, she helped lead the Holy Family Tigers to the 2021 State Championship after winning their conference. For her success, she was named to the All-State First Team. She also found success with her club team, the Colorado Rapids, as the squad was ranked No. 14 nationally and second in the GA Mountain West Conference. She played with Bromfield SC in the Girls Academy in 2022-23.
Barrett on Moser: "Anya is a tremendous athlete, and can play a variety of positions on the field. She's played with very high-level teammates in club as well. I think her best spot will be in midfield as a box to box player, or perhaps someone who holds the space in front of the center backs. We are very excited to see what she can do on the field for us!"
Dana Nadda | Midfielder | IMG Academy (HS/Club)
A member of the Egyptian Senior National Team, she was the top scorer for IMG U19 Premier and a three-time top scorer for the MED Cup. She also led her squad to two Egyptian U20 Premier League Championships and the Egyptian Senior Premier League Championship in 2019. She has competed in the, African Women's Cup of Nations Qualifiers, CAF U20 World Cup Qualifiers, and 14 international matches.
Barrett on Nadda: "We are really excited to bring on board Dana. She is a tremendous ball striker, and is very good on set pieces. She has an excellent range of passing and her experience with the international game will likely be a huge benefit to her as she gets used to the pace of the college game."
Ella Pisani | Forward | King Philip Regional High School | Scorpions SC
Pisani led the Hockomock League with 31 points on 13 goals en-route to her claiming the Hockomock League MVP award. She was also an All-New England and All-State All-Star while earning a spot on the Eastern Mass First Team. She was also successful in the classroom by being selected to the Boston Globe All-Scholastic team.
Barrett on Pisani: "Ella is a quick and dynamic attacking player. I really like her instincts off the ball: she knows how to create space for others and herself.  She loves to go forward so she will fit in well with our style of play."
Skyler Ring | Goalkeeper | Lightridge High School | Club: Virginia Developmental Academy
Ring was a three-year team captain for Lightridge High School where she amassed 176 saves during the 2021-22 seasons and tallied a .918 save percentage. For her success she was named to the All-District First Team and the All-Region Second Team
Barrett on Ring: "Skylar is an athletic and quick goalkeeper. She has played and trained in a really competitive environment with VDA and I'm excited to watch her development with our team."
Hanah Silva | Midfielder | St. Joseph's | Club: Connecticut FC
Silva helped lead St. Joseph's to a 14-1-1 record in 2022, culminating in the 2022 Class L State Championship after winning the FCIAC title. She also won the 2021 State Championship with St. Joseph's. The team captain for the Cadets, she was also named to the All-County Second Team.
Barrett on Silva:  "Hanah is a strong midfielder who brings a blue-collar work rate to the team. She's played for 2 state championship teams in high school so she has a great mentality to compete. She is a hard-worker and knows what it takes to win. We foresee her adding to our depth in the midfield."
The nine freshmen, with the addition of Georgia transfer Emilie Cook will join a Fairfield team coming off a 14-4 overall record and a 9-1 mark in the MAAC. The Stags won their first MAAC Regular Season title in a decade and will return most of their core next season.