Boise State women's soccer welcomes nine class of 2023 recruits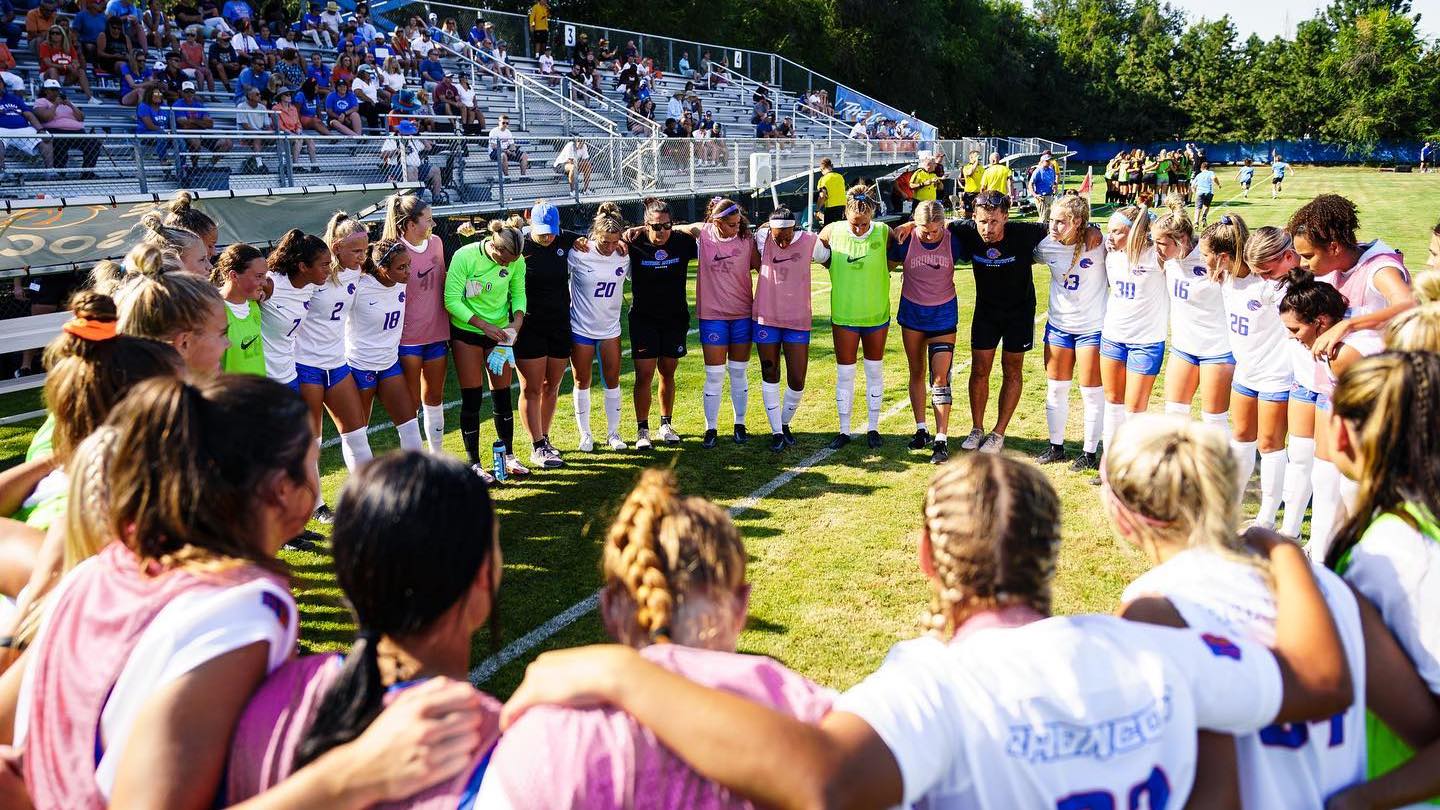 BOISE, Idaho – Boise State women's soccer has signed nine players as a part of the Broncos' 2023 recruiting class.
"The 2023 class is an amazing class for us filled with so much talent that we feel like will be the future for Bronco Nation to see Boise State continue at the top of the Mountain West," said head coach Jim Thomas. "There's local talent, talent from the top teams in the country, and it's a really star-studded group of players."
Nicole Anderson – Forward
Anderson comes to Boise State from San Diego, Calif., where she attended Del Norte High School. The forward was named the Nighthawks' most valuable offensive player in 2020 and 2022. Anderson played club soccer for HB Koge Slammers ECNL, a team that was crowned ECNL National Champions in 2021.
What Coach Thomas Says:"Nicole is a central forward who's really dynamic and an incredibly hard worker with electric pace. She has such ingenuity around the goal and is someone who is industrious in the way that she plays. She'll create opportunities for herself and her team and is an incredibly creative player that way."
Lexi Chatterton – Defender
Chatterton is a Boise-native who attended Bishop Kelly High School. Lexi played on the backline of a Knights defense that produced 10 shutouts in 2022 on their way to a 4A state championship. The three-time 4A SIC All-Conference First Team defender played club soccer for the Boise Timber Thorns with which she won the 2018 USYA Presidents Cup National Championship. Lexi is the younger sister of current Bronco defender Ali Chatterton and former Boise State forward Aubree Chatterton (2017-21).
What Coach Thomas Says: "Lexi is the third installment of the Chatterton family and is the strongest and most reliable defensive player out of all of them. She's an incredible central back, a talesman kind of player that will patrol the backline for the future for us."
Olivia Collins – Forward
Collins joins the Broncos from Bozeman, Mont., where she attended Gallatin High School. The forward amassed an impressive 88 goals in her high school career, including 42 her senior year during the Raptor's run to a 2022 AA State Championship title. Collins was recently named Montana's Eastern AA Player of the Year for girls soccer for the third consecutive season. Collins is familiar with the Boise area as she played club soccer for the Boise Thorns ECNL.
What Coach Thomas Says: "Olivia is listed as a forward but can literally play anywhere on the park. She's another unbelievable athlete out of Montana who is tremendous on the ball and loves to carry it with confidence with both sides on the left and right foot. I think she's going to be one of those players that we really try to see which position she assimilates first but has all the talent to play anywhere up front as an attacking player."
Cindy Conner – Forward
A native of Orange, Calif., Conner joins the Broncos after a successful prep career at Villa Park High School. Conner collected Crestview Second-Team All-League honors in 2022 after helping her team to the Division One CIF semifinals. The forward played club soccer for HB Koge Slammers and was a part of the team that won the ECNL U16 National Championship.
What Coach Thomas Says: "Cindy will be a player that gives us somewhat of an edge. She's a tough hombre that will make sure that we are competitive at all times. She hasn't found a tackle that she doesn't like and she really enjoys getting after it against their opponents and I love that about here. She's a goalscorer by trade but I think is a player that could play in many different positions."
Asia Lawyer – Forward
A local product out of Boise, Lawyer comes to Boise State after a standout career at Centennial High School. Lawyer was a four-year starter in her high school career, leading the Patriots in goals each season. Lawyer earned 2022 all-conference first team honors as she led the Patriots to the 5A state championship game. The local-product competed in club soccer for Boise Thorns 05 ECNL, a team that was the 2022 National ECNL Playoffs Showcase B Champions.
What Coach Thomas Says:"Asia is another local product and the future for us at central forward. She's just a magician up there and is so fast with such creative movement. What she chooses is what we do on a daily basis and I really feel like she's one of those players that is going to fit in right away. She really is a tremendous goalscorer, a tremendous finisher, and a wonderful young woman."
Molly McCabe – Goalkeeper
McCabe will join the Broncos as a walk-on for the 2023 season. The Boise native played goalkeeper for Borah High School where she earned an all-conference award in each of her four seasons, including a first-team selection her junior season. McCabe played club soccer for the Boise Thorns.
What Coach Thomas Says:"Molly will bolster our goalkeeping stable. She's a tremendous local product as well with great athleticism and wonderful ball-striking skills which has become a necessity for our team at the goalkeeper position. She plays the game with great athleticism, great diving range, and there's a great pop to the way she plays."
Frankie McGuire – Defender
McGuire comes to Boise from Fullerton, Calif., where she enjoyed a successful prep career at Rosary Academy. The defender was named all-Trinity League in 2021 and served as her team captain in her junior and senior seasons. McGuire played club soccer for the Slammers FC ECNL and helped lead a team that was 2022 Showcase Cup B Finalists in 2022.
What Coach Thomas Says: "Frankie is a wide back that will revolutionize the league. She's unbelievably athletic and covering 120 yards is nothing for her. She's only touching the surface to how much she can influence the game and get back and that's what we're looking forward to developing in her. As a defender and as an athlete at wide back she's as good as anybody in the league right now and we're hoping she comes in and influences our team right away."
Kaitlyn Slocum – Midfielder
Slocum hails from Meridian, Idaho, where she played prep soccer at Rocky Mountain High School. The midfielder was named the 2022 5A SIC Player of the Year after tallying 18 goals and 18 assists. Slocum played a big role in the Grizzlies' back-to-back state championships in 2019 and 2020, logging 18 goals and three assists in her first two seasons with the team. The Treasure-Valley native played club soccer for the Boise Thorns ECNL, winning the 2018 USYS Presidents Cup National Championship.
What Coach Thomas Says:"Kaitlyn is a vital member of the 2023 class and may be the one that will draw all of this talent to have all of its impact. She is a leader for the future and I see her being a member of our leadership group very soon. She's a powerhouse; a pacey, strong and influential central midfielder that will lay her body on the line to prevent the ball going in the goal. She plays with the kind of heart that will make Bronco Nation fall in love with her right away."
Marin Stamper – Forward
Stamper is a forward hailing from Centennial­, Colo., where she attended Cherry Creek High School. The forward will join fellow Colorado natives Grace Sommers and Morgan Stone at Boise State for the upcoming season. Stamper plays club soccer for Colorado Rapids ECNL, the same youth club as Sommers. In 2022, Stamper ranked third on the team in goals as she helped lead Cherry Creek to the 5A quarterfinals. Stamper also excels in the classroom, being named Academic Honor Roll for four years and earning 2022 Academic All-State First Team honors.
What Coach Thomas Says: "We're really, really excited to add another attacking player to the class. Marin is a super diverse player that has the ability to play multiple positions and plays each of those positions in a manner that we don't have on our team right now, which is what excites me the most. For each position that she's assigned, she turns it into two or three other positions; playing higher, playing wider, playing lower and playing really fluid. I think she will add a great deal of attacking options for us with all of the stability that we can put around her. Adding a player that kind of breaks that mold will be a great change and addition for us."