Virginia Tech women's soccer welcomes class of 2023 midfielder Ellie "Red" Farrell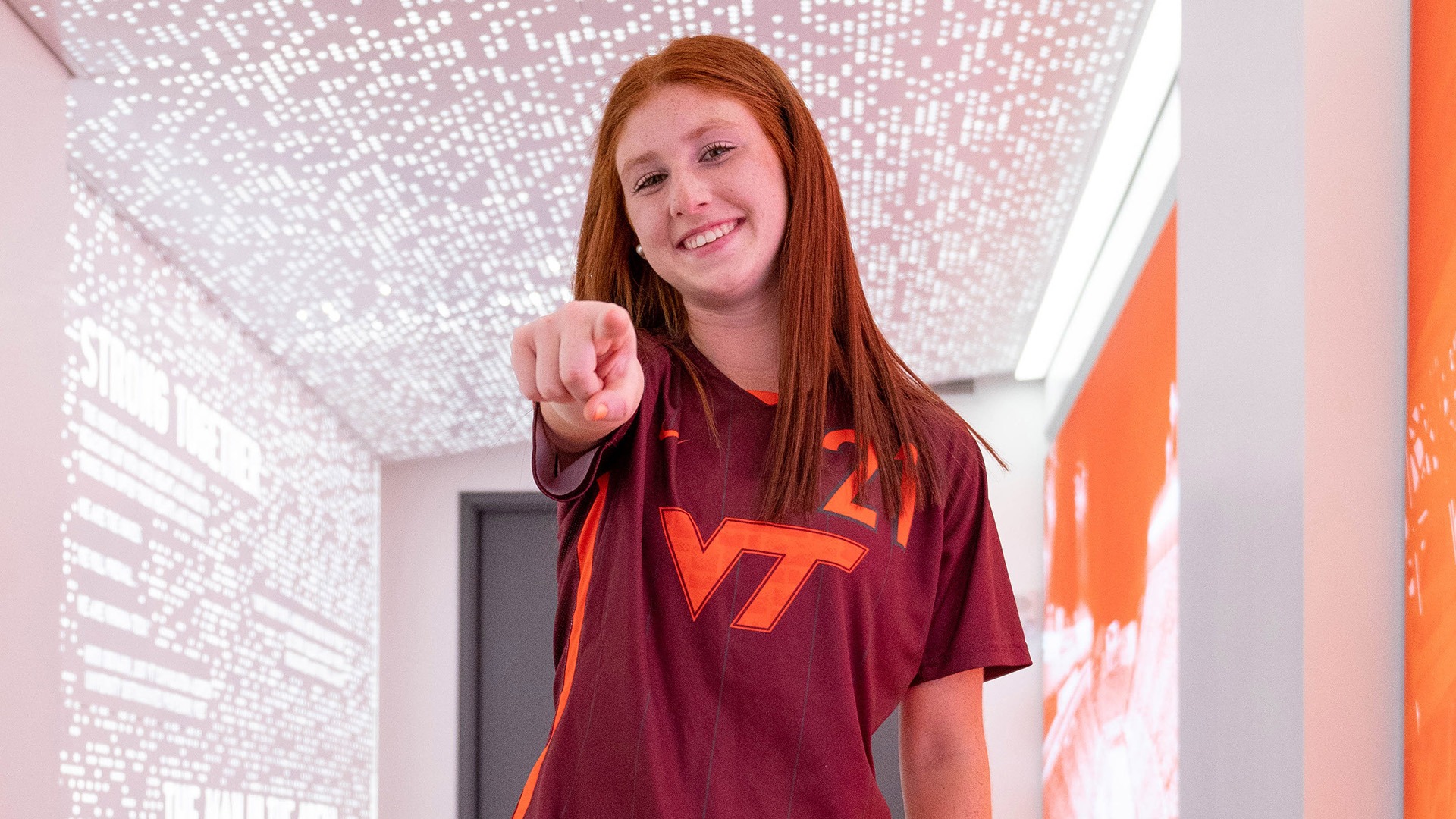 The Virginia Tech women's soccer program is currently introducing each member of its 2023 recruiting class on a rolling basis.
This week, the Hokies kicked things off by welcoming Ellie "Red" Farrell, a midfielder from Wilmington, N.C.
Ellie Farrell  "Red" 
Wilmington, North Carolina
New Hanover High School
Wilmington Hammerheads ECNL
Midfielder
"We are very excited to have Red join our group," said head coach Chugger Adair. "We were very much impressed with her ability to attack and play multiple positions in her club days. Her versatility is really fitting in great with our group, she can play anywhere in the midfield and across the front line. She is good at possession and can be dangerous around the goal. We are very excited for her to be a part of the Virginia Tech family."
Why did you choose Tech? I chose Tech because of the coaching staff. Coach Chugger contacted me at 12 am on June 15th and that was a big deal for me. All of the coaches believed in me even being from a pretty small club with not a lot of college commits. When talking with the coaches I really liked their style of play and how they envisioned me on the field. The other main reasons why I chose VT are: it is only five hours away from my house allowing my parents to make it to most of my games, the team plays in the ACC conference, and the campus is gorgeous.
What was your favorite thing about your visit? My favorite thing about my visit to Tech was Enter Sandman at the football game. The crowd was electric and it was crazy how everyone in the stadium was singing. A very close second was Taylor Bryan scoring in the last 30 seconds of the game vs UVA to tie it up.
What do you like about the Tech women's soccer program? I feel as though the Tech women's soccer program is definitely on the rise as this year they beat UNC, Wake Forest, NC State, and tied UVA. I like going into a program that has its foot in the right direction, and hopefully I can add to this rise in progression. Thompson field is insane with how it is right on campus where all students can see the game.  Finally, the girls on the team.  After my official visit I found out how much everyone gets along and cares for each other which is really rare for a team to have and is something that I am really excited to be a part of in college.
What are your soccer strengths? Creativity, work ethic, determination, and vision.
Who is your favorite pro player (why)? Sophia Smith on the Portland Thorns because of her endless grit and creativity with the ball. You never know what she is going to do next and even in hard moments of the game she still finds a way to persevere.
What is your most memorable soccer moment (why)? ECNL National Selection game in Nashville Tennessee. 35 girls picked from around the country to play in one soccer game in front of 3,000+ people and college coaches. Coming from a small club it is really hard to get exposure so when I heard I got this opportunity I had to take it with full force and confidence. The game was electric and I ended up scoring 2 goals. My first goal was good but the second was insane and in that moment I knew I belonged and thrived under the atmosphere.
What do you think you will major in (why)? I think I will major in Sports Media and Analytics because it has always been my dream to work for ESPN and interview people on the field/court side. Also, Emily Gray was the one who inspired me to study this major after what she had done at VT. I want to follow in her footsteps announcing for the men's soccer team.
What is one thing you would want Tech fans to know about you? One thing I want Tech fans to know about me is that I vacation every year in Northern Virginia at a place called the Homestead which is what my family refers to as our second home. When visiting I love hiking the mountains, enjoying the cold crips air, and colored leaves. As soon as I stepped on Virginia Tech's campus it felt like home as it reminded me of all my years at my childhood vacations. Nothing feels better than knowing where you will be staying for the next four years is your version of home. So, when all Tech fans say "This is Home" I get exactly what they mean.