Boston University welcomes seven women's soccer recruits for 2023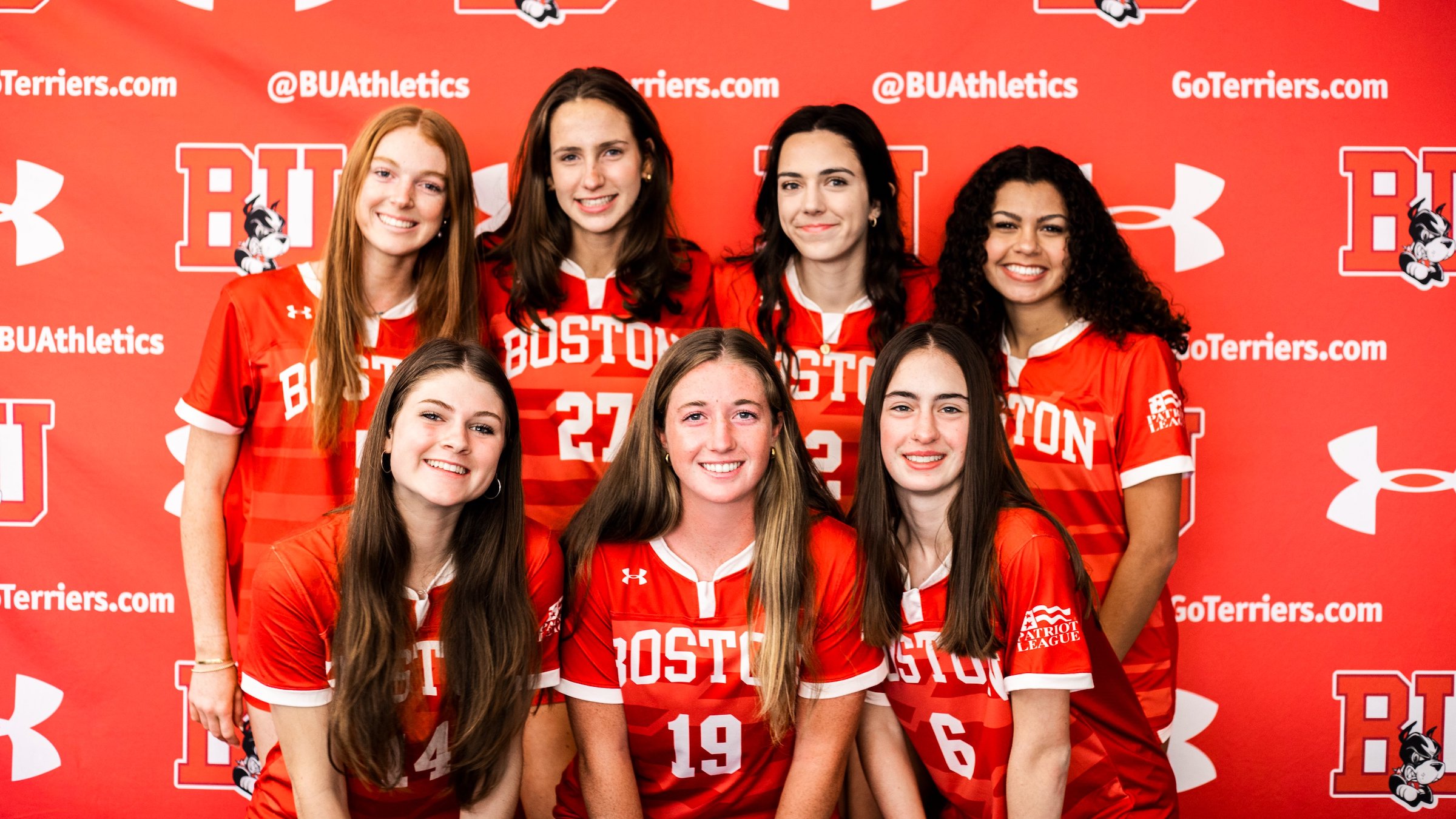 BOSTON – Coming off an 11-win campaign and sharing the league lead in All-Patriot League selections, the Boston University women's soccer program and Head Coach Casey Brown announced their latest incoming class ahead of the 2023 season.
The BU Women's Soccer Class of 2027 features seven student-athletes. Three forwards as well as two midfielders and two defenders will join the program, hailing from six different states.
"We are very excited to welcome these seven terrific young women to our BU women's soccer family," said Brown. "In getting to know these student-athletes, we can certainly see their commitment to excellence and alignment with our program's values. We feel each brings a high level of club experience, and has skillsets we expect will elevate our program as we look to compete for a championship. Talia, Samantha, Lauren, Ciara, Ava, Kat, and Kaiya will be great additions to our team."
TALIA AGRILLO
Defender  · Arlington, Va. · Yorktown High School
Talia Agrillo is a two-time team captain of Arlington Soccer on the ECNL club circuit, previously serving as a leader for her Arlington GA and DA teams as a freshman and sophomore, respectively.
Suiting up for Yorktown in her junior year, she helped guide the Patriots to a Virginia High School League Class 6A state championship.
In addition, Yorktown collected a Liberty District and Northern Region title.
That season, she was selected to the Second Team All-Northern Region Defense.
Agrillo plans to enroll in the College of Arts and Sciences at BU to major in Environmental Analysis and Policy.
SAMANTHA ARONSON
Forward · Bethesda, Md. · Stone Ridge School of the Sacred Heart
Samantha Aronson is a four-year varsity student-athlete and two-time team captain for Stone Ridge.
Across her career, she scored 40 goals and notched 34 assists.
In her senior year, she was an All-ISL AA Team and Washington Post All-Met Second Team selection after registering 20 goals and 13 assists.
That followed up a junior campaign where she tallied 16 goals and 17 assists, earning All-ISL AA Team honors.
Aronson also suited up for Bethesda SC in the ECNL club ranks, serving as a team captain as a senior while garnering ECNL All-Conference Second Team accolades as a junior.
LAUREN DUKE
Defender · Salem, Ore. · West Salem High School
Lauren Duke is a member of the Portland Thorns Development Academy in addition to a three-time All-Conference pick at West Salem.
She comes off a senior campaign where she was named the team's overall MVP in her third year as team captain.
In her sophomore and junior seasons, she was chosen as the team's Defensive MVP.
The four-time team captain in the Thorns' academy, she has ranked among the top student-athletes in the Northwest region by TopDrawerSoccer.
Duke, whose father, Darin, played collegiate baseball at the University of Texas-Arlington, plans to enroll in the Questrom School of Business at BU.
CIARA KENNEDY
Midfielder · Huntington Beach, Calif. · Mater Dei High School
Ciara Kennedy played for the SoCal Blues in the ECNL club circuit, and attends Mater Dei High School, with experience as a center and outside midfielder.
As a senior, she has received an invitation to the U-17 Irish National Team camp.
In her junior year, she was named to the All-ECNL Southwest First Team.
Off the field, she is a member of the National Honor Society.
Kennedy plans to enroll in the College of Arts and Sciences on a pre-med track.
AVA MAGUIRE
Forward · Hingham, Mass. · Hingham High School
Ava Maguire is a four-time Patriot League All-Star who recorded 41 goals and 37 assists at Hingham High School.
As a senior, she helped guide the Harborwomen to a MIAA Division I state title, setting career-highs with 20 goals and 11 assists as a senior captain and garnering Second Team All-State and Boston Globe All-Scholastic honors.
She also earned a spot on the Second Team All-State squad as a junior captain as well.
At the club level, she trained with NEFC and IMG Academy.
Maguire's older sister, Kira, plays soccer at Brown University, while her older brother, Aidan, is a freshman on the Duke men's lacrosse team.
KAT SLOTT
Forward · Ridgewood, N.J. · Ridgewood High School
Kat Slott is a three-year varsity member and two-time All-State selection at Ridgewood High School.
Receiving Second Team All-State, First Team North Jersey, and First Team All-Bergen County accolades as a senior, she helped the Maroons reach the state final after winning the sectional, conference, and county championships.
Ridgewood was ranked second in New Jersey and 21st in the country that year.
In her junior year, she was First Team All-League and All-County, as the Maroons advanced to the state semifinals.
Slott, who stuied up for the Cedar Stars Monmouth club program, has three relatives who have also played collegiate soccer.
KAIYA STEWART
Midfielder · Gilroy, Calif. · Christopher High School
Kaiya Stewart is a three-time varsity captain at Christopher High School.
In her junior year, she earned First Team All-League and team MVP honors as the Cougars captured a CIF state championship in California's Division IV, Central Coast Section Division II championship, and the Pacific Coast Athletic League title.
The previous season, she was also recognized on the First Team All-League, with Christopher picking up PCA League and Central Coast Section Division III championships.
She played for the De Anza Force ECNL California club team under coaches Lloyd Grist and two-time Women's World Cup champion Brandi Chastain.
Stewart's mother, Heather Ridley, works for the Golden State Warriors, while her grandmother, Rose Angel, was on the very first women's soccer team in Scotland.