Colorado State announces two additions to 2021 recruiting class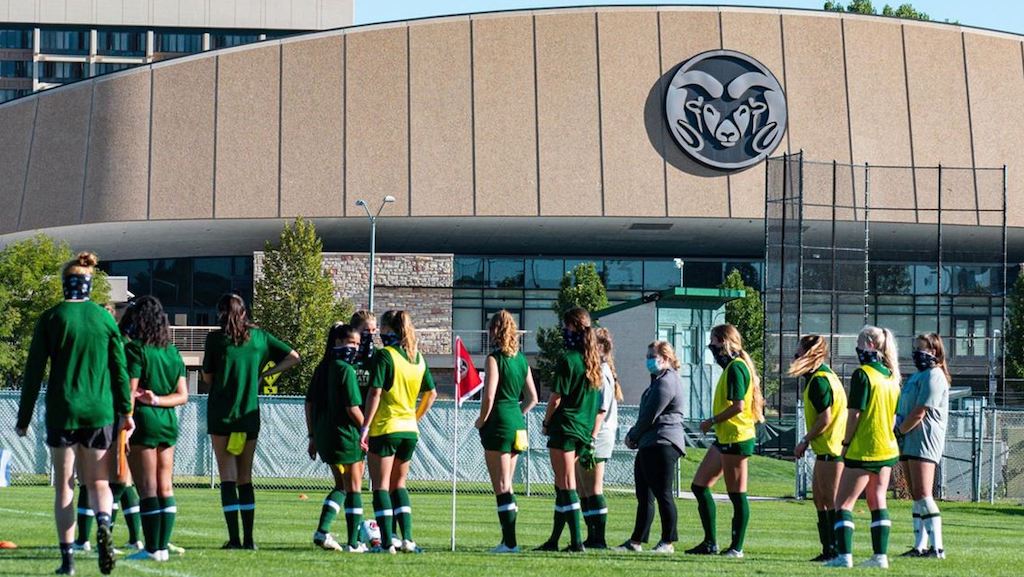 FORT COLLINS, Colo. – Making her first additions to the Colorado State soccer roster, head coach Keeley Hagen announced Friday that transfer Amanda Green and incoming freshman Lauren Wheeler will be joining the Rams for the 2021 campaign.
The two new Rams bring the newcomer count to 11 and the incoming freshman number to 10. Back in November of 2020, the nine Rams that signed national letters of intent include Lauren Fuller, Ali Yoshida, Izzy Wildermuth, McKenna Lium, Sophia Pearlman, Lizzie Woudenberg, Julianne Dunbar, Shayna Ross, and Addie Lowrie.
"We are thrilled to have Amanda join our roster this fall," said Hagen on her new goalkeeper. "Her hunger to play and attitude to fight through adversity is what caught our attention. Coming from a program such as Arizona State, we are eager to see the experiences Amanda has brought with her, and even more zealous to see the new ones she will create here at Colorado State."
Hagen stated the following on the addition of Wheeler: "Lauren was a late addition for us, but we could not be more excited to add her to our roster. Her energy and enthusiasm for the game is contagious. She loves to train and be fit, which is exactly the type of mentality we are looking for. We are looking forward to seeing her infectious attitude disperse throughout our team and onto the field!"
See below for more information on each player:
Green, a 5-foot-11 goalkeeper, comes to Fort Collins from Arizona State where she has spent her first three collegiate seasons. Health hampered Green to see just two games of action in those years which came this past spring with her first career win – a 3-1 victory over UTEP – and a 4-0 shutout over Siena. Coming out of high school, Green was regarded as one of Arizona's best keepers, owning the top goals against average her final two seasons. At Desert Vista HS in Phoenix, she was a part of the Thunder program that reached two state championships, winning one of them during her sophomore year.
As a senior, Green helped DVHS go 15-4-3 and reach the quarterfinals in the 2018 AIA 6A State Championships. She played 19 games with the most minutes in goal among the keepers at 1,320 and sported a 14-4-3 record in the net with nine shutouts. She accumulated 79 saves, averaging 4.2 s/g and allowed two goals all season for a .125 GAA clip. Junior season closely mirrored her senior season but saw the team advance to the state title game, finish with a 22-4-1 mark and the No. 3 rankings in the state. Again, she logged the most games (15) and minutes (1060) most among GKs, while tallying a 9-0-2 record with 11 shutouts. She collected 57 saves for 3.8 s/g and let in two goals for a .154 GAA. In the championship year of 2015-16, Green helped the Thunder to a 22-3-2 record, concluding with the state's top ranking and a national ranking of No. 17. Club-wise, Green competed on Phoenix Premier FC.
Wheeler, a 5'7" defender, hails from San Diego and Del Norte High School where she was a four-year starter and a part of two Palomar League Championships. This past season, she captained the Nighthawks to the program's first CIF San Diego Section DI Championship and a CIF Southern California regional semifinals appearance. Only missing one game in the 12-5-3 schedule, Wheeler tallied six assists and one goal which came in the title game. In her first season named team captain as a junior, the Nighthawks won the league title, reached the quarterfinals of the CIF SD Section, and concluded with a 12-5-5 record. Del Norte also reached the quarterfinals of the SD section in her freshman and sophomore seasons with the latter being Wheeler's first league championship team and she was named All-Palomar League. For club, she played for Del Mar Sharks ECNL 2002/01 – Ranked 4th in California South in 2019 – and currently is with WPSL Breakaway SC.