Colorado State hires Texas assistant Keeley Hagen as head coach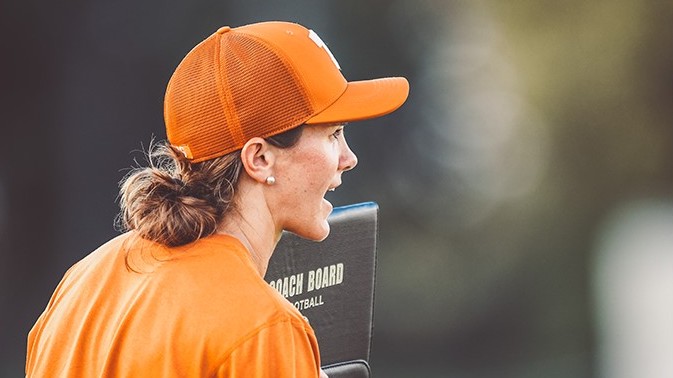 FORT COLLINS, Colo. – A three-time All-American and former professional soccer player with 14 years of assistant coaching experience at the Power-Five level, Keeley Hagen has been named the second-ever head soccer coach at Colorado State University, Director of Athletics Joe Parker announced.
"I want to thank President Joyce McConnell, Director of Athletics Joe Parker and the search committee," Hagen said. "My husband, Matt, and I are excited to join the Ramily and the vibrant community of Fort Collins. It is an exciting time for our young program to reach new heights. It's time to teach, motivate, and inspire our group to pursue excellence in every facet."
Hagen, originally Dowling from Carmel, Ind., has been with the University of Texas since December of 2011, helping accrue 92 victories (10.2 wins per season) and reach four NCAA Tournaments, including a 2017 Sweet 16 appearance – the program's first in 10 years. Over the nine seasons, she aided the development of five All-Americans and five student-athletes who advanced to the professional level. The defensive-minded coach was an integral part of 69 shutouts over the span of 173 games in Austin.
"We are excited to welcome Keeley Hagen and her husband to Colorado State and we are thrilled that she will be our next head women's soccer coach," Parker said.
"When we began this search, we knew we wanted to identify an individual who has been highly successful as both a coach and a player, someone who is passionate about the growth of our students on and off the field, and someone who is prepared to take this program to the next level. Keeley Hagen checks all of those boxes and more."
Prior to her time with the Longhorns, Hagen was the assistant coach at Tennessee under Angela Kelly who brought Hagen to Texas when she got the appointment in 2011. In Hagen's first full-time role with the Volunteers in 2008, Tennessee won the Southeastern Conference Tournament and advanced to one of two NCAA Tournaments that Hagen would experience in her four seasons with her alma mater.
At Tennessee, Hagen was simultaneously playing in the Women's Professional Soccer league for Sky Blue FC (2009-10) in Harrison, NJ and the Atlanta Beat (2011). However, her professional playing experience started straight out of college in 2005 with the Charlotte Lady Eagles where she was named to the United Soccer USL W-League All-League Team in addition to All-Central Conference Team. After that and before returning to Knoxville, Hagen spent 2006-07 playing in the Swedish Premier League for Kif Orebro.
Hagen also has represented the United States several times serving as a captain on the U.S. U-19 Women's National Team and earning a gold medal at the FIFA U-19 Women's World Championship in 2002. Two years later, she helped the U.S. U-21 team to a gold medal in the Nordic Cup. Hagen was one of 35 players selected to compete for a spot on the national team roster for the Algarve Cup in Portugal in 2007 and competed for a roster spot for the 2008 Olympics.
As a collegian, Hagen was a standout Vol who tallied 25 goals, 15 assists and 65 points in 89 games, all starts. She still ranks in 10 Tennessee career top-10 lists, including notably matches played, matches started, minutes played, goals, game-winning goals, and shots on goal. To go along with her All-America honors, she was a four-time All-SEC selection, a two-time SEC Defensive Player of the Year, and two-time Soccer Buzz Central Region Player of the Year. In the classroom, she excelled, earning Academic All-SEC honors on four occasions and was named to the 2003 SEC Good Works Team for her involvement with the community.
Hagen received her bachelor's degree in education with an emphasis in exercise science from the University of Tennessee in December 2005. She also earned her United States Soccer Federation "A" license in 2019.
"I am forever grateful for my time at the University of Texas," Hagen added. "Head coach Ange Kelly is a dear friend and has been an integral part of my personal and soccer development. Her mentorship through the years has prepared me for this moment. Additionally, I want to thank University of Texas Athletic Director Chris Del Conte, Executive Senior Associate Athletics Director Chris Plonsky and Senior Woman Administrator Kathy Harston for their support."