Club-by-Club Results from the 2022 ECNL Girls Champions League Postseason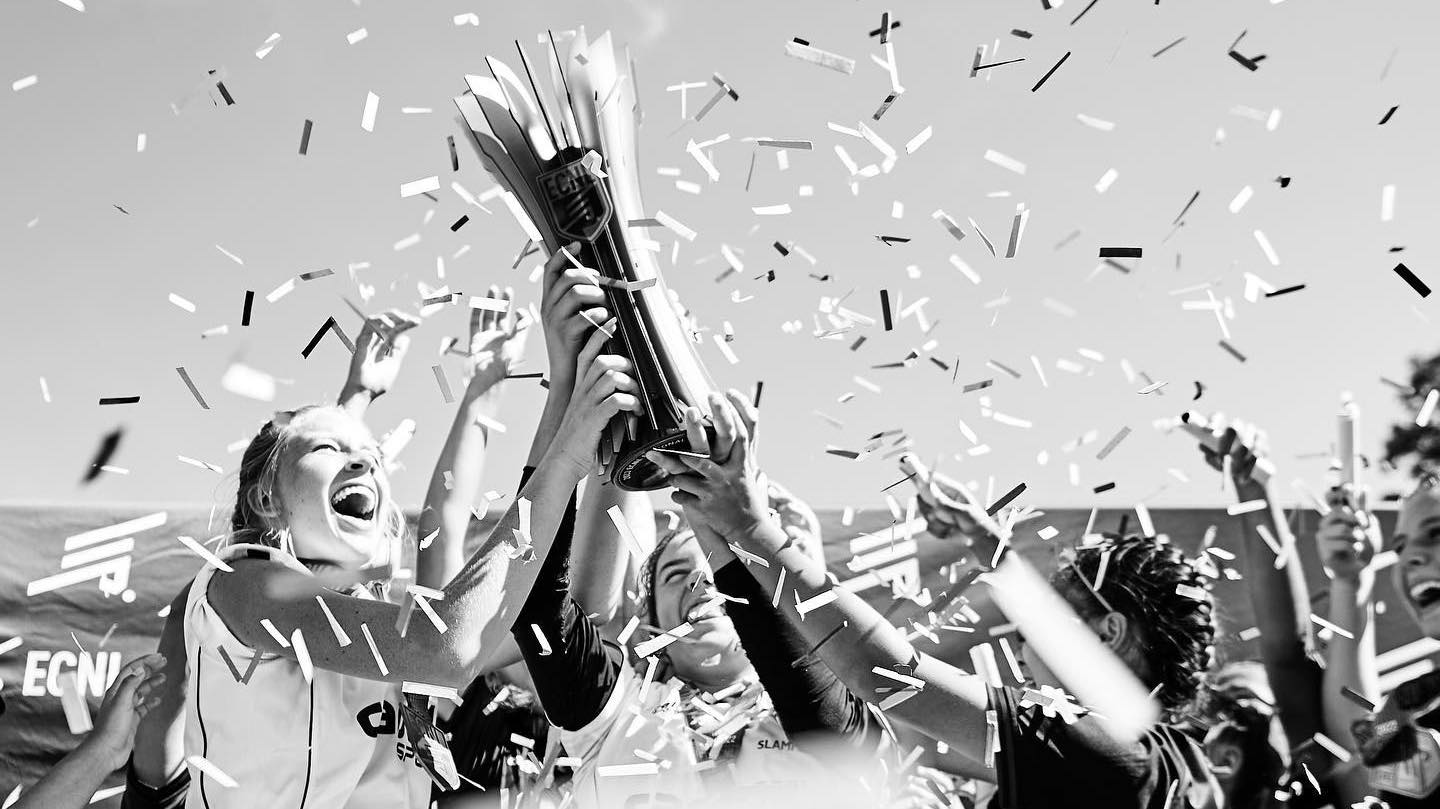 The 2021-2022 ECNL Girls season concluded with six teams from five different clubs going home with Champions League trophies.
At the 2022 ECNL Girls National Finals in Richmond, Solar SC both captured the U13 and U14 ECNL National Championships, while Slammers HB Køge (U15), SLSG Navy (U16) and Real Colorado National (U17) each went home as national champions as well. These five teams joined the Concorde Fire Platinum U18/19 squad, which previously won the ECNL Champions League title in Seattle.
[+Players That Impressed: ECNL Girls National Playoffs]
[+Club-by-Club Results from the 2022 Girls Academy Postseason]
The teams that went all the way aren't the only ones who turned in impressive performances during the ECNL Postseason. At the club level, numerous organizations were able to send teams to the Champions League Playoffs across all six age groups, or in some cases five of six the age groups.
Only four clubs achieved the remarkable feat of Champions League qualification for all six age groups: DKSC, Internationals SC, Solar SC and Slammers HB Køge.
Sixteen clubs saw five of their teams qualify: Beach Futbol Club, Concorde Fire Platinum, Crossfire Premier, Eclipse Select SC, KC Athletics, Legends FC, Michigan Hawks, MVLA, NC Courage Academy, PDA Blue, Real Colorado National, Richmond United, San Diego Surf, SLSG Navy, United Futbol Academy and World Class FC.
See below for a look at how each ECNL member club fared in the 2022 Champions League Playoffs.
| | | | | | | |
| --- | --- | --- | --- | --- | --- | --- |
| ECNL Champions League | U13 | U14 | U15 | U16 | U17 | U18/19 |
| Alabama FC | Qualified | Qualified | | | | |
| Albion Hurricanes FC | | | | | Qualified | |
| Arlington Soccer | | Qualified | | | | |
| Beach FC | Qualified | Qualified | Qualified | | Finalist 🥈 | Quarterfinalist |
| Bethesda SC | | | | Qualified | | |
| CESA | | Qualified | | | | |
| Challenge SC | Qualified | | | | | |
| Charlotte Independence | Qualified | | | | | |
| Charlotte SA | Qualified | | | Qualified | Qualified | Qualified |
| Cleveland Force | | | Qualified | | | |
| Colorado Rapids | | | | Finalist 🥈 | | |
| Concorde Fire Platinum | Qualified | Qualified | Qualified | Qualified | | Champion 🏆 |
| Concorde Fire Premier | | Qualified | | | | |
| Connecticut FC | | Qualified | Qualified | Qualified | | |
| Crossfire Premier | Qualified | Qualified | Qualified | Qualified | Quarterfinalist | |
| Davis Legacy | | | | Qualified | Qualified | |
| De Anza Force | | Qualified | | | | |
| DKSC | Qualified | Qualified | Qualified | Qualified | Qualified | Semifinalist |
| Eagles SC | Qualified | Qualified | | | | |
| Eastside FC | | Qualified | Qualified | | | Qualified |
| Eclipse Select SC | Semifinalist | Quarterfinalist | Qualified | Qualified | | Qualified |
| FC Alliance | | | | Qualified | | |
| FC Bucks | | | | Qualified | | |
| FC Dallas | Qualified | | Quarterfinalist | Quarterfinalist | Semifinalist | |
| FC Prime | Qualified | | | | | |
| FC Stars Blue | Qualified | Qualified | Qualified | | Qualified | |
| Florida Elite | | | | | Qualified | |
| Florida Krush | | | | | Qualified | |
| GSA | Qualified | Qualified | | Qualified | Qualified | |
| Indiana Fire | | Qualified | Qualified | | | |
| Internationals SC | Qualified | Qualified | Qualified | Semifinalist | Qualified | Quarterfinalist |
| Jacksonville FC | | | Qualified | | | |
| Kansas City Athletics | Qualified | Qualified | Qualified | Qualified | Qualified | |
| Kings Hammer | | | | | Qualified | |
| LAFC So Cal | | | | Qualified | | |
| La Roca | | Qualified | Qualified | Qualified | Qualified | |
| Legends FC | Qualified | Finalist 🥈 | Finalist 🥈 | Qualified | | Qualified |
| Loudoun Soccer | Qualified | | Qualified | | | |
| Match Fit Academy | Quarterfinalist | | Qualified | | | |
| Michigan Hawks | Qualified | Qualified | Qualified | | Qualified | Quarterfinalist |
| Minnesota Thunder Academy | Quarterfinalist | Qualified | | Qualified | Qualified | |
| Mustang SC | | Qualified | Qualified | | Qualified | |
| MVLA | Qualified | Qualified | Quarterfinalist | Qualified | | Quarterfinalist |
| NC Courage | Qualified | Qualified | Qualified | Qualified | Qualified | |
| NC Fusion | | | | Qualified | Qualified | |
| Northwest Elite FC | | | | Qualified | Qualified | |
| Ohio Elite | Qualified | | | Qualified | Qualified | Qualified |
| Ohio Premier | Qualified | | | Quarterfinalist | Qualified | |
| Oklahoma Energy FC | | | Semifinalist | Qualified | Qualified | |
| Orlando City Youth Soccer | | | Qualified | | | |
| PDA Blue | Finalist 🥈 | Quarterfinalist | Semifinalist | Quarterfinalist | Qualified | |
| PDA White | | | | | Qualified | |
| Penn Fusion | | Qualified | Qualified | Qualified | Qualified | |
| Phoenix Rising FC | | | Qualified | | | |
| Pipeline SC | Qualified | Qualified | | | Qualified | |
| Portland Thorns Academy | Qualified | | | | Qualified | |
| Real Colorado National | Qualified | Semifinalist | Qualified | | Champion 🏆 | Qualified |
| Rebels SC | | | | Qualified | | |
| Richmond United | Quarterfinalist | Qualified | Qualified | | Quarterfinalist | Qualified |
| Santa Rosa United | Qualified | | | | | |
| San Diego Surf | Semifinalist | Qualified | Qualified | Qualified | Qualified | |
| San Juan SC | Qualified | Quarterfinalist | Qualified | Qualified | | |
| Seattle United | Qualified | | Qualified | | | |
| Slammers FC | | | Qualified | Qualified | | |
| Slammers HB Køge | Qualified | Semifinalist | Champion 🏆 | Quarterfinalist | Quarterfinalist | Finalist 🥈 |
| SLSG Navy | Qualified | Quarterfinalist | Quarterfinalist | Champion 🏆 | Qualified | |
| So Cal Blues | Qualified | Qualified | | Qualified | | |
| Solar SC | Champion 🏆 | Champion 🏆 | Quarterfinalist | Semifinalist | Quarterfinalist | Semifinalist |
| Sporting Blue Valley | | | Qualified | Qualified | Semifinalist | |
| Sporting California Arsenal | | Qualified | | | Qualified | |
| Sting Austin | | Qualified | | | | |
| Sting Dallas Black | | Qualified | | | | |
| Strikers FC | | | | | Qualified | |
| SUSA FC | Quarterfinalist | | Qualified | Qualified | | |
| Tampa Bay United | | | | Qualified | | |
| Tennessee SC | Qualified | | Qualified | | Qualified | |
| United Futbol Academy | Qualified | | Qualified | Qualified | Qualified | Qualified |
| Utah Avalanche | Qualified | | Qualified | | | |
| Utah Royals FC AZ | | | | | Qualified | |
| Virginia Development Academy | | Qualified | | Qualified | | |
| Virginia Union | | | Qualified | Qualified | | |
| Washington Premier | Qualified | Qualified | | Qualified | | |
| Wilmington Hammerheads | | | Qualified | | Qualified | |
| WNY Flash | | Qualified | | | | |
| World Class FC | Qualified | Qualified | Qualified | Qualified | Qualified | |