Campbell University women's soccer team unveils 9-player signing class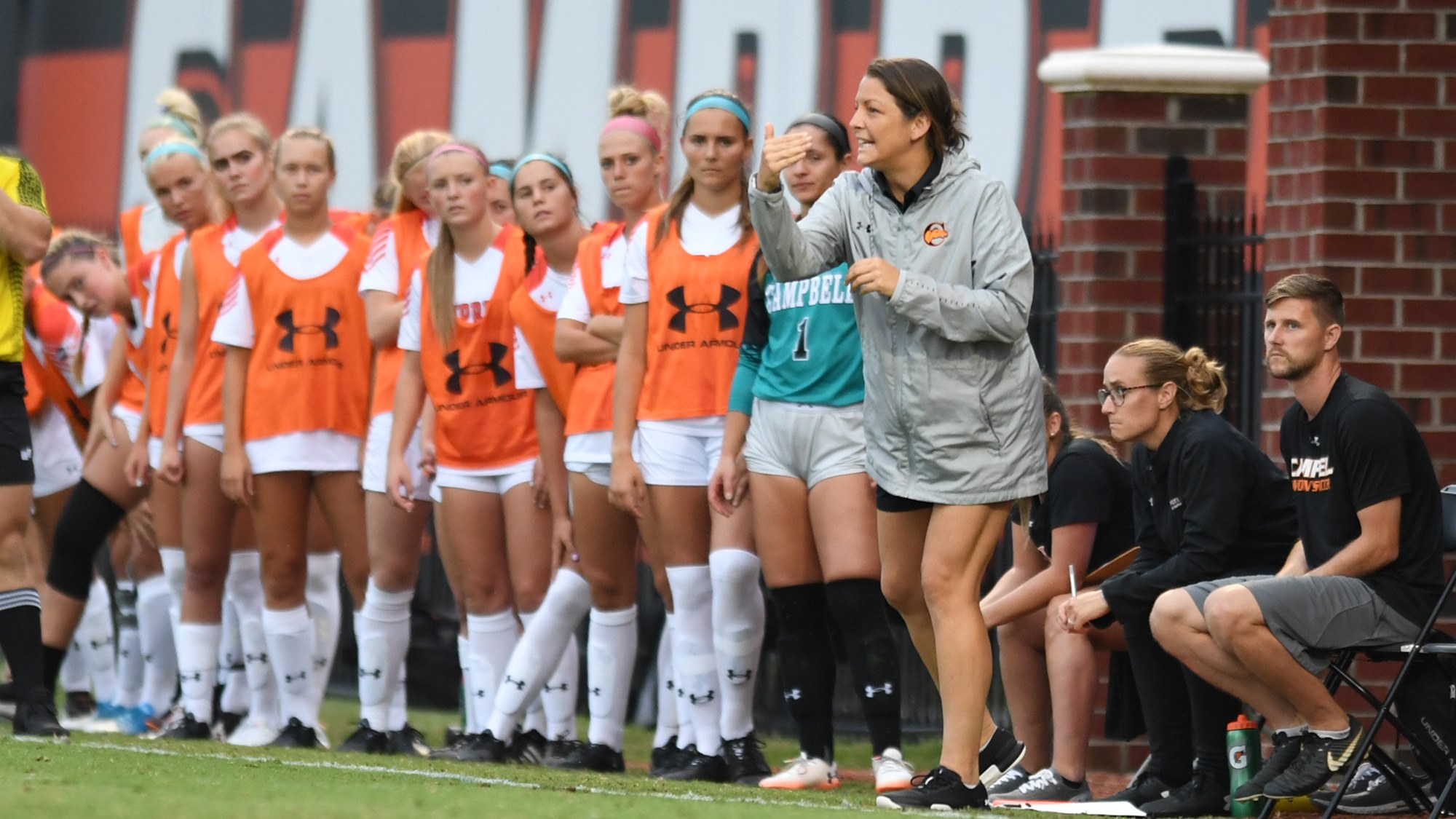 BUIES CREEK – Campbell University women's soccer head coach Samar Azem has announced the signing of nine student-athletes to the 2020 class.
"We are very excited about our 2020 class," Azem said. "There is a lot of talent, competitiveness, athleticism, and a continuation of the culture of our program embodied in each and every single player."
The 2020 class is also joined by transfers Emily Kaestner (Oregon) and Hayley Krahenbil (Louisiana Tech), in addition to freshman goalkeeper Stephanie Martelli who have all been previously announced. Below are the newest additions to the 2020 roster including eight incoming freshmen and one transfer.
---
Sarah Boudreau | Defender | Gilbert, Ariz. | Gilbert HS / Arizona Arsenal ECNL
Scored eight goals and had five assists for 21 total points in her senior season for Gilbert HS
Scored 11 goals and seven assists for 29 total points her junior year of high school
Also selected as the 5A Region Offensive Player of the Year and was selected to the first-team All-Region for the third straight season in her final year of high school
Played club soccer with Arizona Arsenal ECNL alongside fellow signees Madelyn Gibbs and Emma Rich
Brother, Luke, plays soccer for Benedictine Mesa, an NCAA D-III school in Arizona
Undecided on her major
Coach Azem on Sarah Boudreau:
"Sarah is a player that has the experience to play in multiple positions. She understands the game well and comes from a very competitive team. Her character, work rate, and competitive nature will fit in well with our program and we are excited to have her."
---
Madelyn Gibbs | Goalkeeper | Mesa, Ariz. | Desert Ridge HS / Arizona Arsenal ECNL
2x state champion at Desert Ridge HS
Earned an Honors Scholar award all four years of high school and was named team MVP her junior and senior seasons
Played club soccer with Arizona Arsenal ECNL alongside fellow signees Sarah Boudreau and Emma Rich
Sisters, Regan (Kansas) and Ashlyn (Southwest Baptist) were also collegiate goalkeepers
Intending to major in Pre-Med Biology with plans to attend med school to become a physician
Coach Azem on Madelyn Gibbs:
"Madelyn is an athletic and skilled goalkeeper. She is extremely strong aerially, she reads the game well, and can deal with flighted balls in traffic better than most.  Her ability to play out of the back and her range in distribution will play into our style. Madelyn comes from a strong club and has the experience and maturity to be a great goalkeeper for our program."
---
Bayleigh Humbert | Midfielder | Apex, N.C. | Middle Creek HS / NC Courage Academy
Midfielder for the NC Courage Academy totaling four goals and 11 assists across three seasons
Played only her freshman year at Middle Creek HS in nearby Cary, N.C. where she scored five goals and had eight assists
Played alongside fellow signees Cazzi Norgren and Olivia Neal at the NC Courage Academy
Father, Chris, wrestled at The Citadel
Intending to major in nursing
Coach Azem on Bayleigh Humbert:
"Bayleigh is a very crafty and talented midfielder.  She is composed on the ball with an extremely high soccer IQ.  Her ability to transform space in the attacking third on the ball is a lot of fun to watch and will be very dangerous for us.  She will help us create goals and she will help us score goals this season.  She has played on a team that has a high standard for success and brings that experience with her.  I'm excited to see Bayleigh come in and start using her tools and creativity."
---
Olivia Neal | Forward | Wake Forest, N.C. | Heritage HS / NCFC ECNL
4A All-State and All-Region player at Heritage HS
Won a state championship at Heritage in 2019
Member of the Math Honors Society and a North Carolina Scholar
Played club soccer with NCFC ECNL and was
Intending to major in Pre-Med with plans to attend medical school
Coach Azem on Olivia Neal:
"Olivia has the versatility to play in the midfield or out wide.  She has the pace, athleticism, and timing to make very dangerous runs through back lines and stretch teams in behind.  She's also very hard to beat defensively, she's willing and reads the defensive game well.  She has a very high ceiling and brings a lot of talent and drive to the program.  She will be a player to watch in the attacking third."
---
Sydney Neal | Defender | Fayetteville, N.C. | Fayetteville Academy / Wilmington Hammerheads ECNL
2x All-State and All-Conference player at Fayetteville Academy
Scored 45 goals across the 2017 (15) and 2019 (30) seasons at Fayetteville Academy
Played club soccer with Wilmington Hammerheads ECNL where she was teammates with Parker Ormsby
Intending to major in business with plans to own her family's business
Coach Azem on Sydney Neal:
"Sydney is a local player with a lot of family tradition in our incredible institution – I am excited that she will be part of our program and expand on those traditions. She is a left-footed player with a lot of speed and ability to serve balls in to the box and get in behind back lines and create a lot of width going forward.  Her work rate is extremely high and she can add a strong attacking dynamic to the way we want to stretch teams."
---
Cazzi Norgen | Midfielder | Cary, N.C. | Panther Creek HS / NC Courage Academy
2x All-Conference and All-Region midfielder at Panther Creek HS
Had four goals and four assists in an injury-shortened junior season at Panther Creek
Named captain her sophomore and junior years and was named to the All-Conference Academic team all three seasons
Played two seasons of club soccer on NCFC ECNL alongside fellow signee Olivia Neal before switching to play for NC Courage Academy alongside Bayleigh Humbert
Scored four goals and led NCFC ECNL with five assists in 2018-19
Brother, Cameron, plays baseball at NC Central
Intending to major in Exercise Sciences / Kinesiology with plans to go to PT or PA school
Coach Azem on Cazzi Norgren:

"Cazzi is another versatile player for us.  Her ability to possess is incredible, she is an industrious worker who can dictate the rhythm of the game and stretch team defensively on and off the ball.  She has a very high soccer IQ, she's strong in the air, and she shreds through teams with her passes. Cazzi is extremely hard to beat defensively, she's smart and extremely relentless off the ball.  I am excited to watch Cazzi integrate into our current roster, she is a great leader and player."
---
Laney Peabody | Defender | Solana Beach, Calif. | Mater Dei HS / TCU
Joining Campbell as a transfer after spending one season at TCU
Appeared in 16 games last season at TCU as a defender including appearances in seven on nine Big 12 contests, all three games of the Big 12 Tournament and at Arizona in the NCAA Tournament
Selected as team captain at Mater Dei HS, earning the team's defensive MVP award her senior season and offensive MVP honors her junior year
Helped advance Mater Dei to the CIF title game
Played club soccer with the Strikers ECNL
Coach Azem on Laney Peabody:
"We are very excited to have Laney join our program this fall. She is part of a strong network of transfers that we have brought in and is a competitive addition to our program. She has a very high ceiling and the ability to develop into a threatening and consistent player in our league."
---
Emma Rich | Defender | Chandler, Ariz. | Basha HS / Arizona Arsenal ECNL
Attended Basha HS where she was selected as captain and selected to First Team All-Region and All-CUSD
Previously attended Henry M. Jackson HS in Washington State her freshman and sophomore years of high school
Won a District title at Henry M. Jackson HS after scoring the game-winning penalty kick her sophomore season
Played club soccer with Arizona Arsenal ECNL alongside fellow signees Sarah Boudreau and Madelyn Gibbs
Intending to major in Homeland Security
Coach Azem on Emma Rich:
"Emma is a very strong athlete with a lot of pace and power behind her movement.  She is an aggressive and strong 1v1 defender and her work rate is second to none.  Emma is an attacking-minded defender she is very dangerous going forward and can stretch backlines and create numerical advantages in the opposition's defensive third. She is relentless and her instincts on the field are consistent and effective."
---
Omeha Sandhu | Midfielder | Vancouver, British Columbia, Canada | Burnaby Central Secondary School / Vancouver Whitecaps FC
Attended Burnaby Central Secondary School in Vancouver, British Columbia, Canada
Received academic and work ethic gold cord awards all four years of high school
Played club soccer with the Vancouver Whitecaps FC, a program that develops player for the Canadian women's national team
Brother, Otis, played collegiate soccer at University of British Columbia; father, Raj, also played collegiate soccer
Intending to major in Business with plans to play professionally
Coach Azem on Omeha Sandhu:
"We are thrilled to have Omeha join our program.  Omeha comes from a soccer background and a high-level training environment. She studies the game and is disciplined in her craft. She is someone that can grow and develop into a threatening player in our program and the league."
---
"This class will fit into how we play very well, they have a consistent drive to excel which is a core to who we are, and are phenomenal people dedicated to a bigger picture, which is our team," Azem continued. "They will add a lot to the strength to our program and our future. We have players that are versatile, athletic, technical, and extremely smart in the group and that will fit into how we attack, how we defend, and how we want to control the transitions of the game."
"Thank you to their club coaches for the time and effort in developing them and their assistance in the recruiting process. Thank you to our current players, our staff, and our support staff and administration for taking the time to help our incomers identify what an exceptional place Campbell University is and believe in an up and coming regional athletic department."