Arizona State Soccer welcomes 5 new signees to Sun Devil roster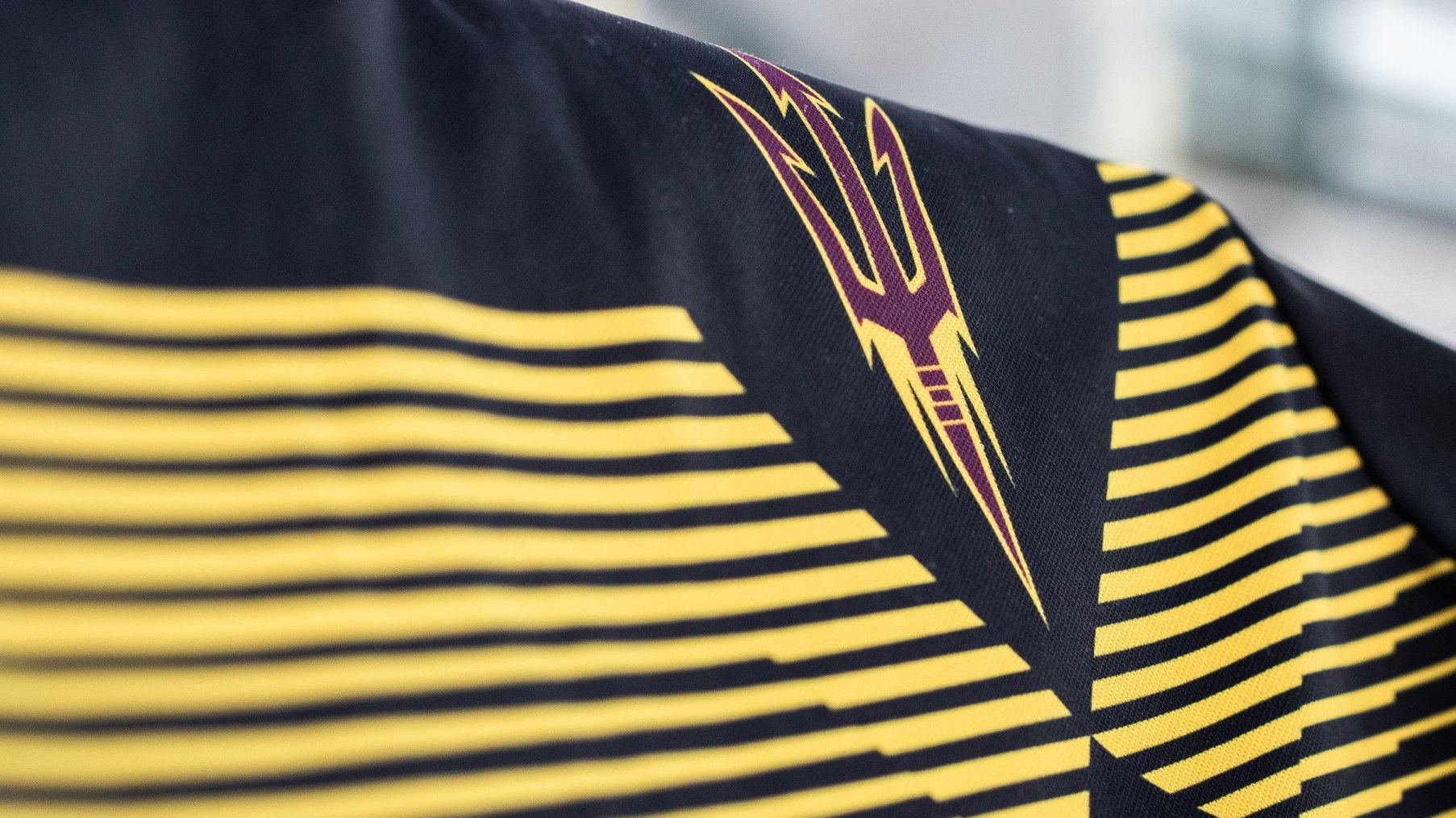 TEMPE – Arizona State head coach Graham Winkworth and the Sun Devil Soccer team announced five signees to the roster for 2020 competition.
The Sun Devils continue to build a team touted with diverse backgrounds as the signees hail from five different countries, including Germany, Slovenia, New Zealand, England, and the United States.
The group of five joins Canadian midfielder Jazmine Wilkinson – the first signee of the 2020 class – who inked her commitment with an NLI on November 13, 2019.
"Arizona State University has a philosophy of inclusion and diversity. As a soccer program we are proud to contribute to this," Winkworth said of the team's international representation. "I'm excited about this group. I am also thrilled with the future local, domestic and international stars that have committed to us in the years to come. The future is very exciting."
Learn about the 2020 Sun Devil Soccer signing class, which features six total players: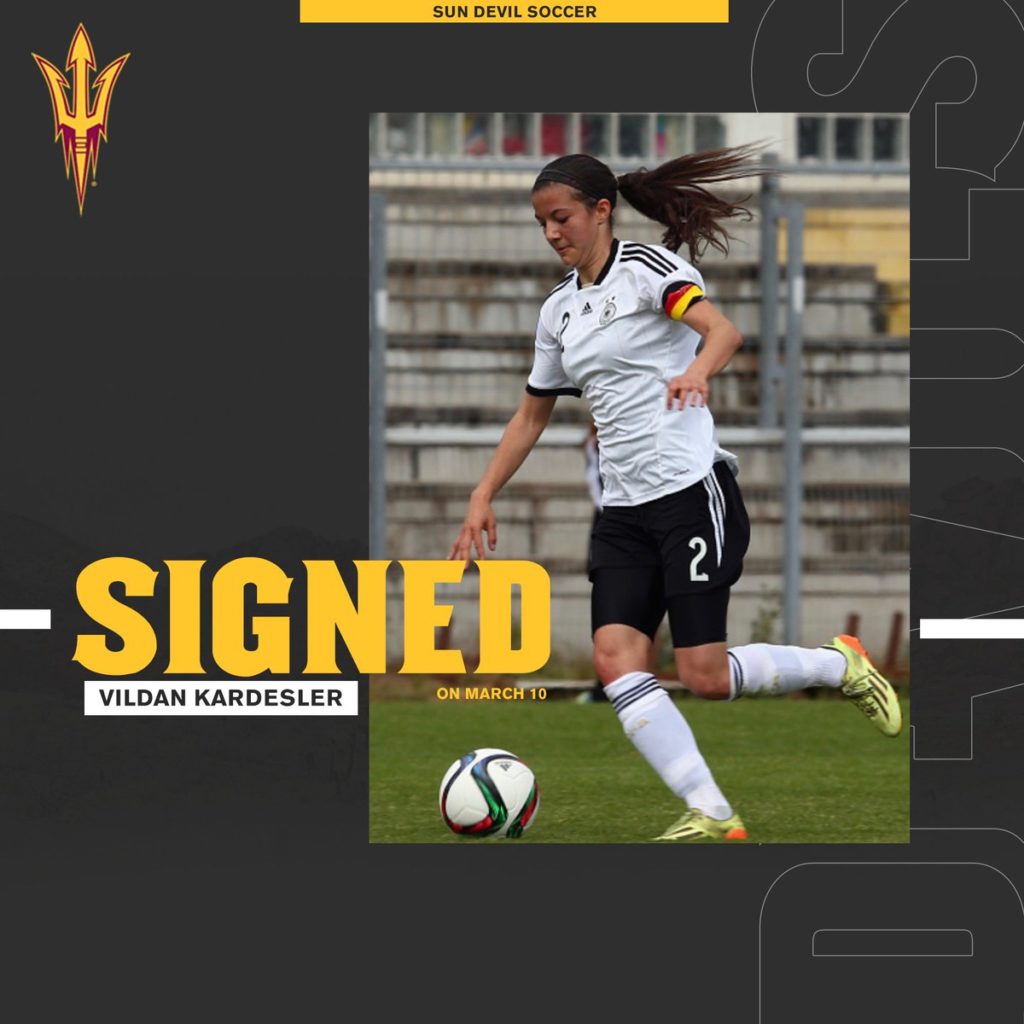 Steinfurt, Germany | Sv Burgsteinfurt/Univ. of Pittsburgh | Outside Forward
Served as the team captain for Germany's U17 National Team
Played for the German National Team for five years through U15, U16, U17, U19, and U20
Won the Länderpokai/State Cup 2016 with Westphalia as the team captain
Played for the state selection Westphalia for five years (U15-U19)
In 2016-17, Kardesler played for SV Meppen in the Second Bundesliga
Parents are Mehmet and Yasemin Kardesler, Vildan has one sibling
Coach's Comments: "Vildan is a very experienced and exciting signing. She captained the German National Team at a major tournament. V has played 2 years of college soccer in the ACC with Pitt and we look forward to seeing what she can add to our team. I tried to sign V many years ago at my previous school and so it is awesome to finally get to work with her. She can play multiple roles but I see her as both an attacking full back or wide forward."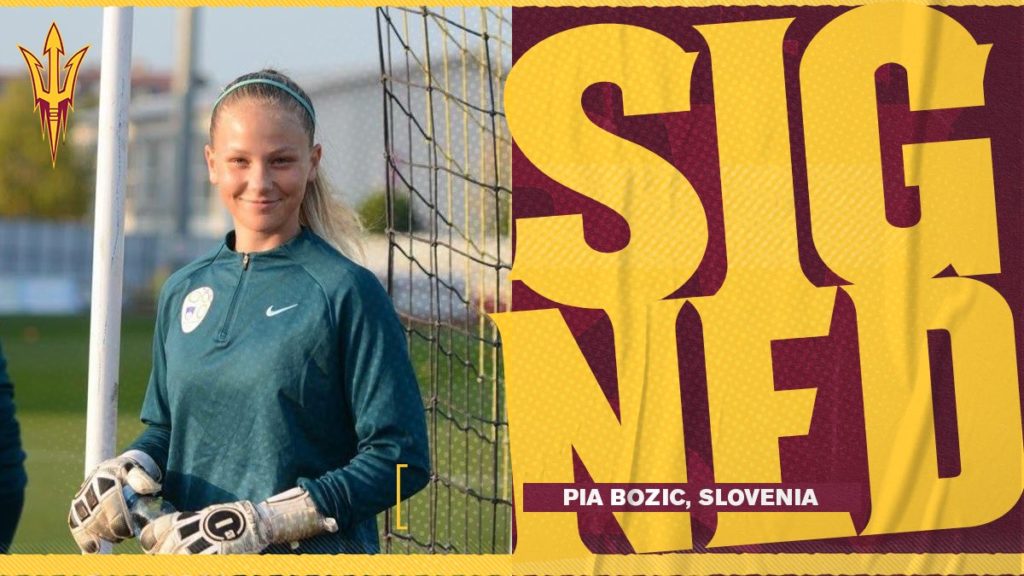 Kamnik, Slovenia | WFC Olimpija Ljubljana | Goalkeeper
Ranked one of the Top 11 players in Slovenia
Took second place in the 2018-19 senior league with her club team, WFC Olimpija Ljubljana
In 2018, Bozic qualified for the women's champions league with WFC Olimpija Ljubljana
Aims to play soccer professionally and work as a sports psychologist
Chose ASU for its combination of excellent education and top-notch soccer program
Coach's Comments: "Pia is another player we cannot wait to have on campus. She is a keeper and has represented Slovenia at the U17 level. We needed additional competition in the goal after the graduation of Syd Day and I feel that Pia is a great fit. She has excellent distribution skills with both her feet and hands."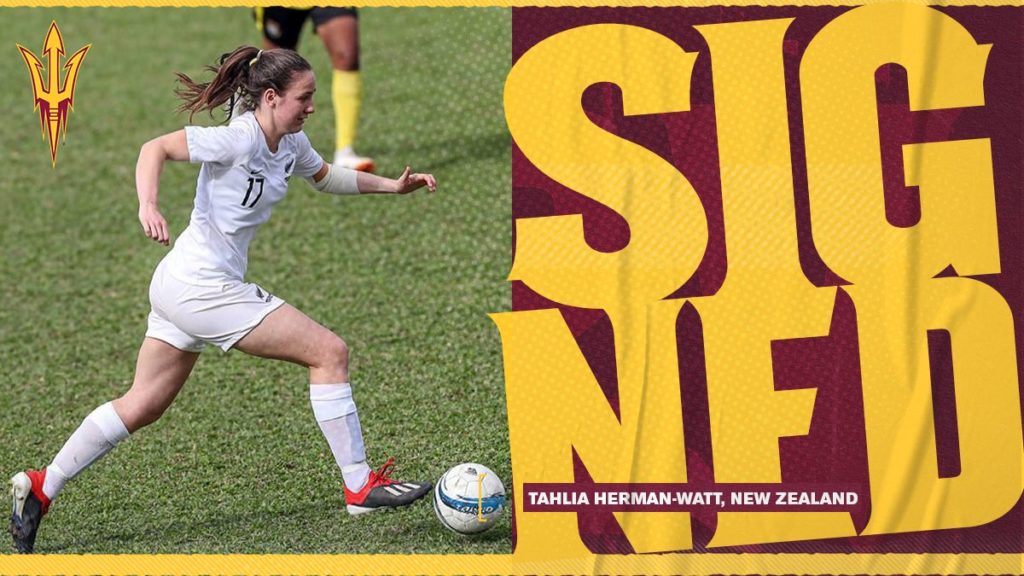 Rangiora, New Zealand | Coastal Spirit Football Club/Rangiora High School | Fullback/Midfielder
Herman-Watt earned 2019 Young Player of the Year and 2017 Midfielder of the Year at her club
MVP of the Rangiora High School first 11 in 2015-2018
Rangiora High School Bronze at the school Nationals Football Champs in 2017
Chose ASU for the experienced coaches, good team culture, and the university offers her desired major of Physical and Outdoor Education.
Parents are Michael Watt and Jane Herman, Tahlia has two siblings.
Coach's Comments: "Tahlia is another player a little older with great experience. She has been a part of the New Zealand u20 National team and will hope to join them in January at the World Cup. Tahlia is an athletic attacking minded full back who can also play on the wing or even at central midfield. She is not afraid to put a tackle in and will provide a great natural attacking threat from wide positions."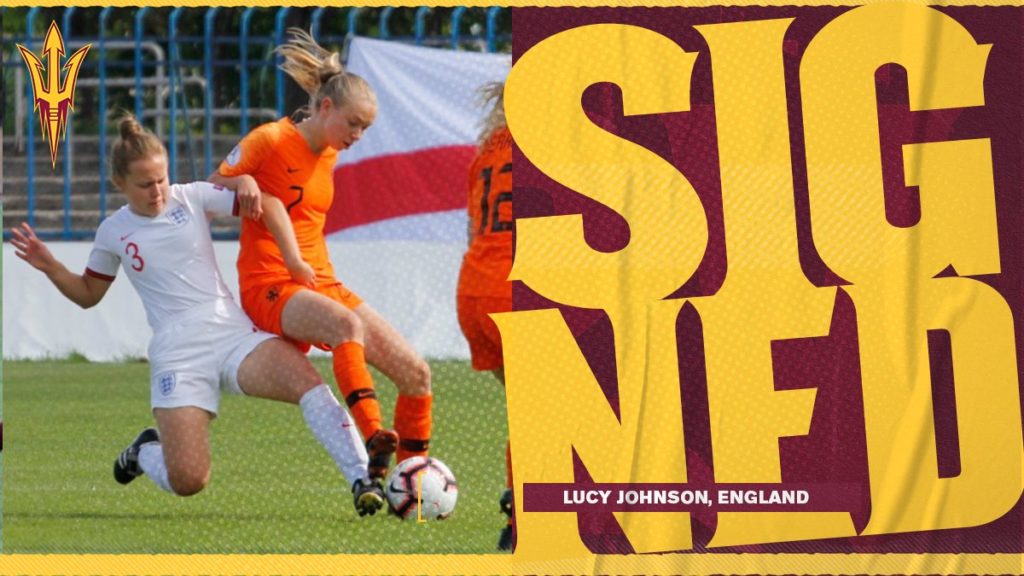 Nottingham, England | Leicester City WFC | Defender, Fullback
Johnson played in the Euro Finals with the U17's England squad while also reaching the Quarterfinals in the FA Cup with her club, Leicester City WFC
Johnson is interested in studying sociology and criminology
A fan of live music, Johnson chose ASU because of the coaches and team, topped off by the opportunity to play high-level soccer
Parents are Paul and Anne Johnson
Coach's Comments: "Johno is a natural lefty who is a part of the England U18 squad. It is great to have a player who is left footed as a part of the back line to provide that natural width. Johno has been named "psycho" by some of her previous teammates because of the way she plays being comparable to former England star Stuart Pearce. She loves a tackle and is very well respected by all who play with her because of her work rate and bubbly character."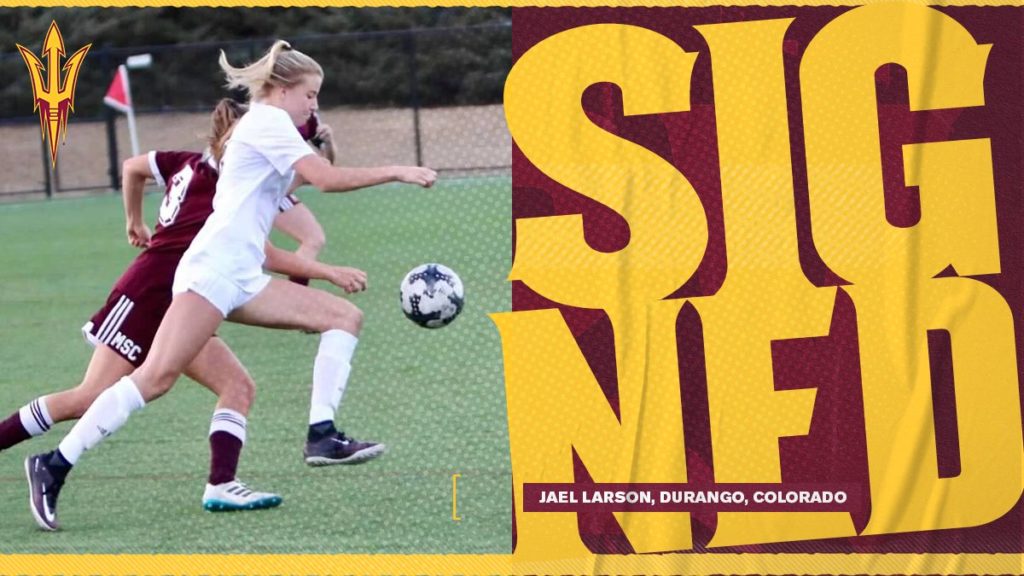 Durango, Colorado, USA | Rio Rapids | Forward, Midfielder
Larson is a two-time State Cup Champion in 2017 and 2019 with her club, Rio Rapids.
A multi-sport high school athlete, Larson played varsity soccer for four years and varsity basketball for three years at Durango High School
Larson picked ASU for the inclusive attitude of the team, the love of Arizona, the personality of the coaches and to compete in the Pac-12 Conference
Larson chose ASU over offers from Long Beach State, Utah University, and Colorado State University
Parents are Jay and Lonna Larson, Jael has three siblings.
Coach's Comments: "Jael is an exciting attacking player who has the ability to stretch opposing back lines with her excellent pace. She can play through the middle or out wide and will provide additional competition to our attacking players. Jael attended camp multiple times and showcased her skills. We are excited she decided to join the family."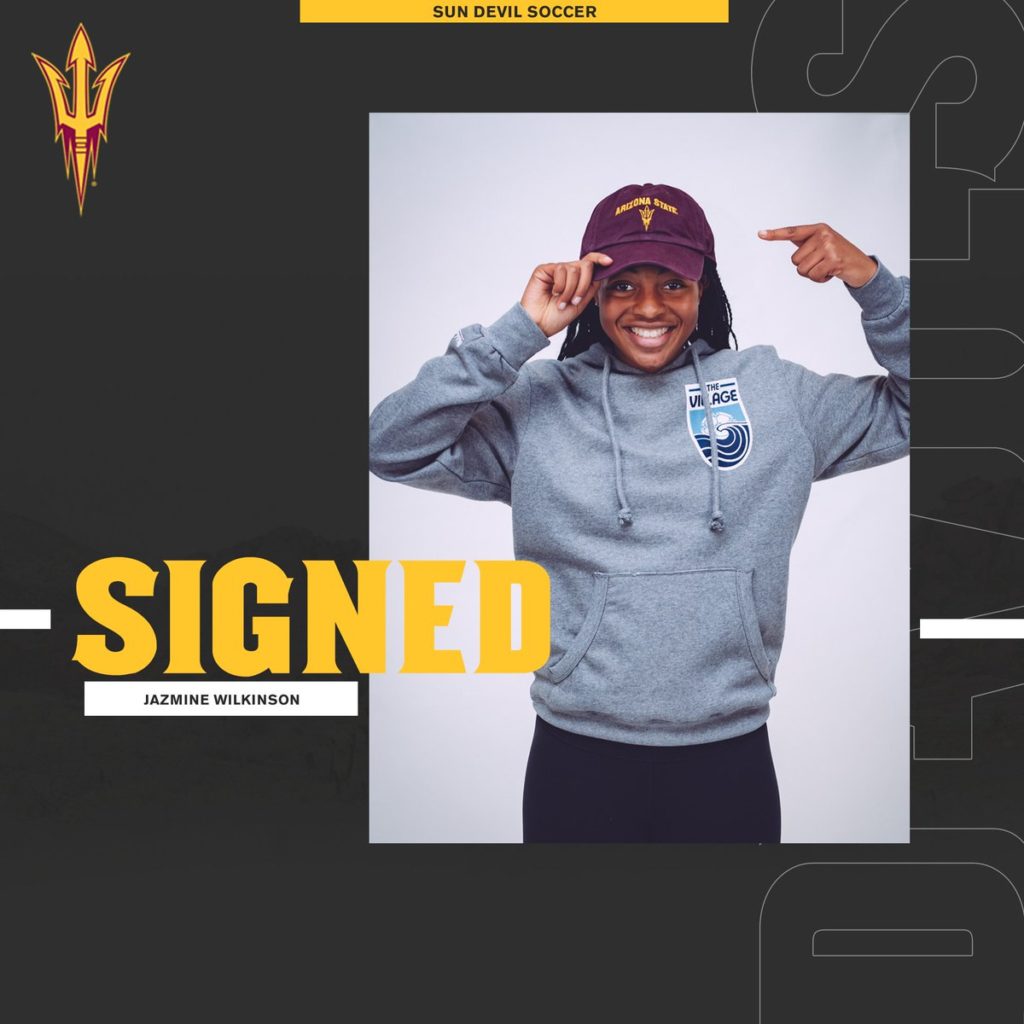 Nanaimo, British Columbia | Vancouver Whitecaps FC/Nanaimo District Islanders | Midfielder
Helped her team become the Upper Island Storm Provincial Champions in 2014
Played in the Vancouver Island Wave Provincial Championship in 2018
Won Freshman and Junior Athlete of the Year at her high school
Chose ASU for the team and coaching environment as well as the beautiful ASU campus
"I am delighted to welcome Jaz to the Sun Devil Family," Winkworth said in November of the talented Canadian. "Jaz is a central midfielder who comes from the Vancouver Whitecaps organization. She was an absolute delight to get to know on her visit and I have no doubt in my mind she will be a crucial part of our team's future in the next few years."