The Citadel women's soccer team adds three graduate transfers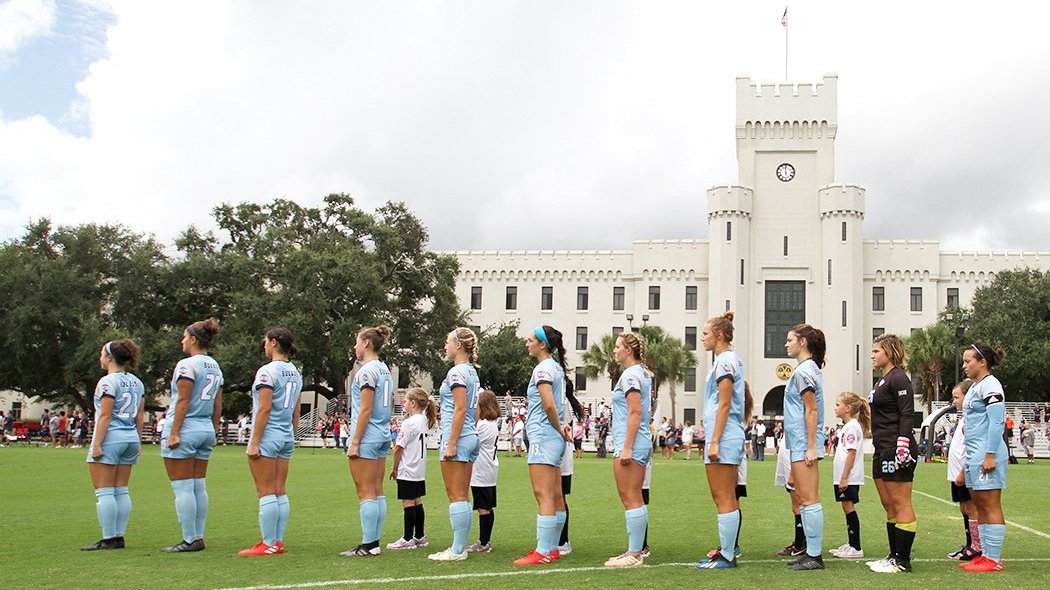 CHARLESTON, S.C. – The Citadel head women's soccer coach Ciaran Traquair announced Friday the addition of three graduate transfers for the upcoming 2020 season.
The trio of future Bulldogs include a pair of midfielders and one defender. Between the three of them, they have played 92 college games, including making 42 starts.
Leanne Bryant from Queens (N.C.), Megan McLaughlin from Notre Dame and Rachel Posner from College of Charleston join the incoming class of seven freshmen to give Traquair 10 new Bulldogs for the 2020 campaign.
"Adding graduate students is always beneficial when the players have been in competitive programs and still have a hunger to finish their careers here," Traquair said. "All three of these players add quality from the start and will complement a very experienced squad of players. I can't wait to get started."
Leanne Bryant
Midfielder / Kettering, England (Southrield School/Queens)
Bryant comes to Charleston having played 36 games, including making 32 starts, for the Royals of Queens University out of Charlotte. A 2019 Preseason All-Conference Carolinas First Team selection, Bryant started all 14 games she played in during the 2018 season, averaging 92.1 minutes per contest, including playing 100 minutes at home against Anderson on Oct. 3, and 110 at home against Wingate on Oct. 17. She tallied one goal on the year, the game winner at home against Newberry on Oct. 20 in the 85th minute. Following the season, she was named to the All-Conference Carolinas Second Team and North Carolina Collegiate Sports Information Association (NCCSIA) All-State Second Team.
After playing four games as a true freshman in 2016, Bryant was one of just five players to start all 18 games for the Royals in 2017. The Kettering, England native averaged 87.6 minutes per game, including playing every minute in 12 contests. She played 110 minutes at home against Tampa on Sept. 2, at Limestone on Oct. 25 and at home against Anderson on Oct. 31. She scored two goals off 24 shots, including 15 on goal. Bryant scored first career goal in 2-0 win at Georgia College on Sept. 8, and followed that up with a goal in a 2-2, double-overtime draw at Limestone on Oct. 25.
Prior to her time in Charlotte, Bryant played for the England Youth Team and Aston Villa Ladies in the WSL 2 league. She earned the Sports Award in both 2014 and 2015.
Coach Traquair on Bryant – "Leanne captained her college team prior to signing at The Citadel. She comes from a very competitive Queens team and has a winner's mentality. Leanne can play centrally for us and will add experience, quality and consistency. I am confident she will appreciate every day she has here and give her all for the program."
Megan McLaughlin
Defender / Granger, Ind. (Penn HS/Notre Dame)
McLaughlin comes to The Citadel after starting her career at Notre Dame where she appeared in 18 games. A team captain in 2019, McLaughlin appeared in a career-high eight games and made one start.
As a junior, the Granger, Indiana native appeared in seven games, including playing a season-high in minutes at home against No. 8 Virginia. Prior to that, McLaughlin appeared in three games as a true freshman.
McLaughlin graduated from Penn High School after attending Lake Washington High School for three years. She earned three varsity letters in both soccer and track and field. As a senior, she was named the soccer team's captain and led the team to a runner-up performance at the state championship. For her efforts, she was named a Northern Indiana Conference Honorable Mention, and picked up Indiana Soccer Coaches Association All-Academic Team honors. McLaughlin was an ISCA Top Team Player in 2015-16.
As a junior, McLaughlin was named to the KingCo Conference Defensive Second Team on a conference and district championship-winning squad. The year before, she was voted Most Improved on Lake Washington's district championship team as a sophomore.
In the classroom, McLaughlin was named the Biology Student of the Year and Painting Student of the Year for 2016 at Penn, and earned an AP Scholar Award. She was named to the Honor Roll each semester of high school, volunteered as a tutor with Kingsman Tutoring and was a member of the National Honor Society …
Coach Traquair on McLaughlin – "Megan is a great pick up for us as a program. She comes from the highest level of college soccer having led as a team captain for Notre Dame last year. She is determined to make a strong impact here and I expect she will continue to lead by example. She thrives in the defensive part of the game, but is also comfortable building the attack."
Rachel Posner
Midfielder / Los Alamitos, Claif. (Los Alamitos HS/CofC)
Posner follows in the footsteps of former CofC players and teammates Paige Davis and Dakota Steiner by making the short trip across town to play her final year on the banks of the Ashley River.
Posner played in 38 games for the Cougars, including 18 as a senior. In 2019, she started nine games, taking five shots with one being on goal.
A native of Los Alamitos, California, Posner appeared in 13 games as a junior, taking three shots with one being on frame. The year before, she played in seven games.
Posner was a four-year letterwinner at Los Alamitos High School where she led the team to the league championship crown in 2013. She was a member of the Interact Club and was a four-year Honor Roll student. She played for Strikers FC ECNL.
Coach Traquair on Posner – "Rachel knows our program well having played at Cofc and competed against us last spring. She brings a maturity to our team that will be welcomed amongst the current group. I think Rachel will be a goal threat coming from deep positions as a midfielder. She should have an easy transition and will add to our attacking threats in midfield."