University of the Pacific women's soccer announces 8-player recruiting class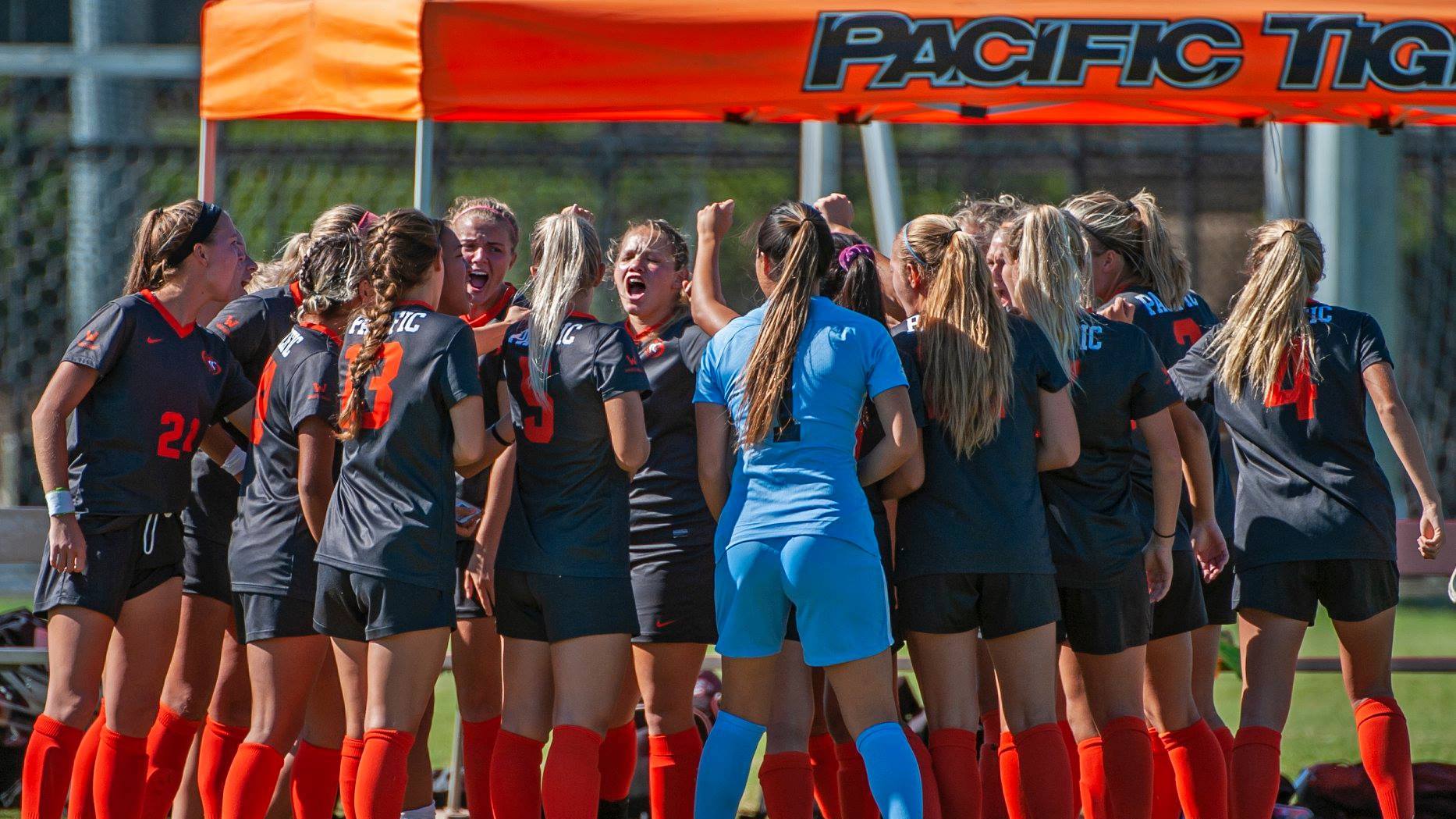 STOCKTON, Calif. – The first official recruiting class for new University of the Pacific women's soccer head coach Ed Moore is complete, as eight student-athletes have signed on to take the pitch for the Tigers this coming fall.
Despite the uncertainty of the upcoming season, Moore is excited for the future of the program:
"The new staff, Danesha and JJ, have done an amazing job adding talent to this roster during such a unique and challenging time. We were able to add 6 players to our 2020 class in just a few months, during which no youth soccer was being played, and no schools were allowed to bring players on campus for visits, so those two have done an outstanding job! We are pleased to be adding quality/depth to each line of the field. Overall, this is a great group of players that will not only make us better on the field, but will also fit right in with the culture that our current group has created. I am excited to blend the incomers with the returners and cannot wait to get back to work on the field. We have great expectations for the 2020 season as we take our first steps together in a new direction."
Audrey Fuchs / San Francisco, Calif. / Lowell High School
Audrey Fuchs comes to Pacific by way of Lowell High School in San Francisco, where she excelled on the back line, in the midfield and on the attacking front. A four-year Academic Athletic Association champion with Lowell, Fuchs guided the Cardinals to the 2018 Division 4 and 2019 Division 5 NorCal Championships.
She earned back-to-back Second Team All-AAA honors as a sophomore and junior before earning First Team accolades her senior year. She was named team offensive MVP as a sophomore after leading the team in scoring and assists, then earned the Captain's Award the following year for her dedication.
On the club level, Fuchs won the 2018 State Cup and the NorCal NPL Champions League with Marin FC. Off the pitch, she was a National Merit Scholar finalist, a member of the Honor Roll and an AP scholar with honor.
Moore on Fuchs: "Audrey is good on the ball and will help us build out of the back, looking to join the attack whenever possible. She is a tough, hardworking defender who also has the ability to join and look to combine and get crosses off. She brings a calm and steadiness to her position, which is key."
Bella Ochoa / Elk Grove, Calif. / Franklin High School
Bella Ochoa is a midfielder from nearby Elk Grove, having played one season as a freshman at the varsity level for Franklin High School.
As a student, Ochoa was a recipient of the Scholar Athlete Award off the pitch and earned Honor Roll accolades and the Presidential Award.
Moore on Ochoa: "Bella is a crafty and very technical attacking mid-fielder… She will bring creativity and flair to the attack, and loves to get her teammates involved. She will find ways to open up opponents  to engage them and force a reaction, using this tactic to then deliver the ball to teammates in dangerous positions. She also has the ability to create for herself with the ball in her feet."
Chloe Stevens / Highlands Ranch, Colo. / ThunderRidge High School
Coming from ThunderRidge High School in Highlands Ranch, Colorado, Chloe Stevens comes to Pacific as a two-time 5A Continental League champion and a former member of the Colorado Rush Development Academy. She earned two letters in soccer with the Grizzlies under head coach Michael Parsons.
Off the pitch, Stevens was a member of the National Honor Society, Spanish National Honor Society and a four-year member of the Honor Roll.
Moore on Stevens: "Chloe was a terrific youth player, and will serve as a center forward for us. Her movement both with and without the ball is truly fantastic… Her mental toughness continues to push her to be the best version of herself, and that makes her a handful to defend against. She has the bravery to demand the ball in tight spaces, and her ability to create opportunities in and around the box makes her dangerous."
Jaida Nyby / Eugene, Ore. / Sheldon High School, Thurston High School / Concordia-Portland
Jaida Nyby comes to Pacific from the soccer-rich Pacific Northwest, where she starred for both Sheldon High School and later Thurston High School before playing a year at Concordia University in Portland.
In her two years at Sheldon and one year at Thurston, Nyby compiled three Oregon State Activities Association playoff appearances, 30 goals and 30 assists. Nyby guided Sheldon to a combined 30-4-2 record in her two seasons with the Irish, earning Oregon 6A All-Southwest Conference honors both years after leading her team to back-to-back conference titles.
After sitting out her junior season due to injury, her 2018 senior season at Thurston culminated with her becoming the second player in school history to earn Oregon State 5A Player of the Year honors. Nyby also earned Oregon 5A All-Midwestern League, Midwestern League Player of the Year, First Team Oregon 5A All-State and Register Guard Prep Girls Soccer Player of the Year honors.
At Concordia, Nyby earned Second Team All-Great Northwest Athletic Conference honors and a spot on the WPSL Western Region-Northwest All Conference Team.
Moore on Nyby: "Jaida is someone that really fits our team culture… She has been one on my radar since she was a youth player, and now we have a chance to work together here at Pacific. She will be looking to find a home at the attacking mid spot, and is someone that helps open up opponents with her skilled passing and her ability to join the attack, which will continue to make us dynamic no matter the opposition."
Juliana Alexander / Bakersfield, Calif. / Centennial High School 
A four-time All-Southwest Yosemite League (SWYL) goalkeeper out of Centennial High School in Bakersfield, Juliana Alexander will make it a trio of promising young goalkeepers for Pacific in addition to Brenna Crump and Weronika Baranowska.
Alexander was a two-time SWYL Goalkeeper of the Year with the Golden Hawks, guiding her team to a section title as a senior with a 18-5-3 overall record.
In addition to her SWYL accolades, Alexander also earned All-Area honors all four years and was named the All-Area Goalkeeper of the Year as a senior after ranking fourth in Central Section's Division 2 with 63 saves and sixth with a .644 goals against average in 1,490 minutes in net.
A letterwinner in both soccer and volleyball at Centennial, Alexander made 283 saves and pitched 35 shutouts in her four-year high school career. On the pitch, she won the team's Coach's Award as a sophomore and was named Team Most Inspirational as a junior.
Moore on Alexander: "Juli is a terrific young lady who shows up to work hard every day… I am excited to get her and J.J. together to watch her take off. She will add toughness and a love for competition to our goalkeeping core."
Laila Saravia / Houston, Texas / Bellaire High School
Pacific's second out-of-state recruit in the 2020 class, Laila Saravia is a midfielder who hails from Houston, Texas and Bellaire High School.
Saravia earned two letters in soccer as a midfielder at Bellaire, tallying 14 goals and 16 assists for the Cardinals. She earned First Team All-District honors in 2017 and named Second Team All-District the following year.
Moore on Saravia: "Laila will also come in and challenge for a mid-field role as well… She is a tough and gritty worker who has great ideas on the ball. Overall, she has the mobility to join the attack and help create offense for us. Laila is a dynamic person both on and off the field, and will be a great addition to our locker room as well."
Rósa Stefánsdóttir / Hauganes, Dalvíkurbyggð
Hailing from the city of Haugunes, which is located on the the longest fjord in central northern Iceland, Stefánsdóttir suited up as a defender for Akureyri Junior College before coming to Pacific.
Moore on Stefánsdóttir: "Rósa will add quality to our team with her ability to possess/pass out of the back… Her range of passing is terrific… She is also solid in the air, and will give us a tough, consistent aerial presence… As a whole, she has the strength to read the game and be in the right spot to put out fires, which is a great trait for a center back."
Taylor Puckett / Las Vegas, Nev. / West Career and Technical Academy 
A bolster to the Pacific midfield, Taylor Puckett joins the Tigers from her hometown of Las Vegas, Nevada.
Prior to UOP, Pucket earned a varsity letter after playing two years as a center midfielder for West Career and Technical Academy. Under head coach Ross Muir, Puckett was named the 2018-19 league MVP in addition to being named an All-Desert Region and Scholar Athlete selection after finishing with 8 goals and 3 assists for the Wranglers.
Moore on Puckett: "Taylor is a terrific mid-fielder, and one that defines her play by covering a lot of ground and doing the bluecollar things that make any team better. She looks to connect the backs with the forwards and her passing will help our attackers get to goal. She reads the game well overall and will look to get her teammates the ball in good spots."
For more information on Pacific Women's Soccer, be sure to follow along on Twitter and Instagram at @PacificWSoccer and on Facebook at Pacific Women's Soccer.