Binghamton men's soccer announces six-player signing class for 2022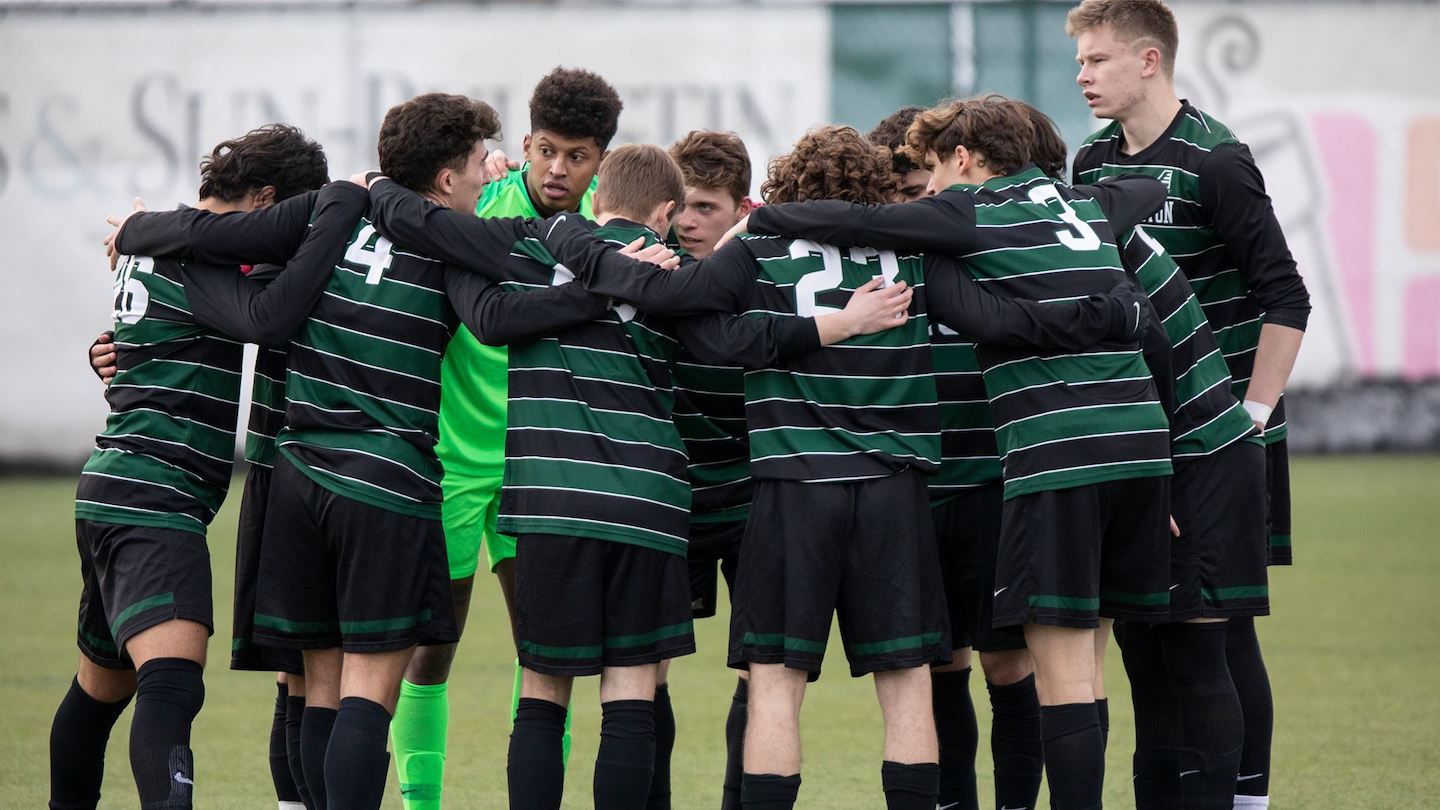 VESTAL, N.Y. – Binghamton men's soccer has announced that six incoming student-athletes will join the team in advance of the 2022 season.
The Bearcat's class includes three freshmen and three transfer students that will provide an instant impact into the program. It will be the program's 21st season with Paul Marco at the helm.
"We are extremely excited to welcome such a talented class to our program. Not only are these six young men hugely gifted soccer players," Marco said. "They are also truly exceptional competitors. More importantly, these six student-athletes' personalities stood out as players we believe will come in and continue to add to our program's culture. All six are talented, driven and ready to make an impact once they get on campus in the fall."

Cailen Thomas
CB – Ithaca, NY/Ithaca High School/Syracuse Development Academy (SDA)
Thomas is a central defender from nearby Ithaca High School. He played club soccer for Syracuse Development Academy and won back to back NY West State Cups. For the 2021-2022 season, the team competed in the USYSA National League. Thomas also has international experience and played in Germany for 4 months with Borussia Emsdetten in 2021-2022.
Coach Marco on Thomas: "Cailen is an imposing central defender. He has good size, mobile, and has good technique. He has a passion for the art of defending and cares deeply about shutting down his opponents. He is also someone who is comfortable building out of the back. He is a reliable and consistent player in every way, can play multiple roles and is very calm in every situation."

Gaven Egan
CM – Churchville, NY/Churchville-Chili High School/Western NY Flash
Egan is a midfielder from Churchville-Chili High School. Egan played four years for Coach John Mahoney and was awarded Monroe County Player of the Year in 2021. Egan is also a two-time All-Greater Rochester First Team selection, two-time All-State honoree, and two-time team captain and MVP. On the club side, Egan played for Jonny Black at WNY Flash and GPS. He was selected to the ECNL All-Conference First team in 2021 and selected to play in the ECNL National Selection Game. In 2019, his GPS team was NY West State Cup Champions and he played in the MILK Cup in Northern Ireland with the GPS National team. Outside of soccer, Egan is a National Honor Society member and Foreign Language Honor Society member.
Coach Marco on Egan: "Gaven is a genuine box-to-box central midfielder. He is incredibly sharp with and without the ball and his energy levels are beyond impressive. When you couple Gaven's high-octane playing style with his competitiveness, you really do get a sense that he could become a dominant central midfielder."

Will Mahoney
Def – McLean, VA/McLean High School/BRYC and Northern Virginia United
Mahoney is a defender from McLean High School. In 2022, Mahoney was named team captain and was also the team's MVP. He was a Washington Post First-Team All-Met selection and named Virginia All-State second team. Mahoney played his club soccer for Braddock Road Youth Club, the same club that returners Michael Bush and Will Noecker played for. His team finished top 16 at nationals in 2019 and were two-time Mid-Atlantic Region Champions. Mahoney is also a National Honor Society member.
Coach Marco on Mahoney: "Will is an incredibly tough and hardworking defender. He possesses so many of the intangibles which end up making a player great, and it's those intangibles that typically see him make an impact on the field."

Carlo Cavalar
CM – Bonn, Germany/Lipscomb University/Bonner SC
Cavalar is a sophomore transfer student from Lipscomb University. In 2021, Cavalar started in 12 games and played in 17 logging 1,049 minutes in midfield for the Bison. He was named to the ASUN All-Freshman team and helped the Bison win the ASUN conference championship. The team finished with a record of 12-4-2 and lost in the first round of the NCAA tournament. Prior to Lipscomb, Cavalar played for Bonner SC in the Men's Regionalliga which is the 4th highest division in Germany.
Coach Marco on Cavalar: "Carlo is a physically imposing central midfielder. He is tough, mobile, clever, and has good technique. He is a versatile player that is capable of creating on the attacking end, and disrupting on the defensive end. His prior Division 1 experience will help him make an instant impact in the team — he sets high standards for himself and his teammates."

Diego Vargas
CM – Winterthur, Switzerland/California State University, Los Angeles/FC Wil
Vargas is a sophomore transfer student from California State University, Los Angeles. In his first year at Cal State LA, Vargas played a key role in midfield for the the Golden Eagles' during their run to winning the 2021 Division 2 National Championship. During the season, Vargas started in 20 out of 21 games and played 54 minutes in the National Championship game. During that time, Vargas was also named to the Dean's List and Academic Honor Roll at Cal State LA. Prior to his time at Cal State LA, Vargas went to high school at Kantonsschule Rychenberg and played for FC Wil. In 2018, he won the National Cup in Switzerland with FC United Zurich.
Coach Marco on Vargas: " He possesses the confidence, composure, and technique to impose himself on a game. He makes the game look very simple, and he is an intelligent player who brings other players into the game. He possesses excellent balance, close technical control, and he will provide us additional quality in midfield. Diego joins us here at Binghamton as a Division 2 National Champion! He is a terrific addition to our program who will immediately add personality, leadership, and experience to our team and our locker room"

Markos Touroukis
CM – Athens, Greece/Coker University/Panathinaikos FC
Touroukis is a junior transfer student from Division 2 Coker University. The midfielder from Greece was a standout player for Coker and was amongst the leaders in points the past two seasons. In the 2021 season, Touroukis scored the game winning goal in the South Atlantic Conference Championship game and was named to the All-Tournament team. In 2019, he was also named to the Commissioner's Honor Roll. Prior to his time at Coker, Touroukis played for Panathinaikos which is one of the top youth academies in Greece.
Coach Marco on Touroukis: "Markos is a highly skillful midfielder. He has a very good first touch and has the ability to offset defenders when in 1v1 situations. His comfort level on the ball in final third situations is extremely exciting — he often puts that to good use either finishing off plays or creating the goal scoring opportunities."
The team will report to preseason on August 8 and their season opener is against James Madison University on August 25, with their home opener set for 7pm on September 2 against Colgate.