Syracuse men's soccer finalizes signing class with five more additions for 2022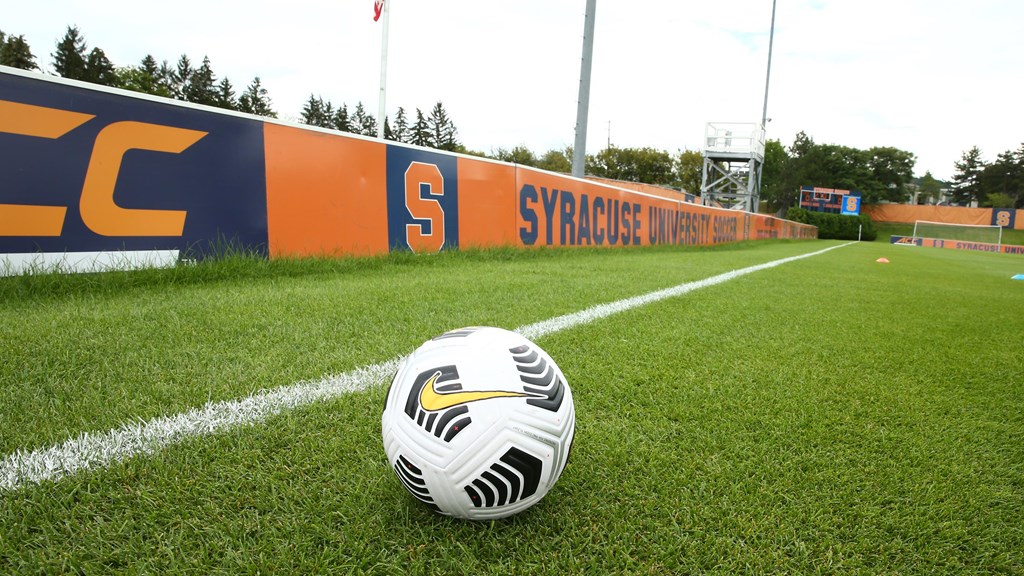 SYRACUSE, N.Y. – Syracuse University men's soccer head coach Ian McIntyre finalized his 2022 fall recruiting class this week.
With five new additions, this brings the class to 12 total athletes that make up the 2022 recruiting class.
"We are delighted to finalize our recruiting class and welcome these outstanding young men to campus," McIntyre said. "Our coaching staff has taken our time to put together a talented, committed group of players who will complement our returning core group."
"On paper, we appear to have one of the deepest Syracuse rosters that we have had in recent years across all positions," McIntyre continued. "It is a group that will work tirelessly for one another, and they will take tremendous pride in representing Syracuse University. We are looking forward to challenging ourselves against the very best college programs this fall. Hopefully we will continue to evolve and improve as a group so that we can be playing our best soccer in November and December".
See below for a look at each of the five newest signings, along with a full listing of Syracuse's 12-player signing class.
Louie Bulger – Mason, OH – Butler University
Louie Bulger will transfer from Butler University where he played in 51 games in the BIG EAST. The technical fullback came through the ranks at Columbus Crew Soccer Club and played on the same team as current Orange midfielder, Colin Biros. Bulger is an experienced college player in a competitive league.
Coach said "He possesses the confidence, composure, and technique to impose himself on a game, and he can consistently provide excellent service from wide areas. Louie fits in extremely well to our system of play, and we are thrilled to be able to add such a talented player to our squad at this late stage".
Sam Coss – Bowie, MD – Bowie High School
Sam Coss is the starting goalkeeper for Baltimore Armour in MLS Next, and led Bowie High School to County and Regional Championships. This past year Coss was recognized as a Second Team All-State honoree.
"Sam is a powerful, young goalkeeper who we believe has the potential to compete for a starting role here at Syracuse. He possesses a real drive to improve, and he will fit in great into our competitive goalkeeping group learning from experienced goalkeepers such as Russell Shealy and Lucas Daunhauer", said McIntyre"
Noah Lechelt – Edmonton, Canada – Belmont Academy
Noah Lechelt is a product of the FC Edmonton Academy. He was a two-time Provincial Champion and was the top goal scorer in the Province. Lechelt spent time training with the Dynamo Dresden and Holstein Kiel Academies. During his time in Germany, Lechelt competed for the Greuther Furth U23 team.
"Noah is a quick, dynamic player who possesses the ability to cover ground and provide important goals from midfield. He possesses excellent balance, close technical control, and he will provide us additional quality in the final third. Noah's experience in Europe has greatly influenced his game and he is an exciting addition to our midfield group", added McIntyre.
Nathaniel Opoku – Accra, Ghana – Lindsey Wilson College
Nathaniel Opoku will transfer from Lindsey Wilson College where he scored 19 goals and registered 5 assists in his 2021 campaign. Opoku was recognized as a 2nd Team NAIA All-American and finished the 2021 season ranked sixth nationally in goals scored and ninth for overall points. Prior to enrolling at Lindsey Wilson, he was a member of Sporting Club Accra and represented Ghana in the U17 African Cup of Nations.
McIntyre says, "Nate is a powerful, athletic attacking player who led a talented Lindsey Wilson team to the 2021 NAIA National Tournament. Nate has the technical ability and the tactical understanding to challenge ACC defenders. Nate provides us another top-level attacking option who can stretch the game with his pace, movement, and his directness. He is a terrific complement to our returning attackers, and we look forward to quickly integrating Nate into our team."
Jaheim Wickham – Brampton, Ontario – Blyth Academy
Jaheim Wickham is a goalkeeper in the Trinidad and Tobago National Team player pool. Wickham has recently been selected to the U20 T&T Team training camp in preparation for this summer's U20 CONCACAF Tournament in Honduras. He currently plays for Toronto Football Club in MLS Next after relocating from Florida to Canada.
"Jaheim is a talented, technical goalkeeper who we believe has an extremely high ceiling. He has made huge strides at both the club and international level. We believe that Jaheim's best soccer is ahead of him, and he will continue to develop quickly within our competitive Syracuse training environment", said McIntyre.
2022 Recruiting Class:
Louie Bulger
Trevor Carabin
Marc Chin
Sam Coss
Andrea DiBlasio
Noah Lechelt
Nathaniel Opoku
Jaheim Wickham