University of Michigan men's soccer announces 2022 recruiting class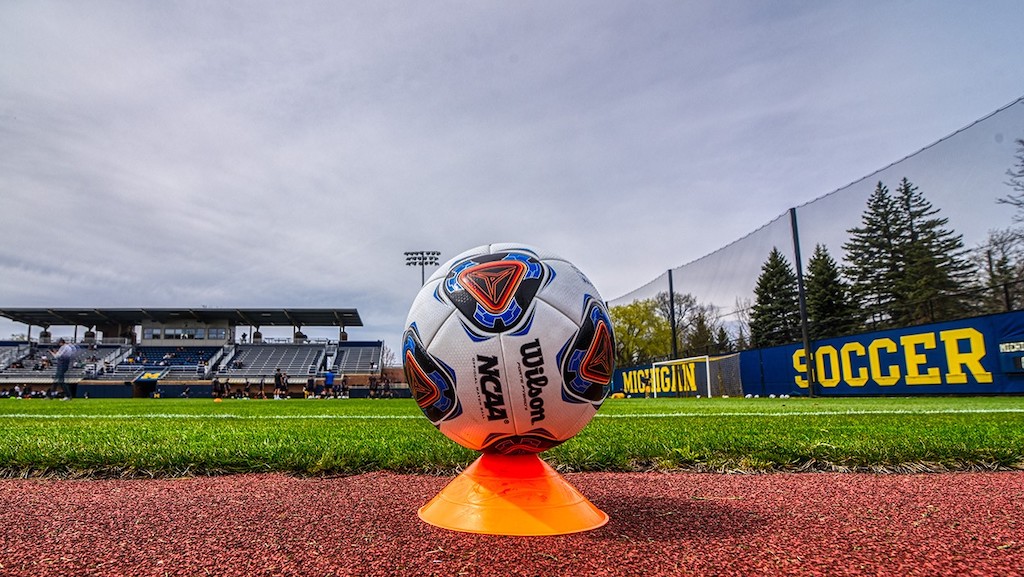 ANN ARBOR, Mich. – University of Michigan men's soccer head coach Chaka Daley announced the addition of seven recruits and one transfer to the team's 2022 roster.
"Michigan men's soccer is excited to welcome these eight outstanding young men to our program," said Daley. "They are not only potentially great student-athletes, but they will undoubtedly be tremendous ambassadors for our program, staff and University. We are fortunate to have attracted young men that come from varying backgrounds, excellent soccer environments, but more importantly are hungry and passionate about representing Michigan."
"We are excited to watch their growth in our environment, as our staff believes they will all play a big part in continuing to nurture a program competing at the highest level of college soccer in this country," stated Daley.
The class of 2022 (with hometown and club programs) includes:
Midfielder Nicholas Cassiday (Grand Rapids, Mich./Midwest United FC)
Defender Niklas Dossman (Belmont, Calif./ FSV Mainz 05)
Forward Nicholas Kaloukian (Wayne, N.J./Cedar Stars Academy – Bergen)
Midfielder Zachary Martens (Newberry, Fla./Orlando City SC)
Forward Oliver Martin (Williston, Vt./Juventus Academy Boston)
Defender Nolan Miller (Troy, Mich./Columbus Crew)
Defender Dubem Obilo (Oakville, Ontario, Canada/Athletic Institute Football Club)
Transfer Goalkeeper Erik Josson (Bloomfield Hills, Mich./IPFW)
Nicholas Cassiday
M/F | 5-9 | Grand Rapid, Mich. (Grand Rapids Christian HS) | Midwest United FC (MLS Next)
Named the captain for Midwest United FC who won MSYSA State Cup Championship in 2019 and 2021
Earned the USYSA Midwest Region Golden Boot Award
Was a United Soccer Coaches High School All-American
Named the Male Soccer Player of the Year by USA Today Network
Led his team to high school state championship and is a two-time Michigan Dream Team selection
Daley on Cassiday: Nick's 1v1 ability makes him unique and very dangerous. His quality in the final third will improve our squad immediately, and we look forward to nurturing his attacking potential.
Niklas Dossman
D | 6-1 | Belmont, Calif. (IGS Mainz-Bretzenheim) | FSV Mainz 05 (U19 Bundesliga)
Played most recently for U19 Bundesliga and FSV Mainz 05 in Germany
Was part of the U17 Bundesliga/Sued/Suedwest Regional Championship team with FSV Mainz 05 in 2020
Also played for De Anza Force FC from 2014-19
Helped De Anza Force FC to a No. 1 ranking as they went undefeated in the USSDA regular season in 2018-'19
Prepped at IGS Mainz-Bretzenheim for his junior and senior year in Germany, while he attended Carlmont High School in California in his freshman and sophomore years
Daley on Dossman: Niklas is joining us from a top international environment. His ability to play out of the back, read the game and his composure in possession will help us continue to implement our principles of play — making him a newcomer that should compete early in his college career.
Nicholas Kaloukian
F | 6-1 | Wayne, N.J. (Wayne Hills HS) | Cedar Stars Academy – Bergen (MLS Next)
Played for the Cedar Stars Academy – Bergen since 2016 & Cedar Stars Rush, USL 2
Recorded 23 goals and 10 assists in 24 games in the 2021-22 MLS Next seasons
Helped the Cedar Stars reach the quarterfinals in the MLS Next Playoffs in 2021
Traveled to Denmark to compete at the Capelli Sport Elite Cup
Prepped at Wayne Hills High School where he was a member of the National Junior Honors Society
Daley on Kaloukian: Nick is an out-and-out #9 who can and will score goals for the Maize and Blue. His intelligence and ability to link up the play are outstanding, but his ability to physically compete makes him an attacking player that will make an impact on our team when he arrives in Ann Arbor.
Zachary Martens
M | 5-11 | Gainesville, Fla. (Gainesville HS) | Orlando City SC (MLS Next)
Played for Orlando City SC where he helped his team to a MLS Next U17 National Championship in 2021
Was the team captain of Jacksonville Football Club 2016-2020
Played in the Generation Adidas Cup in 2019
Captained the Florida All-Stars in the Inaugural International Champions Youth Tournament in 2018
Prepped at Gainesville High School where he was a member of the National Honors Society and an AP Scholar with Distinction
Daley on Martens: Zach's technical ability, composure on the ball and ability to read the game makes him a well-rounded central midfielder. Additionally, his passing ability is a quality we are confident will translate into our environment seamlessly.
Oliver Martin
F | 5-10 | Williston, Vt. (The Loomis Chaffee School – Windsor, Ct.) | Juventus Academy Boston (NEFC)
Played for Juventus Academy Boston and Farmington Sports Arena FC
Named to the high school All-American BIMBO East Team in 2021
Earned All-American, all-state, and All-NEPSAC honors in his senior campaign and was selected the Loomis Soccer MVP as a senior
Named to the ODP National Team in 2016 and 2017
Named to the NESJ Best XI by the New England Soccer Journal
Daley on Martin: Ollie is a dynamic attacking player who can skip by opponents in different ways. His quickness and dribbling ability will serve us well in both central and wide areas. We are confident he will add value to an already strong attacking unit.
Nolan Miller
D | 6-2 | Troy, Mich. (Seaholm HS) | Columbus Crew (MLS Next)
Played for the Columbus Crew U19 MLS Next Academy
Also Played for Columbus Crew MLS Next Pro
Previously played for Vadar U17 MLS Next Academy
Named to the All-Great Lakes Conference Best XI in 2019
Helped his team to a 2018 National Championship
Daley on Miller: Nolan has garnered great experience within the Columbus Crew organization and is already competing in the MLS Next Pro environment. His ability on the ball and physical stature will impact our team and we are excited about adding another local product with his defensive qualities to our group.
Chukwudubem (Dubem) Obilo
D | 6-0 | Oakville, Ontario, Canada (Assumption Secondary School) | Athletic Institute Football Club
Played for the Athletic Institute Football Club
Named the AIFC Players MVP
Played for TFC MLS Academy 2018-2019
Earned a USSDA U15 Championship and was the Dallas Cup U16 Champion with TFC Academy
Represented Canada at the Nations Cup in 2016
Daley on Obilo: Dubem is a physically gifted defender who also possesses a very good passing range. He is a highly intelligent soccer player whose strengths in and out of possession will complement our team, and add value to our defense.
Erik Josson
GK | 6-2 | Bloomfield Hills, Mich. (Bloomfield HS) | IPFW | Vardar Academy (USSDA)
Spent the previous two seasons at IPFW where he started 20 matches in goal, making 80 saves and having four shutouts
Named to the Horizon League All-Freshman team in spring 2021
Played youth soccer for Vardar Academy, Michigan Wolves and Nationals Union
Was a member of USSDA and played for the state cup runner up team
Prepped at Bloomfield High School where he was named all-district, all-region, all-state and 2018 Team MVP
Daley on Josson: Erik has already amassed over 20 competitive college games. His experience and shot-stopping ability will enhance our goalkeeping unit from the start. We are excited about adding someone of Erik's abilities to an already competitive goalkeeping core.