Colgate men's soccer finalizes Class of 2026, featuring nine recruits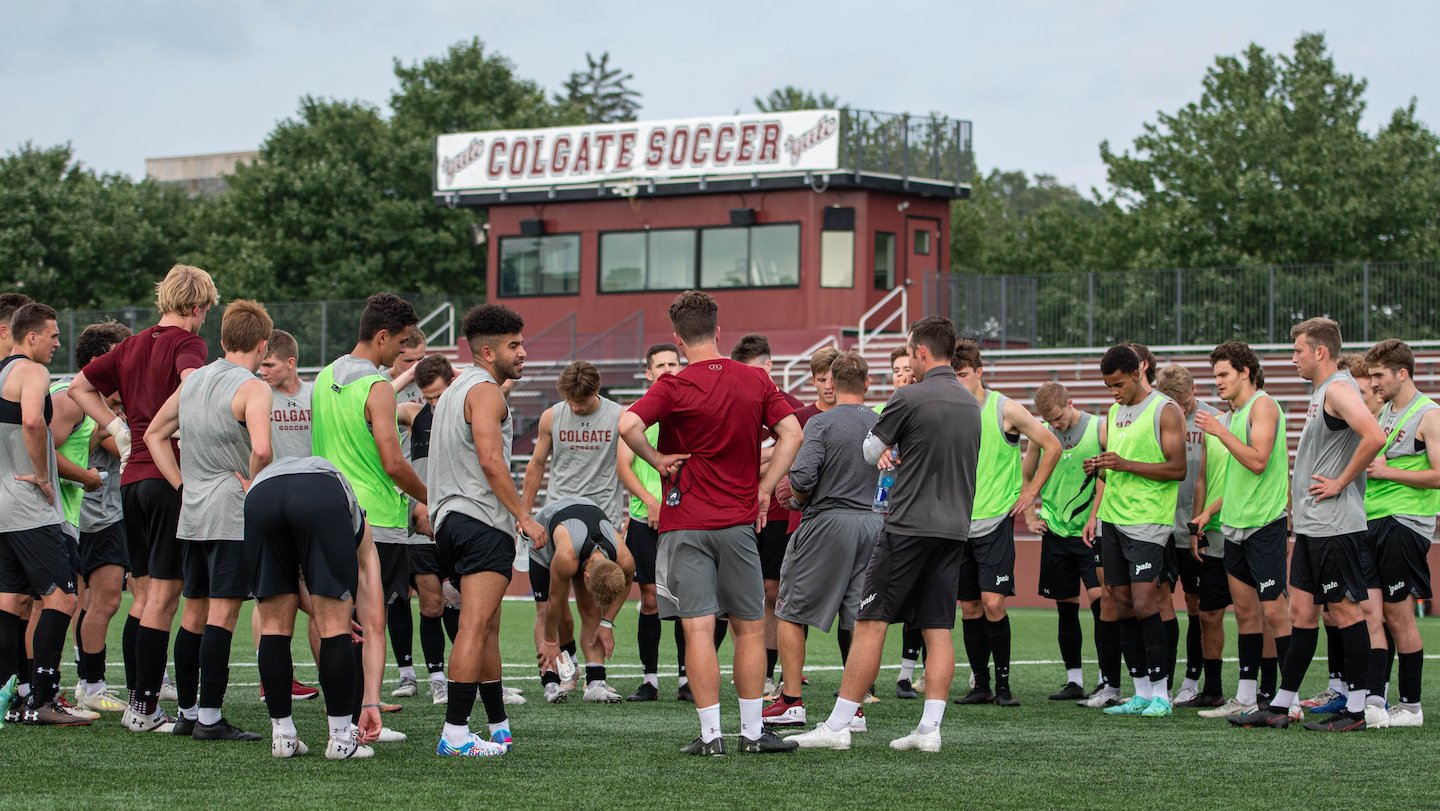 HAMILTON — Colgate University's John W. Beyer Head Men's Soccer Coach Erik Ronning has announced the nine members of the Class of 2026 that will be joining the program this fall.
Colgate's incoming class is made up of four midfielders, two forwards, two defenders, and one goalkeeper. The class represents four different states including New York, Massachusetts, New Jersey, and Ohio.
"I am thrilled to announce this group of exceptional athletes, and can not wait for them to arrive at Colgate in August. They will fit in very well with the group on and off the field, and expect all to make immediate contributions to Colgate Soccer this fall," Ronning said.
"Two things stand out that make this class special. For one, they all possess the qualities necessary to be highly successful on the field, in the classroom, and in the community:  High character, incredible work ethic, grit, resilience, and athleticism to name a few", he added. "Also, every one of these players brings with them a winning pedigree. This mentality, along with their tangible & intangible qualities, will have a positive impact upon the program as we continue to build upon a very successful spring season."
The members of the Class of 2026 are listed below in alphabetical order.
Owen Cheney
Forward
Skaneateles, N.Y.
Skaneateles High School
Before Colgate
Three-year member of varsity soccer team at Skaneateles High School…. tallied 47 goals and 15 assists during his career, helping the Lakers to two New York State Championships (2019, 2021)….as a senior he notched 25 goals and nine assists earning First Team All-Liberty League and First Team All-State honors…named Second Team All-League (2019) and Honorable Mention (2018)…also a two-time All-CNY selection (2019, 2021) …. named the team's Best Offensive Player (2019) and MVP (2021) …served as team captain during senior year… earned biliteracy in Latin and was an Honors with Distinction student…played club for Syracuse Development Academy…helped team win two USYSA NY West State Championships (2016, 2019)…was also selected to the Region 1 ODP Team (2019).
Personal
Born: Owen Tyrrell Cheney in Skaneateles, N.Y.
Family: Son of Danielle and John Cheney…has two brothers Gavin and Quinn
On Choosing Colgate
"After visiting many campuses Colgate stood out to me. It fit to my ideal area of rural, which resembles home, has great academics, and gave me the opportunity to play the sport that I love."
Rohan Dhingra
Midfielder/Forward
Dayton, Ohio
Centerville High School/Northfield Mount Hermon
Before Colgate
A 2021 graduate of Centerville High School who played three years of varsity soccer… led the Greater Western Ohio Conference in goals (20) and assists (15) as a senior captain and was named GWOC Player of the Year and First Team All-Conference (2020)… he also earned All-Miami Valley First Team and Sectional Player of the Year in addition to being named Ohio Division 1 First Team All-State and United Soccer Coaches All-Great Lakes (2020)…. helped his team win a GWOC Championship and Sectional Championship as they made a run to the state quarterfinals (2020)…won team's Golden Boot Award (2020)…attended Northfield Mount Hermon School in Gill, Mass. for a postgraduate year…tallied 11 goals and 10 assists in 21 games with the Hoggers…helped guide team to No. 1 prep school ranking and 2021 NEPSAC Class A Championship and a national championship, while earning New England Soccer Journal Best XI Honorable Mention accolades…two-time AP Scholar with Distinction…also earned Scholar Athlete Award at Centerville and named to GWOC All-Academic team (2020)…played club for Ohio Galaxies, notching 25 goals and 25 assists in 47 games and helping team achieve No. 1 ranking in Ohio ….also was a two-time ODP Region II Team selection.
Personal
Born: Rohan J. Dhingra in Kettering, Ohio
Family: Son of Freesia and Raj Dhingra…has one sister Rhea
On Choosing Colgate
"I chose Colgate because of the amazing opportunity to play Division I collegiate athletics at a top-level academic school. The beautiful campus and support of the coaches and people at Colgate drew me in as I visited, and it made me feel right at home."
Ethan Harris
Midfielder
Summit, N.J.
Summit High School
Before Colgate
Recorded 25 goals and 35 assists during four-year varsity career with Summit High School….as a senior he had 13 goals and 16 assists and led team to North II Group III Sectional Championship and its first Group III State Championship in 44 years…also won County Championship (2019)…was a three-time All-State, First Team All-Group III, First Team Union County, and First Team Watchung Conference selection (2019-22)…named to NJ.com's Top 25 Players, Dream Starting XI, and Superhero Squad…also earned a spot at the New Jersey Senior All Star game…was three-time team MVP (2019-22) and served as captain (2020-22)…played club for MLS NEXT team TSF Academy…logged one goal and four assists…helped team win MLS NEXT Flex Group and earn a bid in the MLS Cup Playoffs (2022)…also played for STA ECNL in 2019 and helped guide team to national championship… named Top Drawer Soccer top 50 midfielders in the Class of 2022.
Personal
Born: Ethan Matthew Harris in Summit, N.J.
Family: Son of Melissa and Matthew Harris…has one brother Luke…. uncle Chris Harris '87 and cousin Oliver Harris '19 both played soccer at Colgate
On Choosing Colgate
"I chose Colgate because of its outstanding academic reputation and a winning soccer tradition. A few years ago, I watched my cousin and his Colgate teammates make the sacrifices necessary to grind out three-straight Patriot League Championships. I want to be part of the next group of 'Gate student-athletes who strive to match that same level of commitment and bring a championship back to Colgate. This is an opportunity to do something special and to challenge myself both on and off the field. I am the third member of my family to wear the Raider colors and I am looking forward to it!"
Colin Hughes
Forward
Charlton, Mass.
Worcester Academy
Before Colgate
Attended Worcester Academy and played three years on varsity soccer team…notched 33 goals and 17 assists during his career, including 21 goals and 12 assists as a senior…named United Soccer Coaches All-American, Prep School All-American, All-NEPSAC, WNEPSSA All Star, and Prep Boston Globe All Scholastic Player of the Year during senior season (2021)…finished as the all-time leading scorer in Worcester Academy history…also named team MVP (2021)…helped lead team to NEPSAC Class A Championship (2019) and a semifinals appearance (2021)….named to the Headmaster's List as a junior and senior…plays club for New England Football Club of the ECNL…recorded 19 goals and 13 assists in 16 games…named ECNL Conference Northeast Player of the Year and was also an ECNL All-American (2020-21 )…guided NEFC to two Northeast Conference Championships (2020-21, 2021-22) and helped the team reach the ECNL quarterfinals (2020-21).
Personal
Born: Colin George Hughes in Charlton, Mass.
Family: Son of Mary-Beth and Stephen Hughes…has two sisters Maddi and Lauren
On Choosing Colgate
"My decision to choose Colgate was led by many different things. As soon as I stepped foot on campus, I realized the sense of community and togetherness the university has, which is something that is really important to me. The strong academics and challenging courses offered at Colgate University was also a big part of my decision. The history behind both the university and the soccer program is really something special and I wanted to be a part of it."
Calvin Lemley
Defender
Wellesley, Mass.
The Rivers School
Before Colgate
Four-year member of the varsity soccer team at The Rivers School…finished career with seven goals and three assists…as a senior (2021) he tallied five goals and two assists and helped lead team to ISL Championship…earned All-American, All-State and ISL All-League accolades…two-year captain for the Red Wings (2020-21)…Honor Roll student…played club for the Boston Bolts of the ECNL…helped guide team to New England Regional Cup (2021) and to the State Cup twice (2018, 2021).
Personal
Born: Calvin Fraser Lemley in Boston, Mass.
Family: Son of Jenifer and Christopher Lemley…has two brothers Noah and Ethan

On Choosing Colgate
"I chose Colgate because of the opportunities that it can provide me both academically and athletically. I sense a welcoming feel that excites me as I think about coming to school in the fall."
Cason Stafford
Midfielder
Cincinnatus, N.Y.
Cincinnatus Junior-Senior High
Before Colgate
Recorded 116 goals and 104 assists in five years of varsity soccer with Cincinnatus…as a senior he notched 44 goals and 41 assists…four-time All-CCL First Team selection (2018-21)…also garnered Second Team honors (2017)…All-Section III First Team (2021)..helped team win Sectional Championship (2018)….three time team MVP (2019-21) and also earned team's Best All Around Player award twice (2017-18)…three year captain (2019-21)…. Class of 2022 Valedictorian…earned highest achievement in multiple AP classes as well as Seal of Biliteracy in French and English…. played club for Syracuse Development Academy…tallied 15 goals and 17 assists in 25 games during final season…three year team captain (2019-22)…helped team to four NYW State Cup Championships (2017, 2018, 2020, 2021) and a U.S. Club Regional Championship (2018).
Personal
Born: Cason Cole Stafford in Cortland, N.Y.
Family: Son of Desi and Cole Stafford…has two brothers Canden and Caden and two sisters Jelsie and Markie
On Choosing Colgate
"Colgate stood out to me over some other really good schools. Coach Ronning was extremely helpful when it came to my decision as he told me everything about Colgate and was very honest, which is what I admired the most. I took a visit to Colgate and it immediately felt like home and that's when I knew where I wanted to spend my next four years."
Drew Stephans
Midfielder
Newton, Mass.
The Rivers School
Before Colgate
Four-year member of varsity soccer team at The Rivers School…finished career with 19 goals and 28 assists after tallying 13 goals and 11 assists as a senior (2021)…was named All-State and ISL All-League (2021) after helping lead team to ISL Championship…also earned Honorable Mention as a sophomore (2019) and led the ISL in assists after team reached the NEPSAC finals…holds the team record for assists in a season with 16…served as team captain as a junior and senior…played club soccer for the Boston Bolts of the ECNL…serevd as team captain for seven seasons…helped team win State Cup in 2021.
Personal
Born: Andrew Marc Stephans in Boston, Mass.
Family: Son of Kate and John Stephans…has one brother TJ
On Choosing Colgate
"What led me to choose Colgate was the university's combination of outstanding academics and athletics. Moreover, I wanted to attend a small school with a great community. Through my discussions with Coach Ronning and several players as well as my campus visit, it became crystal clear that Colgate was the perfect choice for me."

Eric Widrick
Goalkeeper
Arlington, Mass.
Arlington High School
Before Colgate
Three-year varsity goalkeeper for Arlington High School…finished career with .280 goals-against average, 19 shutouts and two assists…as a senior he logged a .240 GAA and 13 shutouts while leading the Spy Ponders to their first ever undefeated regular season as they won the Middlesex League Championship (2021)…two-time All-State (2020-21) selection and was name Middlesex League MVP in 2021 …also was two-time team MVP (2020-21)… helped team earn Middlesex League co-championship in 2020…played Club for New England Football Club of the ECNL…helped lead team to State Cup Championship and the NPL/ECNL elite 8 (2019).
Personal
Born: Eric John Widrick in Corvallis, Ore.
Family: Son of Shannon Knuth and Jeffrey Widrick…has one sister Lauren
On Choosing Colgate
"The school seemed like a great fit academically and athletically. Also, the coaching staff seemed like they really wanted me to be on the team."
Liam Winograd
Defender
Ridgewood, N.J.
Ridgewood High School
Before Colgate
Played club soccer for MLS NEXT team Cedar Stars Academy….four year starter on the team…played in 21 games making 19 starts during the 2021-22 season, helping the team to 11 shutouts…also tallied three goals and two assists…helped team win two USSDA Northeast Division Championships (2016-17, 2017-18) and an MLS NEXT Flex Northeast Division Championship and Interleague Group Championship (2021-22)…also played for New York Red Bulls U17 Academy team in 2019-20 and 2020-21….led the team in starts and minutes played (2019-20) and was co-captain (2020-21)…selected as a Five for the Future by SB Nation (2020)…was member of 2004 age group Boys National Pool and attended first and only 2004 US Soccer East Regional Camp (2018)… selected to ICC Futures Tournament All Star Team and was named Best Defender (2018)..Honor Roll and High Honor Roll student.
Personal
Born: Liam Isaac Winograd in New York, N.Y.
Family: Son of Siobhan Crann Winograd and Michael Winograd…has one sister Chloe
On Choosing Colgate
"Colgate has a rare blend of great academics and a strong soccer program to go along with a history of success, and a fun and inclusive environment. When I visited the students, faculty and coaches all made me feel at home."