George Washington men's soccer set to welcome six newcomers in Fall 2022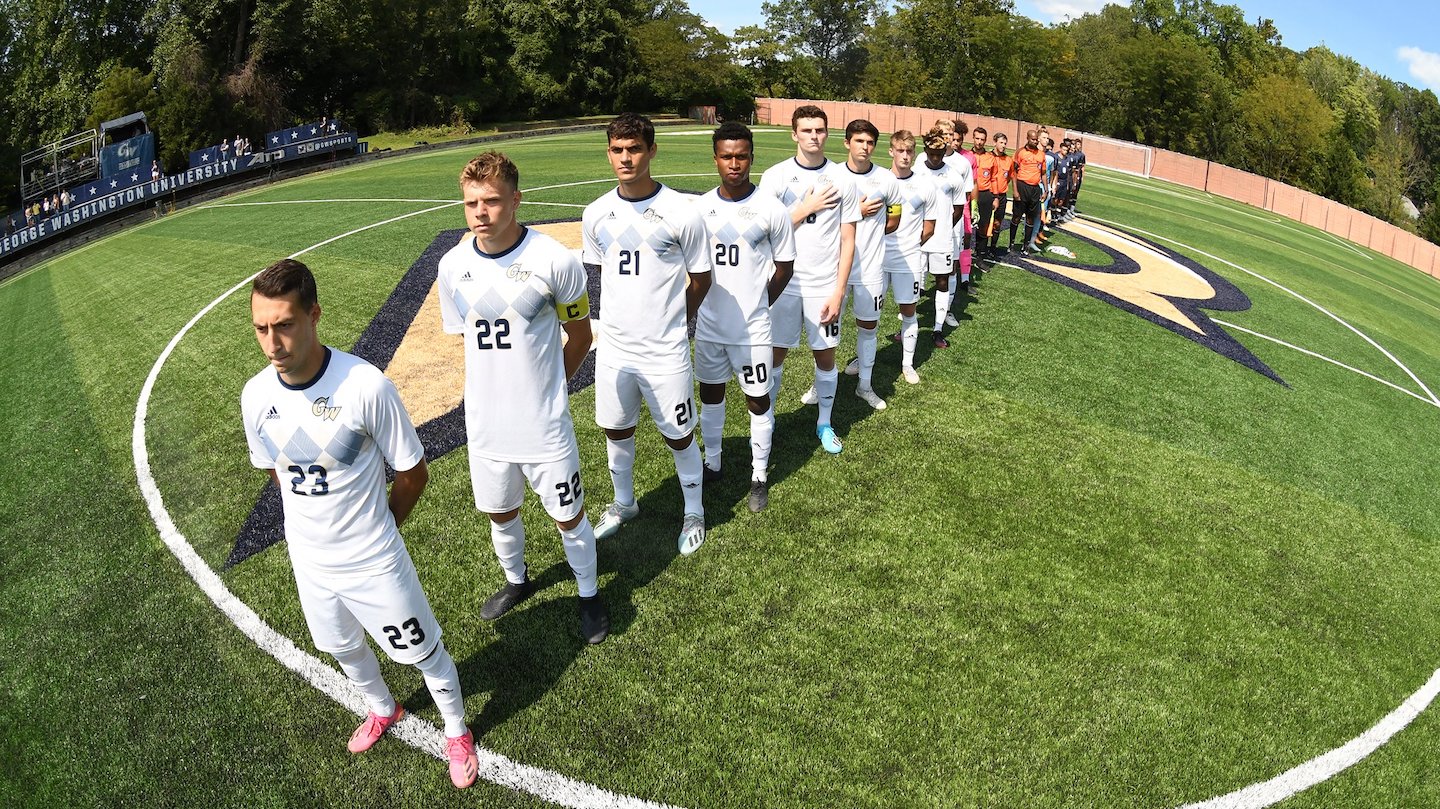 WASHINGTON – George Washington men's soccer has signed six newcomers to join the program this fall, Head Coach Craig Jones announced.
The incoming class includes first-years Connor Braun (Burke, Va.), Max Delyfer (Hertfordshire, England), Alex Nicholson (Newcastle, England) and Keni Winger (Woodbridge, Va.), as well as transfer student-athletes Conor Stephens (Winthrop) and Jared DeMott (Cal State San Marcos).
The program previously announced the addition of defender Lucas Matuszewski via transfer from Pittsburgh for the spring season.
"We're really excited to see how this incoming class will immediately impact our group," said Jones, who enters his 11th season leading the program. "Above all, we recruit student-athletes that want to be part of GW and fit into our team culture, and our incoming class has shown us through this process that they are determined to continue our traditions and values and strive for excellence in all that they do. We want to and need to improve on last year, and each person in the class has the potential to push for a role on the field to help us achieve that."
"The overall balance of this class will immediately help us replace our graduates and strengthen our depth to create healthy competition. We have a good mix of experience with our transfers, Jared DeMott and Conor Stephens, adding to our midfield and defensive options, and our exciting first-year class of Alex Nicholson, Max Delyfer, Connor Braun and Keni Winger brings international and domestic experience and will give us an immediate boost across our formation."
Connor Braun
Defender/Midfielder
Burke, Va.
Robinson Secondary School/Arlington Soccer Association
Rated as a three-star prospect by Top Drawer Soccer as the #17 recruit in the Mid-Atlantic for his class…Selected to the ODP National Team in 2020…Was named to the ODP East Region Team in both 2019 and 2020…Won a USYS State Cup title and advanced to the regional finals with Arlington Soccer Association in 2018…Played two seasons in the USYS National League with ASA…Also trained with DC United Academy as part of its U17 player pool…Member of Future Business Leaders of America and the National Honor Society at Robinson Secondary School.
Braun on choosing GW: "I chose GW because of its unique location in the heart of D.C., as well as the international diversity of the student population. I found that the students at GW seemed to share the same pursuit of excellence in the classroom, in the community and globally. I was fortunate to have played under the direction of Coach Jones through the Olympic Development Program. I value the positive culture he's built within the GW men's soccer squad, and I am excited to be a member."

Max Delyfer
Midfielder
Hertfordshire, England
Aldenham School/Potters Bar Town FC
Played with Arsenal FC youth program for seven years and won three national titles…Selected to the IFSA England National Representative Team…Made his debut with the Potters Bar Town FC first team at age 17 and became the club's youngest goal scorer at its top level…Earned the club's October 2021 Player of the Month award before being named its 2021-22 Young Player of the Year.
Delyfer on choosing GW: "In the recruiting process, I bonded really quickly with the GW coaching staff and could see the potential that the team has to compete on the national stage. Academically, GW speaks for itself. It was a no brainer!"

Jared DeMott
Defender
Claremont, Calif.
Cal State San Marcos/Claremont High School/Legends FC
Saw action in eight games with five starts on defense as a first-year at D-II Cal State San Marcos…Totaled 432 minutes, including a season-high 88 in an Oct. 24 win over Cal State East Bay…Was an All-Palomares League performer at Claremont High School…Also named Team MVP and Rookie of the Year and earned all-league academic honors during prep career…Represented Legends FC in the ECNL on the club circuit.
DeMott on choosing GW: "I chose George Washington because of a great mix of strong academics and a high level of soccer. I'm honored to receive the opportunity to be a part of such an outstanding and distinguished program."

Alex Nicholson
Forward
Newcastle, England
Park View Academy of Sport/Chester-Le-Street United
Helped Park View Academy of Sport to back-to-back National Football Youth League North East Premier titles and a berth in the 2021 National Cup final…Netted 16 goals in 27 games during 2020-21 season…Helped his Chester-Le-Street United club earn promotion from the Wearside League in the 2021-22 season and claim the Alan Hood Cup…Strong academic resume with 10 GCSEs at A or above.
Nicholson on choosing GW: "My aim was to find a university with the highest standards. A fantastic caliber of players/coaches, a great education and an iconic city made GW the only option."

Conor Stephens
Midfielder
Wilmington, N.C.
Winthrop/Hoggard High School/Wilmington Hammerheads FC
Played three seasons at Winthrop, seeing action in 33 games with 21 starts…Started 14 of 18 appearances last fall and recorded first three career points…Came off the bench to score first career goal in season-opening win vs. Stetson on Aug. 26…Tallied an assist on game-tying goal in 90th minute in OT win over Radford on Oct. 30…Shined academically at Winthrop earning Dean's List recognition every semester…Member of SAAC who served as organization's secretary…Active in Student-Athlete Peer Mentor program…Earned undergraduate degree in Business Administration and plans to pursue MBA at GW…Was an All-Mideastern Conference selection and a two-time NCHSAA academic honoree at Hoggard High School…Competed with Wilmington Hammerheads FC in the ECNL on the club circuit.
Stephens on choosing GW: "I chose George Washington for its high level of academics and soccer program. As soon as I stepped foot on campus, I immediately knew GW was the one. From the phenomenal coaching staff to being in D.C., there is no better place I could call home for graduate school and my last two years of eligibility. Raise High!"
Keni Winger
Defender
Woodbridge, Va.
Colgan High School/Virginia Development Academy
Rated as a three-star prospect by Top Drawer Soccer and the #15 recruit in the Mid-Atlantic…A member of Virginia Development Academy's starting defense for six years, including four as part of the U.S. Soccer Development Academy league and two in ECNL…In 2021, his club qualified for the ECNL U-17 playoffs…Has been invited to U.S. Soccer YNT Identification Center camps four times…Played with DC United Academy at Generation Adidas Cup 2019…Named to the Virginia All-Star Team that placed third at the inaugural ICC Futures tournament in 2019…Has international experience playing in the Costa Daurada Cup (Salou, Spain – 2016), Mundialito Tournament (Barcelona, Spain – 2017) and a series of Italian friendlies in 2019…Was second-leading scorer for Colgan High School as a junior in 2019 and scored the game-winning goal in victory that clinched a regional playoff berth…Also ran track at Colgan as a sophomore posting top times in the 200- and 400-meters…A four-year member of the Honor Roll at his high school…Received an invitation to join the National Honor Society.
Winger on choosing GW: "GW is the ideal environment for me because it provides me the best soccer opportunity while continuing to focus on my academic pursuits at one of the most elite schools in the country. During my official visit, I felt welcomed and valued by everyone. Once I met the guys and spent time with the coaches, I knew this would be a place where I could grow as a player/person and make an impact on the field."