West Virginia men's soccer program rounds out 2022 incoming class with five more signings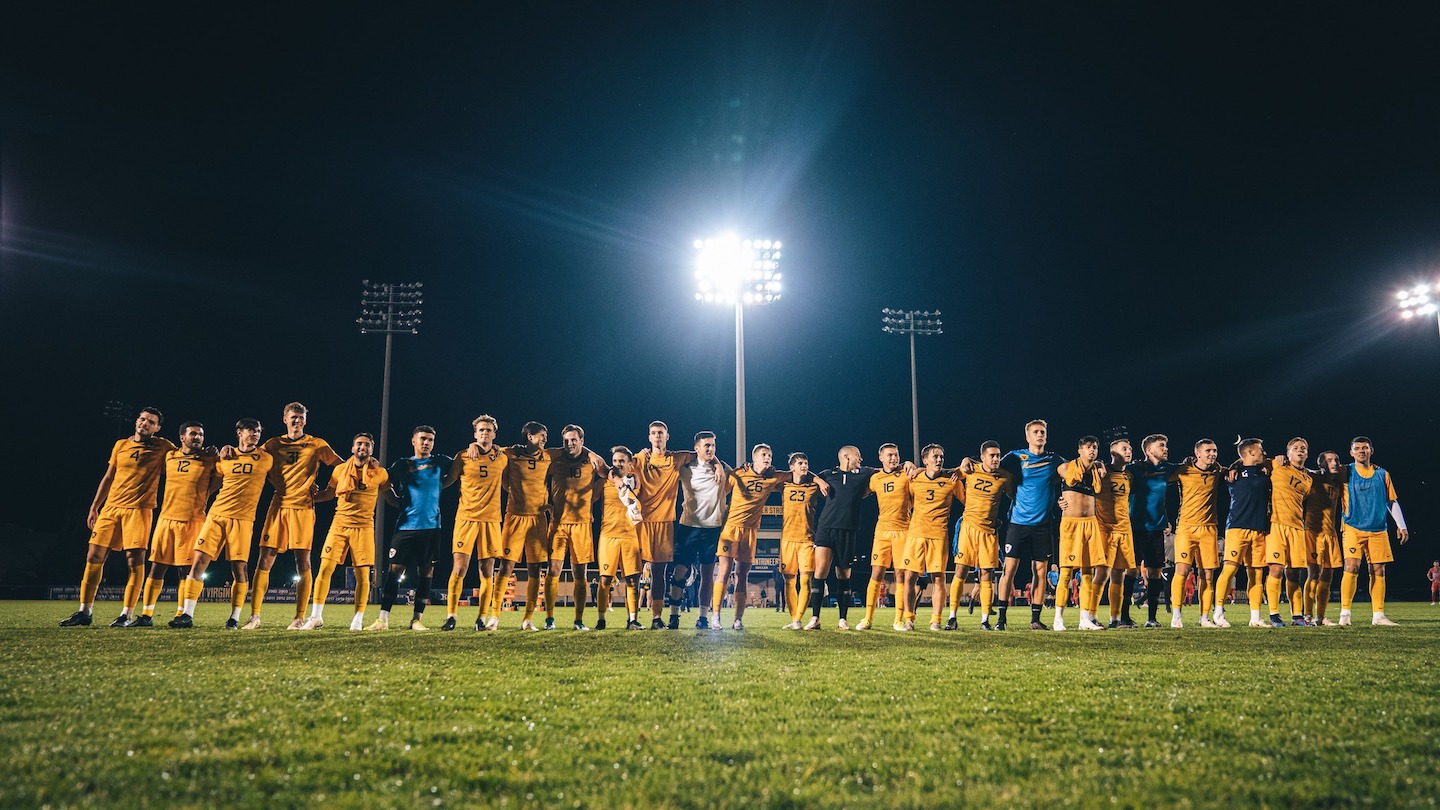 MORGANTOWN, W.Va. – West Virginia University men's soccer coach Dan Stratford has announced the addition of five student-athletes to complete the 2022 signing class.
Joining the Mountaineers this fall are Malo Blondeau (Lézardrieux, France), Marcus Caldeira (Mississauga, Ontario, Canada), Noah Gold (Germantown, Maryland), Barrett Saul (Leesburg, Virginia) and Yutaro Tsukada (Tokyo, Japan).
The newcomers are set to join Spring 2022-enrollees Jackson Lee (Perth, Australia) and Alex Clayton (Wellington, New Zealand) as first-year players on this fall's roster.
"This is a young recruiting class with a lot of potential and time on their side," Stratford said. "They should mesh well with the returning group and fit nicely into the program's culture. We're excited about how we have replenished the roster and expect many of the new faces to make an immediate impact on the upcoming season. There is great ambition among everyone to surpass the bar set last year, and we believe in the quality of these new additions to aid in that endeavor."
Malo Blondeau | Defender | Lézardrieux, France
Blondeau arrives to Morgantown from French club En Avant Guingamp, where he played for five seasons for coach Marcel Kalonji. Prior to that, he began his club career at Lézardrieux and Stade Paimpolais FC. Blondeau also attended Notre Dame High School. Last season, Blondeau appeared in 21 games for En Avant Guingamp, recording one assist. Two years ago, he helped his club to a league championship and an undefeated campaign. The son of Tony and Vanessa, Blondeau plans to major in general business at WVU.
Marcus Caldeira | Forward | Mississauga, Ontario, Canada
Caldeira joins the Mountaineers from Forge FC of the Canadian Premier League. He also was a member of Sigma FC, playing for coaches John Zervos and Bobby Smyrniotis. Caldeira gained prior club experience with the Mississauga Falcons, Erin Mills and Futskillz during his youth career. Elsewhere, he was an honor roll student at Port Credit Secondary School and garnered two "Athlete of the Year" honors in 2018 and 2019. He also appeared on the FTF x VSC All-Showcase First Team last fall. The son of Oliver Wong and Shawna Caldeira, the forward plans to major in general business at West Virginia.
Noah Gold | Defender | Germantown, Maryland
Gold arrives to West Virginia after playing at Seneca Valley High for coach Hugo Zapata and VA Union for coach Jamil Walker. He was named his school's MVP twice and was the club's top goal scorer for two seasons. Gold, who was an All-ECNL First Team selection in 2020-21, also has played for Bethesda and Maryland Rush during his youth career. Of note, his father played on the U.S. National Deaf Soccer Team. The son of Elijah and Anna, Gold plans to major in general business at WVU.
Barrett Saul | Midfielder | Leesburg, Virginia
Saul settles in Morgantown after attending Tuscarora High School and playing for coach David Lazorchak. He also played club soccer in Spain for Alboraya UD in the Liga Nacional Juvenil Division. Prior to his visit to Europe, he played for the Virginia Development Academy in the U.S. Soccer Development Academy (USDA) and ECNL for four years and received multiple U.S. National Team ID camp invitations. The son of Christopher and Shawnda, a native West Virginian, Saul plans to major in sport management at WVU. Of note, his father played collegiately at James Madison, while his grandfather, Carl F. Williams, played college football at Glenville State, and his great grandfather, Carl "Bill" Williams, was a professional baseball player and is in the Alderson Broaddus University Hall of Fame.
Yutaro Tsukada | Forward | Tokyo, Japan
Tsukada joins the program after a two-year stint at Daytona State College. He was named a 2021 NJCAA and United Soccer Coaches All-America First Team selection and was the NJCAA Region 8 Player of the Year. In all, he scored 20 goals in 15 games for the Falcons, helping the squad to a 13-2-1 mark last season and tallied 63 career points at DSC from 2020-21. Prior to that, he attended Seibo College in Tokyo. The son of Naoyuki and Miho, Tsukada plans to major in business at WVU.
The Mountaineers' full, 2022 schedule will be released in the coming days. The squad is set to compete in the Sun Belt Conference for the first time this fall.