Brown University welcomes six newcomers to men's soccer program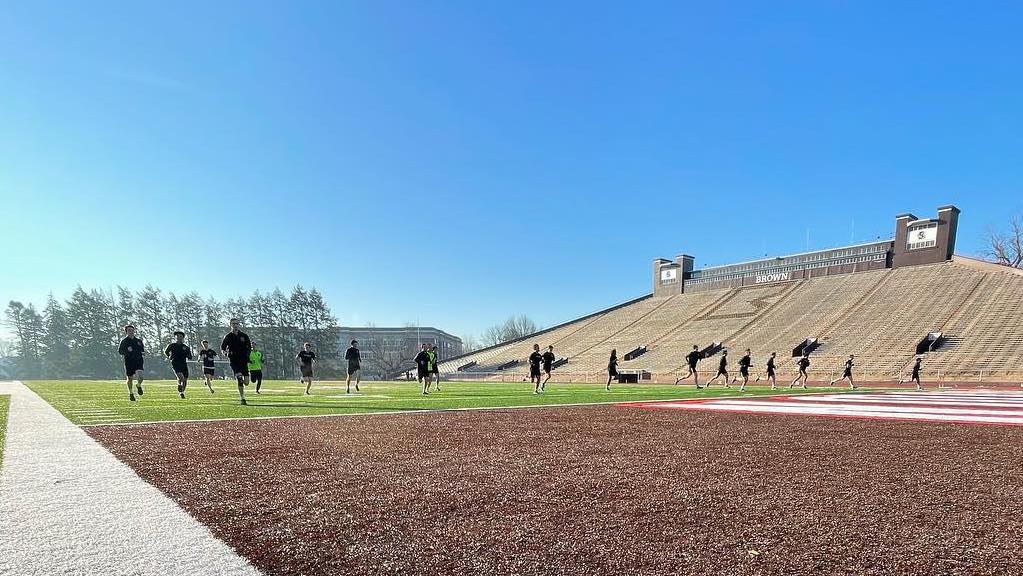 Friends of Brown Men's Soccer Head Coaching Chair Chase Wileman has announced the incoming student-athletes that make up the class of 2026.
The six-member class is made up of Adolfo Diaz, Dylan Ellis, Jamin Gogo Peters, Greyson Mitchell, Langdon Gryglas and Henrik Weiper.
"We are excited to welcome the class of 2026 to College Hill," Wileman said. "We believe they have the tools necessary to succeed on and off the field at Brown. Time will tell how big of an impact they can make and if they are willing to sacrifice to reach their full potential. Thank you to Jack, Andy and Marina as well as the previous staff for the work they put in to identify and recruit these young men."
Scroll to find an in-depth look at each new Bear below.
Adolfo Diaz
Midfield | 5'7″ | Arlington Heights, Ill. | Shattuck St. Mary's
Member of the Shattuck St. Mary's club team
Earned Year End High Honors in high school
Mother ran track and cross country at the University of Illinois-Urbana Champaign
Why Brown: "I chose Brown because it offers both high level soccer and a world-class education. I believe that I will be able to excel through Brown's open curriculum and I have trust in the soccer coaching staff."
Dylan Ellis
Forward | 6'2″ | Macon, Ga. | IMG Academy
Played soccer at IMG Academy
Earned All-Region honors as a sophomore (at Stratford Academy, prior to transferring to IMG)
Qualified for the playoffs in both seasons at IMG
Member of the National Honor Society
Why Brown: "I chose Brown because I believe it to be the perfect environment for me to pursue each and every passion that has been integral in my development today, whether it be on the field or in the classroom. I am lucky for the opportunity and cannot wait to make an impact."
Jamin Gogo Peters
Forward | 5'11" | Forest Grove, Ore. | Portland Timbers
Member of the Portland Timbers club team
Attended Baker Web Academy
Member of the National Honor Society
Why Brown: "I chose Brown due to both the academic opportunities I'll be able to take advantage of as well as the soccer program. I never thought of myself as a potential Ivy League student-athlete, but the coaching staff reached out and expressed interest in me as a player, and in that process, I learned a lot about Brown and I realized this is where I wanted to be."
Greyson Mitchell
Forward | 6'0″ | Littleton, Colo. | Real Colorado
Member of the Real Colorado club team
Also played varsity soccer at Heritage High School
Named Heritage Distinguished Athlete (2022) and Heritage Offensive Player of the Year (2021)
Received High Honors
Why Brown: "I chose Brown due the opportunity to receive a world-class education through the university's open curriculum while also getting the chance to play DI soccer."
Langdon Gryglas
Midfield/Defense | 5'11" | Hartland, Wis. | SC Wave
Member of the SC Wave club team
Also played varsity soccer at Arrowhead High School
Three-time All-State and All-Conference selection
2021 Conference Player of the Year
2021 All-American
Member of the National Honor Society
Why Brown: "I chose Brown because of the university's unrivaled academic and athletic opportunities. Not only is Brown one of the most prestigious academic institutions in the world, but the passion, enthusiasm, and history in the soccer program was something that I couldn't pass up. I knew immediately that it was the right place for me to study, play, and grow as a person."
Henrik Weiper
Goalkeeper | 6'2″ | Mainz, Germany | Mainz 05
Member of the Mainz 05 club team
Helped lead team to U17 Bundesliga Süd/Südwest Championship
Named National Player of Albania U19/U21
Why Brown: "I chose Brown because of the extraordinary academics as well as the coaching staff."