Defender Sydney Sharts transfers to Kansas State from Oklahoma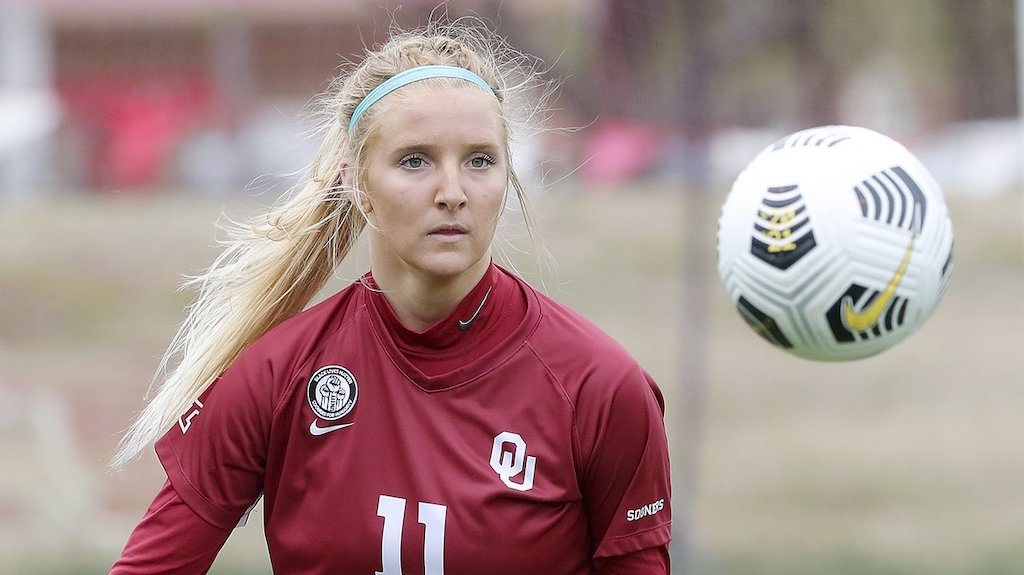 MANHATTAN, Kansas – Kansas State soccer head coach Mike Dibbini added depth to its defensive backline for the 2022 season, as the Wildcats have added defender Sydney Sharts as a transfer from Oklahoma.
"We are excited to add Sydney to the roster for this season," said Dibbini. "She brings Big 12 experience and versatility to our defensive unit. Her aerial presence will help improve our attacking and defending of set pieces."
Sharts, a product of Newbury Park, California, played in 16 matches with seven starts during the 2020 and 2021 seasons with Oklahoma. Sharts tallied 712 total minutes of action including a career-high 110 against North Texas on September 5, 2021. She has notched six shots with three on goal and collected her first career collegiate point with an assist against North Texas.
Following a stellar 108 minutes in the backline against K-State in the season-finale of the extended 2020-21 season, Sharts was named Big 12 Defender of the Week on April 20, 2021.
Prior to her two seasons in Norman, Sharts played club soccer with LAFC Slammers. She aided her club to the ECNL Southwest Region championship and was an ECNL National Team Finalist.
She also played one season at Westlake High School. During her freshman season in 2017, she helped Westlake win the Marmonte League crown and was named All-Marmonte League Second Team.
Season tickets for the 2022 season go on sale on July 6. To purchase tickets, fans can call (800) 221-CATS or visit kstatesports.com/tickets.
K-State concluded its sixth season of action in 2021 by tying the school record for wins in a season with six. The Wildcats also established new school records for goals in a season (20), assists in a season (20) and points in a season (60).
The Wildcats will return 11 of its top 12-point scorers for the 2022 season, including leading goal scorers Marisa Weichel and Kyler Goins with six and four goals, respectively.
Kansas State 2022 Signees
Name, Position, Hometown, School
Ally Brown, D/M, Leander, Texas, Rouse HS
Jazmin Brown, D, Gilbert, Arizona, Basha HS
Paige Dickson, M, Flower Mound, Texas, Edward S. Marcus HS
Jericho Frigon, D, Liberty, Missouri, Liberty HS
Khaliana Garrett, M, Lee's Summit, Missouri, Blue Springs South HS
Sophie Harlan, F/M, Kansas City, Missouri, St. Teresa's Academy
Ruby Henson, F, Kansas City, Missouri, Staley HS
Morgan Hobbs, GK, El Cajon, California, Santana HS
Tess McConnellogue, D/M, Colorado Springs, Colorado, Pine Creek HS
Andra Mohler, F, Bixby, Oklahoma, Bixby HS
Emily Morfeld, M, Overland Park, Kansas, Bishop Miege HS
Sydney Sharts, D, Newbury Park, Calif., Oklahoma
Madison Wingler, GK, Goddard, Kansas, Bishop Carroll HS