Big Ten preseason coaches poll revealed, featuring Rankings and Players to Watch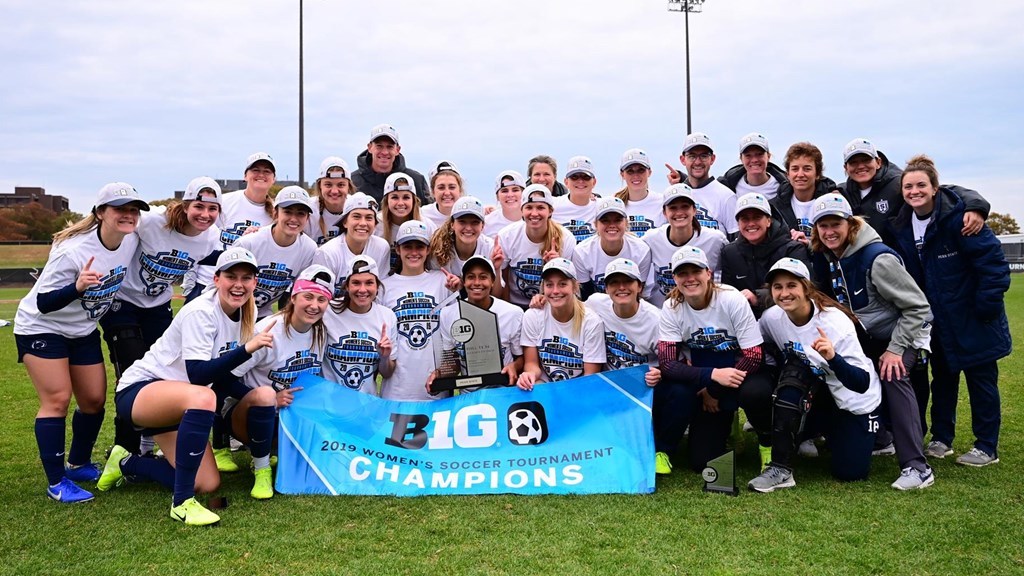 ROSEMONT, Ill. – Penn State is the preseason choice to win the 2020-21 Big Ten Conference women's soccer championship, according to a poll of the Big Ten coaches released Wednesday.
The reigning Big Ten Tournament champion Nittany Lions, who have also won 19 conference titles, were selected first in the 2020-21 Big Ten preseason poll by the conference's 14 head coaches. Defending Big Ten champion Wisconsin, which is coming off its first outright conference title since 1994 and third overall, finished second in this year's preseason poll, while last season's Big Ten Tournament runner-up Michigan was chosen third.
Each of the top three teams in this year's Big Ten preseason poll advanced to the NCAA Tournament round of 16 in 2019, with PSU doing so for the 16th time and fifth in six seasons, Wisconsin for the second year in a row and Michigan for the first time since 2013.
Rounding out the top five in the team balloting were Rutgers and Ohio State. The Scarlet Knights tied for second in last year's Big Ten regular-season standings before reaching the NCAA Tournament for the eighth consecutive season and 14th time overall. Meanwhile, the Buckeyes are just a year removed from a run of four straight NCAA Tournament appearances.
Also on Wednesday, the conference unveiled the 2020-21 Big Ten Players to Watch List, as selected by the conference coaches. Highlighting the list are three 2019 United Soccer Coaches All-Americans in first-team senior forward Amirah Ali of Rutgers and senior goalkeeper Jordyn Bloomer of Wisconsin, as well as second-team senior midfielder Sarah Stratigakis from Michigan.
In addition, more than one-third (15) of the students on the 2020-21 Big Ten Players to Watch List are returning all-conference selections, including last season's Big Ten Midfielder of the Year (Stratigakis) and Goalkeeper of the Year (Bloomer). What's more, the Big Ten Players to Watch List features 21 Academic All-Big Ten selections, eight Big Ten Distinguished Scholars and six students (Ali, Bloomer, Stratigakis, Michigan's Alia Martin, Penn State's Sam Coffey and Wisconsin's Maia Cella) who were named to the 2020-21 Missouri Athletic Club Hermann Trophy Watch List.
The 2020-21 Big Ten women's soccer season, which features teams playing an 11-game schedule entirely against conference opponents, kicks off Thursday when Illinois and Purdue meet at Grand Park in Westfield, Ind. (2 p.m. ET). The majority of other conference schools will begin their seasons over the weekend, beginning a seven-week run towards the four-team Big Ten Tournament that will be played April 15 & 18 on the campus of the highest seed.
Here's a look at the complete 2020-21 Big Ten Women's Soccer Preseason Poll and Players to Watch List:
2020-21 BIG TEN WOMEN'S SOCCER PRESEASON POLL
1. Penn State
2. Wisconsin
3. Michigan
4. Rutgers
5. Ohio State
6. Iowa
7. Northwestern
8. Indiana
9. Nebraska
10. Illinois
11. Purdue
12. Maryland
13. Minnesota
14. Michigan State
2020-21 BIG TEN WOMEN'S SOCCER PLAYERS TO WATCH LIST
Hope Breslin, Sr., M, Illinois
Ashley Cathro, So., D, Illinois
Makena Silber, Jr., F, Illinois
Anna Aehling, Fr., D, Indiana
Jen Blitchok, Fr., F, Indiana
Avery Lockwood, So., M, Indiana
Samantha Cary, So., D, Iowa
Hailey Rydberg, Jr., M, Iowa
Sara Wheaton, Jr., D, Iowa
Malikae Dayes, Sr., D, Maryland
Mikayla Dayes, Sr., F, Maryland
Alyssa Poarch, Jr., F, Maryland
Raleigh Loughman, Jr., M, Michigan
Alia Martin, Sr., D, Michigan
Sarah Stratigakis, Sr., M, Michigan
Lauren Kozal, So., GK, Michigan State
Bria Schrotenboer, So., D, Michigan State
Gia Wahlberg, Jr., F, Michigan State
Sophia Boman, Fr., M, Minnesota
Katie Duong, So., M, Minnesota
Makenzie Langdok, Sr., F, Minnesota
Grace Brown, Sr., D, Nebraska
Dakota Chan, Jr., M, Nebraska
Kenzie Coons, Jr., M, Nebraska
Regan Steigleder, Sr., M, Northwestern
Olivia Stone, Jr., F, Northwestern
Mackenzie Wood, Jr., GK, Northwestern
Kayla Fischer, Jr., F, Ohio State
Peyton McNamara, Fr., M, Ohio State
Izzy Rodriguez, Sr., D, Ohio State
Kerry Abello, Sr., F, Penn State
Sam Coffey, Sr., M, Penn State
Frankie Tagliaferri, Sr., M, Penn State
Marisa Bova, Jr., GK, Purdue
Sarah Griffith, Jr., F, Purdue
Grace Walsh, Jr., M, Purdue
Amirah Ali, Sr., F, Rutgers
Nneka Moneme, Sr., F, Rutgers
Meagan McClelland, Jr., GK, Rutgers
Jordyn Bloomer, Sr., GK, Wisconsin
Maia Cella, Sr., M, Wisconsin
Cameron Murtha, Sr., F, Wisconsin