Big East women's soccer preseason poll, all-conference teams unveiled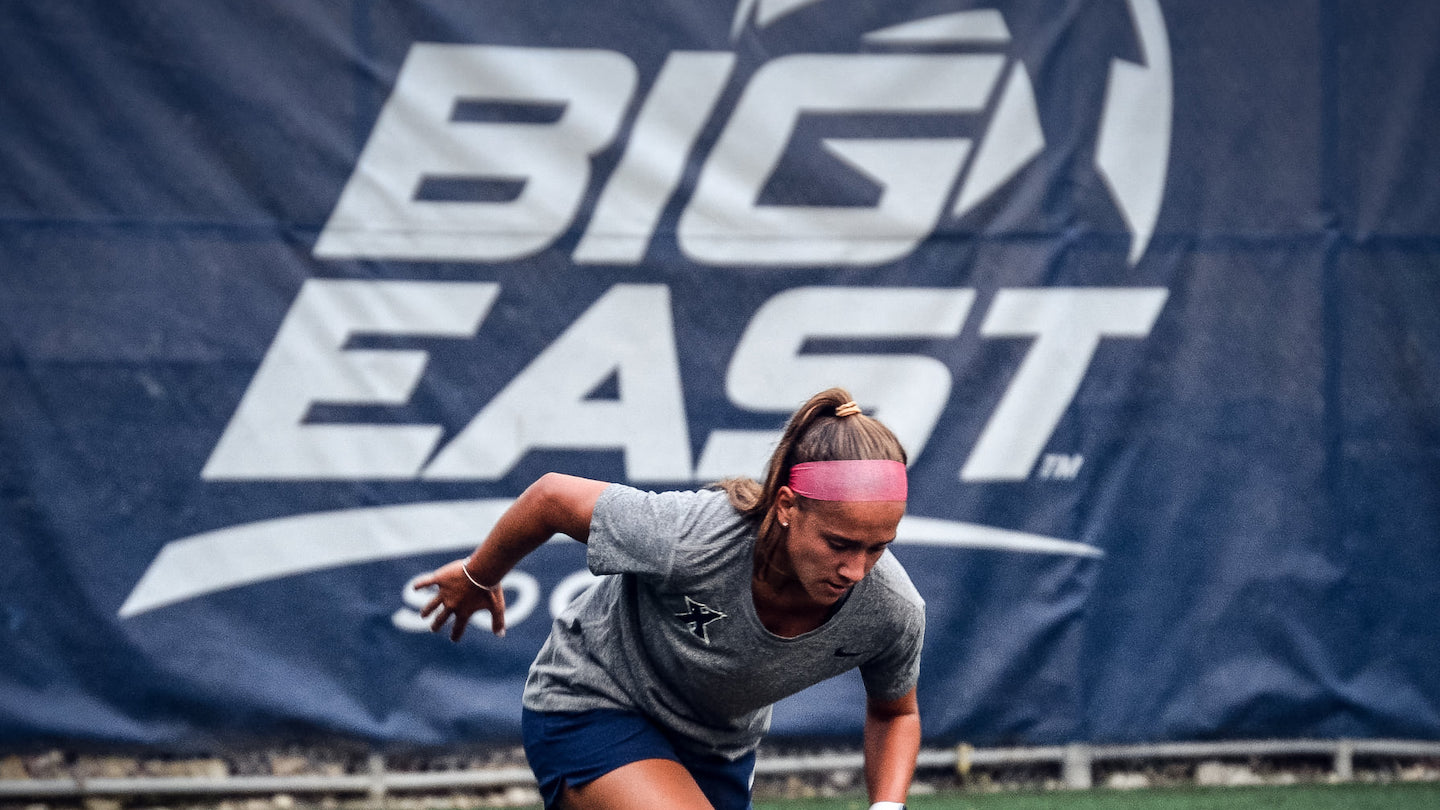 NEW YORK – Georgetown and Xavier were unanimous favorites to win their respective divisions this spring as the BIG EAST announced the results of the 2020-21 Preseason Women's Soccer Coaches' Poll on Monday.
The Conference schedule will feature two geographic divisions this spring, with the Hoyas favored in the East Division and the Musketeers picked to win the Midwest Division. Georgetown junior defender Jenna Royson was selected BIG EAST Preseason Defensive Player of the Year, while St. John's redshirt-senior Zsani Kajan was tabbed Preseason Offensive Player of the Year. Butler redshirt-junior Stephanie Rodriguez rounded out the major award winners as BIG EAST Preseason Goalkeeper of the Year.
Georgetown topped the East Division Poll with 25 points, including all five available first-place nods. The Hoyas were followed by Villanova with 19 points, and Providence with 18 points and the remaining available first-place vote. Returning to BIG EAST play for the first time since 2012, Connecticut was slotted fourth in the East with 12 points, followed by St. John's in fifth with 11 points and Seton Hall in sixth with five.
Xavier was atop the Midwest Division Poll with 16 points, including all four available first-place nods. DePaul followed in second with 12 points and the remaining first-place vote, edging Butler which tallied 11 points. Marquette followed in fourth with six points, while Creighton rounded out the Midwest with five points.
Xavier claimed its first BIG EAST titles in 2019, winning both the regular season and conference championship to advance to its first NCAA Tournament since 2000. The Musketeers led the BIG EAST in shots (151), points (62), assists (22) and goals (20), while allowing less than a goal (0.67) per contest over nine league games. Xavier had two players on the Preseason All-BIG EAST Team in junior midfielder Molly McLaughlin and junior forward Brooke Sroka.
Georgetown finished runner-up in both the regular season and BIG EAST Championship in 2019, while earning an NCAA Championship berth for an eighth straight year. The Hoyas will look to replace the bulk of its scoring from that 2019 squad, but return pivotal defensive pieces such as Royson and senior Kelly Ann Livingstone. GU averaged 2.2 goals per game over nine BIG EAST contests to tie Xavier for the conference lead, while listing second in goals allowed at 0.67 per game.
Royson led a Georgetown defense will allowed just 0.92 goals per game over 21 contests in 2019, as the Hoyas averaged more than double the shots of their opponents – 15.2 to 7.1 per game. Royson started all 21 games for GU and added a bit of offense with four goals, including two game winners.
Kajan is the top returning goal scorer in the BIG EAST in 2021 after scoring 11 over 17 games for St. John's in 2019. She averaged a conference-leading 1.67 points per game over nine BIG EAST contests that season, scoring a league-best seven goals against conference foes. She is the reigning BIG EAST Offensive Player of the Year and was named to the MAC Hermann Trophy Watch List on Jan. 28.
Rodriguez boasted the top save percentage (.853) and second-best goals against average (0.53) over nine BIG EAST appearances for Butler in 2019. Over 19 total matches played, she posted a 0.80 goals against average with a 10-5-4 record, and a .797 save percentage. She led the BIG EAST and ranked in the top 30 nationally with nine shutouts on the year.
A total of 12 were named to the Preseason All-BIG EAST Team, including Royson, Kajan and Rodriguez. Kajan, Creighton sophomore forward and reigning BIG EAST Freshman of the Year Skylar Heinrich and Providence senior forward Hannah McNulty were unanimous all-league selections.
All-BIG EAST honors and preseason polls were decided by a vote of the league's head coaches, who were not permitted to vote for their own team or players. Divisional Polls were voted upon only by coaches in their respective divisions while awards were chosen regardless of division.
BIG EAST Women's Soccer East Division Preseason Poll
1. Georgetown  25 (5 first-place votes)
2. Villanova        19
3. Providence    18 (1)
4. UConn            12
5. St. Johns        11
6. Seton Hall      5
BIG EAST Women's Soccer Midwest Division Preseason Poll
1. Xavier             16 (4 first-place votes)
2. DePaul            12 (1)
3. Butler             11
4. Marquette     6
5. Creighton       5
Preseason Offensive Player of the Year
Zsani Kajan, St. John's, R-Sr., F
Preseason Defensive Player of the Year
Jenna Royson, Georgetown, Jr., D
Preseason Goalkeeper of the Year
Stephanie Rodriguez, Butler, R-Jr., GK
Preseason All-BIG EAST Team^
Stephanie Rodriguez, Butler, R-Jr., GK
Anja Savich, Butler, Jr., F
Katie Soderstrom, Butler, Jr., F
Skylar Heinrich, Creighton, So., F*
Kristin Boos, DePaul, So., F
Morgan Turner, DePaul, Sr., F
Jenna Royson, Georgetown, Jr., D
Hannah McNulty, Providence, Sr., F*
Zsani Kajan, St. John's, R-Sr., F*
Brice McInroy, Villanova, Jr., M
Molly McLaughlin, Xavier, Jr., M
Brooke Sroka, Xavier, Jr., F
^extra player added due to a tie in voting
*unanimous selection