Big East reveals preseason men's soccer rankings and all-conference teams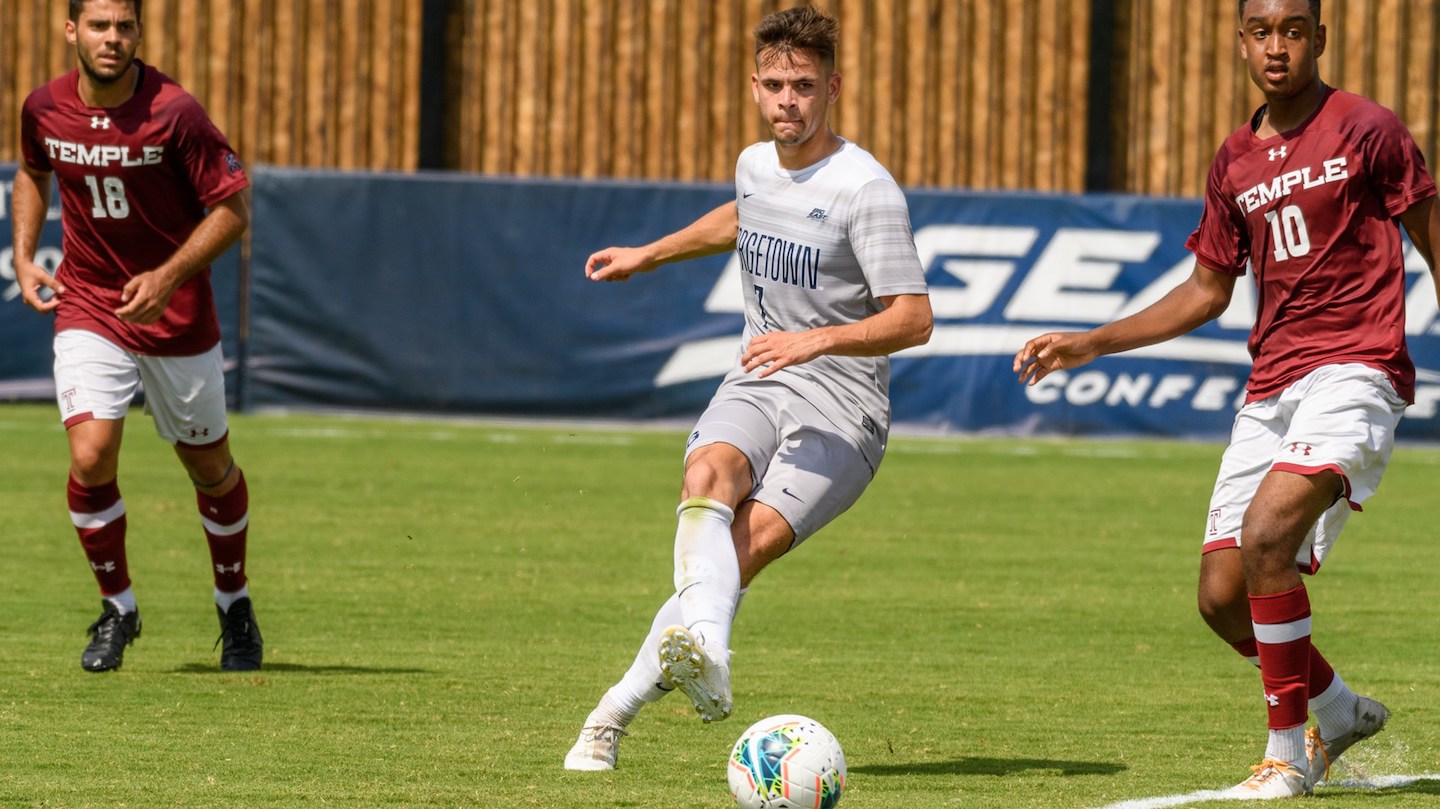 NEW YORK – Georgetown and Butler were selected by the league's head coaches as the top teams in their respective divisions as the BIG EAST announced the Preseason Men's Soccer polls and all-conference awards on Monday.
The Conference schedule will feature two geographic divisions this spring, with the Hoyas as the unanimous favorite in the East Division and the Bulldogs picked to win the Midwest Division. St. John's junior forward Tani Oluwaseyi was selected the BIG EAST Preseason Offensive Player of the Year, while Georgetown senior defender Rio Hope-Gund was tabbed Preseason Defensive Player of the Year. The decision was split on BIG EAST Preseason Goalkeeper of the Year as both Creighton junior Paul Kruse and Georgetown junior Giannis Nikopolidis earned co-accolades.
Georgetown, the reigning NCAA national champions, topped the East Division Poll with 25 points, including all available first-place nods. The Hoyas were followed by Providence with 20 points and the remaining available first-place vote. St. John's earned 17 points to round out the top three. Connecticut, returning to BIG EAST play for the first time since 2012, was slotted fourth with 13 points, while Seton Hall (eight points) and Villanova (seven points) rounded out the division. Georgetown had a historic run in 2019, winning the national championship in penalty kicks over Virginia, 7-6. The Hoyas had the program's first three-peat, winning the BIG EAST Championship for the third-consecutive year.
Butler topped the Midwest Division Poll with 15 points, tallying three first-place votes. Creighton followed in second with 14 points and the remaining two first-place tallies. Xavier followed in third place with 10 points, followed by Marquette with seven points and DePaul with four points.
In addition to Georgetown, Butler, Providence and St. John's were all NCAA Tournament selections in 2019.
Oluwaseyi is the reigning BIG EAST Offensive Player of the Year. He was a first team All-BIG EAST selection in 2019 and United Soccer Coaches First Team All-Atlantic Region. Over nine games in league play, Oluwaseyi led the BIG EAST in shots (38), shots per game (4.22), points (15), points per game (1.67), goals (6) and goals per game (0.67). He finished the season ranked 27th nationally in goals (11) and 31st in points (27). Oluwaseyi helped the Red Storm to an overall No. 16 seed in the NCAA Tournament in 2019, where St. John's went 1-1. The junior forward assisted the game-winner in the NCAA Second Round victory over Syracuse.
Preseason Defensive Player of the Year selection Hope-Gund played an integral part of a Georgetown defense that posted 13 shutouts in 2019. He started in 20 games for the Hoyas. Offensively, he contributed assists on two goals. In BIG EAST play, Hope-Gund and the GU defensive unit helped set a BIG EAST record for fewest goals allowed with two.
Creighton netminder Kruse started 10 matches in goal for the Bluejays as a sophomore in 2019. He led the team with 1.23 goals against average and 42 saves. Kruse started the 2019 season with a seven-save performance in a double overtime draw at No. 6 North Carolina on Aug. 30. Kruse made career-high nine saves while helping Creighton record a 1-1 draw at No. 3 Georgetown during the final match of the regular season.
Nikopolidis was the 2019 BIG EAST Co-Goalkeeper of the Year and First Team All-BIG EAST selection. The Georgetown junior keeper was also named to the 2019 First Team All-East Region squad by the United Soccer Coaches. Nikopolidis split time in the Hoya net last year having 12 starts to his credit with 1,105 minutes played. He boasted a record of 10-1-1 overall with 5.5 shutouts. Nikopolidis added 36 saves and a 0.49 goals-against average last season.
Nikopolids and Oluwaseyi were named to the initial list of 33 players on the MAC Hermann Trophy Watch List, which was announced on Jan. 28.
A total of 12 were named to the Preseason All-BIG EAST Team, including Oluwaseyi, Hope-Gund, Kruse and Nikopolidis. Of the 12, nine received All-BIG EAST honors in 2019, four were first team members.
All-BIG EAST honors and preseason polls were decided by a vote of the league's head coaches, who were not permitted to vote for their own team or players. Divisional Polls were voted upon only by coaches in their respective divisions while awards were chosen regardless of division.
BIG EAST Men's Soccer Preseason Honors
Preseason Offensive Player of the Year
Tani Oluwaseyi, St. John's, Jr., F
Preseason Defensive Player of the Year
Rio Hope-Gund, Georgetown, Sr., D
Preseason Co-Goalkeepers of the Year
Paul Kruse, Creighton, Jr., GK
Giannis Nikopolidis, Georgetown, Jr., GK
Men's Soccer Preseason All-BIG EAST #
Wilmer Cabrera Jr., Butler, So., F
Derek Dodson, Georgetown, Sr., F
Tani Oluwaseyi, St. John's, Jr., F
Einar Lye, St. John's, Jr., M
Paulo Lima, Providence, Jr., M
Jacob Montes, Georgetown, Sr., M
Sean Zawadzki, Georgetown, Jr., M
Rio Hope-Gund, Georgetown, Sr., D
Rhys Myers, Butler, D
Brandon Knapp, St. John's, Jr. M/D
Paul Kruse, Creighton, Jr., GK
Giannis Nikopolidis, Georgetown, Jr., GK
Men's Soccer Preseason Coaches' Polls
First-place votes in ()
East Divison
Midwest Division
1. Georgetown (5)
25 pts.
1. Butler (3)
15 pts.
2. Providence (6)
20
2. Creighton (2)
14
3. St. John's
17
3. Xavier
10
4. Connecticut
13
4. Marquette
7
5. Seton Hall
8
5. DePaul
4
6. Villanova
7
# there is an extra player on the preseason All-BIG EAST team due to a tie in voting