Syracuse men's soccer secures four additional recruits for 2021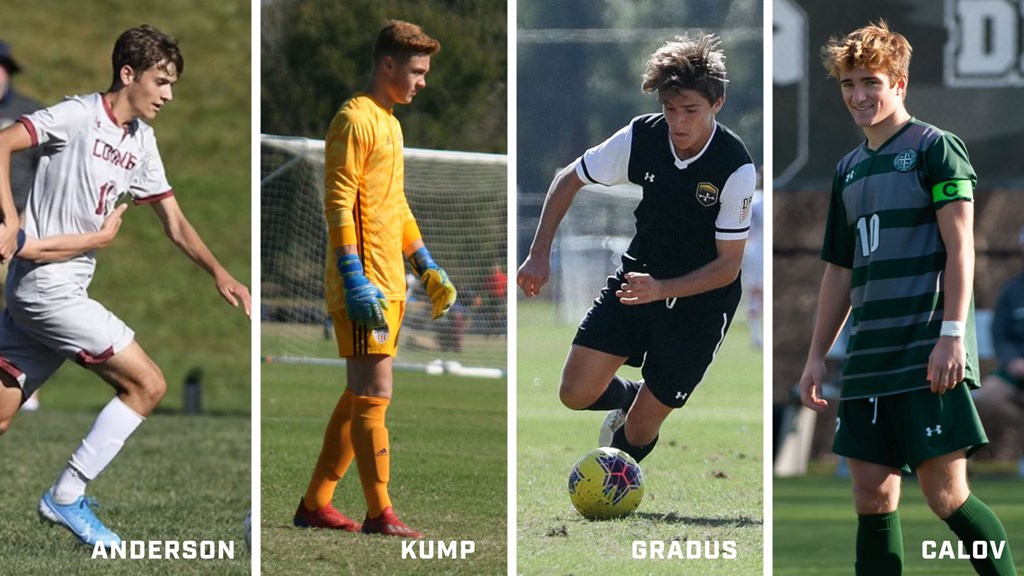 SYRACUSE, N.Y. – Syracuse University head men's soccer coach Ian McIntyre has announced that Jack Anderson, Curt Calov, Michal Gradus and Parker Kump will join the Orange in the fall of 2021.
"This has been such a difficult year for all potential student-athletes and their families," McIntyre said. "It has been a very challenging recruiting cycle with endless zoom calls, virtual campus tours, and hours spent connecting through technology rather than through traditional in-person contact. And thus, my coaching staff and I are so appreciative and thankful that Jack, Curt, Michal, and Parker have decided to be part of what we are doing here at Syracuse. We cannot wait to get these four talented young men onto campus this fall and quickly integrate them into our team."
[+READ: November Signings (4) | December Signings (3)]
See below to view the four latest signings:
Jack Anderson – Holyoke, Mass. – The Loomis Chaffee School
Anderson played three years for the New England Revolution Academy and was selected to the first US Soccer National Team Futures Camp in Carson, Calif. He has also represented Loomis Chaffee and was named to the 2020 High School All-America watch list.
"Jack is a very talented player who can play a number of different positions within our system," McIntyre said. "He has the tactical understanding and the physical attributes to be successful here at Syracuse. He has the ability to go past players and also provide quality service in the final third. Most importantly, he possesses the drive to continue to develop within this environment, and I am excited to see Jack in our Orange jersey this fall."
Curt Calov – Morristown, N.J. – Delbarton High School
Calov was recognized as a 2020 High School All-American after leading Delbarton to a state championship. The midfielder has recorded 34 goals and 21 assists during his high school career. He will be returning to Players Development Academy in the spring to start its inaugural MLS Next campaign.
"Curt is a passionate, driven young man who is constantly working on his game," McIntyre said. "He has a tremendous work ethic and the wonderful quality of always wanting to get on the soccer ball and influence the game. He is a terrific passer of the ball, but can also provide goals from deeper positions. Curt will fit in very well in our midfield and have the chance to help our team at both ends of the pitch."

Michal Gradus – Bel Air, Md. – John Carroll School
Gradus had a breakout year as a sophomore, winning state titles at high school and at the club level. He built on that success by finishing as the MIAA Conference top goal scorer with 19 goals to go along with seven assists for John Carroll School. In club soccer, he led Baltimore Armour to the USDA Winter Cup Playoffs and is currently preparing for the inaugural MLS Next season.
"Michal is a strong, powerful player who wants to get into dangerous goal scoring areas," McIntyre said. "He has the physicality and presence to play as a lone striker, but he also has the intelligence and movement to successfully combine with other forwards. Michal has good balance, a relentless work ethic, and a fantastic attitude and drive to continue to grow as a player here at Syracuse."
Parker Kump – Fairport, N.Y. – Fairport High School    
Kump competes for Empire United and he follows former Orange goalkeepers Alex Bono and Andrew Coughlin, who both represented Empire United. The Rochester native played a big role as his side were positioned to make a run in the US Soccer Development Academy playoffs before the season was cut short.
"Parker is an aggressive goalkeeper who comes off his line well to deal with the space behind his defenders," McIntyre said. "He is technically a very clean goalkeeper and possesses outstanding fundamentals. He is a very good shot stopper and has the ability to make the big save. He will continue to develop within our very competitive goalkeeping training environment here at Syracuse, working under the guidance of Coach Flynn and Coach Masalin."