Atlantic 10 Conference announces preseason women's soccer rankings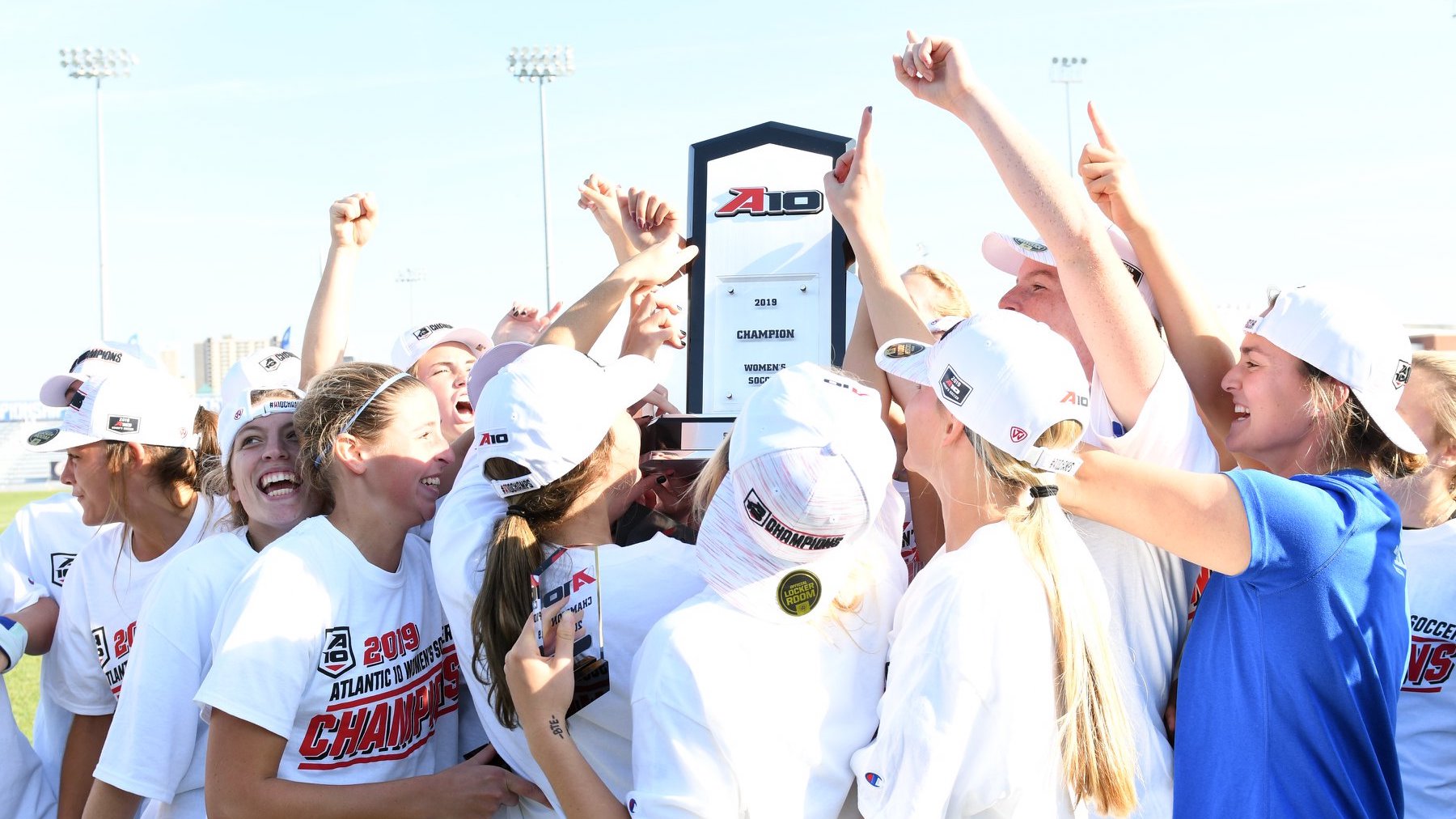 NEWPORT NEWS, Va. – For the third straight season, the Saint Louis Billikens have been chosen as the Atlantic 10 Conference preseason women's soccer favorite, in a vote conducted by the league's 14 head coaches. The league announced the annual Preseason Poll Wednesday ahead of the start of the season on Sunday, Feb. 7. Conference play will begin on March 14.
The Billikens earned 194 votes and 12 first-place tallies to take the top spot in the rankings. Last year's runner-up, George Washington, finished second in the predicted order of finish with 171 points and one first-place vote, followed by Massachusetts and Dayton, who tallied 155 and 146 votes, respectively, to round out the top four spots. VCU, who finished fifth in the voting with 135 points, also received one first-place vote.
SLU returns four starters and an additional 14 players from its 2019 squad that posted a 17-4-2 overall record and went 9-0-1 in the A-10. The Billikens captured the conference tournament title against George Washington and advanced to the NCAA Championship for the second straight year. Among the returning starters are three A-10 postseason honorees. Midfielder Hannah Friedrich, who enters her junior season ranked seventh on SLU's goals and points career lists, was a first-team selection, scoring 11 goals and adding six assists. Brionna Halverson made the second team while helping lead the Billiken defense to league bests in goals-against average (0.48) and shutouts (13). Anna Lawler represented SLU on the 2019 All-Rookie team.
The George Washington Colonials (14-3-4/7-1-2 A-10), coming off their first Atlantic 10 Championship appearance since 1997, return 18 players from last year's roster. Ranked second in the league in scoring average, goals and shots, the GW offense will look to Rachel Sorkenn, who led the squad with 11 goals and five assists, and Maria Pareja, who added six goals and four assists. The pair, along with defenders Madi Coyne and Hannah Zaluski, earned second-team honors. Tamaki Machi, an All-Rookie selection, finished the regular season with 77 saves and a 1.12 goals-against average (fourth in the A-10), and secured five shutouts on the season.
The Minutewomen garnered 155 votes, finishing the 2019 season with a 10-6-3 overall record, and 6-3-1 mark in league play. Among the team's seven returning starters is 2018 Midfielder of the Year, Jenny Hipp, a first-team selection that orchestrated the offense with eight assists and added a goal. Also back is Lauren Bonavita, whose 12 goals were a UMass single-season best dating back to 2012, and All-Rookie selection, Serena Amhed (two goals, five assists). The Minutewomen fell to the Colonials in the semifinals of the 2019 Championship.
Dayton (7-9-3/5-3-2 A-10) returns its top two scorers and All-Rookie selections from last season in Alexis Goins (7 goals, 3 assists) and Laney Huber (4 goals, 4 assists), with Goins also earning first-team honors. Nine different Flyers scored last season and five were freshmen. Defensively, the Flyers will look to Lexy Kidd, Mackenzie Lutz and Audrey Steiert who were ranked 1-2-3 for UD in minutes played. Carly Becker returns in goal, posting five clean sheets and a 1.52 goals-against average from last season.
The 2020-21 Atlantic 10 women's soccer season gets underway on Sunday, Feb. 7. A four-team 2020-21 Atlantic 10 Championship will be played on the campus of the highest seed, April 15-17, with the winner advancing to the NCAA tournament. Select regular-season matches and A-10 Championship matches will be streamed live on ESPN+.
| | |
| --- | --- |
| Preseason Poll – Total Points (First Place Votes) | |
| 1. Saint Louis (12) | 194 |
| 2. George Washington (1) | 171 |
| 3. Massachusetts | 155 |
| 4. Dayton | 146 |
| 5. VCU (1) | 135 |
| 6. La Salle | 124 |
| 7. Saint Joseph's | 109 |
| 8. George Mason | 92 |
| 9. Duquesne | 91 |
| 10. Fordham | 79 |
| 11. Davidson | 62 |
| 12. Richmond | 57 |
| 13. St. Bonaventure | 28 |
| 14. Rhode Island | 27 |