Rutgers women's soccer announces 2020 recruiting class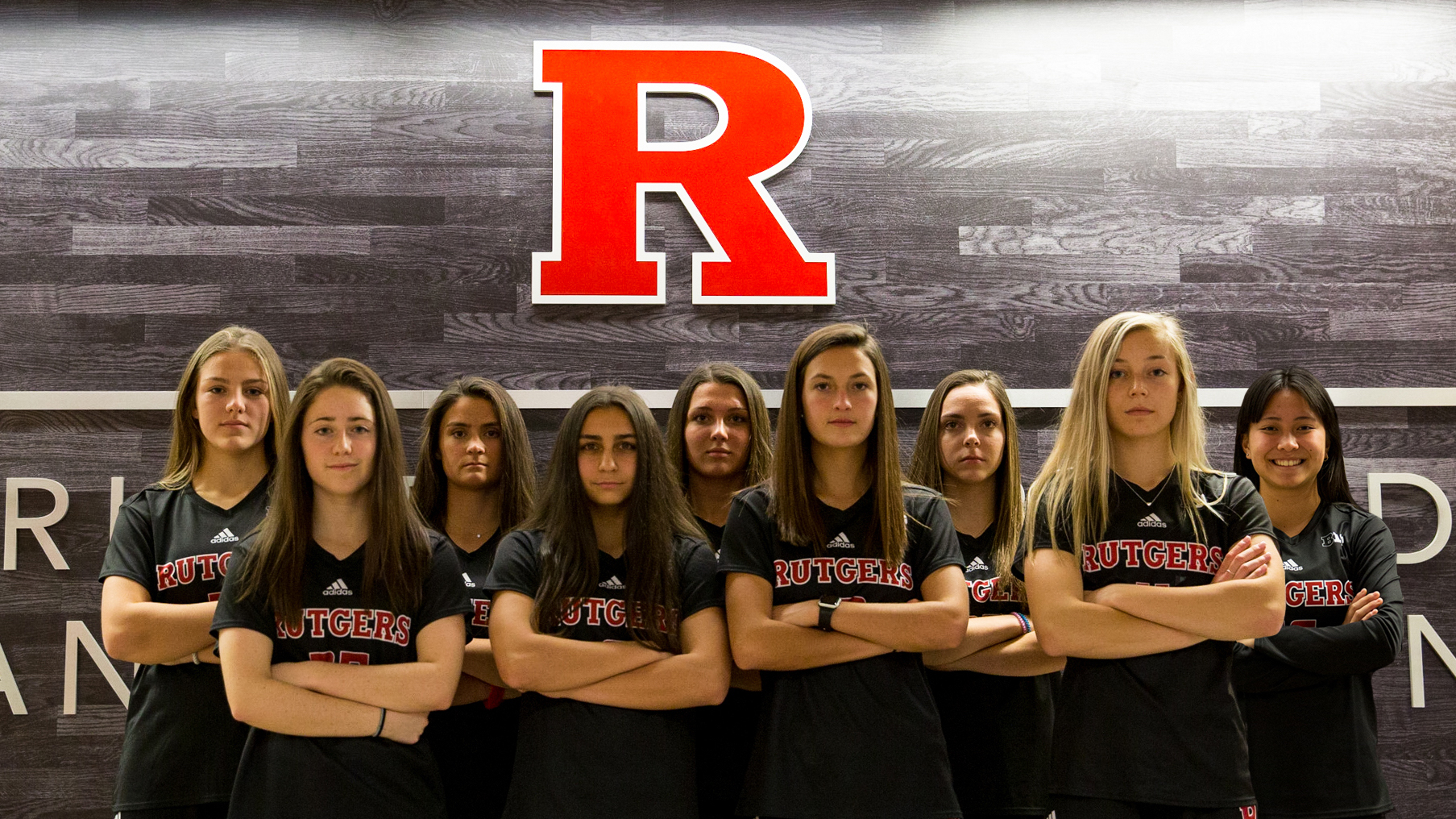 Rutgers women's soccer announced the signing of eight Scarlet Knights to NLIs for the 2020-21 season. RU welcomes Sara Brocious, Faith Dobosiewicz, Rebecca Fluchel, Samantha Kroeger, Julianne Leskauskas, Allison Lowrey, Emma Misal and Giana Romano "To the Banks." The group joins early signees Emily Sapienza and Abby Jonathan, who have arrived this Spring 2020.
"This 2020 class is a very talented group that will allow us to add depth in every position.They all are fierce competitors who love to compete and are well experienced playing in big games," said Head Coach Mike O'Neill. "The group includes youth national champions, high school All-Americans, and players with youth national team experience.
"It is a group of amazing people with great character that will add to our program culture, academically and athletically. Our expectation is for this class to come in and compete for playing time right away. The goal of the state university is to put a fence around New Jersey and keep the best players at home. We feel we did that with seven of ten players hailing from the great garden state, as well as bringing in top out-of-state talent to complement this class."
MEET THE SIGNEES
Sara Brocious
Midfielder | 5-4
Club: PDA Ajax
Voorhees, N.J. | Eastern HS
Notes: A 2019 NPL National Champion with PDA…four-time NPL Northeast Champion (2016-19) and four-time Northeast Regional Futsal Champion (2017-20)…back-to-back State Cup Champions (2018, 2019)…called up to US Soccer Training three times in 2015, 2016, and 2019 and US Soccer Regional Camp in 2019…four-year member of Eastern High School soccer…invited to the 2019 High School All-American Game, East MVP of All-American Game …2018 Group 1V State Champion…three-time Olympic American Conference Champion…three time South Jersey Coaches Cup Champions (2017-2019)…four time All-Olympic Conference honoree, including three first team nods…three-time First Team All-South Jersey… 2017 and 2018 United Soccer Coaches Regional All-American, 2019 United Soccer Coaches All American and three-time South Jersey Defensive Player of the Year (2017-2019)… Courier Post Player of the year 2019….three time Team Defense MVP and two-time All-Around MVP…all-state top 20 player 2017-2019…member of the National Honor Society…recipient of 2018 AP World History and AP English Academic Award…class secretary in 2017-18 and four-year honor roll student…member of the Spanish National Honor Society…daughter of Nicole and Albert…has three brothers, Jacob, Luke and Marc…mother played field hockey at the University of Iowa…intends to major in biology for a career in medicine.
Brocious on why she chose Rutgers: Rutgers covered all bases for me! Excellent soccer program with great competition in the Big Ten. It offered numerous amount of academic avenues for me in their Biological Sciences Program, which is nationally ranked. I also wanted to play soccer in my home state of New Jersey and stay close to home with my family.
O'Neill on Brocious: Sara is one of the most complete players in this class. It does not matter what position she plays she finds a way to have an impact. She has the tactical understanding, technical ability, and engine to dominate the game in the midfield. We are looking forward to Sara having a major impact from day one.
Faith Dobosiewicz
Defender | 5-10
Club: Players Development Academy (PDA)
Westfield, N.J. |Westfield HS
Notes on Dobosiewicz: A 2019 ECNL National Champion with PDA…four-year starter and 2019 captain at Westfield High School… 2017 / 2019 Union County Co-Champions and 2017 Watchung Conference Champions…Top 20 North II Region in 2017…named Watchung Conference First Team in 2017 / 2019…two-time NJ All-Conference…picked up Union County Player of the Week accolades in 2019…also a four-year member for the basketball team…member of the National Honors Society and French Club…daughter of Diana Dobosiewicz and Scott Lomax…has three siblings, Christian, Jack, and Hailey…Hailey cheered at Purdue University…intends to major in business.
Dobosiewicz on why she chose Rutgers: I chose Rutgers because of its national rankings for women's soccer, as well as its history of academic excellence. Also, my family and I have been Rutgers fans our entire lives because my father got his Ph.D. from Rutgers. I want to win a Big Ten Championship with a program that will make me a better player and person.
O'Neill on Dobosiewicz: Faith comes from an unbelievable family and she is Rutgers through and through. She continues to elevate her game every day by showing up, working hard and competing. She has the experience of playing in a National Championship game and winning. We expect Faith to come in and compete for minutes right away. She has Big Ten physicality and is a dangerous left-footed player.
Becci Fluchel
Midfielder | 5-9
Club: PDA
Pittstown, N.J. | North Hunterdon Regional HS
Notes: Captained PDA to U-17 ECNL National title in 2019 and U-15 Regional Championship in 2017…all-time leading scorer and single-season leading scorer at North Hunterdon Regional… invited to the 2019 High School All-American Game…led the team to the 2019 Skyland Conference Championship title…2019 All-American and All-State honoree…named First Team All-Skyland Conference and Hunterdon County Democrat All-Area Team as a freshman in 2016…high honor roll student…three-time recipient of the Community Service Award…earned the 2019 History Student Award…daughter of Kim and Brian…has two brothers, Sean and Matthew…two uncles played DI soccer, including Mark Fluchel at Miami (Ohio) and Brian Geissler at UNC Greensboro.
Fluchel on why she chose Rutgers: I chose Rutgers not only because it feels like home, but it has always been my dream to play in the Big Ten and win a championship. I also have the opportunity to be a part of the first team ever to win a NCAA championship at Rutgers.
The program provides an environment where I can develop as a player both physically, mentally, and academically.
O'Neill on Fluchel: We are thrilled to have Becci join the family. The best part of Becci is she shows up every day to compete and get better. She has high expectations of herself and will do anything so her team can win. She is a very talented player who understands the game at a very high level and can play anywhere in the midfield and backline. We expect her to come in and have a major impact.
Sami Kroeger
Midfielder/Forward | 5-2
Club: World Class FC
West Milford, N.J. | West Milford Township HS
Notes:Named to the 2019 United Soccer Coaches Youth All-America…2019 ECNL Final Four and fourth-place finish with World Class FC…member of the West Milford Township High School team…earned first team all-county as a freshman and sophomore…member of the US Women Youth National Team, being named to rosters from Under-14 to under-20…won the title at the 2018 CONCACAF U17 with Team USA…played in U20 Nike Friendlies back-to-back years (2018 and 2019)…overall, has represented USA against nearly 15 different countries…also a member of the High school's basketball team both freshman and sophomore year…two-time honor roll student…daughter of Sabine Schubert and Stephen Kroeger…has two sisters, Amy and Kim.
Kroeger on why she chose Rutgers: I chose Rutgers for a few reasons. The first reason is Rutgers is close to home, making it easy for my family to support games. The coaching staff was a huge part of my decision. Their style of coaching, the daily environment of practices and games, and their inclusiveness made me feel welcome. Rutgers was the best environment athletically and academically that is going to challenge me every day, making me a better person and athlete overall. I am excited for the competition that lies ahead in the upcoming years at Rutgers!
O'Neill on Kroeger: We are very excited having Sami and her family join R program. Her experience with the USWNT youth teams prepared her for big moments on the biggest stage. This experience will impact the team immediately. Sami has the capability to change a game at any moment. Her technical and tactical understanding is at a national level. Her passion and desire to win is visible and contagious.
Julianne Leskauskas
Midfielder | 5-6
Club: PDA
Brielle, N.J. | Saint Rose HS
Notes: Five-year captain of PDA…four call ups to National team for U-15 and U-17…named to the ECNL 2017 National Training Camp Best 11 team…named to the ECNL U18/19 Northeast All-Conference Team… named to the 2019 United Soccer Coaches Youth All-America Team…a 2018 United Soccer Coaches Youth Girls All-East Region Team selection…invited to the 2019 High School All-American Game…senior captain of Saint Rose High School soccer team…set school record with 35 goals in a single season as a senior…a 2018 Division Champion, Sectional Champion and State Finalist with Saint Rose…set the scoring record for Saint Rose with 29 goals as a junior in 2018… …named the 2018 Class B Central Division Player of the Year and Coast Star offensive player of the year…also earned All-State All-American, All-State Third Team and All-Shore accolades that same year…daughter of Gerianne and Frank…has three sisters, Charlene McGuckin, Theresa and Marie Leskauskas…great grandfather, Joseph A. Liddy, SR was a letterwinner of Rutgers football in the 1920s…he now is in the Newark Sports Hall of Fame as a HS football coach.
Leskauskas on why she chose Rutgers: I chose Rutgers because when I stepped on campus it felt like home. Soccer is a massive part of my life, and knowing I would be able to play in an amazing environment like Rutgers made my decision that much easier. The players and the coaching staff were so welcoming and the soccer is great. Going into the next years at Rutgers I want to be a part of history, winning an NCAA and Big Ten championship. With the current team and with the recruiting class coming in, I know it's not far out of reach and I'm excited to see what the future holds.
O'Neill on Leskauskas: Jules was the first person of this class to commit to Rutgers and set the expectation of staying home and representing the state university. Her technical and tactical ability, along with her desire to compete, will position her to be very successful at the collegiate level. She can change the game at any moment. She has passion and love for Rutgers and is Jersey through and through.
Allison Lowrey
Forward | 5-6
Club: PDA
Bridgewater, N.J. | Bridgewater Raritan HS
Notes: A 2019 ECNL U17 National Champions with PDA…named a 2017 ECNL Player to Watch…four-year varsity soccer and senior captain at BRHS…led BRHS to Skyland Conference title in 2017 and 2018, and Somerset County Championship titles in 2017,2018, and 2019…guided the 2018 squad to becoming North 2 Group 4 Sectional Champions and Group 4 State Finalists, being named NJ.com's Skyland Conference Team of the Year… four-time First Team All Skyland Conference…four consecutive seasons as Top Goal Scorer for BRHS and 2016 and 2019 Leader in Team Assists…named 2018 Third Team All-Group 4 Team , 2019 First Team All- Group 4, and Third Team All State by NJ.com…named 2017 Preseason Player of the Year Courier News… named 2016 All-Area Girls Soccer Team – Third Team…three-time All-State Team NJ Girls Soccer by Coaches Association… 2019 Skyland Conference Player of the week…member of Fuel Up Play 60 and CEC Club…daughter of Jason and Sandra…has a sister, Stephanie.
Lowrey on why she chose Rutgers: I chose Rutgers because of the coaching staff and how close it is to home. I also loved the competitiveness of the team and their family atmosphere. I want to win a Big Ten Championship while playing for a team that will force me to get better every day.
O'Neill on Lowrey: One of the things I admire about Allison is that losing is not an option. She does everything she can to help her team win at every level. Because of her technical, tactical and physical abilities, she will be able to compete in the Big Ten right away. In a crucial moment, her team can count on Allison to step up and get the job done.
Emma Misal
Defender | 5-7
Club: Penn Fusion Soccer Academy
Mechanicsburg, Pa. | Red Land HS
Notes: U.S. Women's National Team Under-18 call up in 2019…helped guide Penn Fusion to back-to-back, first-place finishes in the Atlantic Division of US Development Academy (2018, 2019)…named to Mid-Penn Commonwealth Division First Team and All-Sentinel Girls Soccer First Team in 2016…member of the National Honor Society…daughter of Tina and Skip…has a brother, Ethan.
Misal on why she chose Rutgers: When I first came to campus, I felt welcomed right away and it felt like I was already part of the RU family. I was very impressed with the family atmosphere and how much everyone cared about each other. I loved the coaching staff and the girls.
O'Neill on Misal: We are so happy Emma will be joining us in 2020. Emma has a strong attacking and defending presence and has the engine to last 90-plus minutes. She has a superb ability to deliver crosses and take players on 1v1 to create dangerous opportunities in the final third. Emma is a very talented player, but what really excites the coaching staff is that her best soccer is still ahead of her. She was deservingly called into national camp last year and we feel she will compete for minutes in our lineup right away.
Giana Romano
Forward/Midfielder | 5-5
Club: PDA
Staten Island, N.Y. | Xaverian HS
Notes: A 2019 ECNL National Champion with PDA…captain and current all-time leader in goals and assists for Xaverian Girls Soccer, including 63 varsity goals in only three years…two-time Brooklyn/Queens Champion and City Champion with Xaverian…two-time High School State Finalist… Mayors Cup MVP…Two-time all-league selection…3 time letterwinner for soccer…a letterwinner for lacrosse…honor roll student with high honors…Principal's List honoree…member of Italian Club…volunteers as a soccer coach and at the Staten Island Zoo …daughter of Roy and Christine…has a brother, Matthew…intends to major in sport science/kinesiology, working towards a career as a physician assistant.
Romano on why she chose Rutgers: I choose Rutgers because it offers everything I would like to study. The University has many resources and provides many academic opportunities. I always wanted to play D1 soccer. Rutgers also has an excellent coaching staff and overall great soccer program.
O'Neill on Romano: Giana always finds a way to have a major impact in every game she plays. She's a very versatile player that has the understanding and ability to play anywhere on the field. Giana's passion to win and desire to improve will raise the competitive standard for the team. The bigger the moment, the bigger she shines.