Xavier University hires John Higgins as new men's soccer head coach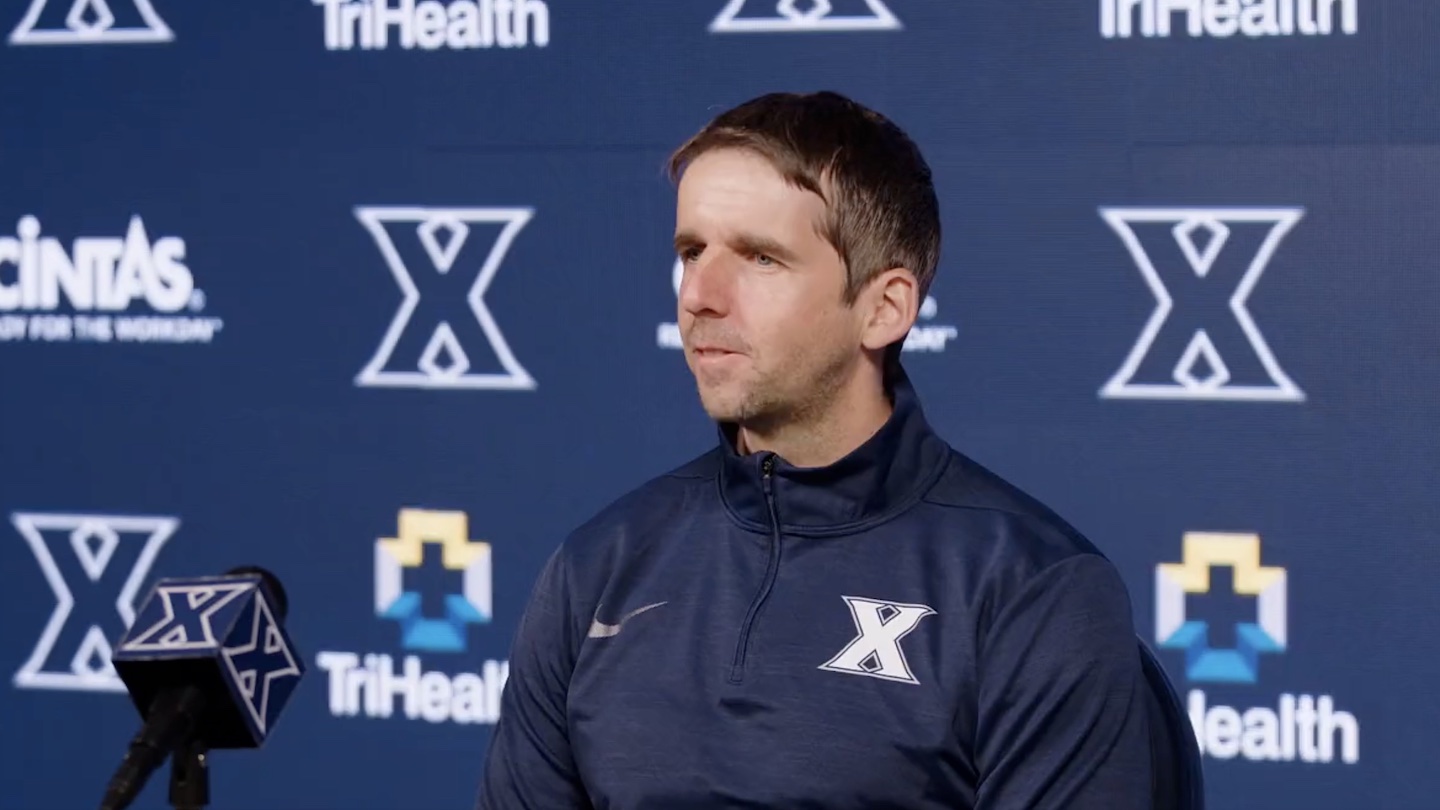 CINCINNATI – Xavier University has announced hiring of John Higgins as the new men's soccer head coach. Higgins joins the Musketeers from the University of Indianapolis where he compiled a 150-56-29 overall record in 12 seasons with the Greyhounds.
"I'm honored to accept the position of men's soccer coach at Xavier," said Higgins. "I would like to thank Greg Christopher and Brian Hicks for the opportunity to lead this great program. I'm excited to get started on this new chapter for Xavier soccer and I hope that I can make the alumni and all associated with the program proud.
"I'd like to thank Dr. Sue Willy and Scott Young for their leadership at UIndy. They supported me as a young coach and allowed me to grow UIndy men's soccer into one of the best programs in the nation."
Higgins finished the 2021 fall season ranked fourth in the United Soccer Coaches (USC) Top-25 Poll after posting an 18-1-3 record and advancing to the semifinals of the NCAA Championships. All told, he posted a 31-1-7 record over two seasons in 2021 (spring season due to COVID-19 pandemic).
"When we conducted our national search, we found a number of highly successful coaches interested in leading our program," said Greg Christopher, Vice President and Director of Athletics. "Xavier Men's Soccer has been a top-25 program that competes in one of the best soccer conferences in the country.
"We're excited to welcome Coach Higgins and his family to the Xavier community. Not only has Coach Higgins reached an elite level on the field, he's been able to maintain that success year in and year out."
The three-time Great Lakes Valley Conference 'Coach of the Year' owns a 7-3-1 (.625) record in NCAA Tournament action and finished GLVC Tournament play with an 18-3-5 (.750) mark. He finished his coaching career at UIndy as the program's all-time leader in wins (150) and winning percentage (.700).
Higgins led the Greyhounds to a total of six conference championships from 2010-21, including three regular-season titles and three tournament championships. All told, he has made five NCAA Tournaments with two national semifinal appearances.
The Dunfermline, United Kingdom, native coached 54 All-GLVC selections at UIndy along with seven All-Midwest Region honorees and two All-Americans. Academically, the Greyhounds have earned the USC Team Academic Award in each season under Higgins.
Higgins played collegiately for the Greyhounds from 2004-08, earning all-conference and all-region honors as a senior. He was named to the 2007 CoSIDA/ESPN The Magazine Academic All-District 5 Team and earned Academic All-GLVC honors four times.
Higgins earned a bachelor's degree in physical education from UIndy in May of 2008 and a master's degree in curriculum and instruction from UIndy in 2010.
Higgins and his wife, Amber, have two daughters: Emily (9) and Jane (5).
For more on Xavier's hiring of Higgins, click here.
| | |
| --- | --- |
| |   COACHING TIMELINE – UINDY |
YEAR
RECORD
PCT.
MIS.
2010
10-8-0
.556
GLVC Tournament Runner-Up
2011
12-5-1
.694
GLVC Tournament Appearance
2012
7-8-3
.472
—
2013
15-3-3
.786
NCAA Regional Appearance
2014
12-5-3
.675
GLVC Tournament Champions
2015
12-5-3
.675
NCAA Regional Appearance
2016
10-5-5
.625
GLVC Tournament Runner-Up
2017
13-6-1
.675
NCAA Regional Appearance
2018
12-4-2
.722
GLVC Tournament Appearance
2019
16-6-1
.717
NCAA Tournament Semifinals
2021 (s)
13-0-4
.882
GLVC Regular-Season Champions
2021 (f)
18-1-3
.886
GLVC Tournament Champions
NCAA Tournament Semifinals
TOTALS
150-56-29
.700