DePaul women's soccer announces 2022 recruiting class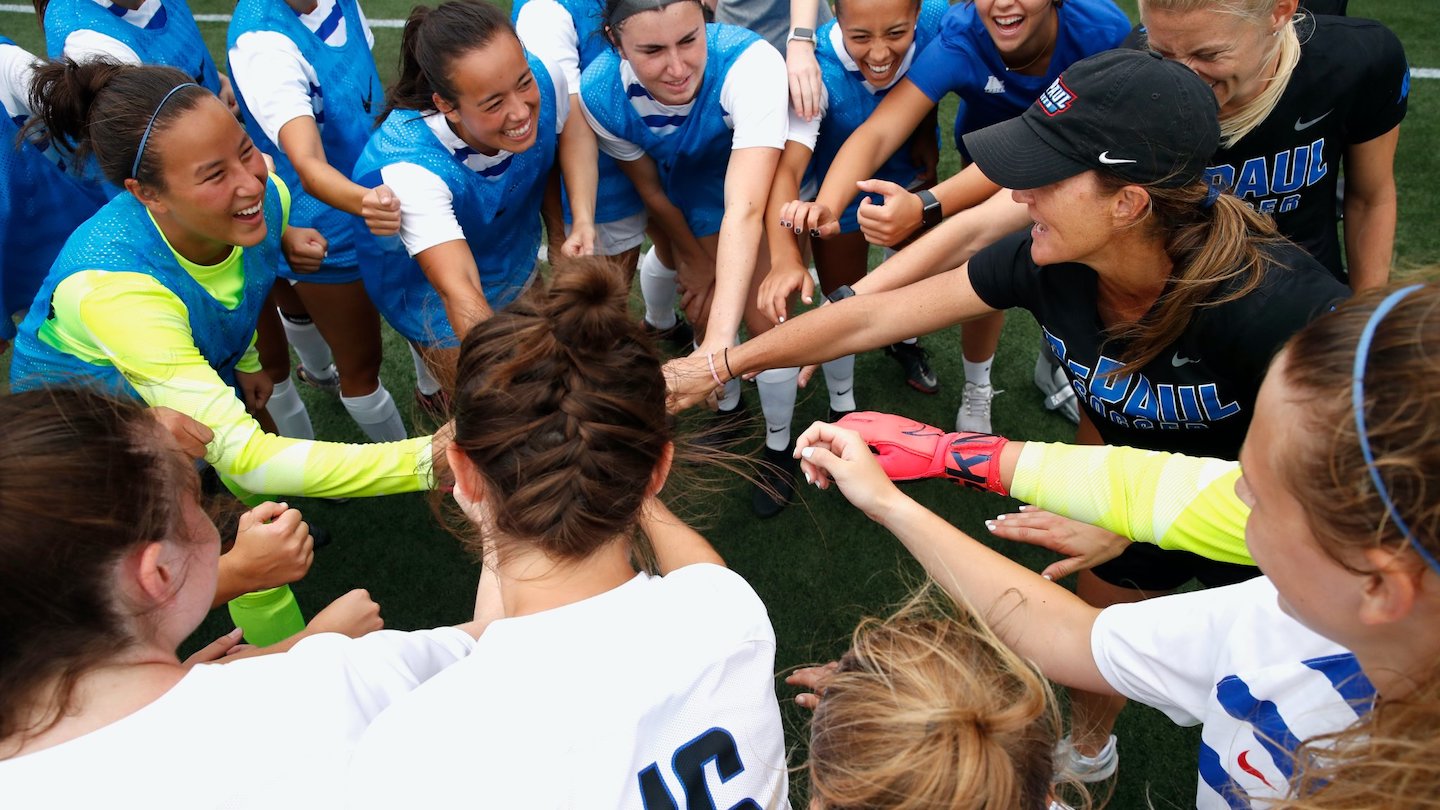 CHICAGO – DePaul women's soccer head coach Michele O'Brien has officially announced the 2022 recruiting class. The crop of four incoming Blue Demons will arrive in Lincoln Park this summer ahead of DePaul's 2022 season which kicks off in August.
"We are thrilled to announce next year's incoming freshman class," said head coach Michele O'Brien. "We are confident they will all make a significant impact on our program and each of them will contribute greatly to our team culture."
O'Brien and her coaching staff will welcome a pair of standouts from Europe for the 2022 season. Freya Jupp and Lina Dantes will join the program from England and Germany, respectively. The pair both have experience at the higher levels of European women's soccer and will join a roster that already features six student-athletes from outside of the United States.
"It's exciting to continue to add a diverse group of both international and local players to our program and athletic department," said O'Brien. The Blue Demons will also welcome Olivia Medina and Lilly O'Rourke from the Chicago area.
"A huge thank you goes out to our assistant coaches Rachel Pitman and Kathleen Duwve for their efforts to help bring in this talented group," said O'Brien. "We are excited to get to work this fall."
Freya Jupp  – Portsmouth, United Kingdom
Jupp, a goal-scorer from the U.K., will head to Chicago after making an impact with the Arsenal U21 squad in London. Jupp scored 19 goals in 18 games for the Arsenal side while also totaling nine international caps for England. Jupp scored the game-winning goal in Arsenal's win over Chelsea in her first-team debut.
Lina Dantes – Hamburg, Germany
Dantes will join the Blue Demons from Hamburg, Germany where she played for the Hamburger SV women's team and the U19 German National team. Dantes was named the 2019-20 Hamburg youth player of the year and was a captain of the U18 selective team in Hamburg. In 2021-22, Dantes played 11 games with the Hamburger SV women's team, totaling seven assists.
Olivia Medina – Park Ridge, Ill.
Medina will join the Blue Demons after completing high school at Maine East High School in Park Ridge. Medina, a goalkeeper, will add goalkeeping depth to the DePaul roster as the first goalkeeper signing of O'Brien's tenure. She also played club soccer with FC United with the developmental academy from 2019-20 and in the Girl's Academy League from 2020-22.
Lilly O'Rourke – Glenview, Ill.
O'Rourke will head to Lincoln Park after graduating from Glenbrook South High School in Glenview. O'Rourke starred as a midfielder and team captain on the Glenbrook South squad, earning All-Sectional honors in 2021. She also played club soccer with FC United, claiming the state championship in 2019 and 2020 as a team captain.