UConn women's soccer recruiting class revealed, featuring 8 players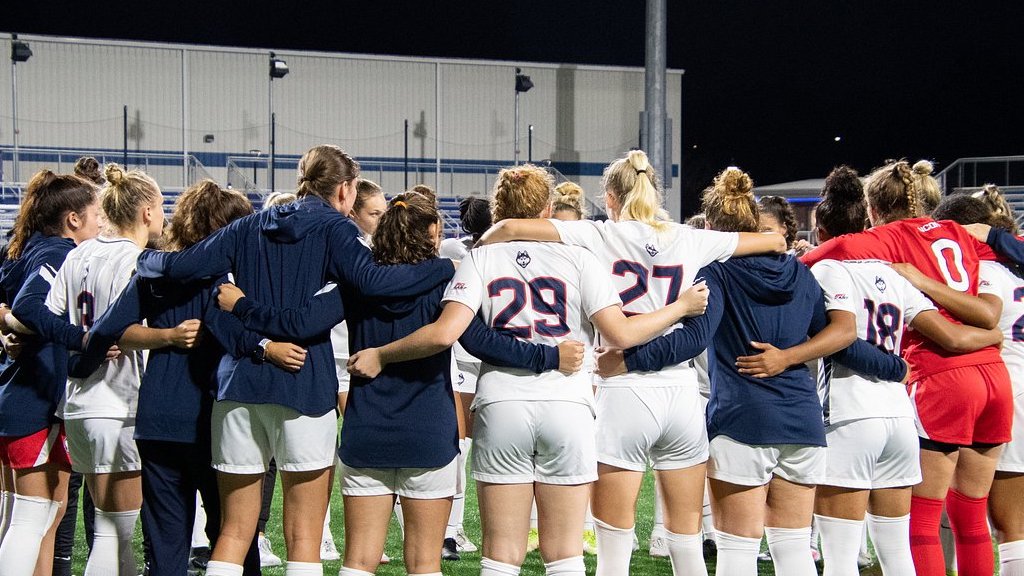 STORRS, Conn. – Head coach Margaret Rodriguez announced the addition of eight incoming freshmen to the Class of 2026 for the UConn women's soccer team.
"We are really excited to welcome this class to Storrs this fall," Rodriguez said. "We've built momentum and gotten better each season for the last few years, and I think this group will come in and be able to contribute immediately as we continue."
MADDIE CARROLL
Forward | Manchester, Conn. | East Catholic High School
Rodriguez on Carroll: "Maddie is a goal scorer, plain and simple. She has a nose for the goal and is always looking to shoot.  In the attack, she possesses great speed on the dribble and can also get in behind the back line with her runs off the ball.  We look forward to seeing her impact our offense and find the back of the net as a Husky."
Why UConn: "I chose UConn because I wanted to go to a college that had a great balance between academics and athletics. UConn has always been a big part of my life growing up, especially because both my parents and grandparents attended UConn. I believe that UConn will push me to become the best player I can possibly be while being surrounded by amazing coaches and teammates."
Before UConn: Played club for Oakwood Soccer Club … Oakwood ranked second nationally in goals per game … 04 Oakwood team ranked No. 1 … participated in National Team combines from U-14-U-17 … honor roll member for first three years in high school … high honor roll as a senior.
ADYSON DURAN
Goalkeeper | Momence, Ill. | Momence High School
Rodriguez on Duran: "Ady is a technically sound goalkeeper who has great movement and positioning.  She has good timing on crosses and has a dominating presence in the air.  We are excited to have Ady on campus and watch her development. She will be a great addition to our UConn goalkeeper union."
Why UConn: "I chose UConn because it felt like home, and it offers everything I ever could imagine as my dream school. Academically, UConn has an amazing kinesiology program and as an athlete, I felt a strong connection between the staff and players."
Before UConn: Played club for Eclipse Select SC … also played softball.
ISABELLA GOMEZ
Midfielder | Mahwah, N.J. | Mahwan High School
Rodriguez on Gomez: "Izzy is a dynamic attacking player who can make an impact in our midfield or flank forward positions. She is very quick and technically sound and has an opportunistic mindset that we love. She will be a great addition to our program, and we can't wait to see her impact at this level."
Why UConn: "Between the coaching staff that wants nothing but the best for my future and the soccer program that will allow me to grow not only as an athlete but also as person, I know UConn is the perfect fit. Additionally, knowing that I will be constantly challenged at the academic level is very reassuring since balance is key to being a successful student-athlete. The family culture is also second to none, where everyone feels a sense of belonging. Looking at my future, I could not be happier to be spending my next four years at UConn!"
Before UConn: Played club for World Class FC … ECNL All-Conference New England in 2021 … invited to U-17 Argentina national camp in 2020 … two-time team captain at Mahwan … First Team All-League in 2019, '20 and '21 … Second Team All-Bergen County in 2021 … United Soccer Coaches All-America East Region in 2021 … 2021 All-State – NJGSCA … Big North Conference Division Champions … 2019 and '20 First Team All-Bergen County … three-time honor roll member … Principal's Award as a junior.
SOPHIA HAUSSMANN
Defender/Midfielder | Glastonbury, Conn. | Glastonbury High School
Rodriguez on Merchant: "Sophia is smart and technically efficient on the ball.  She plays to her strengths extremely well by connecting passes in the midfield and playing simple.  She has great presence and can be a destroyer defensively on the ground and in the air. Sophia is a great addition and we can't wait to see how she develops here at UConn."
Why UConn: "I chose UConn because being a part of this program was my number one goal when I began my recruitment process. Being surrounded by such advanced players will push me to become the best player I can be and I couldn't have asked for a more welcoming coaching staff or nicer facilities."
Before UConn: Played club for Oakwood … participated in Women's National Training and National Combine … 2021 All-State … All-Conference and All-State selection … 2019 State Championship – CIACLL … Conference Champion.
JULIA LONCAR
Defender/Midfielder | Brampton, Ontario | Cardinal Leger Secondary School
Rodriguez on Loncar: "Julia is a defender who can make an impact anywhere in our backline or midfield positions. She has a defender's mindset and thrives on her defensive work rate, but also has the ability to play-make.  Her technical and tactical abilities along with her athleticism and mentality will help her impact at this level and we can't wait to see her thrive as a Husky."
Why UConn: "UConn's reputation of being competitive in both athletics and academics was something I fell in love with instantly. It's also refreshing to be welcomed by a supportive and transparent coaching staff. I immediately felt at home after visiting campus and I am confident UConn and the women's soccer program will allow me to set a wonderful foundation for my future."
Before UConn: Played club for Woodbridge Soccer Club … won 10 championships with Woodbridge, most recently the 2021 League 1 Ontario Reserve League Championship … 2017-22 Team Captain … 2017-20 Ontario Provincial Projects Program … 2018 Ontario Provincial Team … on honor from 2018-22 … academic excellence in chemistry and introduction to information technology.
ABBEY MERCHANT
Midfielder | Williamsburg, Va. | Jamestown High School
Rodriguez on Merchant: "Abbey is a smart player who defends well and is disciplined on and off the ball with her movement and work rate.  She can play as a defensive midfielder or center back and possesses great composure.  Abbey has the tools to do very well at the next level as she has the discipline and drive to prepare herself for success."
Why UConn: "The reason I chose UConn is because it has everything I want. It's a great school with a great soccer program. It has the most welcoming environment and it feels like home to me. There is nowhere else I could imagine myself going."
Before UConn: Played club for Richmond United ECNL … invited to U.S. Soccer Regional Combine … invited to National Training Center … ECNL PDP selection… First Team All-Region … Second Team All-State … 4A Regional Champion … honor roll member.
CHIOMA OKAFOR
Forward | Blantyre, Malawi | Berkshire School
Rodriguez on Okafor: "During the recruiting process, we were impressed with Chi's desire to be challenged and eagerness to grow. She is an unbelievable athlete who has the skills to be a dangerous threat for us up top, both centrally and out-wide.  A natural lefty, we are excited to see what she will bring to our attack and believe she can impact at the highest level."
Why UConn: "I chose UConn because the second I stepped onto campus, I knew it was the place I wanted to call home for the next four years. The coaches and players welcomed me with great enthusiasm and contagious smiles, and I knew I wanted to be around that positive energy and environment. The culture on the soccer team appears to be very strong from what I've seen in the one training session I was fortunate enough to watch, and I could tell that everyone was treated the same and equal regardless of the year they were in, and that is a healthy environment that I know I will need in order to make room for development on and off the field. And I can't forget to mention UConn's top tier facilities. UConn is well-known for its sports, that are complemented by its incredible infrastructure and technology, and I had no doubt that UConn would develop me into the athlete I aspire to be with the help of vast facilities."
Before UConn: Played club for Black Rock FC … 2021-22 Berkshire MVP … 2019-20 Berkshire MVP … 2019-20 and 2020-21 All-NEPSAC Team.
CAROLINE SHEEHAN
Defender | Norwalk, Conn. | St. Joseph High School
Rodriguez on Sheehan: "Caroline is a defender at heart and understands her role well – win balls and connect out. She is a left-footed player who can play both as a wide defender and a center back.  On the flank, she has the ability to join the attack and provide quality service.  Caroline will be a great addition to our back line."
Why UConn: "I chose to attend UConn because as soon as I came onto the campus, I fell in love with everything from the close-knit bonds of the team, to the amazing academics, and the incredible coaching staff. I look forward to the upcoming years with my teammates and coaches while competing at a highly competitive level."
Before UConn: Played club for Connecticut Football Club … ECNL Nationals qualifier … two-time First Team All-FCIAC as a junior and senior … earned Second Team All-FCIAC as a sophomore … Honorable Mention All-FCIAC as a freshman … Principal's Honor Roll.