New Maryland women's soccer head coach Meghan Ryan Nemzer bolsters recruiting class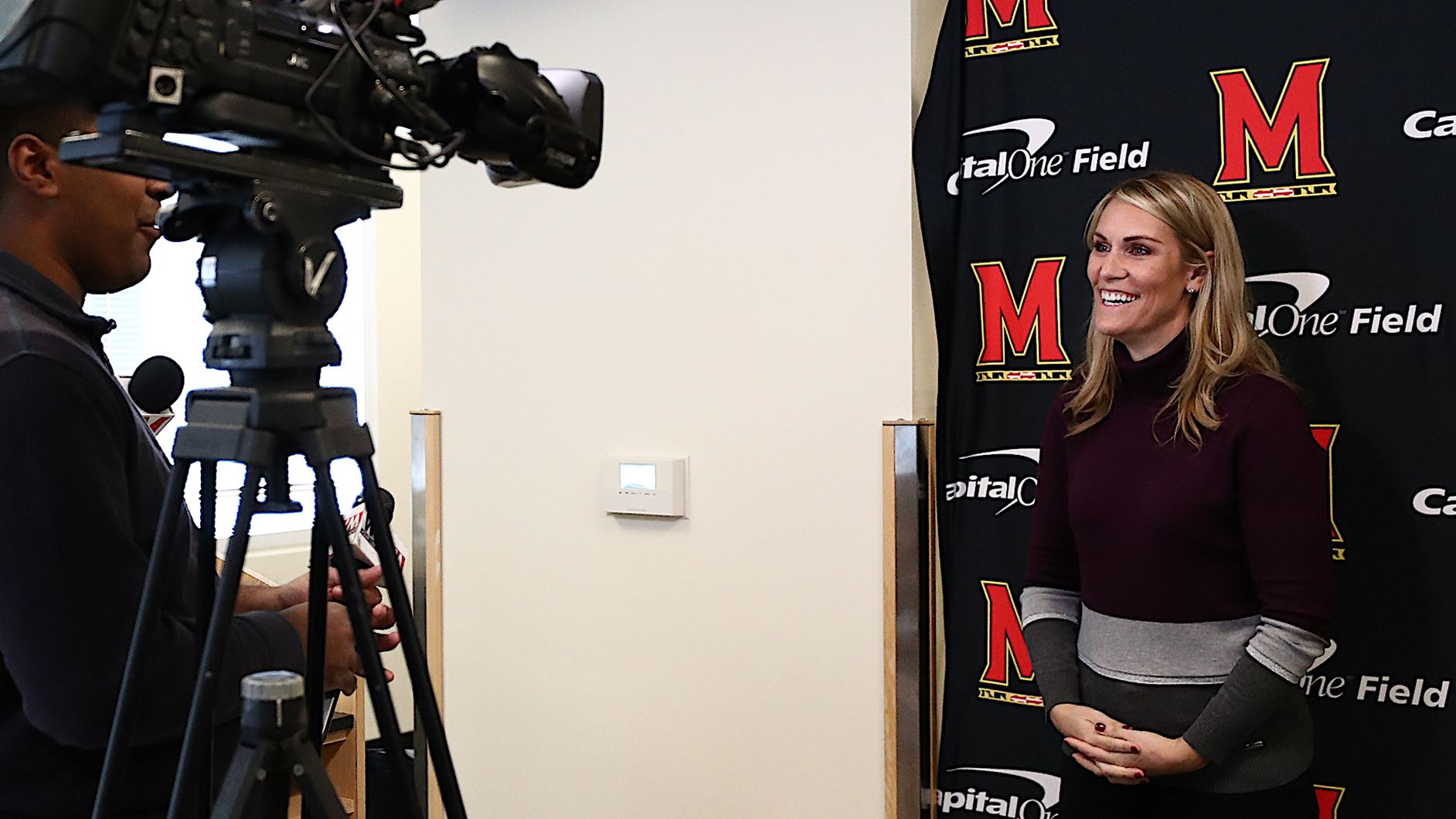 COLLEGE PARK, Md. – University of Maryland women's soccer head coach Meghan Ryan Nemzer welcomed five additional newcomers to the Terrapin roster for the 2022 season.
The group includes two transfers in Sydney Hopkins (Los Angeles, CA) from the University of San Diego and Alina Stahl (Pittsburgh, PA) from West Virginia. Three Terps come to College Park after their prep careers in freshmen Olivia Ozbolt (Lutherville-Timonium, MD), Tahirah Turnage (Alexandria, VA) and Caroline Walbridge (Hanover, MA).
Information on these new Terps is below.
SYDNEY HOPKINS
DEFENSE
LOS ANGELES, CA
EL CAMINO REAL CHARTER HS / SAN DIEGO
Twitter: @sydnhopkins | Instagram: @sydnhopkins
As a junior at San Diego (2021): Played in 16 matches, starting 15 on defense … scored one goal against UC Irvine (8/26) … Helped the Toreros to two shutouts with solid play on the backline.
As a sophomore at San Diego (2020-21): Hopkins saw action in eight matches… She started 7 out of those 8 matches … Recorded one shot … Helped defense record clean sheet against Pacific
As a freshman at San Diego (2019): Played in 17 games, earning eight starts… Recorded one assist.
Before College:  Played soccer for two years at El Camino Real… Team was the two-time CIF Division I runner-up… Named to the All West Valley League first team (2016)… Named to the All-Area team (2017)… Played for Real So Cal Soccer Club for 10 years
Personal: Daughter of Allen Hopkins and Kim Antonio, has two siblings Santiago and Siena… Dad played intercollegiate soccer at Westmont College … Was on the honor roll all four years of high school… Volunteered at a local hospital all throughout high school… Hobbies include spending time with friends, listening to music and dancing … Fun fact: all of her siblings are named after cities that start with "S"
ALINA STAHL
FORWARD
PITTSBURGH, PA
BALDWIN HS / WEST VIRGINIA
Twitter: @alinastahl | Instagram: @alinastahl
As a Junior at West Virginia (2020-21): United Soccer Coaches All-Midwest Region Second Team…CoSIDA Academic All-District First Team…United Soccer Coaches National Player of the Week (March 30)…Big 12 Offensive Player of the Week (March 29)…All-Big 12 First Team…Academic All-Big 12 First Team…WVU Student-Athlete of the Week (Oct. 26)…Played in all 14 matches, earning starts in 10 contests to log 975 minutes on the year…Co-led the team with six goals, while adding a pair of assists…Finished with 14 points (6 G, 2 A) to rank No. 2 on the team…Tallied 28 shots on the year, placing 17 on goal…Recorded her first goal of the season with an insurance score in the 84th minute of WVU's season opener at Iowa State on Sept. 11…Assisted Stefany Ferrer-vanGinkel's game-winning goal at Texas Tech on Oct. 9…Put the Mountaineers on the board in the 36th minute against Baylor on Oct. 16…Scored in her second consecutive game on an unassisted game winner to give WVU a 1-0 victory at Oklahoma on Oct. 23…Tallied a brace in the squad's spring-opening match at Saint Joseph's on March 7, with her first score coming in the 10th minute and second in the 48th…Recorded team-leading sixth goal of the season with a game winner in the 47th minute to give West Virginia a 3-2 edge over No. 5 Duke on March 27…Played 80 or more minutes six times, including a season-high 100 minutes at Virginia on April 10
As a Sophomore at West Virginia (2019): Academic All-Big 12 First Team…WVU Offensive Player of the Year…Played in all 22 games, including 21 starts, while logging 1,470 minutes…Led the team with eight goals, while adding two assists for 18 points…Tied for No. 8 in the Big 12 in goals…Totaled 41 shots, with 18 on goal…Five of her eight goals were game-winners…Tallied two multi-goal performances against Bowling Green (Sept. 22) and at Georgetown (Nov. 16) in the…NCAA Tournament First Round…Logged an assist against Stanford on Aug. 25…Scored her first goal of the season on Sept. 6, against Penn State…Recorded her second assist of the year at Baylor on Oct. 3…Scored the game-winning goal against Oklahoma on Oct. 20…Notched another game-winner in the regular-season finale against TCU on Oct. 31…Scored in the 106th minute in a 1-0 win over Central Connecticut State on Nov. 22, helping lead WVU to the NCAA Tournament Third Round…Registered a season-best four shots on four occasions…Logged a season-high 106 minutes of action against Central Connecticut State in the NCAA Tournament Second Round.
As a Freshman at West Virginia (2018): Academic All-Big 12 Rookie Team …Played off the bench in 15 matches and logged 378 minutes of action before suffering a season-ending injury … Finished the season with six points (2 G, 2 A) …First career point came off first-half goal in 2-1 win at Clemson (Sept. 7); also played a season-high 43 minutes … Tallied first career goal in 4-0 win against Boston University (Sept. 13); also registered a then-career-high four shots and three shots on-goal against the Terriers … Assisted on insurance goal in 2-0 win over Saint Francis (Pa.) (Sept. 16) … Added team's third insurance goal in 4-0 win over Kansas State (Sept. 28) … Big 12 Freshman of the Week (Oct. 2)
Prior To College: Eight-year member of Beadling Soccer Club …Led Beadling to the 2017 State Cup and the 2017 and 2016 Region 1 Championships …Named to the 2015 ODP State and Region 1 Teams … Named to the 2014 ODP State Team … Team captain at Baldwin High and finished four-year career with 91 goals … 2017 All-Pennsylvania Team … Two-time Big 56 Player honoree … Three-time All-WPIAL … Four-time all-section … Also ran track at Baldwin
Personal: Daughter of Larry and Lia Stahl … Has two sisters and one brother …Birthday is Nov. 8 … Majoring in business and economics … President's List … Dean's List … Big 12 Commissioner's Honor Roll … Garrett Ford Academic Honor Roll.
OLIVIA OZBOLT
MIDFIELD
LUTHERVILLE-TIMONIUM, MD
MCDONOGH HS // MARYLAND UNITED
Twitter: @OliviaOzbolt | Instagram: @OliviaOzbolt
Before Maryland: Played club soccer for Maryland United FC… 2020-21 ECNL Girls All-Conference 1st Team … U.S. Soccer National Training Center Participant 2016-18 … At McDonogh High School, won 3 IAAM Championships in four years as a starter … Only lost five games total in her three seasons … As a senior, voted senior team captain … named 2021  IAAM All-Conference, First Team All-Metro, First Team All-State and  United Soccer Coaches All-South Region Team .. Helped the Eagles' defense to post five shutouts including a 1-0 double-overtim win over Spalding in the IAAM A championship game.
Personal: Daughter of Joel and Ellie Ozbolt.
TAHIRAH TURNAGE
DEFENSE
ALEXANDRIA, VA
ST. STEPHEN'S AND ST. AGNES SCHOOL / MARYLAND UNITED 
Twitter: @tahirahturnage | Instagram: @tahirah.turnage
Before Maryland: Played for Maryland United FC … Prepped at St. Stephen's and St. Agnes School … As a senior named to 2021 Washington Post All-Met Second Team and All-ISL Conference Team … As a junior, awarded 2019-20 United Soccer – Player of the Week (Oct. 14-20) … As a sophomore, named  United Soccer Coaches Player to Watch for the Week … Won ISL A Division and moved up to ISL AA Division for the next season … Two-time Maryland State Futsal Champion in 2017 and 2018.
Personal: Daughter of  John Turnage Sr and Maiya Morales
CAROLINE WALBRIDGE
MIDFIELD
HANOVER, MA
HANOVER HS // FC STARS OF MASSACHUSETTS
Twitter: @cwalbridge14 | Instagram: @cwalbridge14
Before Maryland: Played club ball for FC Stars of Massachusets …. Won 2021 U.S Club soccer National Championship … 2021 Massachusetts State Cup Champion … 2019 Club Soccer Massachusetts state cup winner, as team qualified for the 2019 Club Soccer U.S Eastern Regional Playoffs …2018  Club Soccer National Playoffs and qualified for 2018 ECNL Nationals … Played at Hanover High School … As a senior helped her team to the Patriot League Championship in 2021 … School finished third as a junior … Also won title in sophomore year of 2019 … District finalists in state playoffs as a freshman.
Personal: Daughter of Mark and Juliann Walbridge