Western Michigan University men's soccer team signs five future Broncos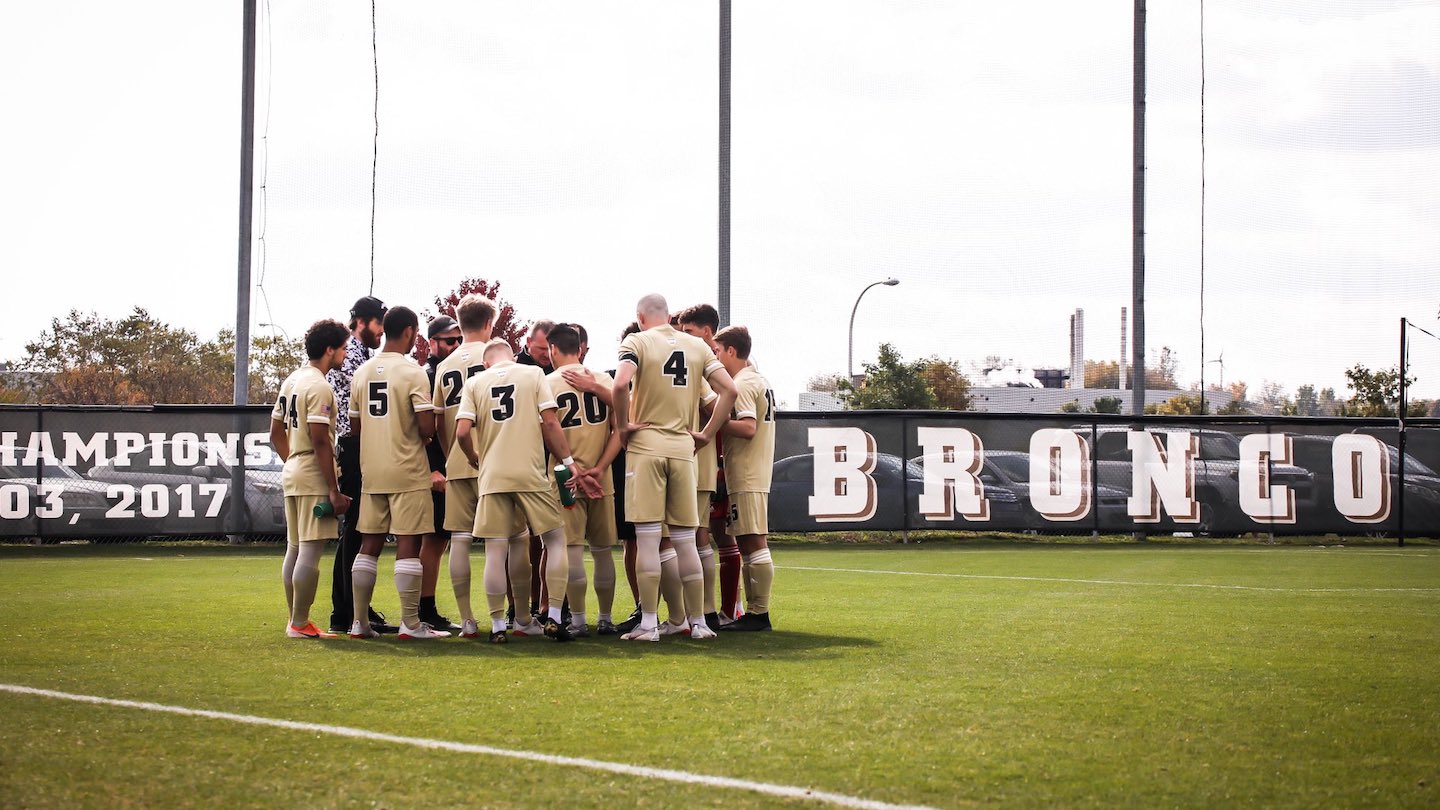 KALAMAZOO, Mich. – The Western Michigan University men's soccer team and head coach Chad Wiseman have announced the signing of five student-athletes who will join the Broncos in 2021.
Roni Sylejmani (Gjilani, Kosovo/Gull Lake High School/Kalamazoo Kingdom SC), Wishy Laurie (Melbourne, Australia/West Virginia University Institute of Technology), Parker Finnegan (Laguna Niguel, Calif./Dana Hills High School/Strikers FC DA), Connor Burkett (Mattawan, Mich./Mattawan/Kalamazoo Kingdom SC) and Nicholas Biel (Chesterton, Ind./Chesterton High School/Millennium Soccer Association) have committed their futures to the Broncos.
"What a unique and difficult time it is for collegiate athletics," said Wiseman. "Globally we all continue to live with COVID-19, adjust and adhere to the ever changing rules and protocols, yet we must continue to try our best to do our jobs. This recruiting class is extremely talented and they all have bright futures in a Bronco uniform. Western Michigan University was the first choice for all these athletes, that's important to us. We want players in our program that dream to be Broncos! This class fills specific positional needs, that will add to a talented and young roster. In the coming months, we will look to add a couple additional players that will help fill out the 2021 class."
Roni Sylejmani | Forward | 6-foot-1, 170 lbs | Gjilani, Kosovo/Gull Lake/Kalamazoo Kingdom SC
Sylejmani was named a member of the 2020 Michigan Dream Team after leading Gull Lake to a MHSAA State Championship. He was a four-time First Team All-State selection. With his club team, Kalamazoo Kingdom SC, he won the Michigan State Cup Championship in 2015, 2016 and 2018.
Wiseman on Sylejmani – "We are thrilled for Eron, Roni, to be joining us here at WMU.  We have known Roni a long time and we always hoped he would choose to stay home in Kalamazoo. It is difficult to describe what Roni is capable of in just a few words, he does so many things at the highest level. We expect him to have an immediate impact within our team roster. Roni is an extremely gifted soccer player and athlete. He has great size, strength, speed and has lots of confidence. He is deadly in and around the goal and knows how to create dangerous opportunities both for himself and his teammates. He is good in possession and has an extremely high soccer IQ. Lastly, he is one of the most competitive players I have ever been around. I think it is safe to say that Bronco Nation can expect BIG things from Roni in a Bronco uniform."
Sylejmani on why he chose WMU – "Knowing the coaching staff and some of the players and the competitiveness that comes with being on the team was one of the many reasons I chose Western Michigan."
Wishy Laurie | Defender | 6-foot-2, 170 lbs | Melbourne, Australia/WVU Tech/ South Melbourne FC
Laurie helped West Virginia Tech to a NAIA River States Conference Championship in 2019 and was a member of the RSC Scholar-Athlete Team. In 2018 they finished runner up in the conference and Laure started as a freshman for the nationally-ranked team. He also helped his club team, South Melbourne FC, to runners up in the U20 National Premiere League.
Wiseman on Laurie – "Wishy comes from an NAIA national power house, that competes with the very best programs in the nation. The experience he brings with him will make for a quicker and easier transition to the D1 level. He is a left sided player, that has versatility to his game to play a couple different positions. He is very technical, shows great composure on the ball and his field vision should really help us get the ball to our play makers. One of the best characteristics I think Wishy possess is his work rate, he is relentless.  He will join the Bronco program in January and we look forward to integrating him into our roster."
Laurie on why he chose WMU – "I picked Western Michigan because I've always aspired to eventually play Division I college soccer. I believe Coach Wiseman and Coach Ross have built a competitive soccer program. I will add to that and am excited to take my game to the next level."
Parker Finnegan | Outside Back | 5-foot-11, 170 lbs | Laguna Niguel, Calif./Dana Hills/Strikers FC DA
Finnegan was a three-year starter for Strikers FC, a former member of the United States Soccer Developmental Academy, where he earned the Strikers FC Academic Scholar Award.
Coach Wiseman on Finnegan – "Parker is a player that has been on our radar since showing up at our Summer ID Camp two years ago. He is from California but has Michigan ties, and he will take great pride in wearing the brown and gold. Parker is a very modern style outside back that can really get up and down and help create chances in the final third. His work ethic and fitness levels are superb, and he is the type of guy that hates to lose more than he likes to win. He is a leader, which is an important characteristic in our program. He is very skilled with the ball at his feet, and his soccer IQ helps him read the game at a very high level. We are looking forward to see what Parker can achieve when he arrives in Kalamazoo."
Finnegan on why he chose WMU – "To me, WMU wasn't just a commitment, it was a calling that never left my head. From the first time I stepped on campus till now, it seemed like I had been there before.  There wasn't a morning where the thought of WMU wasn't on my mind. The opportunity not only to play and be a part of the soccer team, but waking up at a place where I feel I belong, is true blessing from God and an opportunity I will not waste. Go Broncos!"
Connor Burkett | Def./Mid. | 5-foot-8, 155 lbs | Mattawan, Mich/Mattawan/Kalamazoo Kingdom SC
Burkett was a two-time All-State selection at Mattawan High School, earning first team honors in 2019 and second team honors in 2020. He was named his team's MVP in both 2018 and 2020. Burkett helped his club team, Kalamazoo Kingdom SC, to MSYSL State Cup Championships in 2013, 2014 and 2017 and was a USL Super Y National Champion in 2017.
Coach Wiseman on Burkett – "Connor is local standout that we are thrilled he chose to continue calling Kalamazoo home. He is an explosive athlete who's first few steps are lethal. Connor has an incredible ability to off weigh defenders, get in behind and create dangerous opportunities.  His diverse skill set will allow him the opportunity to play both as an outside back and a winger. On top of that, he is a phenomenal student, hard worker, and a young man of very high character and mental toughness. His Bronco roots run deep, and we believe he has an excellent future of his own in the Brown and Gold."
Burkett on why he chose WMU – "I chose WMU because I love the soccer program and have been watching them play ever since I was young. My parents both graduated from WMU as well as my grandparents. Kalamazoo has always been home and it felt right to make it home for another four years."
Nicholas Biel | Midfielder | 6-foot-2, 155 lbs | Chesterton, Ind./Chesterton/Millennium Soccer Assoc.
Biel was a four-year starter at Chesterton High School and helped the school to two state championships. He was twice named the Indiana Soccer Coaches Association Top Team Player and also earned MVP honors for his school. Biel was an All-State selection and a two-time Academic All-State honoree. In 2020 he was named the IHSAA C. Eugene Cato Mental Attitude Award winner. He is a member of the National Honor Society and boasts a 4.28 GPA.
Wiseman on Biel – "Nick Biel is the type of player and person that you simply can't have enough of in your program. He checks all the boxes that we look for on the recruiting trail. Nick brings a very calm yet intimidating presence to the middle of the park. He is a very good connector in possession and is great in the air and also at disrupting the rhythm of the opponent. He comes from a military family that demands discipline, responsibility, and hard work. He has been the leader of his high school team for three years, and we expect all of those characteristics to follow him to WMU. Nick wants to be a coach when his playing days are done. We believe he has a very bright collegiate career ahead of him!"
Biel on why he chose WMU – "I chose Western Michigan for their team oriented style of play and the family atmosphere."