Western Michigan University men's soccer team adds three 2023 recruits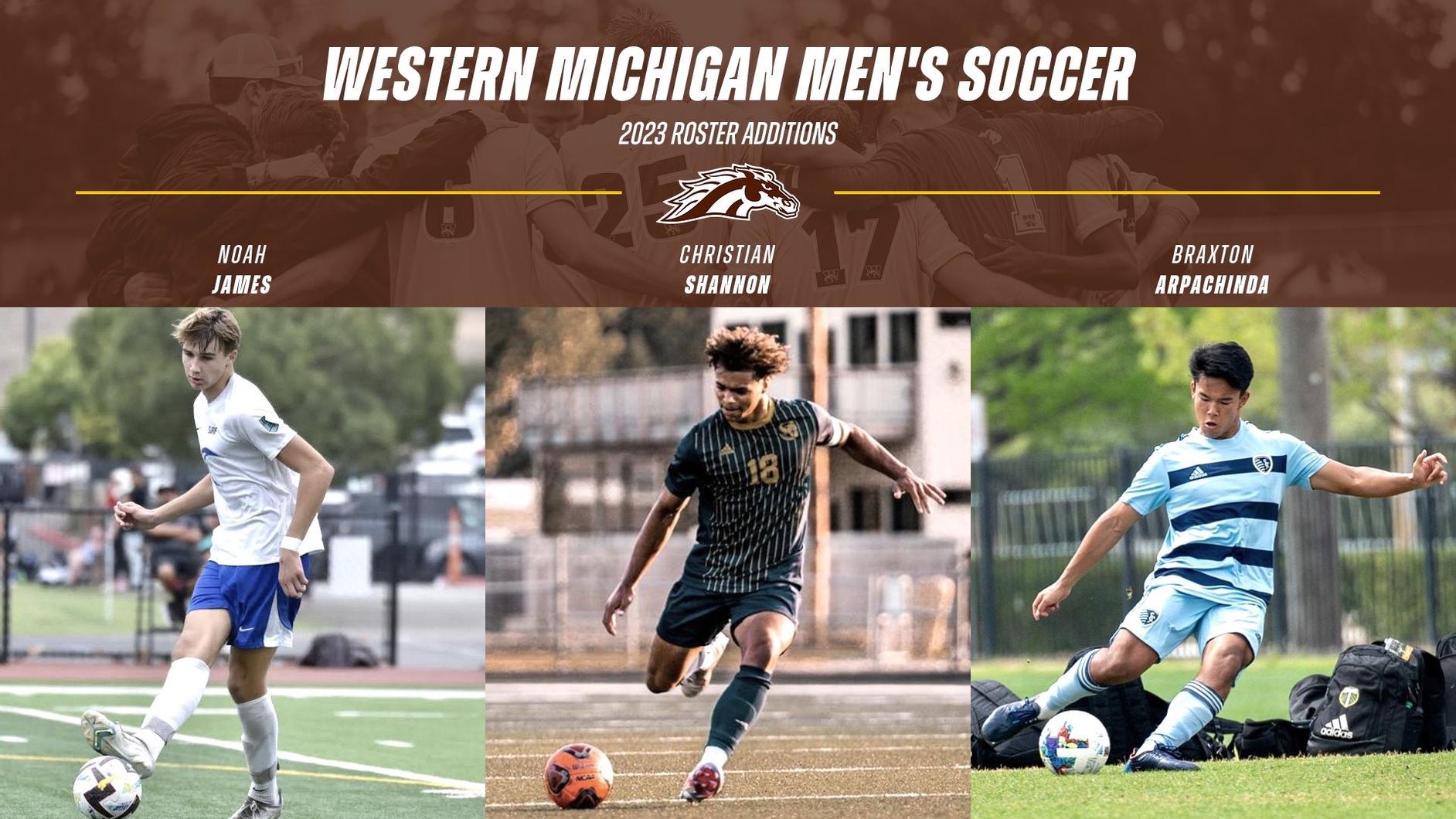 KALAMAZOO, Mich. – The Western Michigan University men's soccer team and head coach Chad Wiseman have announced the signing of three student-athletes to National Letters of Intent for the program's class of 2023.
WMU welcomes midfielder/ forward Noah James (Poway, Cali.), defender Christian Shannon (St. Joseph, Mich.), and defender Braxton Arpachinda (Sterling Heights, Mich.). All three come from different youth soccer platforms including the USYS National League, ECNL, and MLS Next. The three players are set to join the Broncos in the fall of 2023.
"We are thrilled that Noah, Christian, and Braxton have all chosen to be Broncos," Wiseman said. "They are all phenomenal students, great soccer players but more than anything outstanding young men."
"They will fit right in with the culture we have established over the years. These guys are winners, they are great teammates and love to compete. All three of these players have lots of versatility in their game, which will give them all an opportunity to have an impact on our roster right away. Our Bronco supporters are going to really enjoy watching these guys in a Bronco uniform, they are very talented."
Noah James • Midfielder/Forward • 6-3 • 185 • Poway, Cali. • Poway High School
Noah James, a midfielder/forward from Poway, California, played for SDSC Surf ECNL and was part of the team that won the ECNL Southwest Region Championship in 2022. He is a graduate of Poway High School and brings exceptional skills to the field, making him a valuable addition to WMU.
From James: "I chose WMU because it is the right place for me to further both my academic and athletic interests. I know that by playing under Coach Wiseman and Coach Lyons I will be able to develop into a better leader and person in general. I love the campus at WMU and I want to pursue Mechanical Engineering and I think that it will be a great place to spend the next four years."
Wiseman on James: "Noah is an intelligent soccer player whose soccer IQ is always on display. He has great size and athleticism, which has been a formula for success for our program in recent years. Noah has the ability to play multiple positions for us, as he develops in our program I imagine you will see his role and position continue to transform. We believe he can have an immediate impact on our roster. He has soft feet and a creative side to his game that will be welcomed once he arrives in Kalamazoo."
Christian Shannon • Defender • 6-0 • 180 • St. Joseph, Mich. • St. Joseph High School
Christian Shannon, a native of St. Joseph, Michigan, attended St. Joseph High School and played for Kingdom SC – National League Pro. He was an integral part of the team that won the USYA National Championship in 2021. Recognized for his exceptional performance, Shannon was named First Team All-State MHSAA in 2022.
From Shannon: "A big reason why I chose WMU was their outstanding soccer program. Ever since I watched their home games I knew one day I wanted to end up in the division 1 atmosphere, especially at a school like WMU. When I first stepped on the campus for my visit I knew this was the place I wanted to be at. Go Broncos!"
Wiseman on Shannon: "Christian is a phenomenal athlete with great size, speed, and quickness. We see him as a very explosive player that will carry those characteristics to the Division I level. We expect Christian to play a center-back role for our team, he is very good at winning challenges in the air both defensively and offensively. His ball-striking ability is tremendous, hitting 50-yard switch balls, as well as taking chances on goal. When Christian is on the field his opponents will always have to account for him."
Braxton Arpachinda • Defender • 5-6 • 150 • Sterling Heights, Mich. • Olathe West High School
Braxton Arpachinda reigns from Sterling Heights, Michigan, with an impressive resume. He played for Sporting Kansas City Academy- MLS Next and was part of the team that won the 2018 USYS (2004) National Championship, the 2019 USYS (2005) National League Championship, and the 2018 Phoenix Rising USL Experience. In addition, he participated in the 2018 USYS (2004) National League Showcase, the 2019 US Soccer ID2 France/Belgium, the 2021 MLS U19 Dallas Playoffs, and made his debut for Sporting KC II during the preseason in 2022.
From Arpachinda: "I chose Western Michigan University because of the double standards that are held both athletically and academically. I was searching for a college where student-athletes are highlighted for not just their athletic ability, but their academic achievements. I am ready to learn about myself and grow relationships that will carry on for the rest of my life! Go Broncos!"
Wiseman on Arpachinda: "We are ecstatic that Braxton has decided to continue both his academic and athletic career at WMU. He has a background playing at the highest youth soccer level and has been training with professionals now for the past couple of years. Braxton has the ability to play the outside back position for us. He is a strong 1v1 defender and we think he will lock down opposing teams' top wingers. Braxton has a strong work rate, the ability to get up and down the field, and is strong on the ball in possession. Braxton encompasses WMU's team culture, where the "team" always comes first making him the perfect fit for our program."