Vanderbilt soccer player Sarah Fuller makes history as first woman to play in SEC football game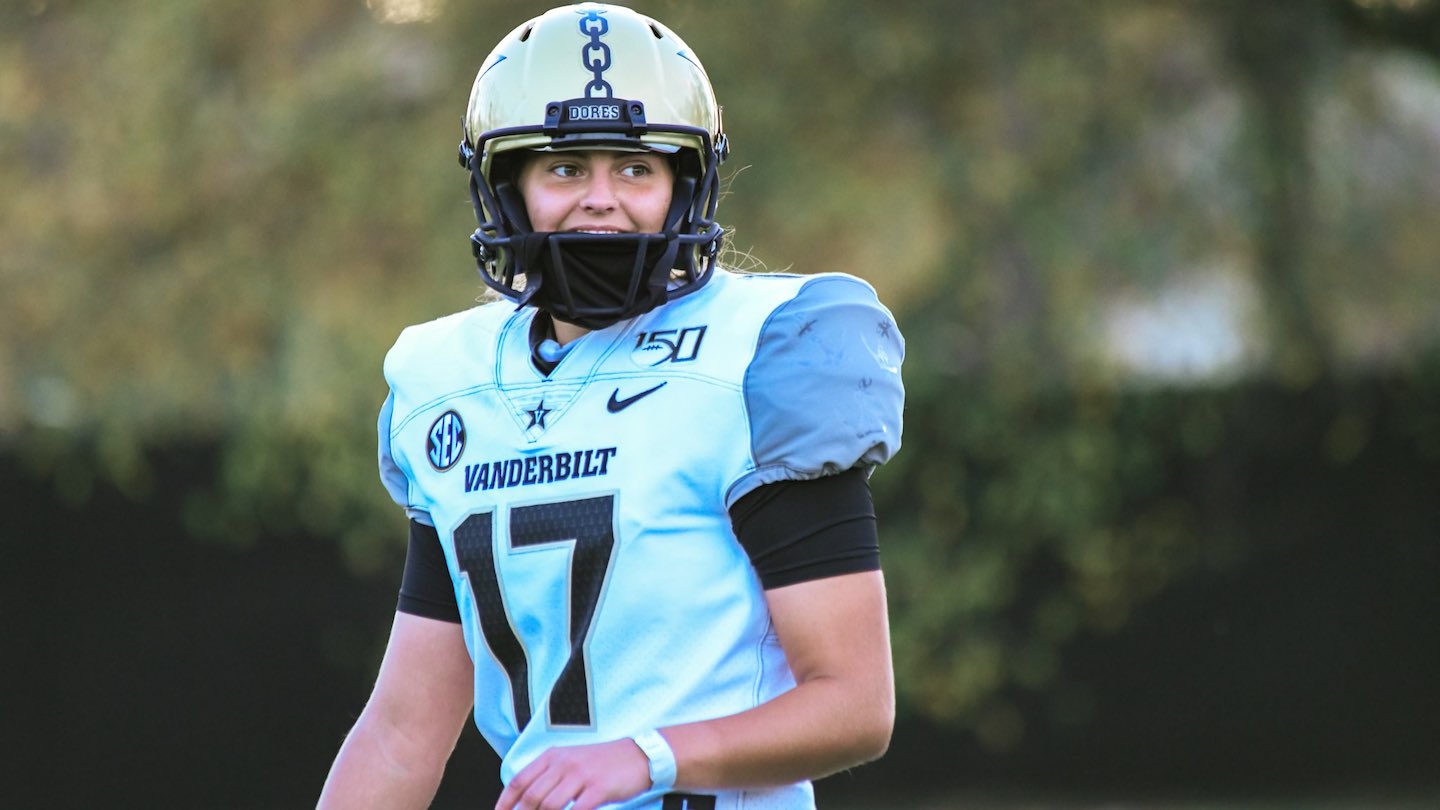 Vanderbilt women's soccer goalkeeper Sarah Fuller has made history as the first female to play in an NCAA Power 5 football game.
After the Vanderbilt football team came into this weekend shorthanded with multiple players out due to COVID-19 protocol, Fuller was asked to fill in as the Commodores' kicker for today's game against Missouri.
Fuller accepted the opportunity and suited up Saturday for the SEC football matchup, less than a week after her soccer season ended with a conference championship.
[+READ: Vanderbilt wins first SEC Tournament championship since 1994]
The senior goalkeeper waited the entire first half before she saw the field, as Vanderbilt received the opening kickoff and then went down by a scored of 21-0. Her first opportunity to take the field came at the start of the third quarter, when she kicked off to begin the second half.
Glass = Shattered

From in between the goalposts to endzones ⚽️ x 🏈

𝐒𝐚𝐫𝐚𝐡 𝐅𝐮𝐥𝐥𝐞𝐫 just became the first woman to play in a Power 5 college football game. @SarahFuller_27 #NCAASoccer | 🎥 @SECNetworkpic.twitter.com/JJQNc5jFK7

— NCAA Soccer (@NCAASoccer) November 28, 2020
The historic moment has garnered widespread national media attention throughout the weekend. Fuller's parents were interviewed on ESPN's SportsCenter ahead of Saturday's game:
Sarah Fuller's parents join @SportsCenter ahead of our game at Missouri. #RTI | #AnchorDown pic.twitter.com/mIRonSNvNS

— Vanderbilt Football (@VandyFootball) November 28, 2020
Vanderbilt went on to lose the game against Mizzou by a final score of 41-0. Fuller was interviewed on the field after the conclusion:
"I just want to tell all the girls out there that you can do anything you set your mind to." – Sarah Fuller pic.twitter.com/e0Fcjl5Yh4

— CBS Sports (@CBSSports) November 28, 2020