Southern Utah University reveals 11-player women's soccer signing class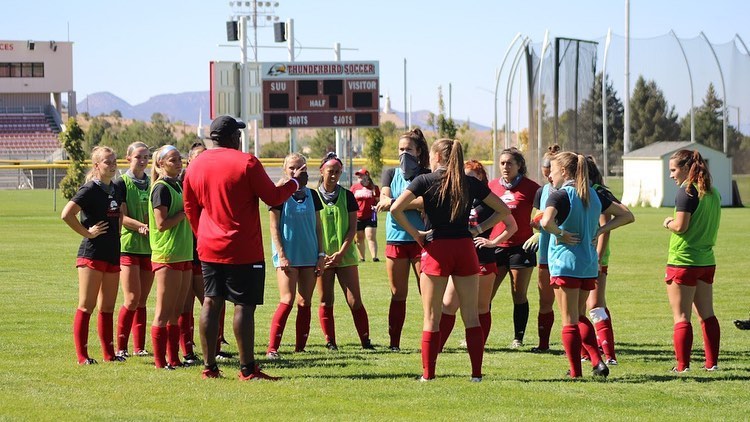 CEDAR CITY, Utah – The Southern Utah University Thunderbird soccer program, led by head coach Kai Edwards, has announced the team's singing class for the Fall 2020 period. The class is composed of 11 future student-athletes.
"This year's incoming class will be a big group, four of which will join us in the spring with the rest of the class coming in the fall," Edwards said. "Credit to Mario Felix, our recruiting coordinator, and the whole staff for turning over every stone and following up on leads. We expect this group to make an immediate splash and help us challenge for the conference tournament, and maybe more. With what the current roster has been doing, changing the culture and adding value in every way they possibly can, we feel the incoming student-athletes  along with the returners are going to help Southern Utah make a run in an exciting way. We feel that the formula of quality people with a deliberate process equals an outstanding product. We will do it right, we will do it with the people we have and we will do it quickly. This is the fun part of coaching and building a program."
Evi Anderson, Forward, 5-8, Pleasant Hill, Calif. (College Park High School) 
Following a prep career with College Park High School and the Walnut Creek Surf club, Evi Anderson will be joining the Thunderbirds from Pleasant Hill, California.
"I had the pleasure of coaching Evi in club soccer," Edwards said. "Evi has top level speed and will also be running track at SUU. She is kind-hearted off the field but can turn the corner on defenders on the field. She will add to the score line with assists coming from the wing."
Anderson has been named both Offensive Player of the Year and Miss Game Changer for Pleasant Hill High School.
"I chose SUU for the sports, the campus, and it has a very good academic reputation," Anderson said.
McKenzie Emery, Outside Back, 5-10, Bellaire, Fla. (Largo High School) 
Making the long trip from Bellaire, Florida to Cedar City, McKenzie Emery is joining the Thunderbirds following a prep career with Largo High School and Celtic FC.
"Kenzie is a powerful athlete coming out of Florida," Edwards said. "We see her playing in the wide spaces and challenging players to keep up with her. She is a top level track runner coming out of a competitive track state. We look forward to Kenzie elevating our athleticism and ball pressure on the field."
During the 2018-19 club season Emery scored 24 goals. She was a three-time All-Pinellas County Honorable Mention honoree. Her team was Southeastern President's Cup Semi Finalist and 2018 Florida State Soccer quarterfinalist. She was also a Florida state T&F State Qualifier.
Kamryn Farro, Wing, 5-7, Livermore, Calif. (Livermore High School/St. Mary's) 
Following a year at Saint Mary's College, Kamryn Farro will be transferring to Southern Utah University to continue her collegiate soccer career.
"Kamy will be joining us this spring at Southern Utah University," Edwards said. "She is a left footed versatile player that we will look to play in the midfield and upfront. She is dangerous on setpieces with quality ball striking on corners and freekicks along with her 30+ yard throwing. She has quickness and agility along with a very clean technical touch. Her experience attending U17 USA Youth National Team Camp, along with playing for a top club in Danville Mustang ECNL for Mike Kelley and other great coaches, has prepared her to hit the ground running in the Big Sky this spring. I had the pleasure of coaching her older sister Kenzie in club soccer and am excited to watch Kamy grow at SUU."
She started 11 matches and made 17 appearances as a freshman for St. Mary's. She had two assists on the season.
Before heading to college she was a four-year varsity player. In 2018 she was named first Team All-League and League MVP. She also earned TV30 Tri-Valley Sports final Honors in both 2018 and 2019. In both 2018 and 2019 she was awarded Tri-Valley High School Athlete Award, following up on being named First Team All-League in 2017. Her team claimed a NCA Championship in 2017.
Hailey Hamataka, Center Mid, 5-5, Brentwood, Calif. (Heritage High School)
Hailey Hamataka will be joining the Thunderbird soccer program from Heritage High School and Walnut Creek Surf.
"I was able to coach Hailey in club soccer in the Bay Area," Edwards said. "She is a smooth and savvy midfielder that sees the game well and has a great technical range for passing and finishing. She has a very good understanding of time and space and an attack that translates to creating goals and a defense that translates into closing space."
Hamataka was a Second Team All-League honoree, and earned All-NCA Honorable Mention status. She scored nine goals and tallied five assists during her high school career.
"I chose SUU because I want to compete and play college soccer at the highest level to push myself to be a better player," Hamataka said. "I also loved the atmosphere of the school and team."
Jennifer Kovisto, Goalkeeper, 5-9, Livermore, Calif. (Livermore High School/Azusa Pacific)
Another future Thunderbird flying in from California, Jennifer Kovisto will be joining the program as a transfer from Azusa Pacific.
"Jenn is competitive," Edwards said. "She is an absolute warrior and wants to win, and will do what it takes to win. She will compete for the starting goalkeeper position from day one. This is good for all of our goalkeepers as she has the mentality and the college pedigree to help us win games and push every goalkeeper we have to the highest level that they are capable of playing. Her high school coach Chad Harper and I coached at the club together for a long time and he spoke highly of her. Adding such a talent in the spring to our roster will do nothing but grow us in every way we are looking to grow.
In 2019 she was voted a team captain for Azusa Pacific and played every minute of every game when she wasn't injured. She had a save percentage of 0.746 and had a season-high nine saves against Chico State. She also earned All-PacWest Academic Honors in both 2019 and 2020.
She was a three-year varsity player for Livermore High School, and a team captain one season. The team was a two-time CIF NCS finalist. She was also the captain of the No. 1 Nationally ranked west Coast Wild Soccer Club.
"I am choosing SUU because of the culture and environment the coaching staff and players are cultivating," Kovisto said. "It is a place where I will be able to compete while continuing to grow as a teammate, player, and person.
Berkeley Larsen, Forward, 5-7, Tucson, Ariz. (Ironwood Ridge High School/Mesa CC) 
Transferring to Southern Utah from Mesa Community College, Berkeley Larsen has signed on to be a T-Bird.
"Berkeley will be joining us this spring after running track at Pima Community College and playing soccer at Mesa Community College," Edwards said. "She's another Tucson native and we are excited to have a player with her attributes at Southern Utah University. Her junior college coach at Mesa is a good friend of ours and he was the one who tipped us off to her and her abilities. She has elite college track runner pace and can turn the corner on people which will lead to our team's ability to create goal scoring opportunities."
On the Community College level she was named ACCAC Player of the Week in September of 2017, and NJCAA All-Academic First Team from 2018-2020.
Larsen was named Offensive Player of the Year at Ironwood Ridge High School for the 2016-17 season. Both those seasons her team made it to the state semifinals. Also for both the 2016 and 2017 seasons, she was named All-Northwest First Team and All-Southern Arizona Second Team.
She also holds high school school records for the 100-meter dash and the 4×100-meter relay.
"I chose SUU because of the instant good vibes and welcoming atmosphere I felt when visiting the campus," Larsen said.
Adelayo Oguntade, Outside Back, 5-9, Newmarket, Ontario (Newmarket High School) 
Making the transition from Canada to the United States, Adelayo Oguntade will be playing for Southern Utah after a career playing for Newmarket High School and the Unionville club.
"Ade is a wide back who loves getting forward," Edwards said. "Coming from Toronto and playing at the level she plays, she brings in an experience level that will pay dividends playing at the collegiate level. We expect her to be an outside back that continually gets up and down the wing to increase goal scoring chances for our strikers. Adding a diverse and dynamic outside back to this group gives us the ability to change the way we play against our opponents with the purpose of giving us the best result."
Oguntade was a four-year starter at fullback for Newmarket High School. She was named Team MVP in 2019. Along with playing soccer, she also swam and played flag football for Newmarket High School. She was an Honor Roll student from 2017-2021 and participated on the school's athletic council as a French Immersion Student.
"I chose SUU because it is a great school that will challenge me academically and athletically," Oguntade said. "After doing my research on Southern Utah University, I saw that I would have the opportunity to learn hands-on, which is an experience that I  value. I liked the size of school and it has a great student to professor ratio as well. Athletically, I chose SUU because I connected well with the coaching staff and they hold the women's soccer team to a high standard of performance. Lastly, I choose SUU because of the location. Cedar City is a beautiful city and the outdoor activities available would be a great new experience for me."
Ava Quimby, Centerback, 5-9, Calgary, Alberta (Joanne Cardinal-Schubert) 
Another future Thunderbird making the move from Canada, Ava Quimby will be joining the SUU soccer program from Joanne Cardinal-Schubert and REX Alberta.
"Ava has been ranked by the provincial Rex program as a top-10 Centerback in this year's graduating class coming out of Canada," Edwards said. "She is strong in the tackle and also will help us in building out of the back. She is very athletic and competitive which is exactly what we are looking for out of our centerbacks."
Quimby plays for Canada Soccer Regional Excel Program (Alberta REX). She was a U17 Provincial Silver Medalist, along with being an U15 National Bronze medalist and U15 Provincial Gold Medalist. She also competed for Team Alberta on the U13/U14 level.
"I chose SUU because of the beautiful campus location and the excellent international business programs," Quimby said.
Emma Rodgers, Goalkeeper, 5-7, Danville, Calif. (Monte Vista High School) 
Circling back to the California trend, Emma Rodgers will be joining the Thunderbirds from Monte Vista High School and Mustang ECNL.
"I coached Emma when she was 11 and 12 years old at Danville Mustang Soccer Club," Edwards said. "She has been coached by one of the best goalkeeper coaches in the country, Cori Callahan, who is the goalkeeper coach at Cal Berkeley. Her club coaches, Austin Risenhoover and Mike Kelley, along with Chad Harper and Pat Uriz, have all nurtured her experience to be of quality goalkeeping. Emma played for one of the best high school soccer programs in the country under Chris Lum at Monte Vista High School. Her experiences and competitive spirit add an immense value to our goalkeeping group. We expect her to compete for playing time right away."
Her team was ranked No. 1 nationally by MaxPreps in 2018, where they won the North Coast Section and Nor-Cal Regional Championship in the same year. In 2019, the team won the NorCal Regional Championship and North Coast Section Championship in 2020.
In 2018 she earned 'Play of the Week' from the 49ers Cal-Hi Sports Report. She also earned 'Soccer player of the Week' and 'Dirty Work Play of the Week' from the same organization.
"I chose SUU because I love the small class sizes and the school's welcoming environment," Rodgers said.
Taylor Rose, Centerback, 6-0, Logan, Utah (Logan High School) 
Staying in the state of Utah to continue her collegiate career, Taylor Rose will be joining the Thunderbirds from Logan High School and Avalanche Soccer Club.
"Taylor is a tall, athletic and powerful center back," Rose said. "She is 5-11 and very good in the air. Her playing basketball in the offseason adds to her competitive spirit and her vision on the field. She is a player we feel will add points to our team while taking away points from the opponent. Her coaches at Avalanche Soccer Club were awesome throughout the recruiting process."
Rose earned both All-League and All-State honors during her high school career, and was named Defensive MVP in her league.
"I chose SUU because it is a beautiful place and right from the beginning I knew SUU was the best place for me to grow and be successful," Rose said.
Natalia Sepulveda, Centerback, 5-9, Tucson, Ariz. (Mountain View High School) 
After wrapping up her prep career for Mountain View High School and FC Tucson, Natalia Sepulveda will be joining the Thunderbird soccer program from Tucson, Arizona.
"Natalia is a competitive and athletic defender from Tucson," Edwards said. "She comes from great coaches Dave Cosgrove, Amy Garelick and Lisa Fraser. We are excited to add such a tenacious defender to our back line. She will compete for playing time at any of the back four positions."
In 2018-19 she was named Region Defensive Player of the Year, and was a First Team All-Region performer three times from 2017-20. She played varsity all four seasons and was a team captain two of those years.
"I chose SUU because it was everything I was looking for in a school both academically and athletically," Sepulveda said. "I loved the soccer program and especially the amount of green I see everywhere compared to desert. I just knew it was the right fit for me."
Whitney Wangsgard, Forward, 5-8, Grantsville, Utah (Grantsville High School) 
Staying in-state for her Division I career, Whitney Wangsgard will be joining the Thunderbird soccer program from Grantsville High School and Rampage Soccer Club.
"Whitney is the all time leading scorer in Utah High School soccer history with just under 200 goals," Edwards said. "That is saying something with all the talented student-athletes who have played in this state. She is graduating early and will be joining us at SUU this spring. This is awesome that she wants to get started right away. Whitney knows how to score goals and work hard. Two great threats for a striker."
With 198 goals, Wangsgard is the UHSAA All-Time leading scorer following four very strong years in Grantsville. She's also a four-time First Team All-State honoree. Along with excelling on the field, she also excelled in the classroom by earning Academic All-State honors, along with being a team captain for three seasons.
"I chose SUU because it feels like my home away from home," Wangsgard said. "The coaches and team have already made me feel so welcomed! It's a beautiful campus and an amazing school. I am so excited for this opportunity to play for SUU."