University of South Dakota women's soccer unveils 2021 recruiting class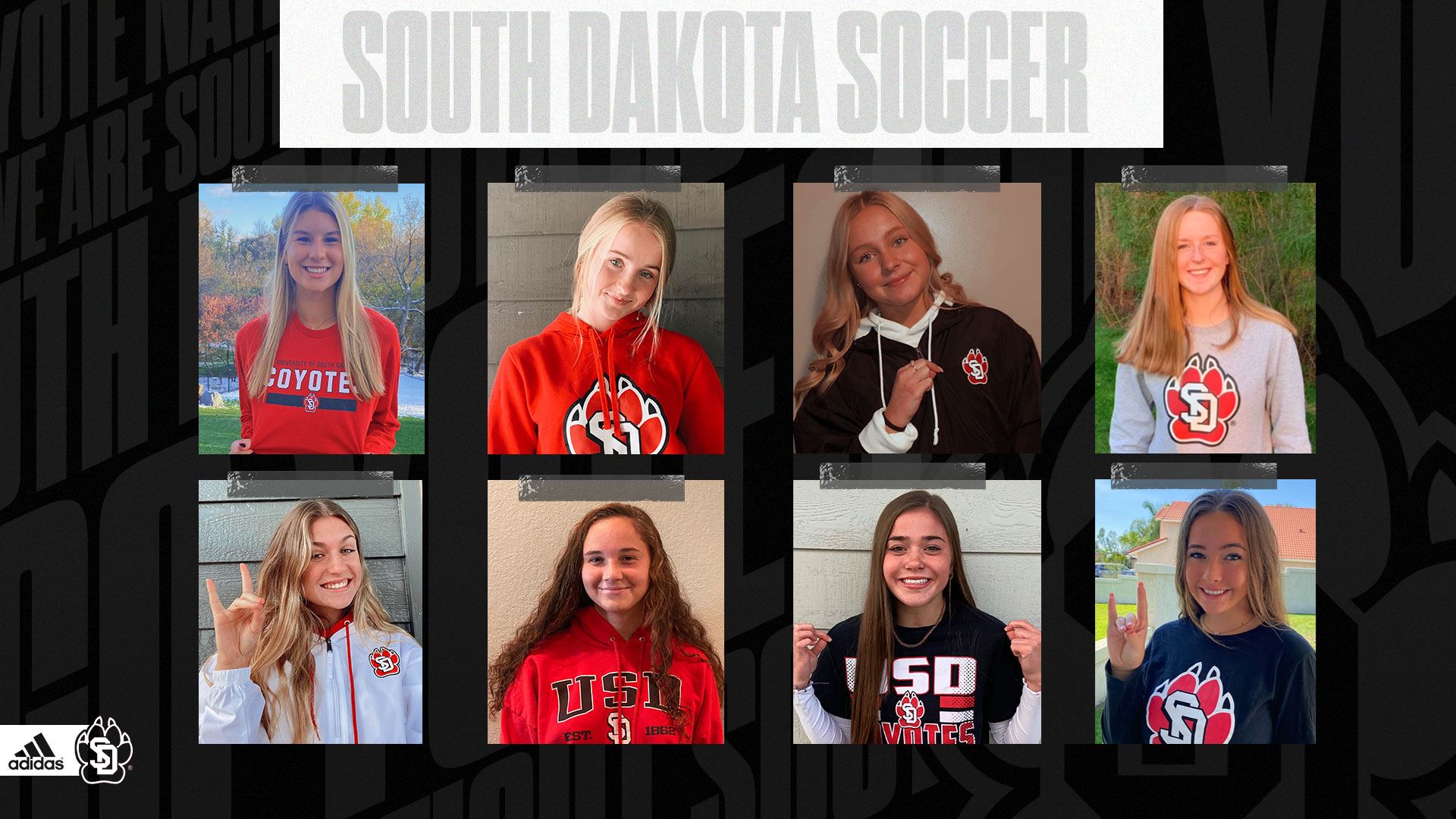 VERMILLION, S.D. – University of South Dakota women's soccer head coach Michael Thomas announced the addition of eight players to the 2021 recruiting class.
Kiah Pieters, Natalia Scales, Haylee Phoenix, Morgan Sullivan, Liv Muehlberg, Waverly Patterson, Izzy Quintavalle and Campbell Zimmers will join the team next season.
"We are excited to officially bring in our 2021 recruiting class," Thomas said. "It is a group that has already hit some adversity with the pandemic and we have been pleased with the character and commitment they have already shown to the University of South Dakota."
Kiah Pieters | Forward | Sioux Falls, S.D. | Harrisburg High School
A forward from Sioux Falls, South Dakota, Kiah Pieters was a five-year starter for the Harrisburg Tigers. Pieters was team captain, all-ESD and helped lead the team to a school record 13 wins her senior season. Outside of soccer, Pieters was an all-state athlete in both cross country and track. In the classroom, Pieters, was a member of the National Honor Society, HOSA President, on the student council and was a member of the honor roll. She recorded 13 goals and 4 assists as senior and in total scored 23 career goals and dished out five assists. She leaves the school as the record holder for career goals. She played her club ball at DASC Premier. Pieters will plan to major in exercise science at USD.
Izzy Quintavalle | Centermid | Otsego, Minn. | Rogers High School
A centermid from Otsego, Minnesota, Izzy Quintavalle played for the Rogers Royals. She was named MVP in 2018 and 2019, along with being named to the all-conference team the past three seasons. She earned second-team all-state as a junior and was a captain for the past three seasons. For the Royals, Quintavalle scored 31 goals and 25 assists in her career. She helped her club team win the state cup in 2017 and 2018. A three-time all-conference academic selection, Quintavalle plans to study education at USD.
Campbell Zimmers | Forward | Omaha, Neb. | Millard North High School
A forward from Omaha, Nebraska, Campbell Zimmers played for the Millard North Mustangs. She helped lead the Mustangs to a 2018 Class A State championship. With her club team, Zimmers won the Nebraska State Cup three times and was selected for the DA captain's leadership conference in California. As a member of the honor roll all four years of high school, Zimmers plans to study Biology at USD.
Haylee Phoenix | Forward | Fontana, Calif. | Online Schooling
A forward from Fontana, California, Haylee Phoenix earned team offensive MVP honors as a freshman for Panoma Catholic High School. She earned first-team all-conference honors and led the team with 22 goals and 13 assists. As a sophomore, she was named team offensive MVP once again led the team with 26 goals and 14 assists. She also earned first-team all-conference and second-team all-county honors. With her club team, Phoenix was a two-year club team captain and helped her team to the 2019 California Regional League championship. In 2019, she led the California Regional League in goals and was tied for the most goals in the USYS national League. At USD, Phoenix plans on majoring in kinesiology.
Liv Muehlberg | Midfield | Minnetonka, Minn. | Minnetonka High School
A midfielder from Minnetonka, Minnesota, Liv Muehlberg played for the Minnetonka Skippers in high school. She scored the game winning penalty kick to send her team to the state final and would eventually help them win the state championship that same year. She also helped them to two section championships, two state tournament teams and one conference championship. Muehlberg helped the Skippers to a 37-10-4 record over her four years. She played her club ball for the St. Croix Soccer Club. In the classroom Muehlberg was an academic letter winner, a presidential award for academic excellence winner and a member of the honor roll. Muehlberg plans to study criminal justice
Morgan Sullivan | Midfield | Rapid City, S.D. | Rapid City Central High School
A midfielder from Rapid City, South Dakota, Morgan Sullivan played for the Rapid City Cobblers in high school. Sullivan was a five year letter winner in soccer along with being a three year letter winner in basketball. She led the team in assists and was awarded the golden boot award. She also earned the best defensive award on the team three times and scored 18 goals and 11 assists in her four year career with the Cobblers. With her club team, Sullivan was a three time state champion and placed second at the regionals in Kansas City. She helped her team place first at the president's cup in Kansas City and led the team in assists and goals. In the classroom, Sullivan earned a spot on the honor roll all four years and is a National Honor Society member. At USD, Sullivan plans to major in pre-med.
Natalia Scales | Defense | Ankeny, Iowa | Dowling Catholic High School
A defender from Ankeny, Iowa, Natalia Scales played for Dowling Catholic High School where she made all-Metro honorable mention in 2018. Made it to state a total of three times, once with Xavier High School and twice with Dowling Catholic. Scales was a member of the academic honor roll in 2018-19. With her club team, Scales won three state cup championships with the Iowa Rush and advanced to the regional championship final in 2019 with the Rush. Scales is undecided on a major.
Waverly Patterson | Goalkeeper | Marion, Iowa | Linn-Mar High School
A goalkeeper from Marion, Iowa, Waverly Patterson played for Linn-Mar High School. During her high school career for the Lions, Patterson was a four year letter winner and helped lead the Lions to the two conference titles as a freshman and sophomore as well as the state tournament those years. In the classroom she earned academic distinction (4.0 gpa or higher) three of her four years in high school. AT USD Patterson plans to major in biology.